How Much Should You Expect To Pay For Food While Traveling In Italy?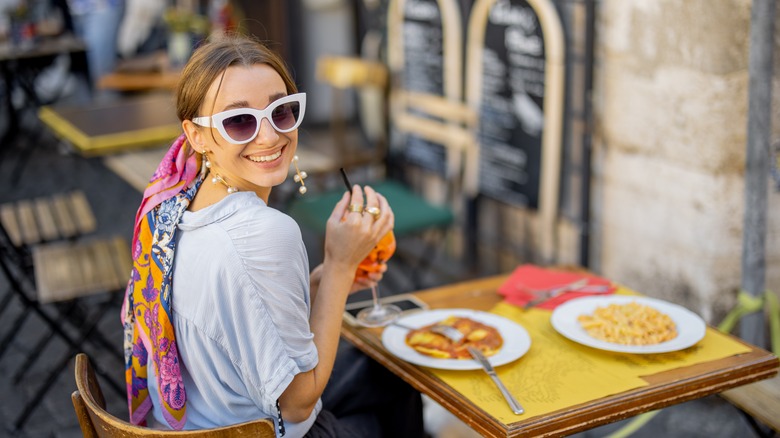 RossHelen/Shutterstock
If there's one thing you can count on when you visit Italy, it's that you won't have any trouble finding mind-blowingly amazing food. Not only that, but it won't leave a hefty dent in your wallet. This is because Italy has perfected its cuisine to maximize flavor with just a handful of quality, locally sourced ingredients. With just a bit of flour, eggs, tomato, a little bit of meat, cheese, herbs, salt, and pepper, you can make a host of dishes that will light up your taste buds and leave you begging for seconds.
While eating similarly tasty and high-quality dishes in places like the U.S., Canada, or a big city in the U.K. can run you up a hefty bill, the same can't be said in Italy. Luckily, fueling your travel adventures here won't cost you nearly as much as at home. But how much will you actually pay, and what do you get for the price? Here's exactly what you can expect to spend as you eat your way through the Boot — of course, the length of your visit, spending habit, and a host of other factors will affect the standard budget. 
Eating out in Italy can fit a variety of budgets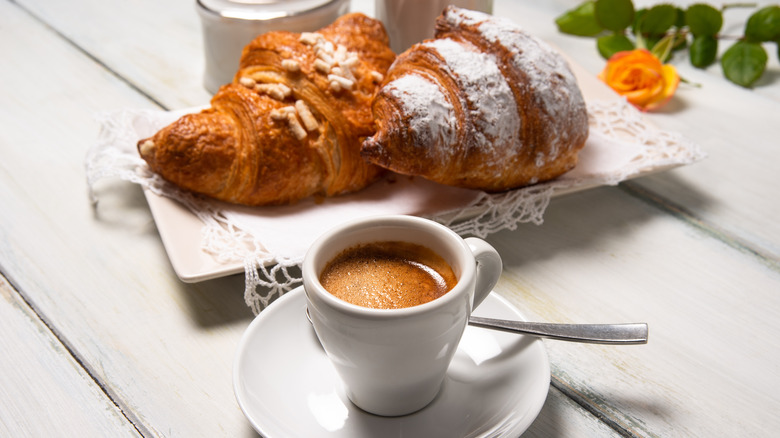 Alessio Orru/Shutterstock
Breakfast in Italy is a bit less robust than what you might normally find at home. Instead of bacon, eggs, or pancakes, Italians go a little lighter. Order an espresso or cappuccino and a croissant (un caffe or un cappuccino and un cornetto) and maybe an orange juice (una spremuta di arancia) for a few more calories to fuel your day of exploring. This will set you back no more than €5 to €7.
After spending your morning exploring the Roman Forum or climbing the leaning tower of Pisa, it's time to grab some lunch. An afternoon meal in Italy almost always features a carb, such as pasta or pizza. This is the perfect meal if you have a long day of walking ahead of you. A personal pizza or plate of pasta in Italy will range between €7 and €14 depending on the number and type of ingredients. Grab a glass of the house wine for around €6 to €8, a beer €4 to €6, or an Aperol spritz for €8 to €14.
A typical dinner in Italy will almost always be a protein — think fish, veal, or thin steak — and may include sides like vegetables and potatoes. So, as expected, this will cost you a bit more, around €14 to €20. Obviously, this can vary widely depending on how fancy the place is, but finding a restaurant that fits your budget is not difficult.
Use this trick to tell if a city will fit into your budget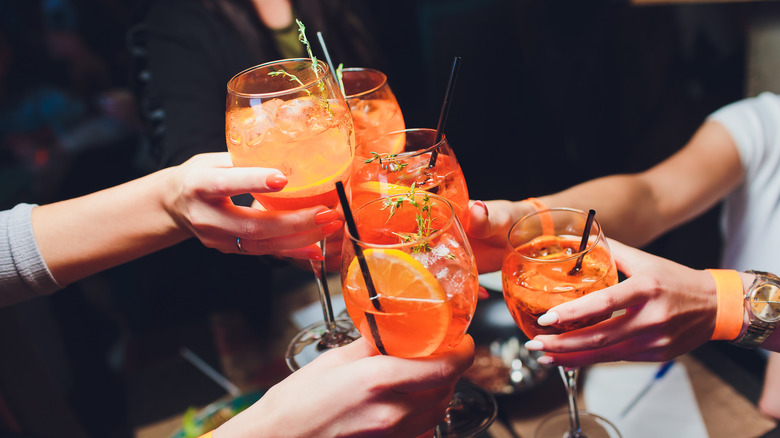 Vershinin89/Shutterstock
Want to know the secret to determine how expensive any location is in Italy? While it might sound a bit silly, a good metric to judge by is to check the prices for an Aperol spritz. Yes, really. Take Milan, for example. It's known as the most expensive city to live in Italy. While it happens to be the home of Aperol, apparently, being closer to the source of production doesn't make it any cheaper — a glass of the orange stuff here can set you back €16 to €20. Yikes!
As you head down the Boot to Florence, prices ease up a bit, but our Aperol metric tells us it's still a bit on the high side — though it beats Milan at around €10 to €14. This makes sense. Florence is one of the most popular destinations in the world. Upcharges are to be expected. However, it's easy to find quiet side streets with dimly lit trattorias where you can nab a cheaper meal and a cheaper drink.
On the other hand, Rome and Naples have every other major city in Italy beat when it comes to affordability. Pasta, pizza, mains, cocktails, and more can all fit well within a tighter budget. Espresso is €1 or less, a cornetto is €2 to €3, and a hefty plate of carbonara can be found for €6 to €8. An Aperol spritz? €5 to €8. It doesn't get much better than that!