TikTok Swears By This Clever Disney Food Hack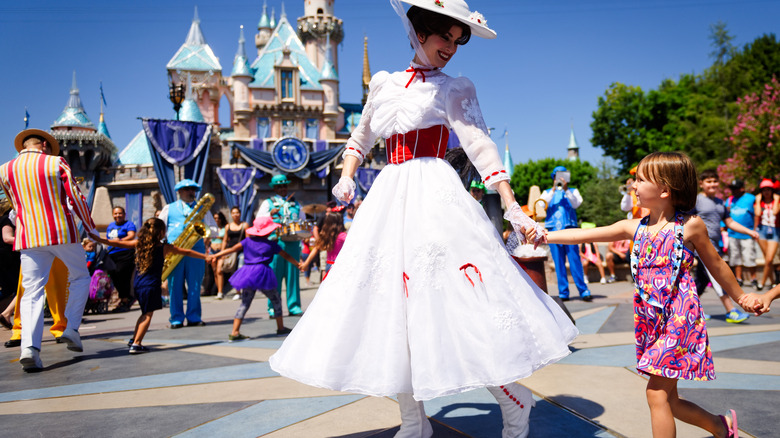 Smckenzie/Getty Images
It pains us to say it, but even the happiest place on earth isn't immune to inflation. Aside from a significant bump in Disney World ticket prices, the costs of food inside have risen, too. The Los Angeles Times reported that the price of food and beverages at Disney increased as much as 12% in the years post the peak of the pandemic. But experts noted that this is not limited to Disney parks — it affects food establishments across the board. "Food prices have increased necessarily to adjust for the cost of food and labor, but honestly it's not any different than any restaurant on the street," Ken Whiting, chairman of the International Association of Amusement Parks and Attractions, explained. 
Still, it's certainly a bummer to have to spring more for treats in these already pricey parks. Many of the most popular snacks are exclusive to Disney, including the Mickey-shaped pretzels, the Dole Whip, the Mickey beignets, and of course, the world-famous turkey legs. "It tastes nothing like turkey from your Thanksgiving dinner. This turkey leg is smoked until the skin gets hard and crispy and the inside is juicy," Ziggy Oskwarek, owner at Ziggy Knows Disney, shared with Go Banking Rates. "It's a Disney snack rite of passage."
With these turkey legs retailing for $12.49, they can be quite heavy on the pocket, especially if you're buying for the entire family. Thankfully, if you want to maximize these scrumptious snacks, a TikToker found a way to make them go much further.
Make sandwiches out of the famous turkey legs
If you want to split a giant Disneyland turkey leg among your family and friends, you can do so without passing it around and having everyone take a bite out of the same one. A clever trick from TikTok user @khan_of_cons demonstrates how you can bring a pack of Hawaiian rolls into the park and create sandwiches or sliders from a single turkey leg instead. That way, not only will you get to stretch your dollar, but you can create more servings for everyone in your group, too.
Users found this trick so ingenious that many chimed in, in the comments section, to applaud the idea and share ways to elevate the sliders even further. "This is a great idea — that turkey leg can feed 4, but nobody wants a communal gnaw on the bone. Sliders or tacos is the way to go," one user noted. "Not me with my Tupperware of white rice for my turkey leg," quipped another. Some even suggested sprinkling in condiments like mustard and chili.
This hack is a great way to maximize Disney snacks. But, if you don't want to spend a dime on any food at all, you can always take advantage of the parks' leniency in bringing in food. As noted on their website, as long as the food's non-alcoholic, not placed in glass containers, doesn't smell funky, and doesn't require any special maintenance like heating or refrigeration, it's good to go.