The Best Time To Visit Dollywood To Avoid Big Crowds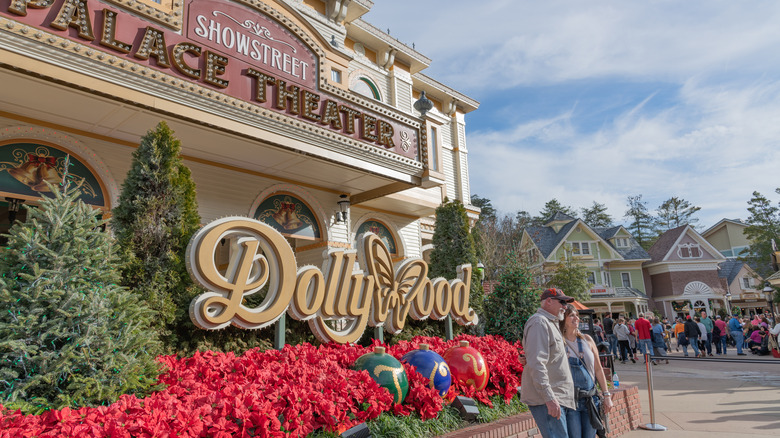 Michael Gordon/Shutterstock
Dolly Parton hails from Tennessee, and she's brought her sparkle back to her home state. There's a rooftop bar in Nashville that pays homage to our "9 to 5" queen that is an absolute must-see for fans. But if you love Dolly, then you should definitely add Dollywood to your bucket list. Located in Pigeon Forge, Tennessee, the amusement park sits at the base of the Great Smoky Mountains and celebrates all things Dolly Parton. The great American singer-songwriter has owned the park since 1986, along with Herschend Family Entertainment, creating a partnership that hasn't stopped expanding.
People love Dollywood because there is so much to do. The rides are top-tier, especially Big Bear Mountain, the longest coaster at the park, but the amusement park is just the tip of the iceberg. There are firework shows, dance parties, a drive-in movie theater, a bubble foam zone, loads of singing, and a bubble show. There's also a water park with epic slides, a wave pool, and an attraction called Raging River Rapids, which mimics the turbulent waters of the Great Smoky Mountains. 
When it comes to places to stay, take your pick. There's Dollywood's HeartSong Lodge & Resort and Dollywood's DreamMore Resort and Spa. Or you can stay in the Bear Cove Cabins if you want something that's outdoorsy but still glam. Hey, it's Dolly Parton. We'd expect nothing less. But if we have our sights set on Dollywood, so does everybody else, and there's nothing like a crowd to take away some of the fun. Thankfully, we have some tips to avoid a crowded Dollywood.
Avoid weekends and holidays at Dollywood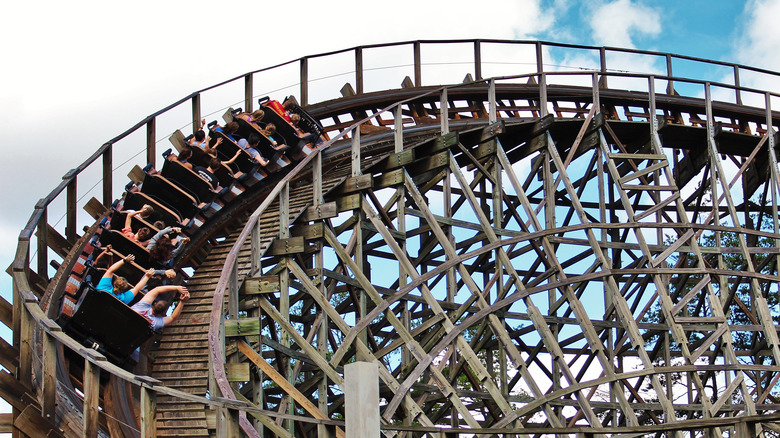 Nicholas Lamontanaro/Shutterstock
The best way to beat the crowds at Dollywood is to strategize around the holidays and peak season. Simply go when it's going to be less crowded. The amusement park offers major events around the year, like the Harvest Festival with Great Pumpkin LumiNights in Hoot Owl Hollow. Christmastime is even more exciting. The park hosts what's called Smoky Mountain Christmas, featuring twinkling lights all throughout Santa's Village, a train, and holiday shows. Of course, the summer also attracts crowds when school's out and families take their summer vacations. Take note of these busy seasons and avoid them. According to the Dollywood website, opt for a visit that falls before or after a major holiday, as the park will be less crowded. If you're taking weather into consideration, April or September may yield the best days to enjoy the park since it's typically sunny without being too hot. Additionally, three-day weekends can also be a bad time to go since so many families will take advantage of the holiday. Always opt for weekdays, if you can.
There's another insider trick. Take advantage of gloomy days. If the weather's bad, this is your time to shine at Dollywood. Most people will opt out of going to the park, so jump in and enjoy the quieter day. Plus, there's so much to do indoors that you'll be entertained, even if it rains during the day.
Take advantage of the Dollywood TimeSaver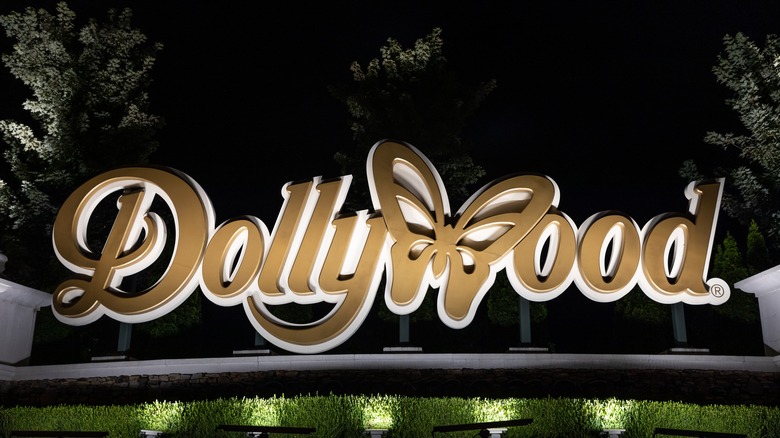 Hendrickson Photography/Shutterstock
Like many amusement parks, Dollywood offers some insider tracks for visitors. Rides are free with paid admission, but visitors can pay extra for a TimeSaver pass. Depending on how many rides you want expedited admission for, a TimeSaver pass costs anywhere from $60 to $99 a person. There are other loopholes for those who want to make the most of the rides at Dollywood. If you're a Diamond or Gold Passholder, you can get entry into the park one hour before it opens to the public on Saturdays and take advantage of this time to enjoy rides. Combine this with a TimeSaver pass and then you're really talking!
Speaking of getting there early, you can technically enter Dollywood half an hour before its posted opening time, though there is limited access. Nevertheless, you can get a head start on the day. Another trick is to go in the opposite direction of the rest of the crowd. When people enter the gates, go in the other direction and head for the back of the park. Then work your way towards the entry as the day goes on. Swimming against the current is one way to lessen delays from the crowds.