TikTok's Simple Hack For Entertaining Your Kids On Long Road Trips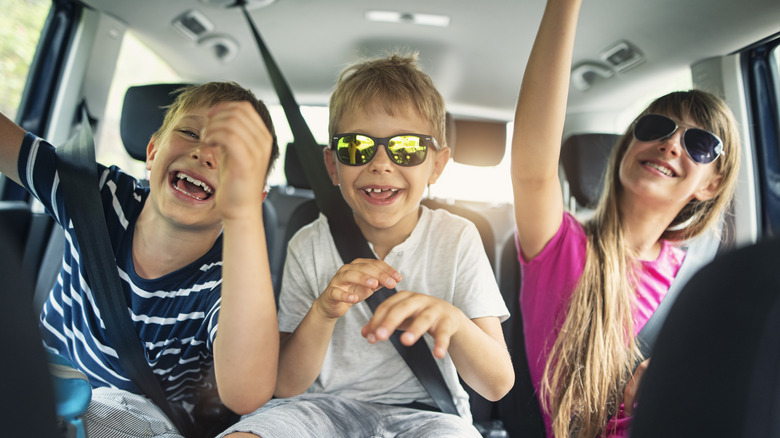 Imgorthand/Getty Images
If you're calling your drive a "road trip," we assume you're going to be in the car for more than a couple of hours. Which, in anyone's eyes, is a somewhat daunting adventure. For huge chunks of time, you're confined to the same stuffy space, endlessly battling boredom and the urge to take a bathroom break. And while this is a struggle for the typical adult, it's even more of a struggle for the attention span and energy levels of a child.
Considering this, we realize that the parents of little ones have to combat triple the amount of car-ride restlessness to make it through the trek. Childhood development experts generally agree that although "every child is different," toddlers can maintain their focus for about four to six minutes and that this attention span increases every year by anywhere from a few minutes to ten minutes, depending on the age (via CNLD Testing & Therapy).
With 120 minutes or more in the car to fill, keeping them happy might require a bit of song and dance — both literally and figuratively. It sounds brutal, but like with all life challenges, TikTok offers solutions. This TikTok hack involves placing your phone in a clear gallon Ziploc baggie and pinning it to the back of the seat by placing the empty space underneath the insert rods of the headrest. Once you do this, play their favorite video entertainment and bam, your kid is happy and entranced.
Grab your phone and a Ziploc bag
TikToker @whitneyleavitt shared this hack that is saving thousands of parents from their road trip anxiety. And we're not being hyperbolic; her post has one million likes and 39.5K bookmarks. By placing the phone in a Ziploc bag and hanging it from the front seat, your child from the back will be able to have constant entertainment. This hack will remind you of those days back in the '90s or early 2000s when a family car had TV screens built into the back of the front seats. If you didn't have those, your parents might have made you listen to some audiobooks on the CD player.
Nowadays, kids have a wide selection of the most advanced technology to entertain themselves with. Not only that, but their parents have TikTok, so they know exactly what to do with that technology to make it an optimal experience. "GIIIIRRRLLLLL, Genius!" one TikTok user commented, with others writing, "Omg that's brilliant," "Wow," and "so darn smart!!! I will be doing this." Ah, TikTok — keeping parents sane on road trips, one video at a time.
TikTok roadtrip hacks that don't involve a screen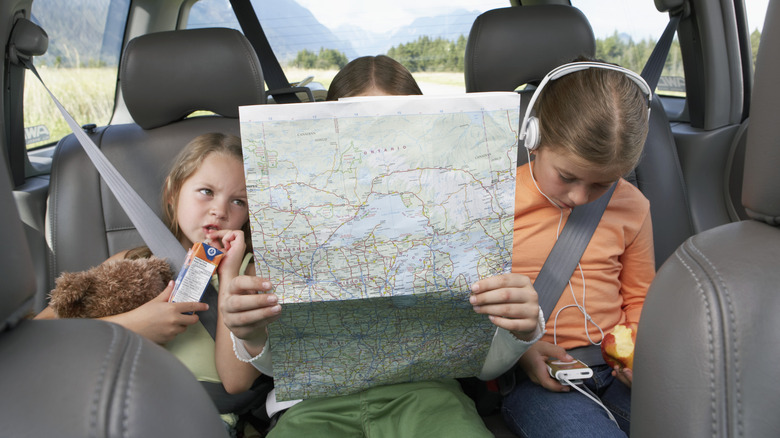 Noel Hendrickson/ Getty Images
Now, we know not everyone is a big fan of screen time for children. And even if you don't mind it, it's likely that your kid will want to move on to another, more hands-on activity after some time. But don't panic — TikToker @minneesday has provided some simple, low-cost suggestions for keeping your little ones busy. Her first tip is to provide your kid with snacks. We all know how a good snack can stave off some boredom. And, if you're a kid who can play with anything, this is especially true.
Another easy-peasy solution to your kids' boredom is to pack an O-ball with different colorful fabrics. Your child can entertain themself by pulling each one out of the wad in the center. These little pieces of cloth can then double as props for a good ol' game of peek-a-boo. Whatever your activities, though, we recommend you bring along a hanging toiletry case. This bathroom staple will help keep your car organized. Lastly, @minneesday reminds her viewers to plan rest stops for their long road trips. Giving you and your kids some fresh air and movement will make everyone just a little more sane.