The First Thing Anthony Bourdain Would Book When Traveling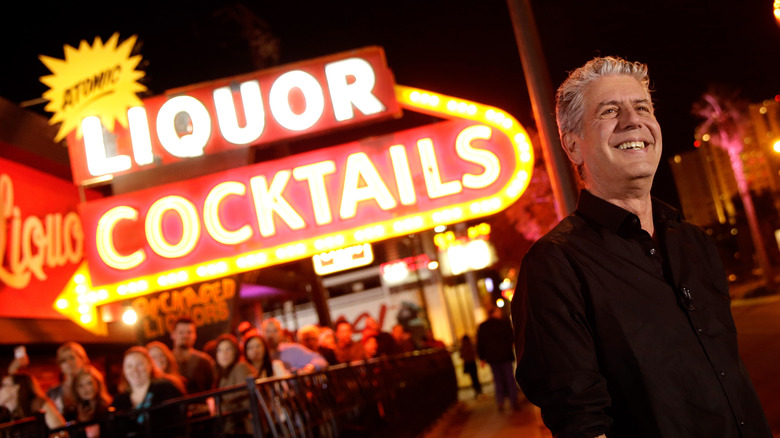 Isaac Brekken/Getty Images
If there's one thing avid travelers can agree on, it's this: Anthony Bourdain knew his way around a good trip. From his culinary escapades to his cultural and political deep-dives — all of which were well-documented on his TV shows, Parts Unknown and No Reservations — Tony was a traveling force to be reckoned with.
Luckily, this also meant that he had plenty of knowledge to share. From spotting the best local places to eat to avoiding tourist traps, we could all learn a thing or ten about how Bourdain traveled the world. One of his best tips, however, was always to book your hotel first. And not just any hotel; a hotel in the middle of the action.
Whether that meant booking a cozy corner in the heart of Hanoi, nestling into a boutique hotel amidst the lively streets of Marrakech, or finding a quaint room overlooking the piazzas of Rome — this is the one thing he was never afraid to splurge on. After all, this meant he could always be amongst the locals and within walking distance of every destination's most authentic moments.
Experiencing life as the locals do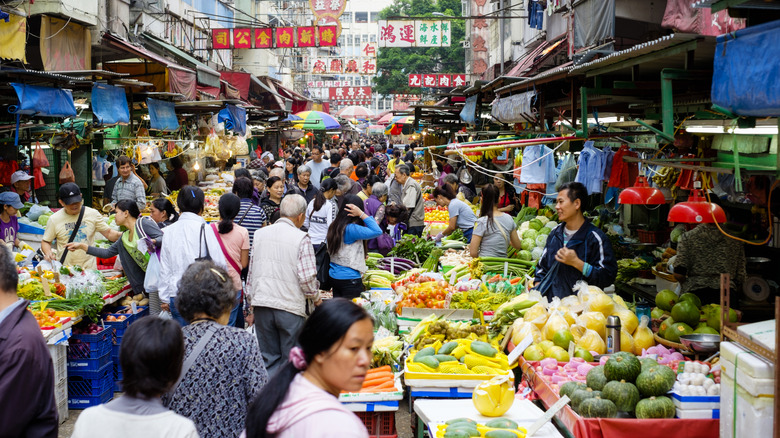 Richlegg/Getty Images
For Anthony Bourdain, travel was never a spectator sport. On the contrary, he believed in plunging into the local scene and actively engaging with the people. This often translated into heartwarming meals with families in their homes, joining locals for a drink, or even getting stuck in with the local customs. For Bourdain, the essence of a place wasn't in its monuments or museums but in its people, their stories, and their everyday lives.
That said, it's clear that Bourdain's approach to travel was a departure from the norm — even while he was filming one of the most popular travel shows on CNN. Instead of meticulously planned itineraries packed with tourist hotspots, he preferred the unpredictable, often finding himself in places off the beaten path. And this wasn't just a travel style — it was a philosophy. Ditch the guidebooks, avoid the crowds of tourists lining up outside, and follow the locals.
Or, as Bourdain put it, "If you're in a restaurant where everyone looks like you, like a tourist, you probably wound up in the wrong place."
Why Bourdain's advice resonates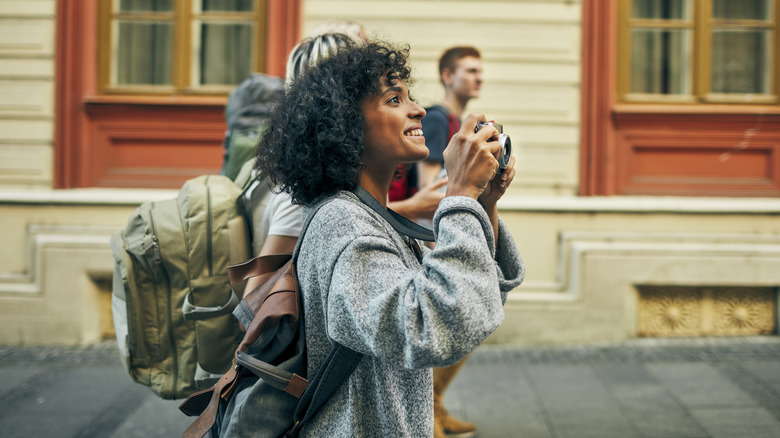 Vgajic/Getty Images
Bourdain's emphasis on centrally-located accommodations wasn't just about convenience — although that's definitely a plus. When you're right in the heart of things, you get a genuine feel for the city's pulse. You wake up to the sounds of morning markets setting up, witness the daily rhythms of its people, and watch the city transform as the day progresses. In short, it's about being a part of the city — not just a visitor.
According to Booking.com's most recent Travel Predictions 2023 report, nearly 73% of travelers agree they want to travel outside of their comfort zone. Meanwhile, an additional 30% are eager to hit up lesser-known destinations to uncover their own hidden gems. With this in mind, it makes sense that you'd want to follow Bourdain's advice.
After all, when done right, it could mean that simply wandering out of your accommodation would lead you to some of the most delightful and unexpected discoveries. Whether it's a local cafe where commuters spend their morning, food joints that don't cater to touristy tastes, or small restaurants that aren't splashed all over social media, these travel experiences — often stumbled upon rather than sought out — are the ones most likely to stay with you.