The Most Beautiful College Campuses In America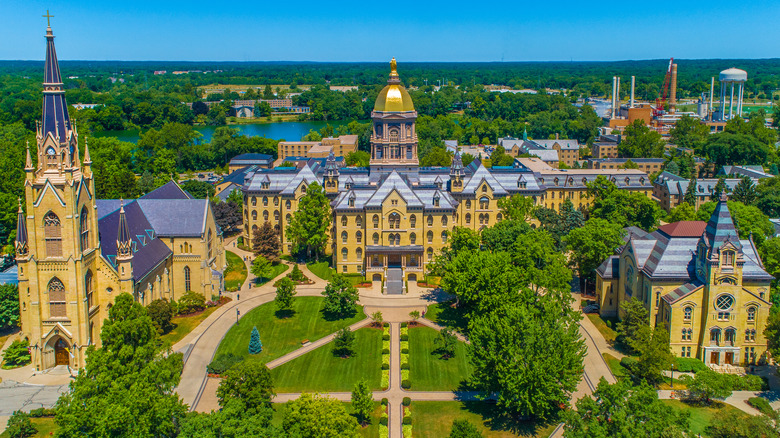 Aaron Yoder via Getty Images
While many prospective college students and their parents think about a university's academic rigor, prestige and price when choosing where to attend, another factor to consider is the beauty of the campus itself. Many American academic institutions have been designed to facilitate and inspire learning with impressive buildings, serene landscaping and amazing art. 
We scoured media coverage, online reviews and other accolades to compile a list of schools from coast to coast with campuses that stand above the rest. Read on to discover if your alma mater is among the most beautiful college campuses in the country.
Bard College (Annandale-on-Hudson, New York)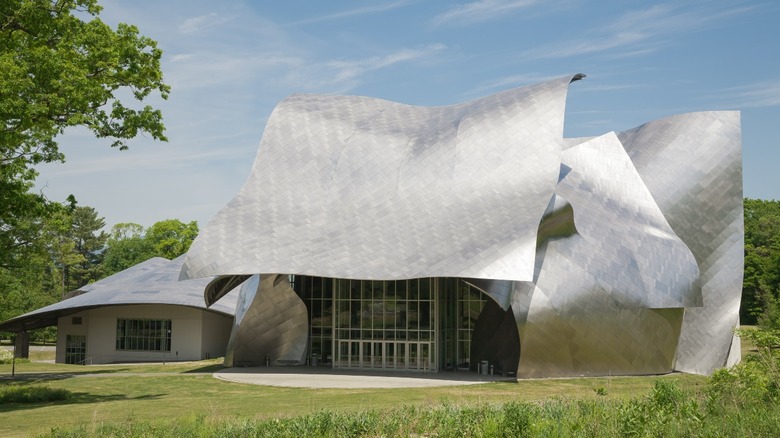 Nancykennedy/iStock.com
With the majestic Catskill Mountains as its backdrop, Bard College's campus has rural charm. Alongside its historic Collegiate Gothic buildings, it also boasts amazing modern architecture such as the Richard B. Fisher Center for the Performing Arts, which has a distinctive curved metal roof.
Baylor University (Waco, Texas)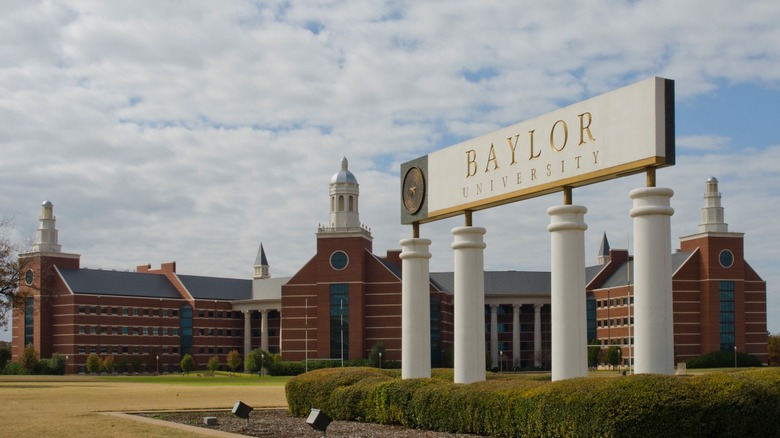 Chapin31/iStock.com
Baylor was founded in 1845 and is the oldest continually operating university in Texas. Its buildings are primarily Georgian-style, including the iconic Pat Neff Hall. It is topped with a dome that is lit green to celebrate Baylor athletic victories.
Belmont University (Nashville, Tennessee)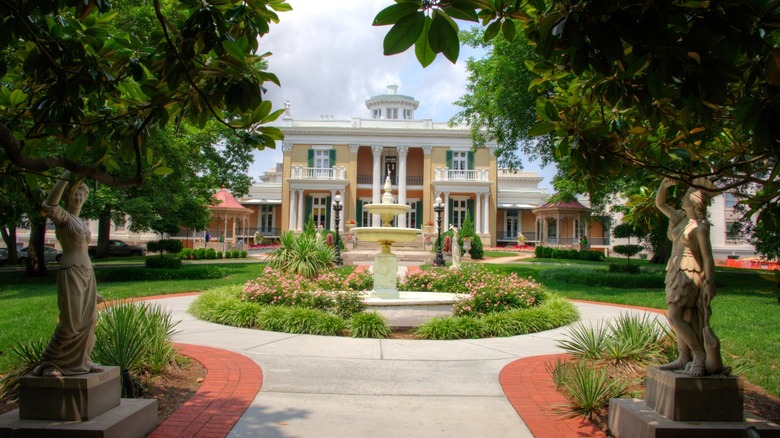 Wichai Cheva Photography/Shutterstock
Belmont University in Nashville is located on the former Belle Monte estate, which includes an antebellum mansion that looks frozen in time. Built in 1853, it is on the National Register of Historic Places. The 105-foot bell tower, gardens and gazebos are also scenic aspects of the school.
Berry College (Mount Berry, Georgia)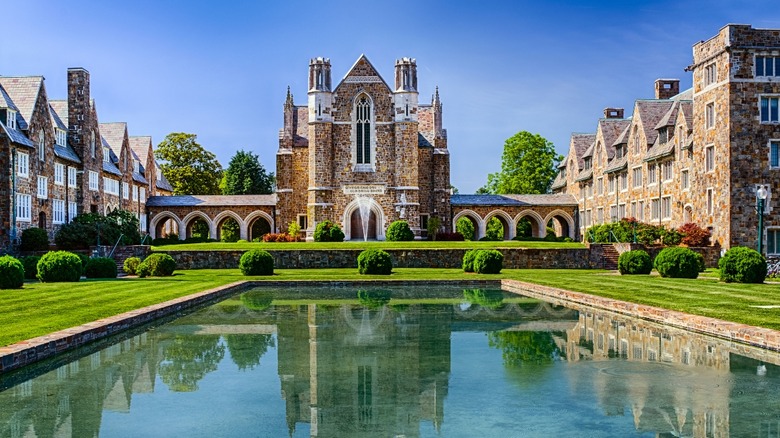 Rob Hainer/Shutterstock
Georgia's Berry College has the distinction of being the largest contiguous college campus in the world. The campus stretches over more than 27,000 acres and has more than 100 miles of trails for hiking and biking as well as woodlands, meadows, streams, mountains and lakes. The English Gothic-style buildings add European charm to this idyllic setting.
Bryn Mawr College (Bryn Mawr, Pennsylvania)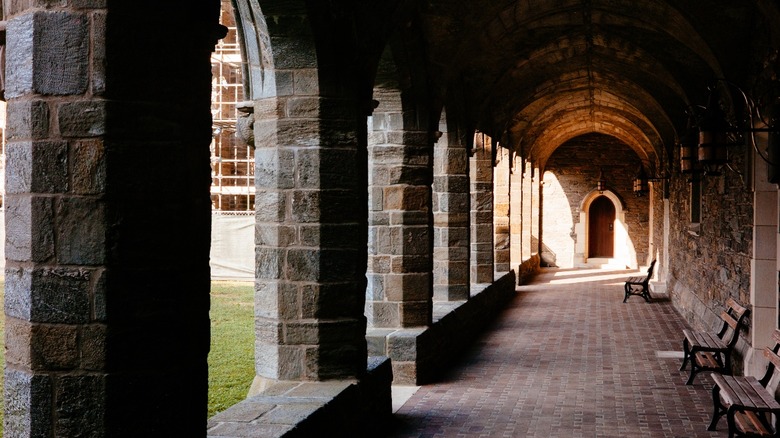 Zac Endter/Shutterstock
Inspired by the architecture of Oxford and Cambridge universities, Bryn Mawr College in Pennsylvania is a beautiful example of Collegiate Gothic architecture. The style of Bryn Mawr's Pembroke Hall was later copied at schools such as Princeton. The designer of New York City's Central Park, one of America's most popular tourist destinations, also designed the sprawling, tree-filled campus.
Columbia University (New York City, New York)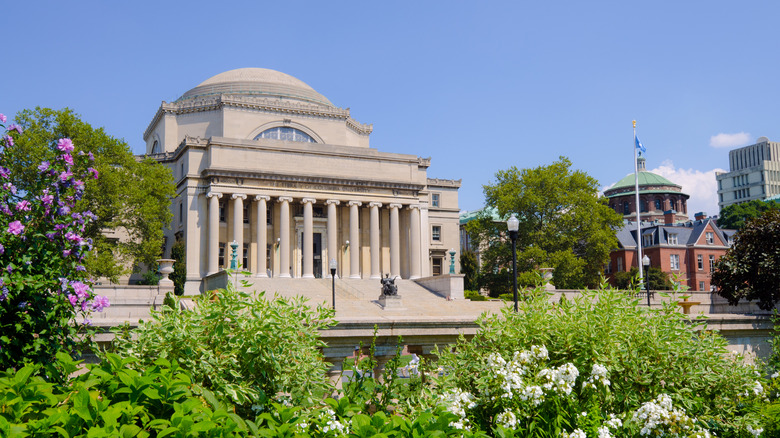 Gregobagel via Getty Images
Located on the Upper West Side of Manhattan, New York, Columbia is home to beautiful Beaux-Arts buildings. Butler Library and Low Memorial Library both boast iconic Ionic columns. Columbia has a half dozen buildings listed on the National Register of Historic Places, including Earl Hall, recognized for its significance in LGBTQ history.
Cornell University (Ithaca, New York)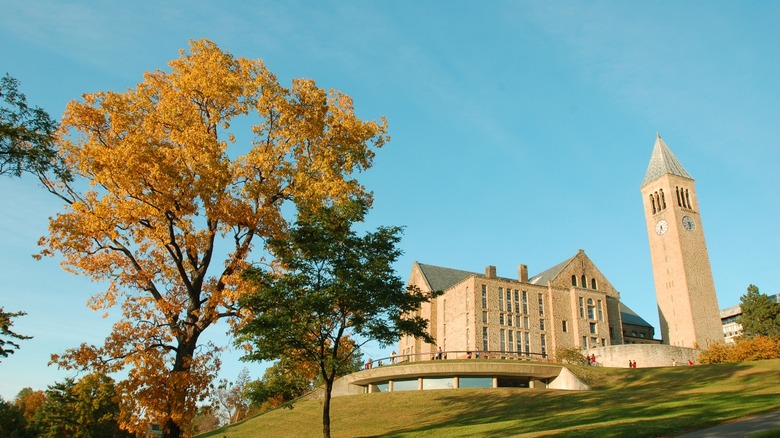 Qing Ding/Shutterstock
This sweeping 745-acre Ivy League campus in Ithaca, New York, is nestled on a hillside above Cayuga Lake near Cascadilla Gorge and multiple gorgeous waterfalls. On top of stunning natural beauty, Cornell has a mix of historic and contemporary buildings, such as the Johnson Museum of Art designed by I. M. Pei and Partners.
Dartmouth College (Hanover, New Hampshire)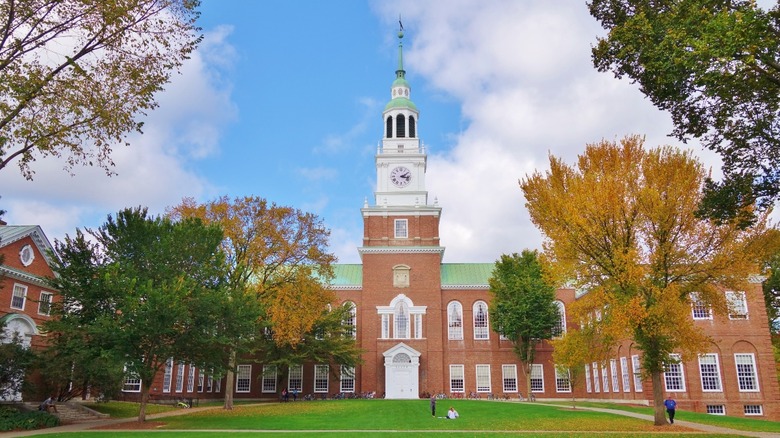 Dan Lewis/Shutterstock
Dartmouth College is tucked away in rural Hanover, New Hampshire, and centered around Dartmouth's Green. It has several historic colonial-style buildings, including Baker-Berry Library, which has a 200-foot-tall tower. This building, which opened in 1928 and received an addition in 2000, was inspired by Philadelphia's Independence Hall, a must-visit site for American history buffs.
Duke University (Durham, North Carolina)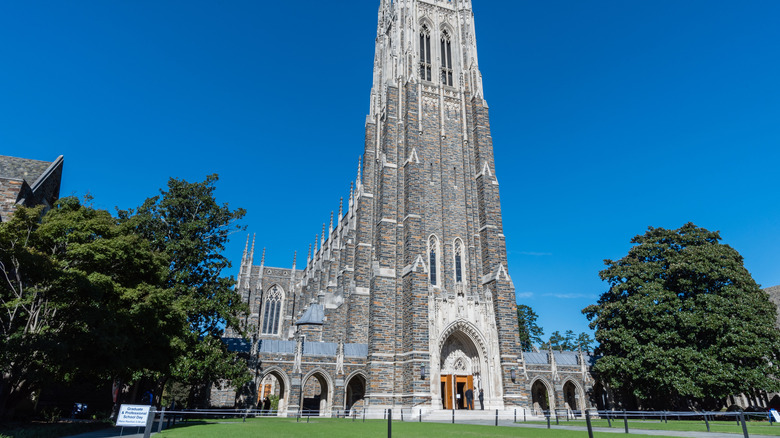 Alex Krassel/Shutterstock
Duke University is famous for its school spirit and Collegiate Gothic architecture, with Duke Chapel as the campus's crowning glory. This landmark stands out with its 210-foot, four-spired tower. Students can take in North Carolina's natural beauty in the 55-acre Sarah P. Duke Gardens or in the 7,000-acre Duke Forest, which is used for research and recreation.
Elon University (Elon, North Carolina)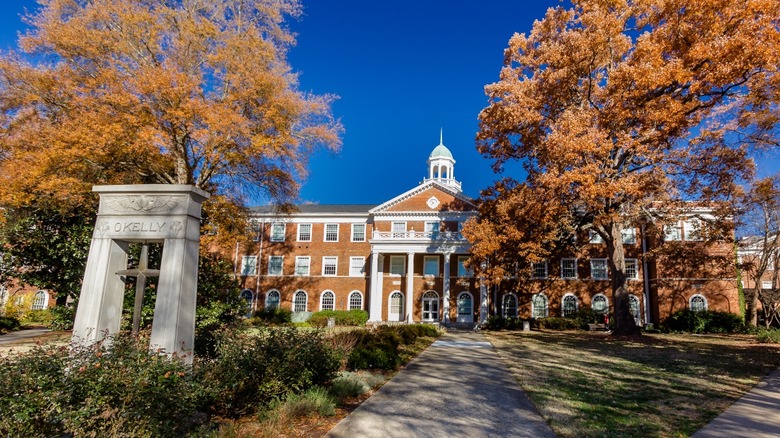 Bryan Pollard/Shutterstock
Elon's College Historic District and Johnston Hall are listed on the National Register of Historic Places. These red brick, white-columned Colonial Revival buildings exude small-town Southern charm. The campus is also dotted with lovely features like fountains and is home to its own forest.
Flagler College (St. Augustine, Florida)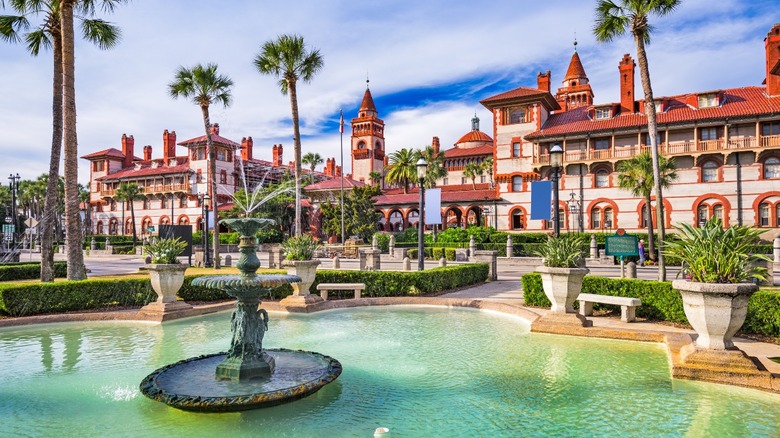 Sean Pavone/Shutterstock
In 1968, Flagler College moved into the former Ponce de León Hotel, a luxurious Spanish Renaissance building with Tiffany stained-glass windows and mosaics. The campus preserves the architecture and history of St. Augustine, one of the best coastal towns in America.
Florida Southern College (Lakeland, Florida)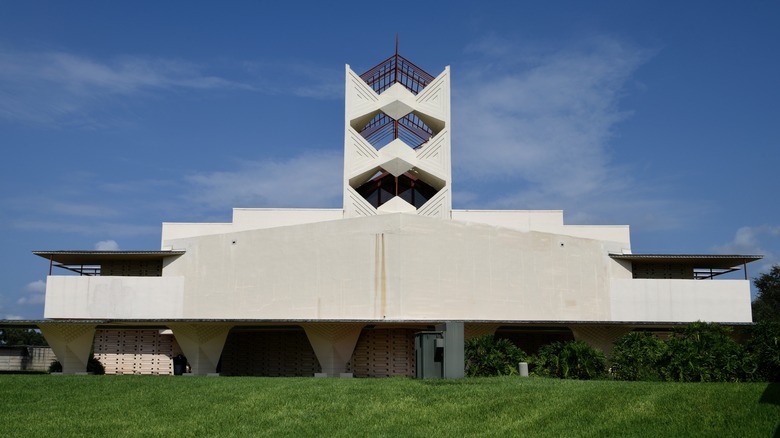 © Jim Roberts - Dreamstime.com
Florida Southern is home to the world's largest single-site collection of Frank Lloyd Wright buildings. The school enlisted the famed architect to transform a lakeside orange grove into a college campus. Wright set out to design "the first uniquely American campus" rather than emulating English university buildings. The first and most famous of his buildings is Annie Merner Pfeiffer Chapel, an awe-inspiring place of worship.
Furman University (Greenville, South Carolina)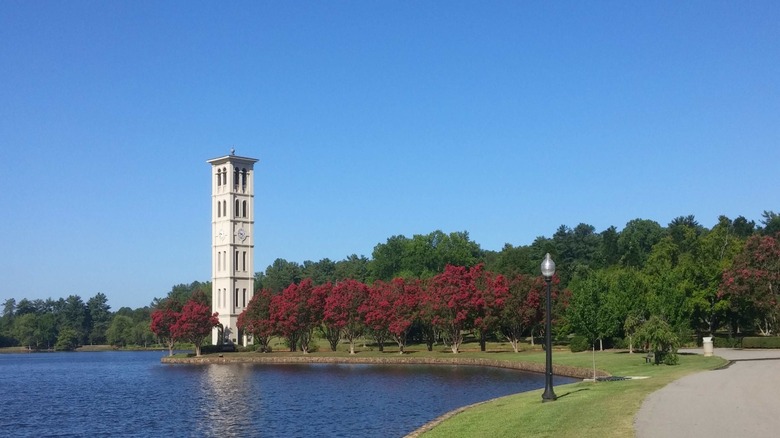 © Ken Pauli - Dreamstime.com
Students at Furman University can enjoy the lush South Carolina landscape of the gardens, lakes and trails across the school's 750-acre grounds. Its iconic bell tower, which feels like something from a storybook, is a 1965 recreation of the original built in 1854.
Georgetown University (Washington, DC)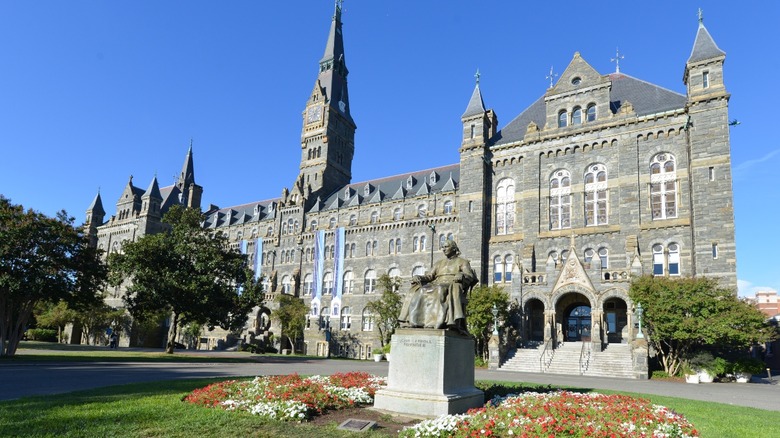 Orhan Cam/Shutterstock
Georgetown University in Washington, D.C., sits along the Potomac River, making for a breathtaking view. Within the campus itself are many impressive Collegiate Gothic and Georgian brick buildings, including Healy Hall, which is a National Historic Landmark.
Harvard University (Cambridge, Massachusetts)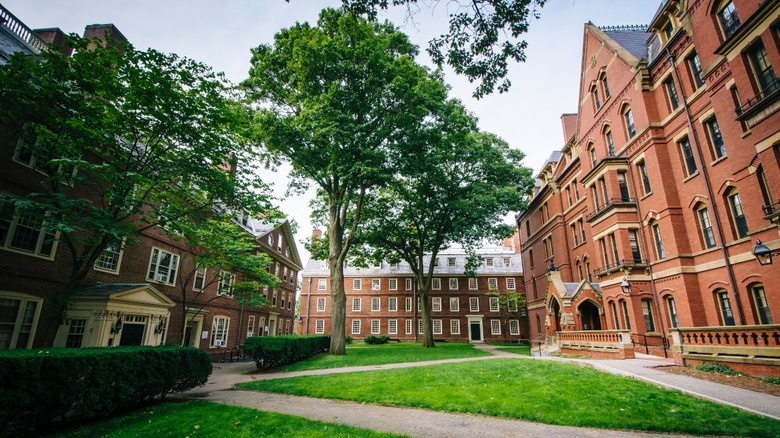 Jon Bilous/Shutterstock
As the oldest college in the United States, Harvard has many classic, historic red brick buildings around Harvard Yard that date back to the 18th century. The colorful High Victorian Gothic Memorial Hall, completed in 1877, is one of many campus buildings that are National Historic Landmarks.
Kenyon College (Gambier, Ohio)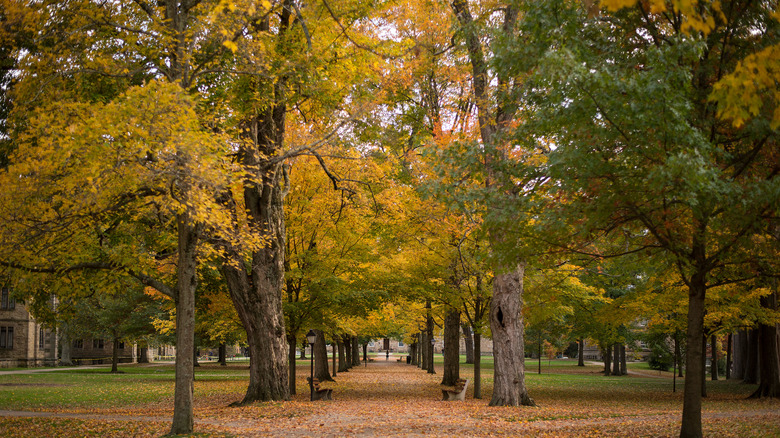 Courtesy of Kenyon College 
Kenyon College spans 1,000 acres in the small town of Gambier, Ohio, which includes a 500-acre nature preserve. The wide, tree-lined Middle Path runs through the campus. Its Victorian Gothic and Greek Revival buildings create an air of academic solemnity.
Lewis & Clark College (Portland, Oregon)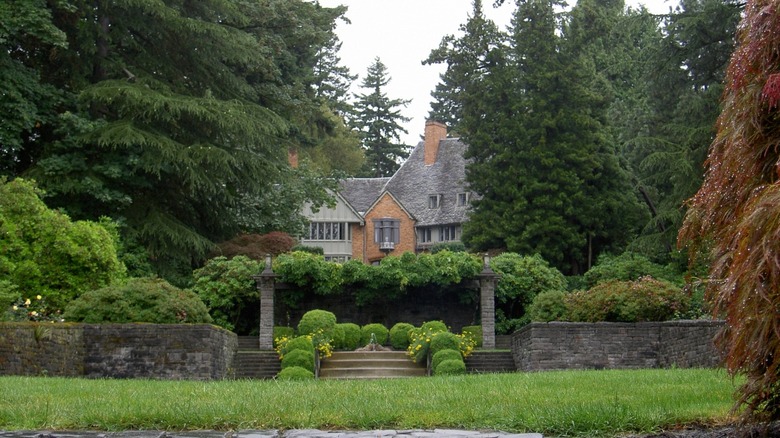 Sara Hulan/Shutterstock
Located south of downtown Portland, Oregon, near the Willamette River, Lewis & Clark College is surrounded by beautiful trees and has views of Mount Hood in the distance. The campus is built around the Tudor-style Frank Manor House, a sprawling mansion on the National Register of Historic Places.
Northwestern University (Evanston, Illinois)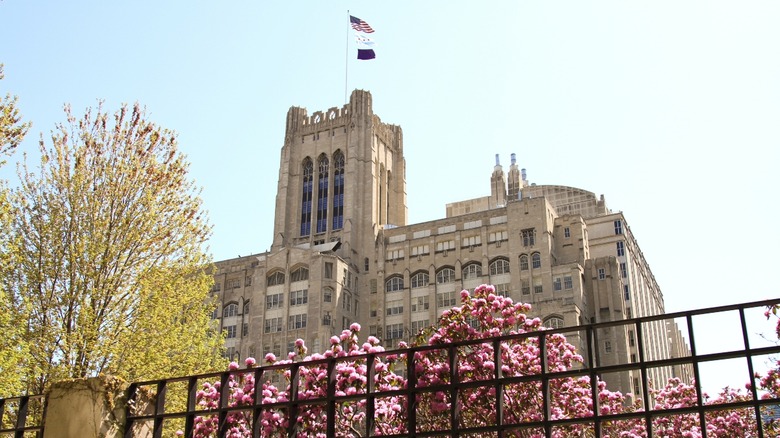 Thomas Barrat/Shutterstock
Located right on the shore of Lake Michigan, Northwestern in Evanston, Illinois, has clear views of the stunning Chicago skyline. The campus is full of greenery, trees and flowers as well as a variety of architectural styles, including the High Victorian Gothic University Hall and the modern Patrick G. and Shirley W. Ryan Center for the Musical Arts, which has floor-to-ceiling windows to take in the lakeside views.
Pepperdine University (Malibu, California)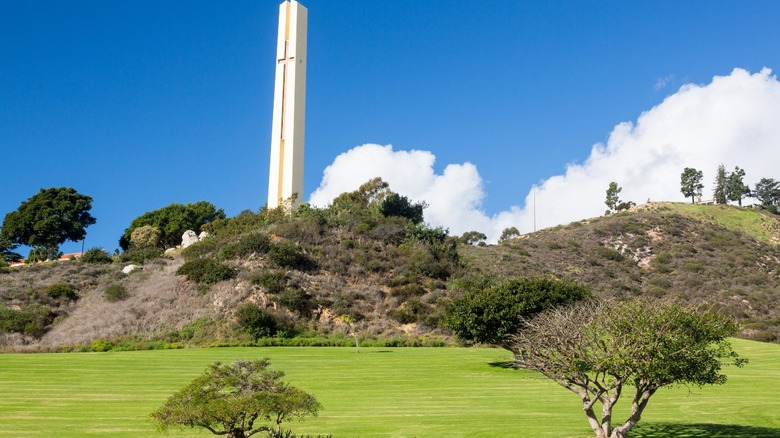 Steve Heap/Shutterstock
College feels like a day at the beach at Pepperdine University in Malibu, California. That's because the palm tree-lined campus is located next to the Pacific Coast Highway, a bucket-list destination for a scenic drive, and the ocean. The school's Mediterranean Revival buildings also lend it a uniquely West Coast charm.
Princeton University (Princeton, New Jersey)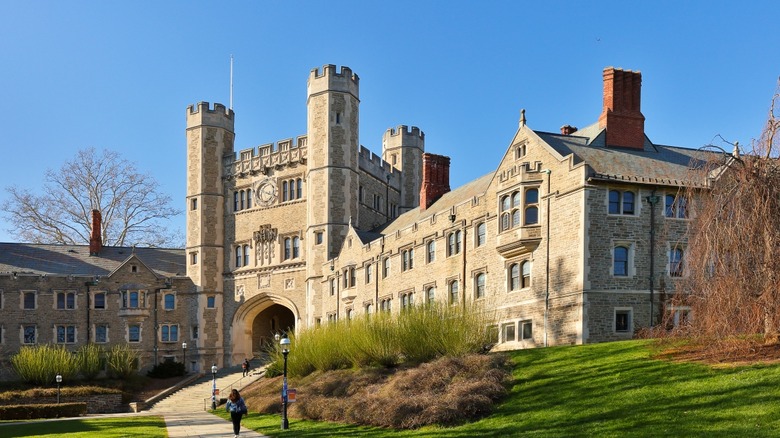 Jay Yuan/Shutterstock
Princeton is considered a paragon of Collegiate Gothic architecture because of famous buildings like the castle-like Nassau Hall, the oldest building on campus and the former meeting place of the Continental Congress. Princeton also has lovely landscaping and footpaths crisscrossing its New Jersey campus for students and staff alike to enjoy the ambiance.
Rice University (Houston, Texas)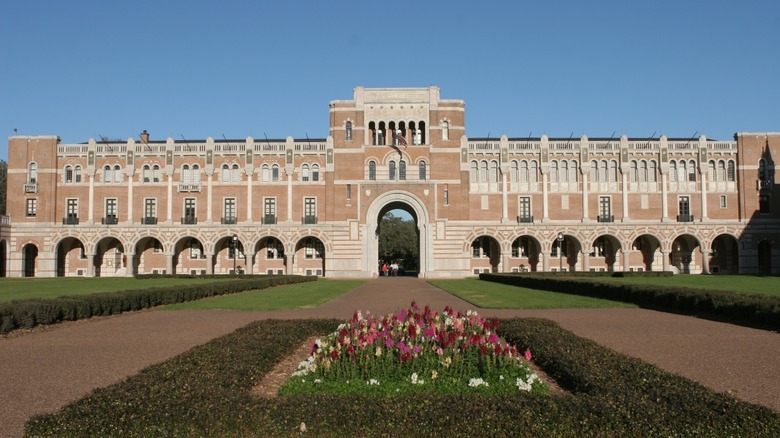 cheng/Shutterstock
Founded in Houston in 1912, Rice University offers a calm retreat from the hustle and bustle of the city with its 300-acre campus. The small campus's Mediterranean Revival buildings like Lovett Hall are surrounded by thousands of trees. In fact, the campus is a designated arboretum and a popular saying goes that the trees on campus outnumber Rice students.
Salve Regina University (Newport, Rhode Island)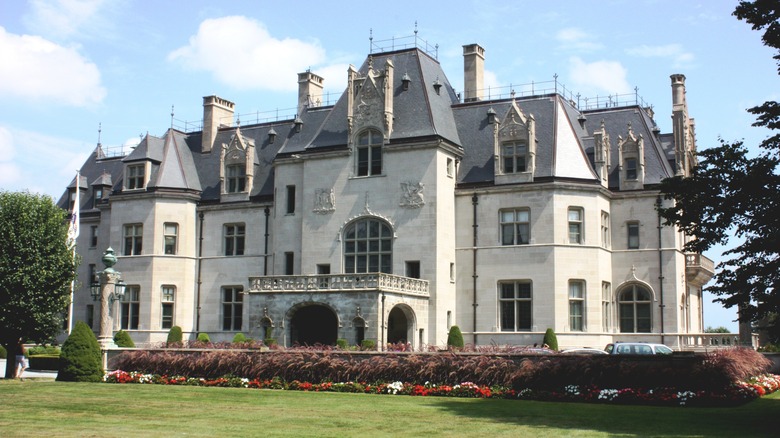 Tom Oliveira/Shutterstock
Rhode Island's Salve Regina University owns several stunning Gilded Age Newport mansions, including the French Gothic Ochre Court and the replica-Elizabethan Wakehurst manor house.
Scripps College (Claremont, California)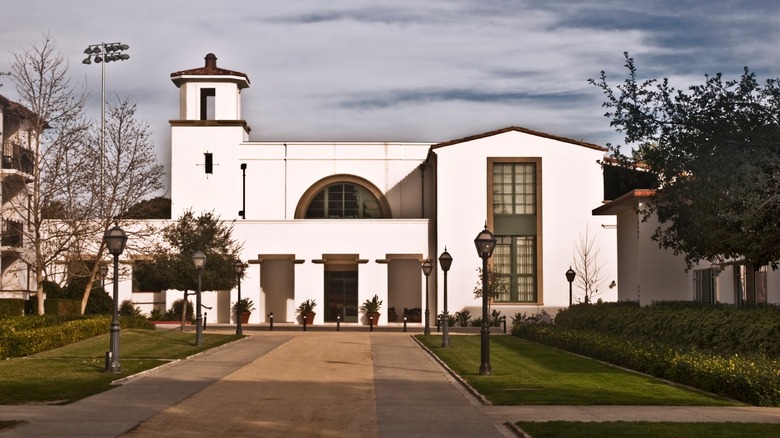 © James Feliciano - Dreamstime.com
Scripps College combines California Mission Revival-style architecture with diverse campus landscaping and peaceful courtyards. Students can even freely pick fruit from the dozens of fruit trees around campus when they're in season, including oranges, avocados, figs and pomegranates. The entire 32-acre campus is on the National Register of Historic Places.
Sewanee: The University of the South (Sewanee, Tennessee)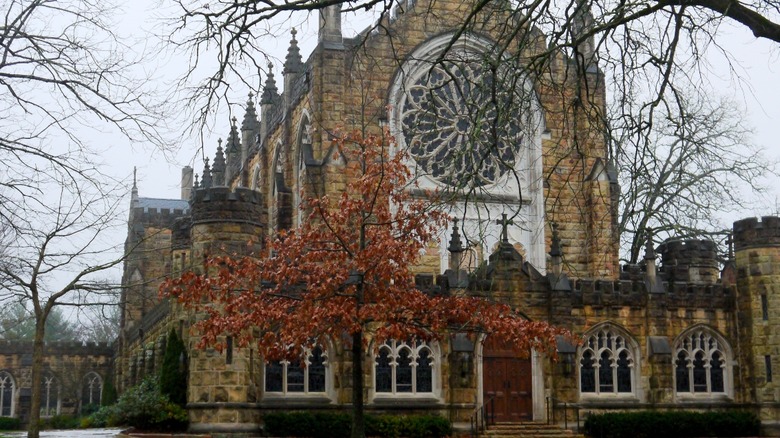 Michael Stephens/Shutterstock
The huge 13,000-acre campus of Sewanee has charming Collegiate Gothic architecture, including All Saints' Chapel. The chapel's beauty is perhaps only rivaled by the surrounding lush forests and stunning views one can see of the Tennessee Valley below.
Southern Methodist University (Dallas, Texas)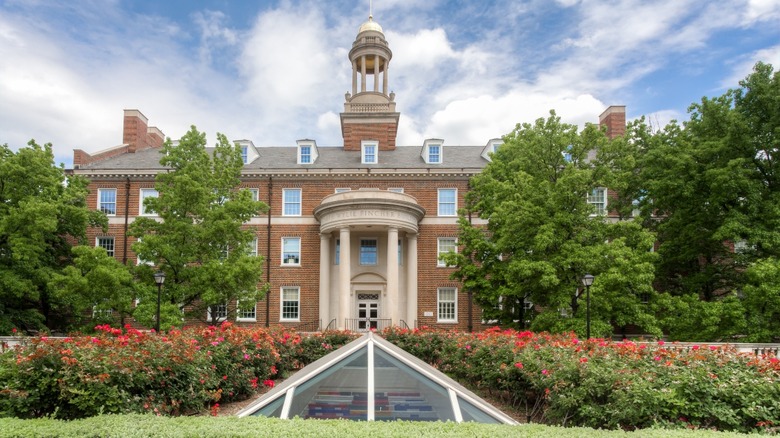 Ken Wolter/Shutterstock
The Collegiate Georgian-style Dallas Hall was the inaugural building of Southern Methodist University. Now this 237-acre Texas campus is known for its spacious lawns and for hosting tailgates, complete with game day snacks, along the tree-lined stretch called The Boulevard on football game days.
St. John's College Santa Fe (Santa Fe, New Mexico)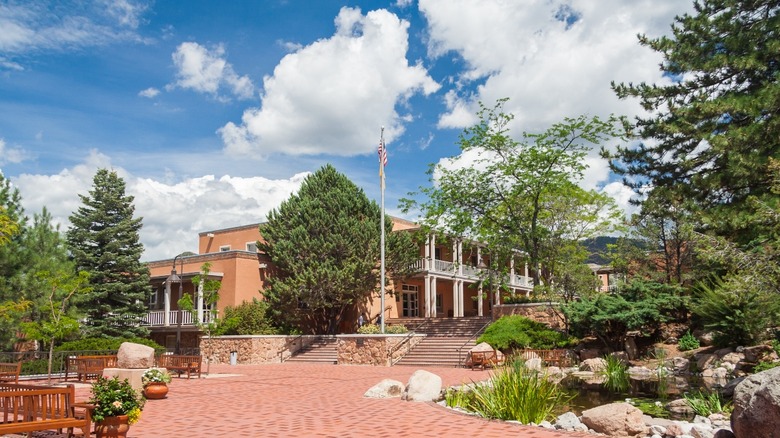 amadeustx/Shutterstock
St. John's College has dual campuses in Annapolis, Maryland, and Sante Fe, New Mexico, with the latter celebrating its surroundings through Southwestern Territorial Revival-style architecture. Located at the foot of Monte Sol with a great view of the city, the 250-acre campus encourages students to explore outdoors as it has hiking trails that lead into the surrounding Sangre de Cristo Mountains.
St. Olaf College (Northfield, Minnesota)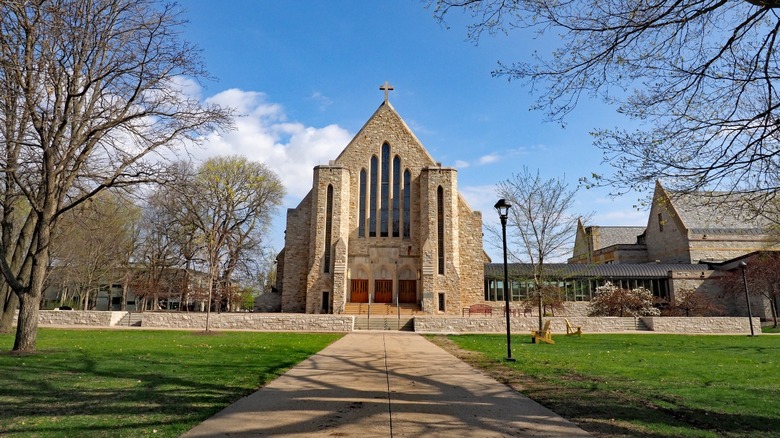 tmphoto98/Shutterstock
Towering trees adorn the scenic campus of Minnesota's St. Olaf College, which is also surrounded by woodlands, wetlands and prairies. The school's Bluebird Trail is a great spot for animal lovers to enjoy the native bluebird population. The Old Main building is also listed on the National Register of Historic Places.
Stanford University (Stanford, California)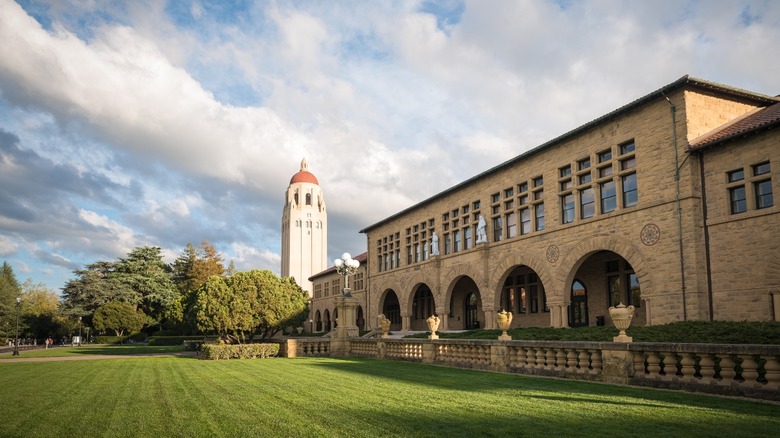 Uladzik Kryhin/Shutterstock
Stanford's 8,180-acre campus is stunning from the moment you enter through the mile-long, tree-lined Palm Drive to head to the California Mission-style Main Quadrangle. The school's  "architectural crown jewel" is Stanford Memorial Church, completed in 1903. Climb up to the observation deck of the iconic landmark Hoover Tower on a clear day for an amazing view of the San Francisco Bay Area.
Swarthmore College (Swarthmore, Pennsylvania)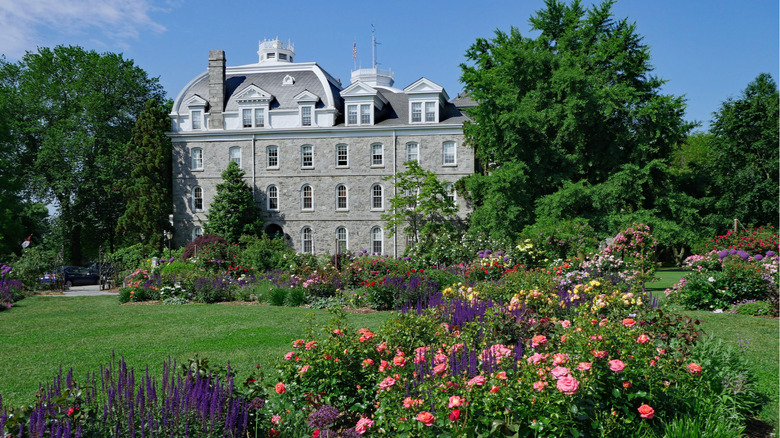 Spiroview Inc/Shutterstock
Swarthmore College started in 1864 with just one building, the stately Parrish Hall. Today, it covers about 300 tree-filled acres that are all part of the Scott Arboretum, which also includes a rose garden and a picturesque outdoor amphitheater.
Tulane University (New Orleans, Louisiana)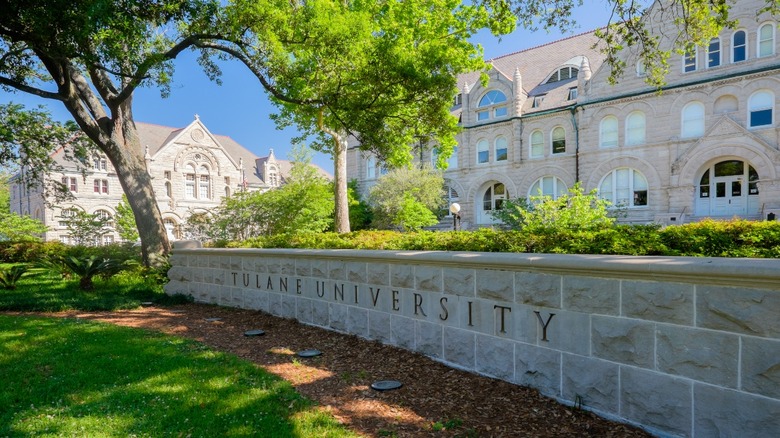 Fotoluminate LLC/Shutterstock
Located in the vibrant city of New Orleans, Tulane University's current campus opened in 1894 and is located across the street from the beautiful, 300-acre Audubon Park. The campus itself has many large live oak trees and features architecture ranging from Richardsonian Romanesque to Italian Renaissance to modern.
University of California, Los Angeles (Los Angeles, California)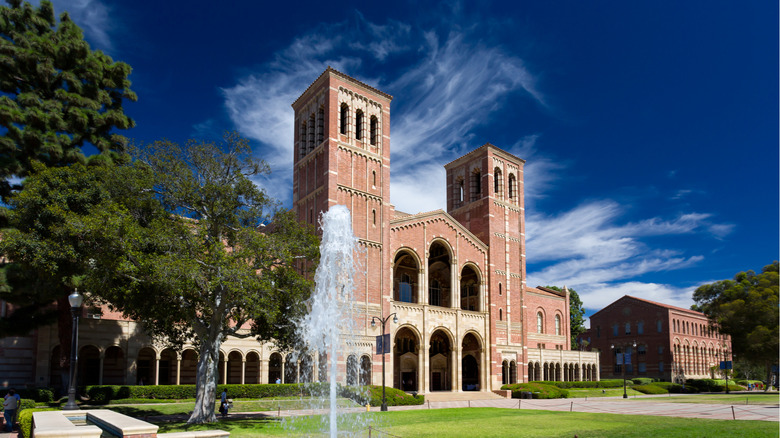 Ken Wolter/Shutterstock
UCLA's current campus was established in 1929 with only four Romanesque Revival buildings. The campus today has more than 400 acres, including a sculpture garden, fountains and plenty of tree-lined green spaces and is a popular Hollywood filming location for college scenes in movies and TV shows.
University of Chicago (Chicago, Illinois)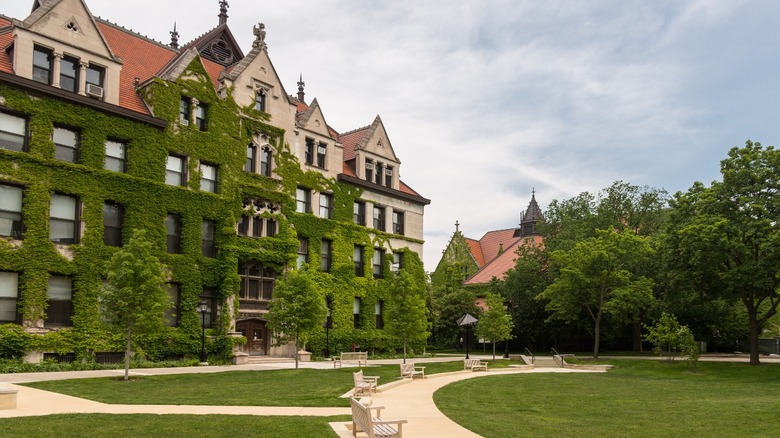 Damian Koziel/Shutterstock
The University of Chicago's ivy-covered Gothic structures were inspired by Oxford, and its 217-acre campus near Lake Michigan straddles the Midway Plaisance, a linear park created for the 1893 World's Columbian Exposition. Multiple campus buildings are on the National Register of Historic Places, and the school has its own botanical garden.
University of Cincinnati (Cincinnati, Ohio)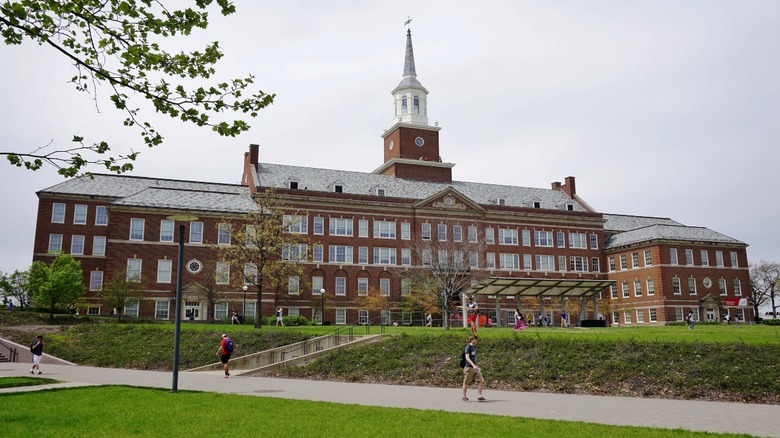 EQRoy/Shutterstock
The University of Cincinnati moved to its current campus in 1893 but in recent decades has been updating its appearance by commissioning new buildings designed by "signature architects." Frank Gehry's Vontz Center for Molecular Studies and Peter Eisenman's Aronoff Center for Art and Design are among the campus's modern gems.
University of Colorado (Boulder, Colorado)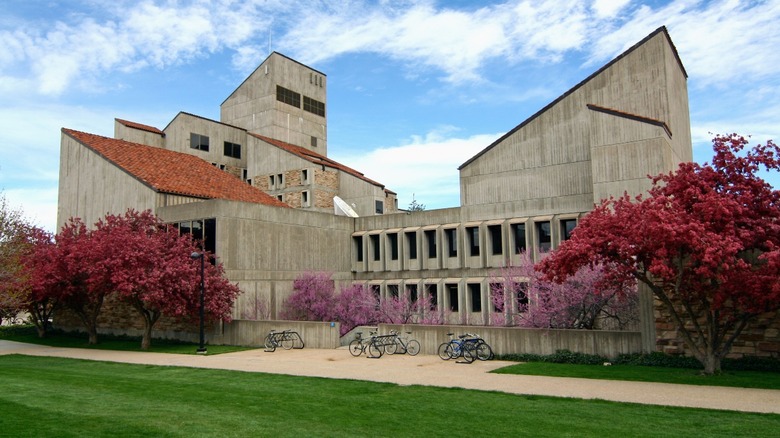 © Bdingman - Dreamstime.com
The University of Colorado hired architect Charles Klauder to design a distinctly rustic campus for this western state school. The Tuscan vernacular style he developed features sandstone walls, red tile roofs and limestone trim that complement the natural beauty of the campus's nearby creek as well as the Rocky Mountains in the distance.
University of Hawaii at Manoa (Honolulu, Hawaii)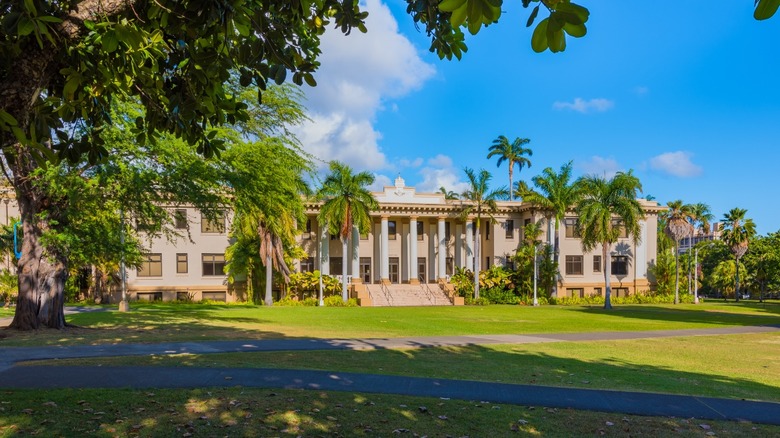 Phillip B. Espinasse/Shutterstock
The Hawaiian islands are known for their stunning natural beauty, and the University of Hawaii chose a stellar location for its first campus location in Honolulu. Beyond the lush greenery and palm trees of campus, students have an excellent view of the majestic Diamond Head volcanic crater.
University of Mississippi (Oxford, Mississippi)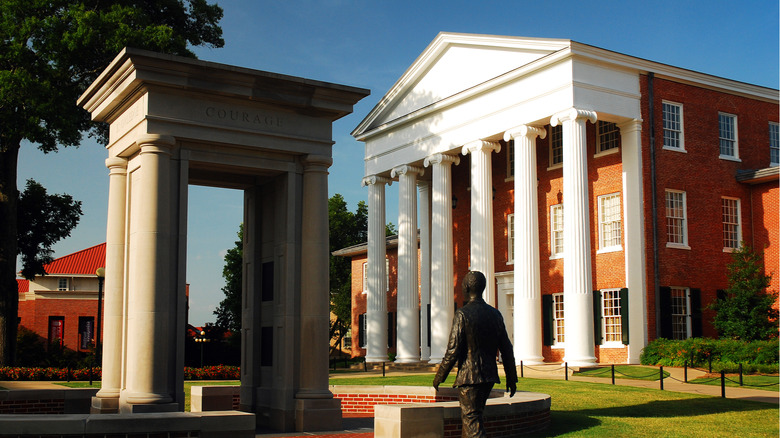 James Kirkikis/Shutterstock
A major landmark and the oldest building of the Oxford campus of the University of Mississippi is the Greek Revival-style Lyceum Building, built when the school opened in 1848. The Bailey's Woods Trail takes students on a scenic wooded stroll. The campus also surprisingly includes a golf course and has its own airport.
University of Missouri (Columbia, Missouri)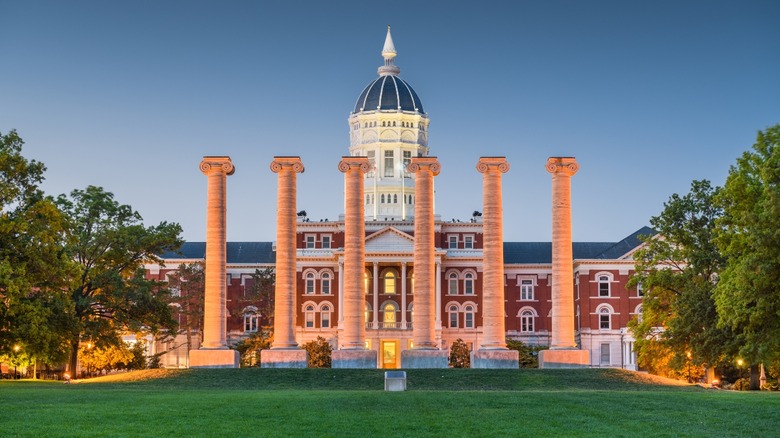 Sean Pavone/Shutterstock
Founded in 1839, the University of Missouri campus is centered on Francis Quadrangle. This landmark area is home to six columns that are the only remaining part of the original Academic Hall, which burned down in 1892. The 735-acre Mizzou Botanic Garden also spans the entirety of campus.
University of Montana (Missoula, Montana)
© Martynelson - Dreamstime.com
The University of Montana's campus sits between the Clark Fork River and the 1,958-foot Mount Sentinel. The brick Renaissance Revival-style buildings with green Spanish-style tiled roofs stand out against this beautiful natural backdrop. Students can get a bird's-eye view of the campus by hiking the 3/4-mile-long zigzag M Trail up to a 125-by-100-foot concrete "M" that gets lit up every homecoming.
University of Notre Dame (Notre Dame, Indiana)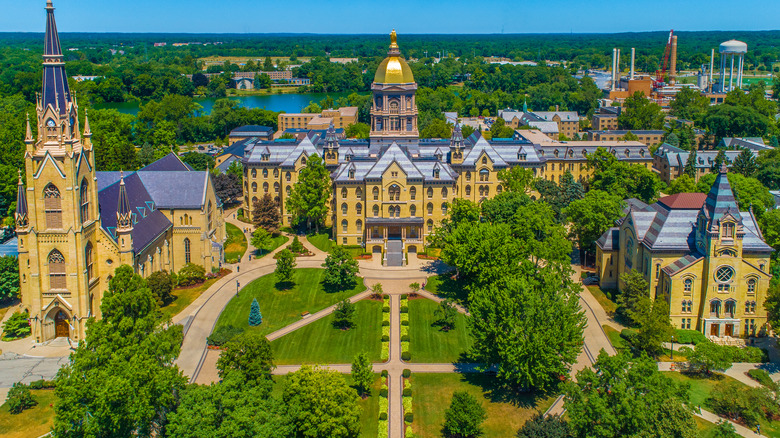 Aaron Yoder via Getty Images
The golden dome of Notre Dame's Main Building is an emblem of this Indiana university, but the charming campus has many other beautiful sights that draw in more than 2 million visitors to the school every year, about as many people who visit the most popular tourist destination in the state. For example, the Basilica of the Sacred Heart is the tallest university chapel in America and has 44 large stained-glass windows.
University of Virginia (Charlottesville, Virginia)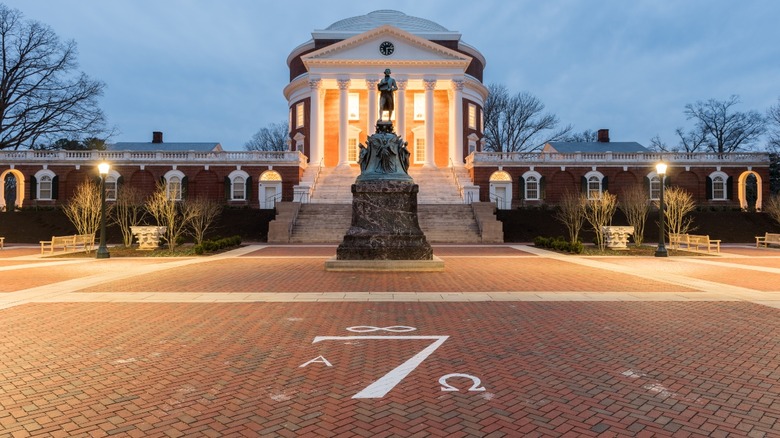 Felix Lipov/Shutterstock
Founding Father Thomas Jefferson designed the University of Virginia's Academical Village, including the domed rotunda that was inspired by the Pantheon in Rome.
University of Washington (Seattle, Washington)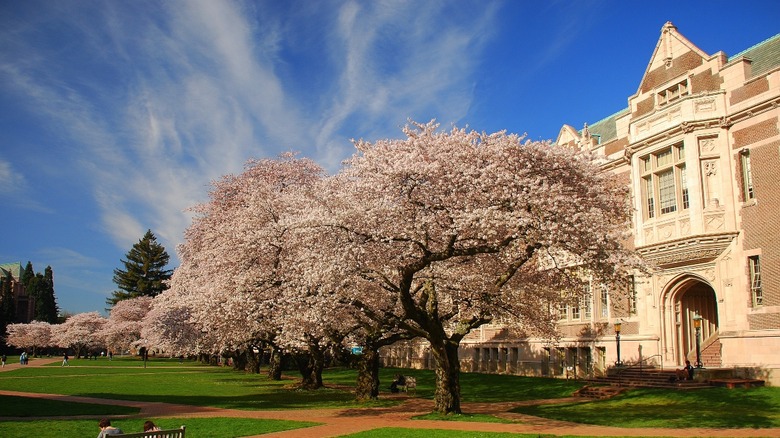 Mike Peters/Shutterstock
Founded in downtown Seattle in 1861, the University of Washington campus looks especially dreamy in the springtime, when its 31 Yoshino cherry trees are in bloom. However, the contrast between snow-capped Mount Rainier, the Collegiate Gothic buildings and the surrounding urban skyline makes for a lovely sight while strolling through campus in any season.
University of Wisconsin-Madison (Madison, Wisconsin)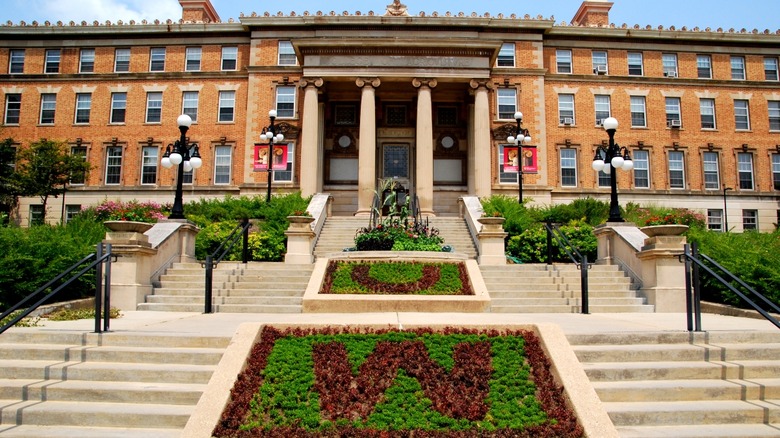 youngryand/Shutterstock
The University of Wisconsin-Madison sits between Lake Monona and Lake Mendota, and students and visitors can enjoy activities on their serene blue waters or take in the scenery from the waterfront terrace at the student union. At the center of the school's main quad sits Bascom Hall, one of its most noteworthy buildings. The university also has plenty of green space as well as a botanical garden and greenhouse.
Vanderbilt University (Nashville, Tennessee)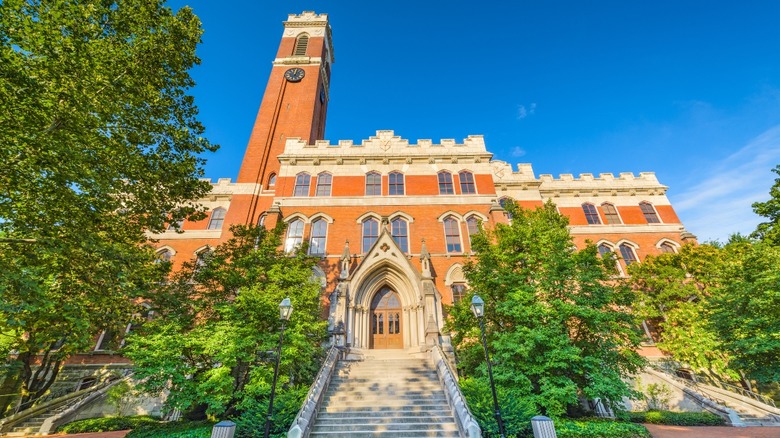 Sean Pavone/Shutterstock
Vanderbilt's campus is an urban oasis near downtown Nashville. It has many green spaces and hundreds of trees, including the impressive Bicentennial Oak, which dates back to before the American Revolution. There are various styles of buildings on campus, but one of the most striking is the Italianate-style Kirkland Hall, whose clock tower houses a 2,000-pound bell that tolls every hour.
Vassar College (Poughkeepsie, New York)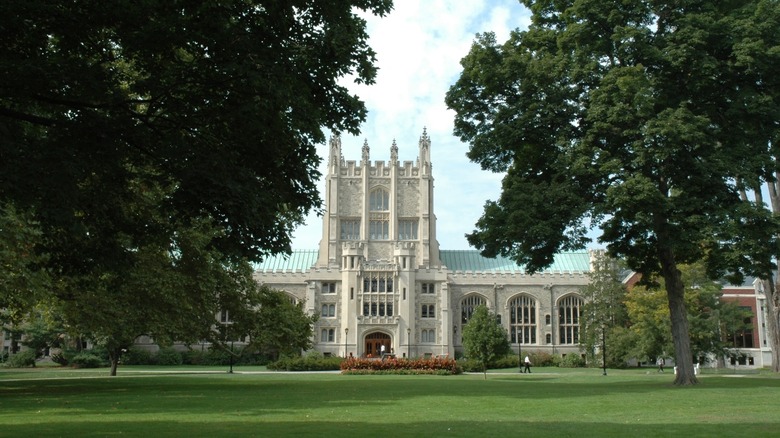 Jonathan Feinstein/Shutterstock
Vassar College's campus is an official arboretum, with more than 200 species of trees as well as more than 100 buildings with different architectural styles. One of the most notable on the Poughkeepsie, New York, campus is the Collegiate Gothic-style Thompson Memorial Library that is embellished with battlements and pinnacles like a fantastical castle.
Wake Forest University (Winston-Salem, North Carolina)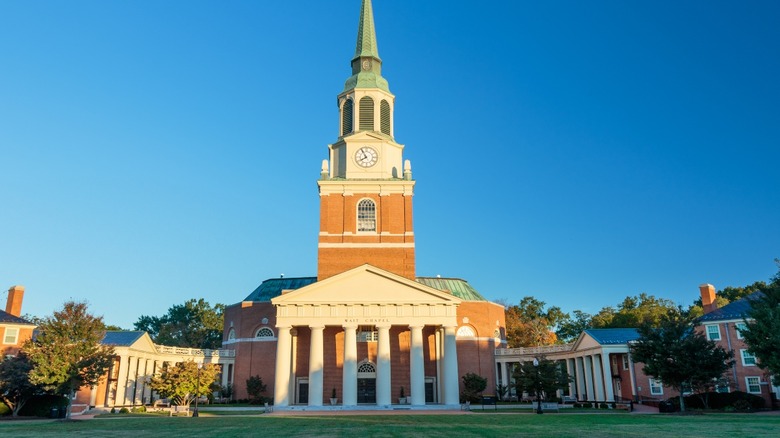 Bryan Pollard/Shutterstock
Originally located in the city of Wake Forest, the university moved to its current campus in Winston-Salem, North Carolina, in 1956. One of the first buildings constructed on the new campus was Wait Chapel. The campus is next door to Reynolda Gardens, which features woodlands, wetlands, streams and gardens across 134 acres.
Washington University in St. Louis (St. Louis, Missouri)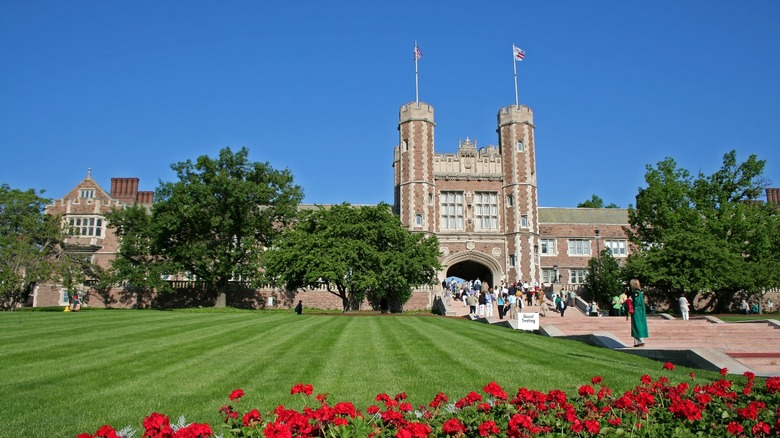 Evan Meyer/Shutterstock
Washington University was originally located in downtown St. Louis but moved not long after the turn of the century to 169 acres just outside the western edge of the city. The school's architects designed new Collegiate Gothic-style buildings, including Brookings Hall, which is notable for its four regal corner turrets.
Wellesley College (Wellesley, Massachusetts)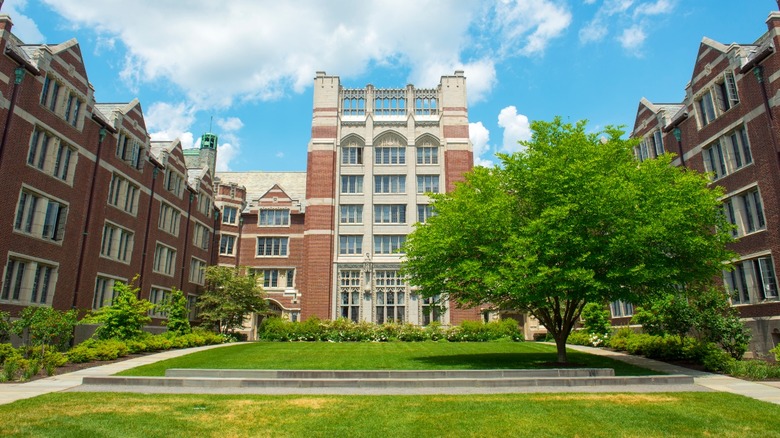 © Jiawangkun - Dreamstime.com
Located on Lake Waban west of Boston, Wellesley's 500-acre campus was designed to flow with the area's natural landscape of meadows and forests instead of carving out courtyards and quadrangles. The campus also has an arboretum and botanic garden with 1,500 different plants.
Whitman College (Walla Walla, Washington)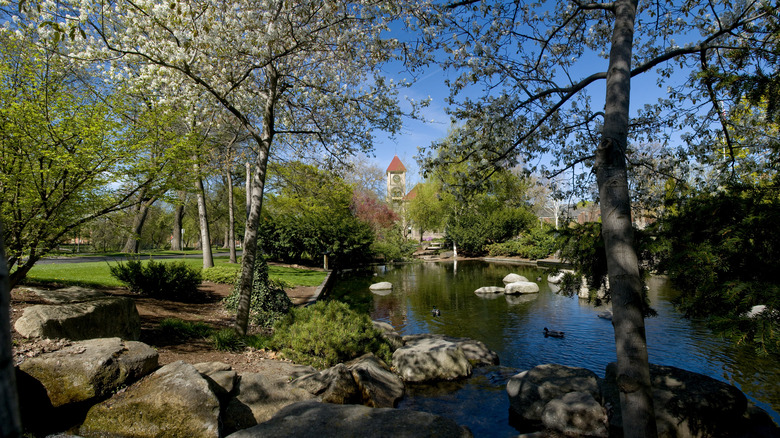 Courtesy of Whitman College
Whitman College's campus is full of trees and outdoor sculptures and has two water areas. College Creek winds through the school's 60 acres, and the geothermal spring Lakum Duckum is home to the school's beloved duck population. The oldest building on campus, Memorial Hall, is on the National Register of Historic Places.
College of William & Mary (Williamsburg, Virginia)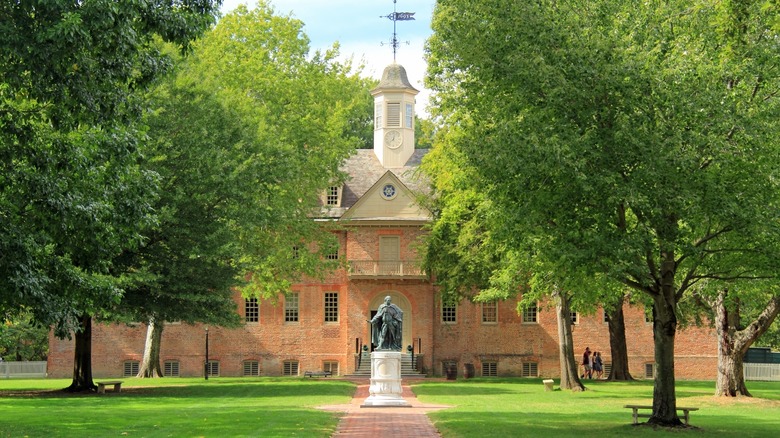 William Silver/Shutterstock
Located in the charming, historic town of Williamsburg, Virginia, the College of William & Mary was founded in 1693 in what was then the colonial settlement of Middle Plantation. The Wren Building, built in 1700, is the oldest college building in the country. The campus has many scenic spots, including the Sunken Garden and Crim Dell Pond.
Yale University (New Haven, Connecticut)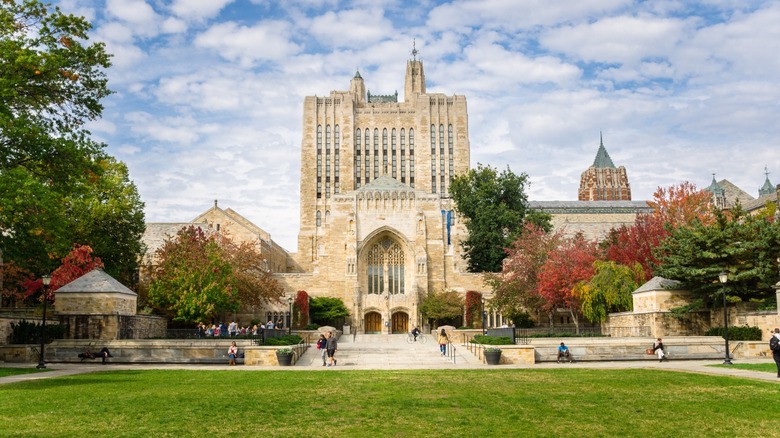 Albert Pego/Shutterstock
Yale's architecture has noteworthy modern buildings, such as Eero Saarinen's innovative Ingalls Rink, but is known for its predominantly classic Collegiate Gothic style. Connecticut Hall, the oldest building on campus, was built in 1750 in the Georgian style, and the Beinecke Rare Book & Manuscript Library famously resembles a jewel box and houses one of the largest collections of rare books in the world. The university also owns many beautiful restored 19th-century mansions along historic Hillhouse Avenue. The Connecticut campus is just one of many places around America where you can see the country's most beautiful buildings, bridges and other man-made marvels.