The Italian Destination That Should Be On Every Art Lover's Bucket List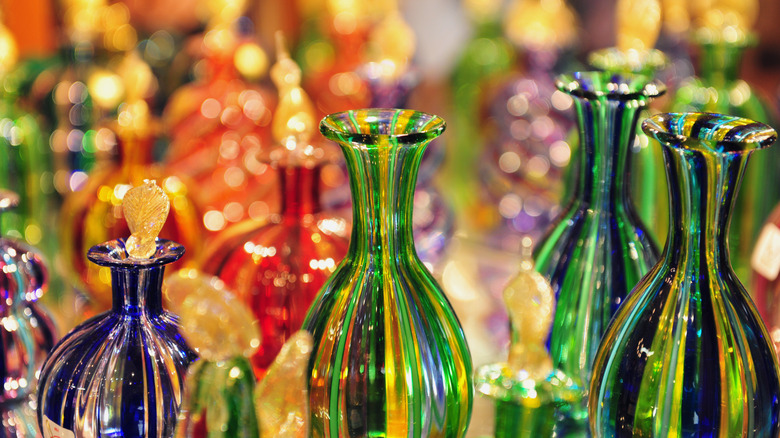 Chameleonseye/Getty Images
Surely you've heard of Venice — gondolas swimming about narrow canals, jaw-dropping Renaissance palaces, and unforgettable beauty literally everywhere you turn your head. Venice is a place to behold. But have you heard of Murano? Once a humble fishing port, Murano is a chain of seven islands linked by bridges with about 5,000 residents, just a mile north of Venice. Perhaps you're familiar with Venetian glass. That term should actually stand corrected, because Venetian glass is made in Murano — the center of European glassmaking since the 13th century. 
For art lovers seeking a unique and enchanting experience in Italy, a visit to the Murano Glass Factory is an absolute must, especially if you are already in Venice. This standout activity promises to leave a lasting impression and offers a glimpse into the delicate art of glassmaking. For only five euro (children under 14 years old are free of charge), this factory allows visitors to witness mesmerizing glassblowing demonstrations and explore a showroom filled with exquisite Murano glass art, from intricate animal sculptures to dazzling chandeliers.
Glassmaking ended up in Murano by chance. In 1291, the Duke of Venice ordered all glassmakers to move their workshops to the nearby Murano Island. Because Venice was mostly built from wood, the Duke feared fires and the destruction of his city. Over time, Murano became notable for high-quality glassmaking and the invention of crystalline glass, milk glass, and multicolored glass. The hardworking and ingenious artisans earned the one-mile-long Murano a new name — the "Glass Island."
Unveiling the glasswork magic of Murano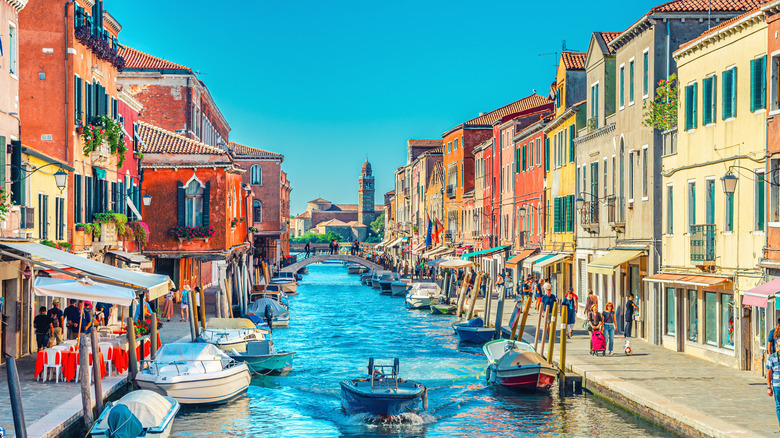 Aliaksandr Antanovich/Shutterstock
To embark on this journey, visitors must take a ferry from Venice to Murano Island. Several options are available, including public boats (vaporetti), a private water taxi, or a guided tour that includes the factory visit. Depending on your chosen option, it would take anywhere from 20 to 50 minutes to get there. Upon arriving at the island, you will be transported into a world of artistry and craftsmanship that has been celebrated for centuries.
The highlight of the Murano Glass Factory experience is undoubtedly the glassblowing demonstration. As skilled artisans work with molten glass, shaping and forming it into intricate designs, you'll be captivated by the mesmerizing dance of fire and artistry. Witnessing the transformation of raw materials into exquisite glass creations is an unforgettable sight. Some tours even offer the experience of creating glass artwork on your own! With the guidance and support of a local artisan, you can come back home with a Murano glass souvenir handcrafted by you.
After the demonstration, you can venture into the showroom and be amazed by the array of Murano glass art on display. From delicately crafted bowls of cherries to lifelike animal sculptures and sparkling chandeliers, the craftsmanship and creativity of the artisans are evident in every piece. Seeing the art up close after witnessing the process of its creation adds a sense of appreciation, making a purchase all the more special.
From glassblowing to souvenir shopping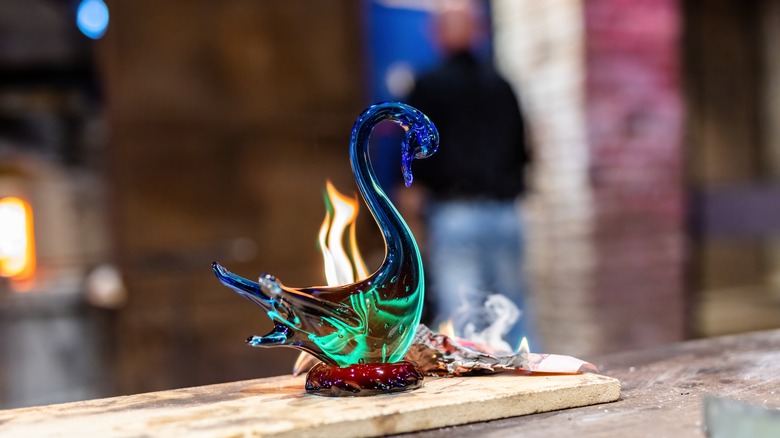 PHOTOCREO Michal Bednarek/Shutterstock
While Murano glass art can be found throughout Venice and beyond, owning a piece that has been handcrafted locally carries a unique sentiment. Authentic Murano glass ranges in price of a few dollars to thousands, depending on the glass technique used by the master, the source materials, and the item type and color. Whether it's a small token or an elaborate statement piece, every glasswork reflects the centuries-old traditions and artistry of Murano.
There are many glassblowing factories, workshops, and private studios spread across the seven islands of Murano, with many offering demonstrations, tours, and showrooms to the public. If you are interested in an alternative, The Glass Museum may be of interest. Established in 1861, the museum houses one of the world's most complete collections of glassworks, ranging from the modern era to as far back as the first century A.D. Tickets cost €41 for single travelers, with reduced fares for families, children, students, and seniors. 
A visit to the "Glass Island" transcends mere sightseeing — it's an immersion into the world of artistic brilliance and cultural heritage. Witnessing the magic of glassblowing, exploring showrooms filled with masterpieces, and taking home a piece of Murano art become memories to treasure for a lifetime. If Italy is on your bucket list, be sure to add this unique experience to your itinerary. Just don't forget to double-wrap your Murano glasswork souvenir in your suitcase so it doesn't break on your flight home!