Why February Is The Perfect Month For A Fun-Filled Trip To Venice, Italy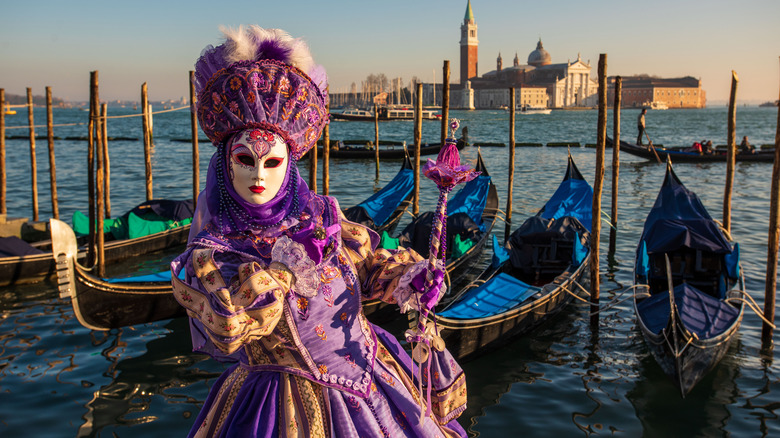 Andrii Kozak/Shutterstock
While the month of February throughout Italy is by far the coldest of the winter season, with individuals donning thick coats, warm gloves, furry hats, scarves, and snow boots to keep warm when daring to venture outside, the city of Venice rebels against the icy temperatures from the north by celebrating en masse with a bounty of indoor and outdoor festivals sans the protective warmth of winter attire. Venice — fittingly known as the City of Masks — has been celebrating Carnevale di Venezia (Carnival of Venice) since the 11th century, with participants proudly dressed in captivating and elaborate costumes and masks of the Baroque and Renaissance periods — ranging from the grotesque to the elegant — making February the perfect month for a fun-filled trip of mesmerizing and memorable events.
This historical event of artistic, bold, and sensual creativity has taken place for centuries each year within the capital of Veneto, Italy during the month of February, officially ending the day before Lent (Ash Wednesday), with the exception of when it was banned twice: Once in the year 1797 by Napoleon upon his victory over Venice, and again in 1930 by the fascist dictator, Mussolini, as told by The Guardian. But proud Venetians swiftly brought their beloved event back to life each time to partake in its grandeur and wonder. However, time would not be on their side again in 2020, as Carnevale had to be canceled suddenly due to the global pandemic.
Forget New Orleans and Brazil, Venice is where it's at
It all starts with the Opening Parade at the beginning of February: Venice's time-honored tradition of gondolas filled with costumed individuals gliding over the Grand Canal under the night sky, in an elaborate opening ceremony announcing the official start of the Carnival of Venice. An array of street performances, music, and costume gallantry are to be found on every pedestrian walkway, alley, and corner of Venezia's ancient frame during the month-long festival that brings millions of tourists each year. Anticipated, traditional events such as the 12 Marie's, followed by the new and exciting nocturnal water show on the canals of Venice, and the official dinners and balls of Carnevale, bring Venice's pomp and pageantry to heightened levels of intrigue and mystery.
The ancient ritual known as the "Flight of the Angel," has sadly not taken place since its last performance in 2019, due to lockdown in 2020, health restrictions in 2021, and now restoration being done in St. Mark's Square both in 2022 and 2023, where this long-standing tradition has taken place annually. But chin up, a host of elegant, masterful, themed, masquerade balls take place throughout the month, as scheduled by Venice Events, with the Carnival of Venice festivities finally ending with the traditional, grand finale known as the Concorso della Maschera più Bella (Most Beautiful Mask Contest).
What to know before you go to Carnevale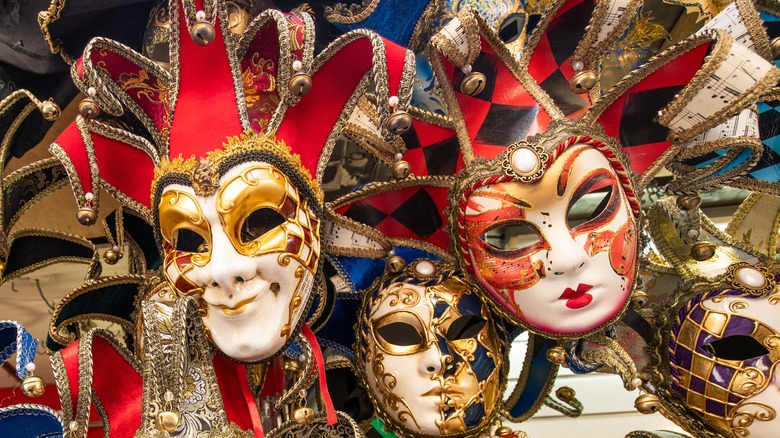 mapman/Shutterstock
Since Carnevale di Venezia is such a popular annual event with tourists, planning and booking at least one year in advance is highly recommended, as accommodations fill up quickly once the dates are scheduled for the upcoming year. Typically, tourists are not required to dress in period costumes during the festival, but they will often wear masks to blend in and connect with the festivities.
However, if you plan on participating in any of the traditional, time-honored events, such as the masquerade balls during the month-long festival, or truly want to immerse yourself in all things Carnevale, you will need a costume and mask. And luckily, Venice is filled with costume designers, artisan mask makers, and there are also mask-making workshops you can partake in to artfully create your own Venetian mask under the guide of a master artisan's close watch. Should you prefer to rent a costume during your stay, Venice Events offers a host of costume hires to choose from, and you can also find shops located within the city that will rent out the period pieces as well. So, move over Mardi Gras — the perfect place to be in the month of February is at the Carnival of Venice in Italy, where the city never sleeps, and its centuries-long history is a much-loved event worldwide each year.