Never Run Out Of Diapers On Vacation With TikTok's Latest Packing Hack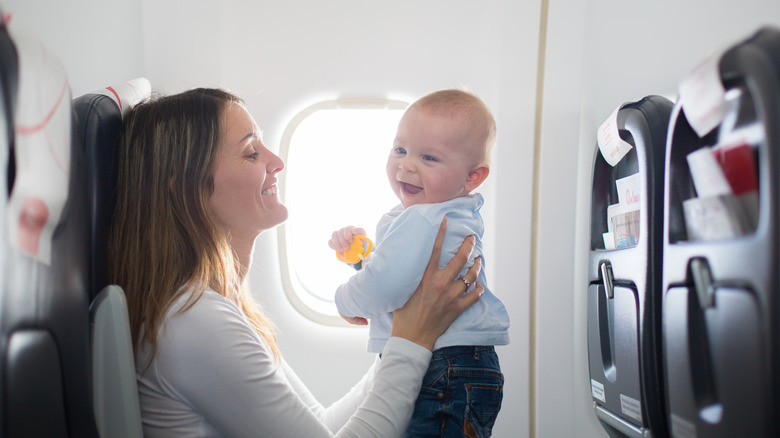 Tomsickova Tatyana/Shutterstock
As the old saying goes, a vacation with children is just a trip. Alas, arriving at your final destination is just half the battle. Packing for said trip can be downright brutal, as you're not only responsible for remembering your own necessities but those for your little ones too. It can feel nerve-wracking trying to figure out what to pack when it comes to the endless essentials that children require. Case in point: diapers. But just how many diapers are too many when packing for a trip? In short: the limit does not exist. 
"Bring more diapers and wipes than you think you'll need," family travel expert Corinne McDermott advised The Bump readers. Sadly, however, when traveling by plane, a limit does, in fact, exist. Fortunately, there's a hack for that, and it involves utilizing your child's car seat. Here's everything to know about TikTok's latest packing hack to ensure you never run out of diapers on your family-friendly adventure.
Stow diapers in your child's travel car seat
Work smarter, not harder. According to TikTok user @thesuzettereynoso, the answer to packing diapers for plane travel is easy-peasy. If you're traveling with a car seat, most airlines will allow you to check it for free — and that's where the diapers come in. In a video aptly titled "Travel Hack Diaper Edition," Reynoso demonstrated how to stow away a package of diapers in a child's travel car seat. The trick is to keep the diapers in their packaging and then secure them in place using the child harness straps. Then you place the seat in the travel bag and voila! Diapers galore.
But that's not all. As it turns out, diapers aren't the only baby gear parents are stuffing in their car seat travel bags. Parents in the comments section confessed to stuffing the car seat with extra changes of baby clothes, cans of formula, and even beach toys. Hey, no judgment here.
It should be noted, however, that there is an ongoing debate regarding the safety of checking car seats with airlines, as some have been damaged during travel and even lost. "My husband worked as a ramp agent out of hs, highly recommend you don't check the car seat take it on with you," one user cautioned in the video's comments.