How To Request In-Flight Meals For Dietary Restrictions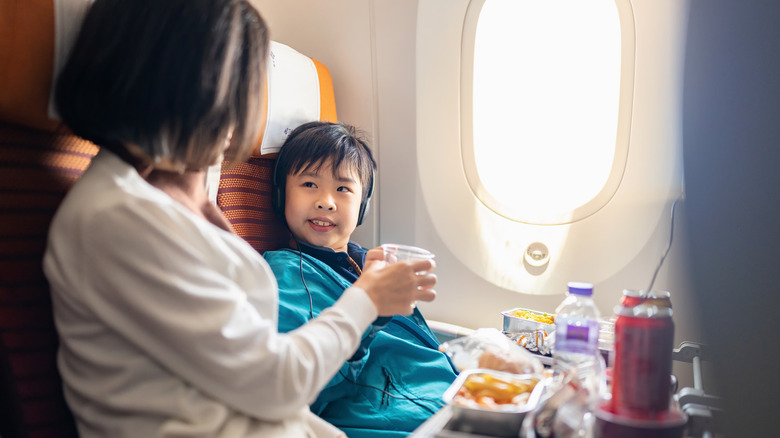 Patamaporn Umnahanant/Getty Images
Whether it's an intolerance to gluten, an ethical choice to go plant-based, or an ingredient that's off-limits for religious reasons, many travelers these days prefer to avoid certain foods. In the case of severe allergies, which could potentially involve a trip to the emergency room, the risk could even be life-threatening (and certainly trip-threatening). So, when it comes to booking a flight, it's important to put the necessary steps in place beforehand — either at booking or well before the day of departure — to ensure a stress-free journey for everyone.
Typically, airline food tends not to be freshly prepared for passengers — unless, that is, you happen to be traveling by private jet — as the logistics simply don't permit that. In some cases, the food may also be pretty basic and bland (partly due to the environment of the cabin itself), hence all the standup comedy jokes at its expense. This also means that it is not always the best suited to specific dietary needs.
So, while airlines have certainly provided better food options in recent years, and can cater to a much wider selection of diets than in the past in response to increased demand, it's important for them to know beforehand in order to plan accordingly. This will also help to reassure you that your needs will be taken care of, too.
Planning ahead means peace of mind for passengers with special diets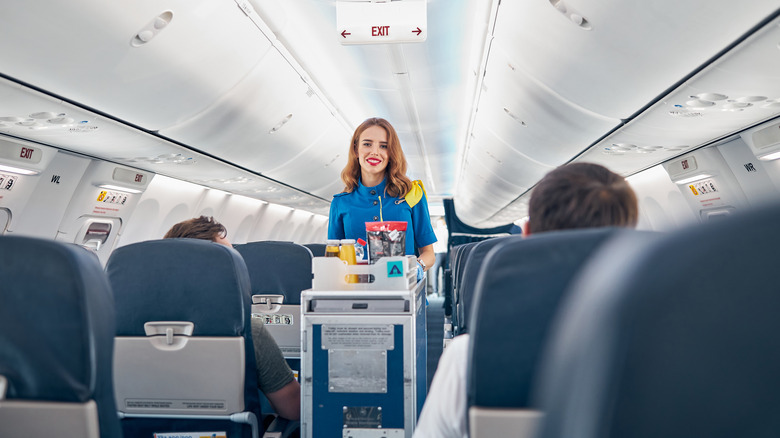 Svitlana Hulko/Shutterstock
The first thing to bear in mind is whether you are taking a short- or long-haul flight. Nowadays, full in-flight meals are often not available on domestic flights, and passengers can be restricted to buying snacks from a limited selection listed in the onboard magazine. In this situation, many people with special dietary requirements may prefer to bring their own food with them.
For those who are taking a longer flight and are likely to be served proper meals, the first port of call is to check at the point of booking. Often, airlines will have a box that can be ticked in the "Manage Booking" section with choices such as low-calorie, kosher, gluten-free, and vegan in-flight options. So, keep an eye out for that when making your ticket reservation. If your own food requirement isn't listed, or you have a severe allergy to something, it's best to contact the airline directly. This can usually be done by phone or email, but contacting them in writing will ensure there is a record of your request, should it be needed later.
Those with severe allergies may also wish to check the airline's exact policy, as even if a meal is peanut-free, for example, it may not have been prepared in a fully nut-free environment. Also, other passengers may potentially bring nuts on board. To be on the safe side, it's worth consulting both the airline and your doctor beforehand.
Making sure your in-flight dietary needs are catered to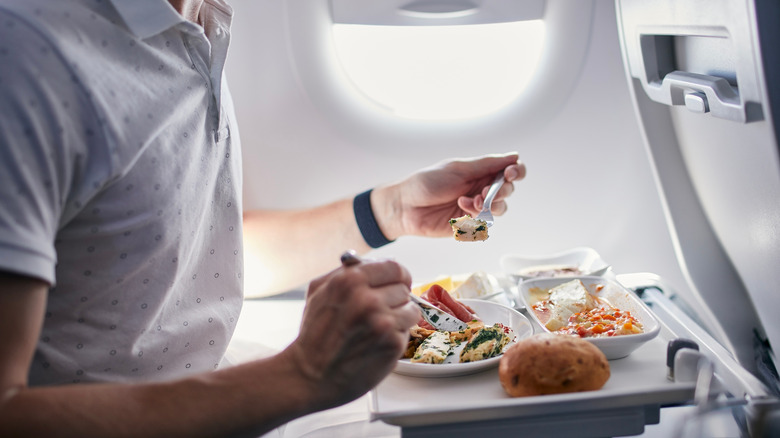 Jaromir Chalabala/Shutterstock
To ensure all goes smoothly for those with special requirements, particularly if you didn't choose a meal when you booked your ticket, selecting your meal as far ahead as possible is always best — as many airlines have a cut-off point for this. Typically, this is something like 24 hours for most types of diets, but it can extend to up to 48 hours for kosher meals. Most airlines will have a section on their website explaining the full details. Similarly, if you need to plan for a severe allergy, asking the airline for a buffer zone, if they offer it, should be done at least 48 hours in advance.
In addition to this, though ideally you will have secured your meal beforehand, it's always worth double-checking with staff on arrival at the airport — especially if you've had a flight or seat change. They can usually see on their computer if a special meal has been pre-booked for a passenger; in some cases, it will also be printed on the boarding pass. Generally, as long as you contact your airline in good time, most dietary requirements can usually be catered for. This means that even passengers with special food needs can enjoy their in-flight meal — and some say it may even taste nicer, too!