The Best Family-Friendly Airlines For Your Next Trip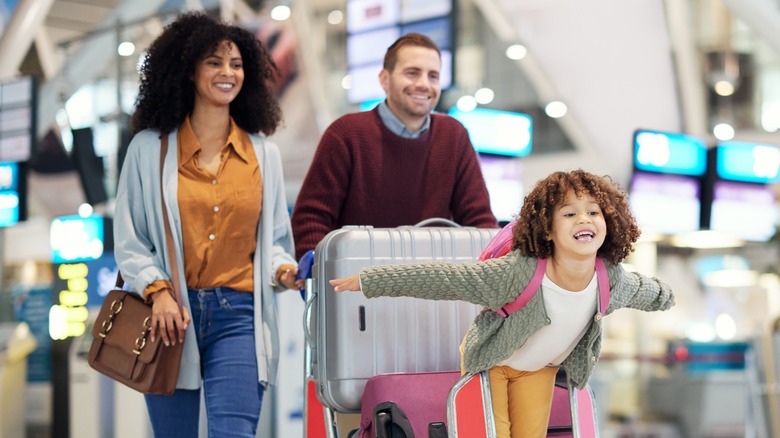 PeopleImages.com - Yuri A/Shutterstock
Going on a family vacation takes a lot of planning. From transportation to accommodation to food, the number of things parents have to take care of can be daunting. One important consideration is which airline to fly.
Obviously, airlines feature different benefits or perks that appeal to certain groups. Depending on who is traveling, ticket price, entertainment, food, and so on will vary. While solo travelers need only think of themselves, parents with kids, especially young children, must consider their family's requirements over their own — all while trying to achieve a stress-free flight.
Among the considerations parents need to bear in mind include the airline's destinations and the cost for their whole family to fly. Then there are also the issues of seating, in-flight entertainment, luggage allowance, and carry-on limitations. And, if the airline's rewards program incentivizes families who travel, that's a great bonus too. Based on these factors, we've rounded up the top five best family-friendly airlines for your next domestic trip.
American Airlines
There are many things that make American Airlines great for families. A major benefit is with regards to seating arrangement. You can pick your seats in advance when you book the least expensive fare for the main cabin. However, if paying extra is out of the question, the airline guarantees that an adult will be seated next to a child under 15 years old.
Another perk for families flying with American has to be its luggage allowance and carry-on policies. As every parent knows, flying with children, especially young kids, means you'll be lugging around some necessities. For instance, children below 2 years old will need diaper changes and their bottles of milk. Plus, strollers and car seats, if you decide to bring them along. Fortunately, American Airlines allows you to bring these items onboard for free, i.e., these are not considered part of your carry-on.
In terms of in-flight entertainment, American airs Apple TV shows and Homer educational videos, in addition to the typical movies and games. Plus, Rosetta Stone is available during the flight — you know, so you can brush up on or learn a new language before you arrive at your destination.
United Airlines
If you're traveling with an infant or a child below 2 years old, United Airlines has a lot to offer. First of all, it now allows you to pre-book seats so you can sit with your children. And, if that's not possible, the airline even allows you to change flights without an extra fee. United also waives the fare for children between 7 days and 2 years old for domestic flights as well as flights to the U.S. Virgin Islands and Puerto Rico if they'll be flying on your lap. Or, you could have them seated on FAA-approved child restraining seats — that will work too, for a price.
Another benefit of flying with United is its priority boarding for families. If you're flying with a child under 2 years old, you'll be able to board earlier. However, United appears to encourage families to stick to essentials once onboard. You'll only be allowed to bring one small nappy bag, but once on the flight, you can make use of the airline's bassinets (first-come, first-served on international flights) and diaper changing tables on select planes. If you're planning to bring a stroller, United allows a collapsible stroller onboard but any other types will have to be checked in for free. For entertainment, United offers DirecTV on select flights. It also has an activity book, Forbes says.
JetBlue
With a focus on comfort and fun, JetBlue excels in its in-flight entertainment and more. First, it boasts the most legroom in coach among its U.S. competitors. As for entertainment, that starts even before boarding. JetBlue's Terminal 5 in JFK airport offers two kid-friendly themed spaces, one where they can pretend to be a pirate and another where they can be a pilot while they wait to board the plane.
Speaking of boarding, priority boarding for families flying with children 2 years old and younger is available. Onboard, children between 3 days and 2 years old can fly on a lap seat. Or, you can bring an FAA-approved child car seat, but it — along with strollers — has to be checked in for free. While there are no bassinets onboard, JetBlue planes do come with diaper changers.
When it comes to entertainment, the airline offers DirecTV which can be viewed on a personal seat screen. It comes with new movies, Cartoon Network, Nickelodeon, and Animal Planet. Or, they can listen to SiriusXM or browse the internet with free in-flight Wi-Fi. When they're peckish, kids receive free snacks that might include cookies or animal crackers, or take from the offerings in the unlimited snack basket in the plane's galley. Another great thing about JetBlue is you can pool your TrueBlue frequent flyer points with up to six people to redeem a free flight. Or, get the Blue fare to pre-book seats and bring full-sized carry-ons.
Southwest Airlines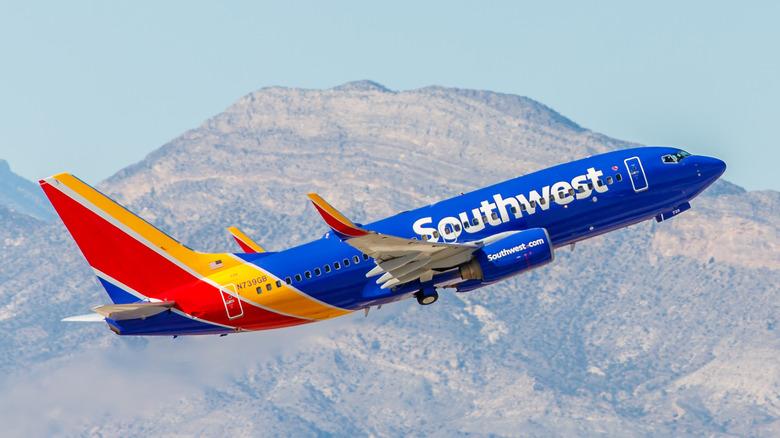 Eliyahu Yosef Parypa/Shutterstock
Flexibility and cost savings is the name of the game for Southwest Airlines. If you need to reschedule your flight, you can do so without paying any change fees, which saves not only a ton of money but also effort and time. Lap seats are available for children 14 days to 2 years old (bring a Boarding Verification Document). If you're a member of Southwest's Rapid Rewards program, you can exchange 125,000 points every year for its Companion Pass, which allows one person to fly with you for free.
Another flexibility perk that you'll get when flying with Southwest has to do with seat assignments:  There are none! The airline doesn't pre-assign seats, and you can freely choose where to sit once you get onboard. For families with children under 6 years old, this is great news, as you'll be among the first groups to board, right after group A. However, for families with children 6 years old and above, make sure to check in 24 hours before departure to be among the first few groups to board. Otherwise, get Upgraded Boarding to ensure you're seated together with your children.
When it comes to luggage, you don't have to worry about stuffing everything in one checked bag. All Southwest fares come with two free checked bags, each with a 50-pound limit. Plus, you can also bring car seats and strollers in addition to your carry-on.
Delta Air Lines
With plenty of child-friendly features, Delta Air Lines can ensure that your kids are comfortable and are having fun during the flight. You'll board right after first class when you're flying with strollers and FAA-approved car seats. Strollers are checked for free, along with booster or other infant seats. Or, you can give your child a lap seat if they're between 7 days and 2 years old on domestic flights. Delta planes come equipped with bassinets, which it calls SkyCots, but you can bring your own with free check-in. And, make sure baby essentials are contained in one carry-on bag only.
Kids' entertainment comes in the form of the airline's free Delta Studio. Your kids can watch TV shows and movies, listen to music, and play games on seat TVs or their own devices. In addition, Delta also offers the Speakaboos app, where children 2 to 6 years old can watch TV shows and listen to audiobooks during and even after the flight (use the in-flight special code).
In-flight food for babies and children 2 to 12 years old can be requested at least 24 hours before your flight. Baby food comes in the form of jarred food items, such as strained fruits and vegetables.