What You Should Pack For A Rainy Day At Disney World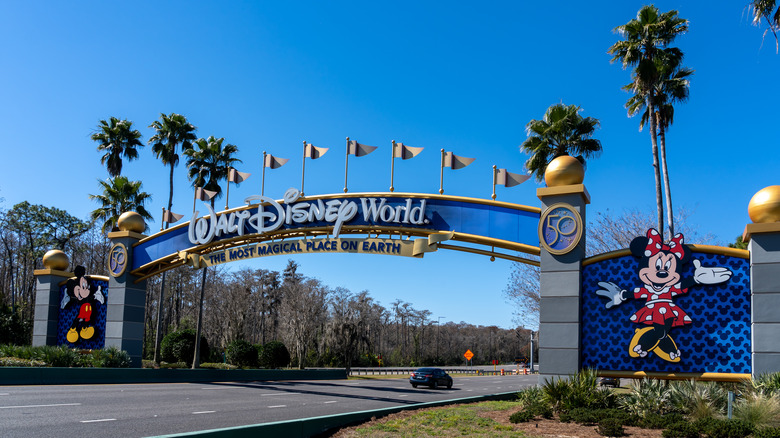 Jhvephoto/Getty Images
When you decide to take a trip to Walt Disney World, you can plan various aspects of your adventure before you even step foot in the Sunshine State. You can assemble the most time-efficient schedule for each park to ensure that you get on every ride during your visit. You can book the most magical dining experiences that take the concept of dinner and a show to a whole new level. You can even coordinate your best outfits, taking into consideration both fashion and function for a day at the parks. However, even with all your (Donald) ducks in a row, it's impossible to predict the weather in Florida.
Despite the fact that it can be largely bright and sunny in Orlando and the surrounding area, rain can come out of nowhere during the summer months when the majority of guests will make their way to "The Most Magical Place On Earth." The rainy season is between June and September, then the hurricane season follows between August and October. That means that thundershowers can strike at any time throughout the day. And while you can't plan for an hour-long rainfall in the middle of your day, as Undercover Tourist points out, you can have a few things at the ready in case you and your entourage encounter a bit of precipitation during your time in Disney World.
Ponchos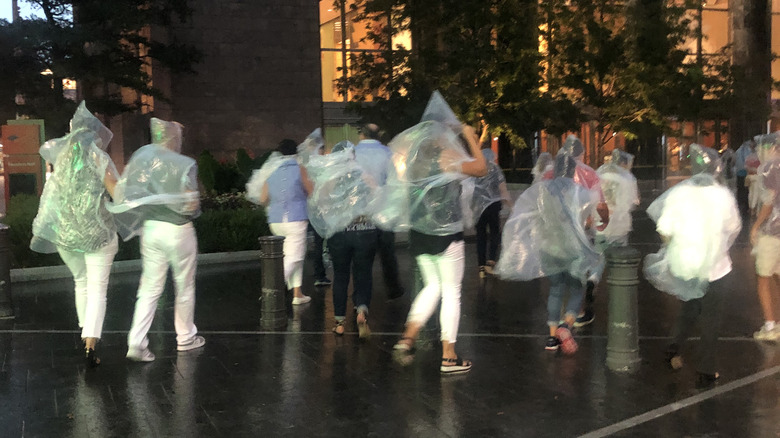 Chellym/Getty Images
In everyday life, you might grab an umbrella or a raincoat if you see it drizzling outside. You can bring an average-sized umbrella (none of those big golf outing-sized monstrosities) or a coat with you to the parks as well, but when the rain is over, you would have to worry about carrying those things around with you. Sure, lockers are available for your convenience around the beloved theme parks, but you may not want to pay for that luxury. So rather than carrying around these extra items or having them take up precious merchandise space in your bag, disposable ponchos are your friend.
Plastic, foldable ponchos are incredibly inexpensive and can be found on Amazon, at dollar stores, or at your local Target or Walmart. Many times, you can get multi-packs, so you can have your entire party covered with one purchase. For a bit of a markup, you can purchase these ponchos at Disney World too. But no matter where you get them, they provide considerably more coverage than your coat or umbrella. Then, whenever the rain stops, you can just throw your poncho away in one of the many conveniently located trash receptacles around the parks. Just remember to buy enough for your trip, plus a few extras just in case.
Quick-dry clothing & proper footwear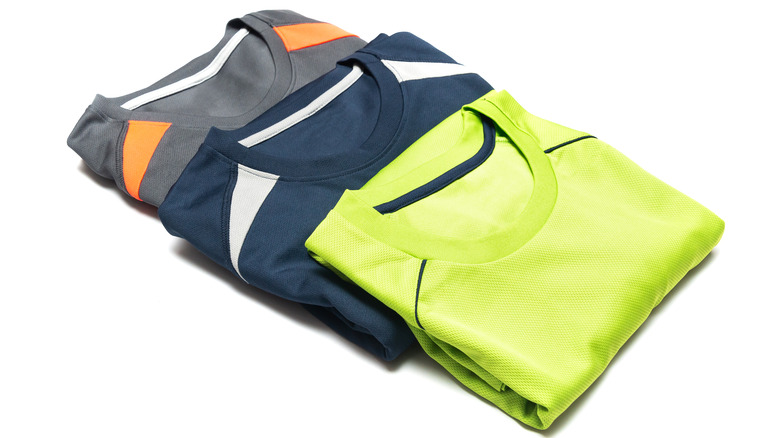 Landscapemania/Shutterstock
There's plenty to enjoy at Disney World. But whether you're spending your day in Disney's Hollywood Studios, the Magic Kingdom, EPCOT, or Animal Kingdom, you will be spending a lot of your time outdoors and on your feet. Because Florida can get pretty hot, you may be inclined to wear lightweight clothing during your visit anyway. However, due to the rain, you might want to avoid clothes made of more absorbent materials. In the event that you forgot to put some ponchos in your bag, pants with durable water-repellent coating and shirts made of nylon, polyester, and cotton blends are recommended since they will dry relatively quickly.
It's also important to wear a dependable pair of shoes at the parks. On top of selecting footwear that offers solid support and maybe some cushion for your feet, it will help immensely if they are water-resistant and have soles with a good grip too. That way, when the walkways get wet and slippery, you're less likely to slip and fall.
Of course, while equipping your party with proper attire, it's also good to have an extra set of underwear and socks in your bag in case the puddles are particularly deep that day. If your undergarments aren't as quick-dry as the rest of your clothes, it might get a little chilly when you head into a restaurant, a shop, a ride, or a show with air conditioning to get out of the rain.
Stroller rain cover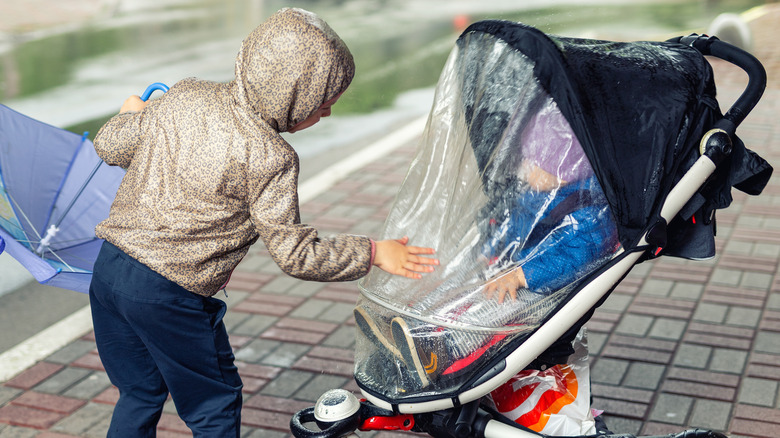 Gorloff-KV/Shutterstock
Even though you're in one of the happiest places on Earth, there's a chance that younger guests may take after Snow White's good friend Grumpy rather than Happy after a long day. And one contributing factor to a sour mood could be a soggy stroller. But that can be resolved by bringing a cover for your stroller among your necessities for the day.
Since the Florida rain can be unpredictable, these covers can come in handy whenever you need to leave the stroller outside while your group partakes in an attraction. Just zip up the cover around the stroller before going inside, and your young prince or princess (or Jedi, or Sith, or Avenger) can return to a dry seat.
Although if you don't want to get a specialized cover, this is where the extra ponchos can come in handy. You can simply drape the plastic poncho over the stroller as you would for yourself. Not only is the young passenger covered and protected from the rain, but so is whatever else you may be storing in the various compartments, such as snacks, elaborate drink sippers, or your latest set of Mickey or Minnie ears.
Resealable sandwich bags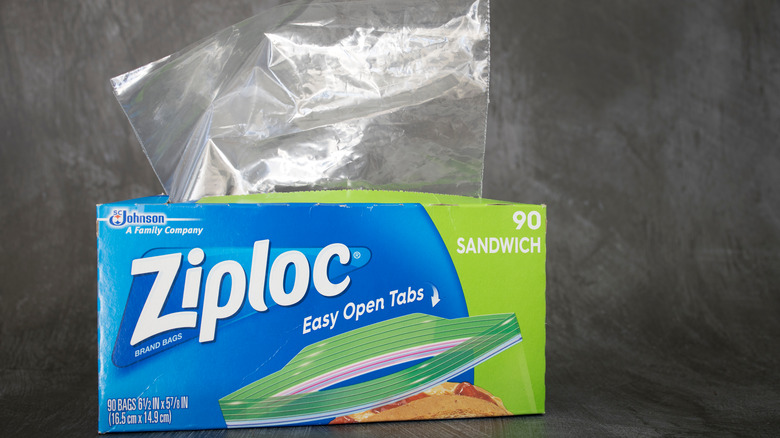 JJava Designs/Shutterstock
Whether you prefer Ziploc, Glad, or whatever you can find at the nearest, most convenient store, it can be very handy to have some resealable sandwich bags with you at Disney World. When it starts raining, you can put the things in your pockets (like your phone, wallet, or park map) in these bags to keep them dry even when the rest of you gets wet. Depending on how fully loaded your party members' pockets are, you may even need a quart-sized bag. Luckily, many brands offer a variety pack with different sizes, so it's easier than ever to be prepared. Plus, by equipping yourself with some of these bags, you can even keep wet items of clothing separated from the dry items in your backpack.
However, this item isn't only helpful when encountering unpredictable Florida weather. You can also bring them to any theme park with water rides. While some attractions like Splash Mountain or the Grizzly River Run offer compartments to put your bags (or designer sneakers), they don't necessarily keep your stuff dry. With resealable plastic bags, you can rest easier knowing that some of your most important stuff can remain unaffected by the amazing, colossal, stupendous eighth wonder of the world known as the backside of water (although you may be on your own when it comes to the front side).
Towels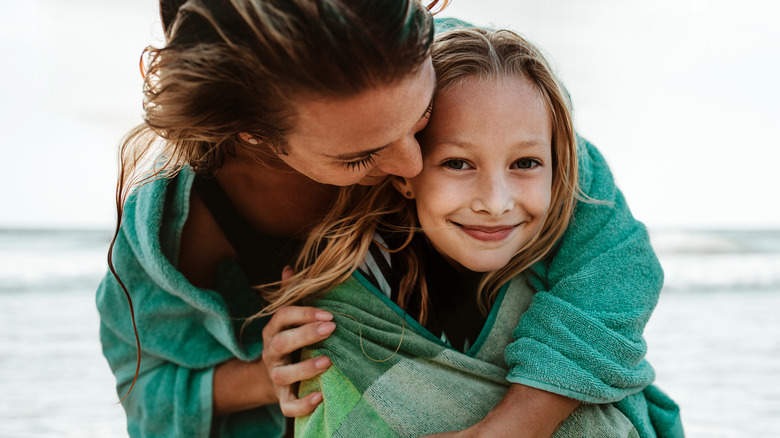 Jacob Lund/Shutterstock
Finally, once you find the sunshine after the rain, there's a good chance that you'll want to dry off. Though paper towels and dryers are available in the bathrooms of the parks, many other guests will likely have the same idea. To avoid that mad dash and to get dry faster, you should pack a small towel in your backpack. Just like the ponchos, if you forget to bring a towel, there are plenty of opportunities to purchase them on the Disney property for a bit of a markup from your typical towel retailer. But then again, this is the type of thing that fans will generally accept when they book their Disney vacation. Plus, if you have to buy a towel to dry off, then you have a reminder of your trip to take home with you and help you remember the good time you had whenever you use it.