The World's Smallest Restaurant Can Only Seat Two People. Here's How To Book A Reservation
You don't need to speak Italian to observe that the restaurant, Solo Per Due, is small — it literally means "just for two." Touted as the smallest restaurant in the world, this tiny yet mighty international culinary spot is a coveted place for people all over the globe. Located a little over an hour's drive north of Rome in the village of Vacone, this uniquely personalized menu and dining experience comes complete with views of what was once a villa dating back a century. For those who want to join the elite, at least for a day, optional fireworks and flower and chauffeur services are available. 
Dinner for a pair is €500 (about $553), excluding champagne, fine wine, and extras, so budget ahead if you want to add this spot to your favorite romantic restaurants in Italy. Keep in mind that the restaurant does not accept credit cards; however, a bank transfer is an option. Here's the math all foodies are doing: One table plus two guests equals high demand. So, how do you get in? Fear not. We've got the 411, or shall we say, +39 (Italy's International calling code) ready for you.
How to get in
For this one, you'll need to forgo your apps and logins to OpenTable and Resy.com. Solo Per Due takes reservations old-school. While you don't need to hop on a landline, getting in will still take a good old-fashioned phone call. While it's rare these days, it's not unheard of for places to only take bookings by phone, like San Francisco's well-known soufflé restaurant Cafe Jacqueline. And foodies may remember the not-so-old days when Napa Valley's famed French Laundry required frantic tries of dial-to-reserve but has since moved to the web-based Tock reservation system. 
Open year-round for lunch and dinner, reservations must be made in the afternoon (Central European Time) by calling the restaurant's primary number — 0746-676873 — or its cell, 345-3205057. To make an international call from the U.S., dial "011" and then the country code (39) before the number. Be sure to check your phone carrier for international rates. Reservations are accepted throughout the year; however, it's crucial to confirm your booking seven days before your arrival date. 
What to expect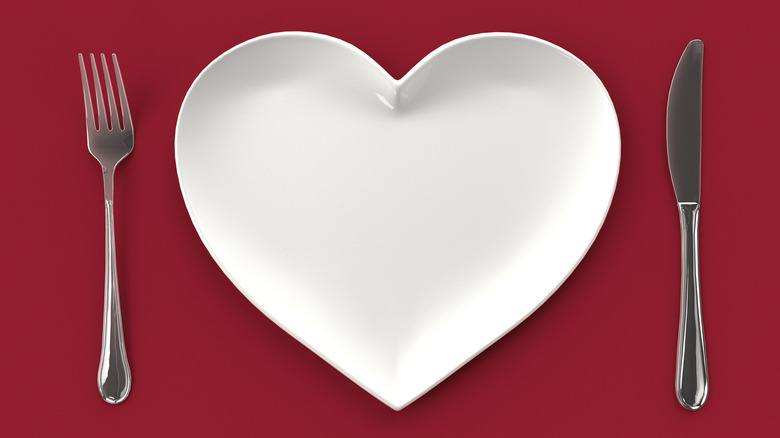 issally/Shutterstock
Cue the enviable Instagram feed in your head for this once-in-a-lifetime experience. The culinary anticipatory fun comes in upon confirming your well-earned reservation. The menu, including dessert and wine, music, and optional flower details, is arranged at that time. No cheat sheets are available by scrolling MenuPages.com or reading about other diners' experiences. All meals are planned custom per booking, but you can dare to dream of Italy's top-notch ingredients, including fresh produce and aged cheeses.
Along with bringing an appetite, you'll want to dress to impress and arrive at your specified time. This isn't when you want to wing it for directions. The Solo Per Due website has driving directions from a variety of popular Italian cities, including Rome and Florence, on its "Directions" tab. Just think. You're only a phone call (and that must-do confirmation!) away from saying "Buon appetito" to your favorite dining companion in your growing Italian vocab.