What To Know About Getting In One Last Ride Before Closing At A Disney Park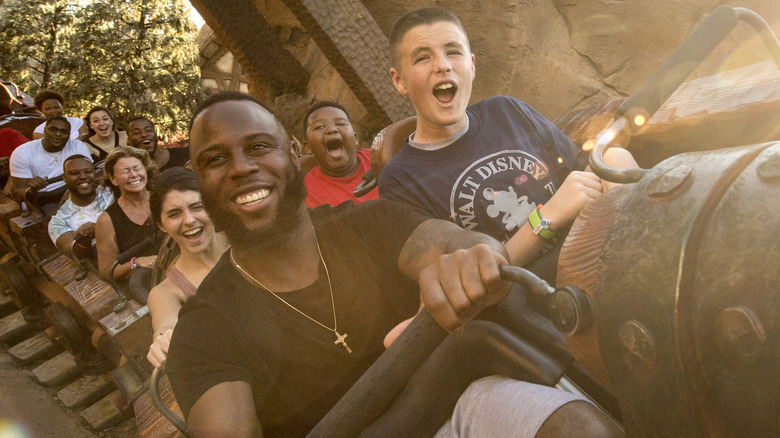 Handout/Getty Images
Picture this: You and your family are enjoying your day at Disney World. You know everyone wants to ride the ever-popular Space Mountain, but the wait time has fluctuated between one to two hours all day. You don't want to pay extra to get Genie+ and skip the line with Lightning Lane, but you know your kids will be disappointed if they don't ride it. Don't despair or succumb to the temptation to purchase your place in line. There is another way to get one last ride in before the park closes.
Each of Disney World's four parks and Disneyland's two parks operate on a different schedule. Disney's Animal Kingdom theme park often opens around 8 a.m., while EPCOT or Magic Kingdom may not open until 9 a.m. Animal Kingdom also closes earlier than most of the other parks. Timing your day right can help you avoid waiting in long lines for popular rides. If a park's schedule says it closes at 7 p.m., you have until just before 7 p.m. to get in line for any ride in the park.
When waiting for closing time doesn't work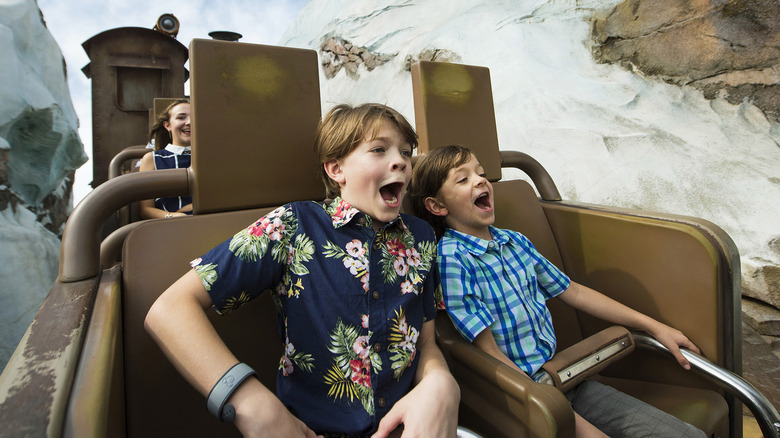 Handout/Getty Images
According to an answer provided by planDisney, Disney's official trip planning and advice panel, "Guests visiting any of the four Disney Parks [at Walt Disney World] are permitted to get into line for a park attraction up until the final minute prior to park closing! For example, if Magic Kingdom Park is scheduled to close at 6:00 PM, Guests may get in line up until 5:59 PM!" However, there are a few words of caution for guests hoping to use this hack.
Popular Disney fan site Mouse Hacking shares that while visitors have up until closing time to get in line, if there are other issues going on (for instance, a ride isn't operating correctly), this hack may not always work. In other words, it could be risky to wait until closing time because even though the park may not be closed, your favorite ride could be closed for several reasons.
Staying past closing time at Disney parks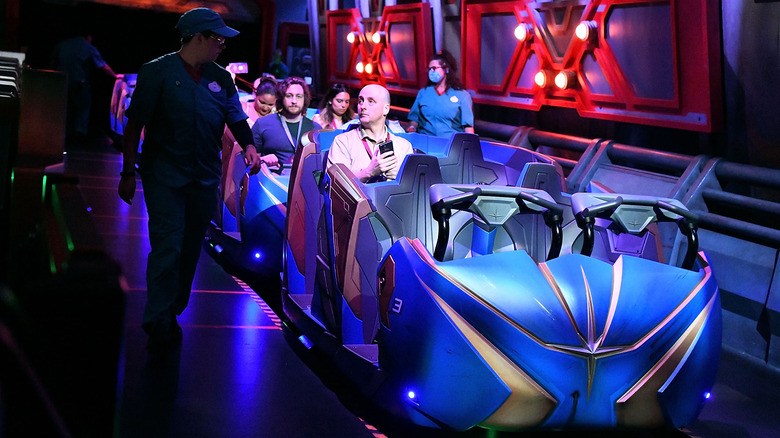 Gerardo Mora/Getty Images
In addition to staying past the park's listed closing time while waiting in line for a ride, there are other ways you can enjoy one last moment in your favorite Disney park. Guests with dining reservations at restaurants inside any Disney park can usually stay until their meal is complete, according to planDisney. This policy applies to guests with dining reservations before the parks open, per Disney Tourist Blog.
When your meal is over after the park closes, you may also be able to shop in a few stores that remain open. Access to shopping is not guaranteed, and it is understood that guests will browse and make a purchase quickly because the parks are technically closed. Get in one last ride or buy one more pair of Mickey ears — just make sure you are respectful of Cast Members and thank them for staying late while you do it.