Avoid This Kids' Bathing Suit Color To Keep Them Safe In The Water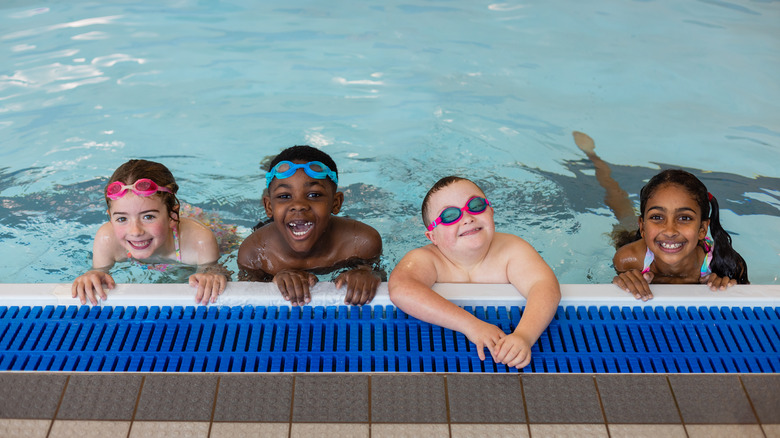 Solstock/Getty Images
We're all about summer fun with the family, and that typically includes loads of swimming time. But you don't have to be confined to a swimming pool in your hotel. There are budget-friendly destinations for swimming with dolphins, if you and your crew want to get up close and personal with some marine life. There's even a chance to swim with pigs on the aptly-named Pig Island in the Bahamas. That certainly sounds unforgettable! Or, there's a plethora of beautiful beaches in the U.S. for snorkeling. That sounds too tempting to pass up. 
With so many options for swimming, there's no doubt you and your family can do some splashing and diving on your vacation. But issues of safety while swimming are also imperative for parents to be aware of and plan for. One safety concern might be unexpected: the color of your kids' swimsuits. Who knew a simple color could factor into swim safety? But it does for one simple reason: You want to be able to see your kids clearly. 
Why blue is a bad choice for a kid's bathing suit
Most swimming pools appear blue. This is due to how light interacts with the molecules in the water. The water absorbs the red tones in the light spectrum, giving off a vivid blue hue even though water is clear. This also applies to oceans, lakes, and pools. On top of that, we mentally connect blue water with clean, refreshing feelings, so many pools are lined or tiled in blue to amplify this affect. Basically, if you and your kids are spending time in the water, the backdrop is going to be blue.
TikTok personality and Certified Self Rescue Swim Instructor Nikki Scarnati posted a video of her daughter in a blue bathing suit swimming in a pool. Scarnati pointed out how difficult it was to see her child, since the bulk of her body blended in with the water, especially when she dove underwater. This is amplified even more if a child is wearing sun-protective gear, like a long sleeve swimsuit or a bodysuit that goes down to the knees.
In the comments, people quickly chimed in to support this safety announcement. "I'm a former lifeguard and this is absolutely right! Any shade of blue is difficult to see, and so is any pastel light color in general," someone wrote. Others pointed out how much more difficult it becomes to spot a kid in a blue bathing suit when the water is full of splashing kids.
Neon colors are the safest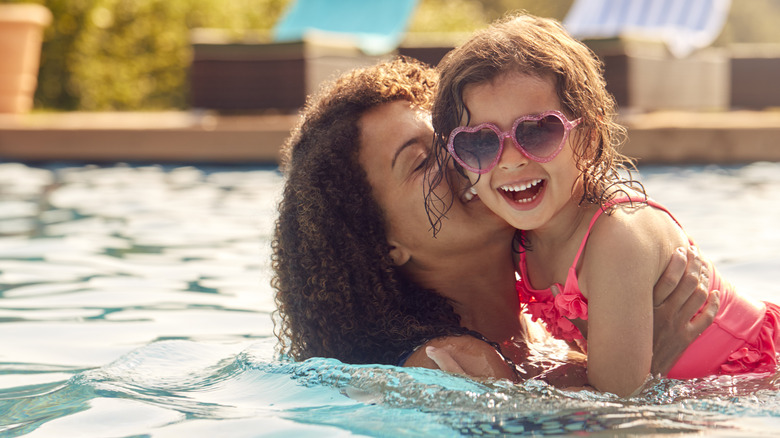 Monkeybusinessimages/Getty Images
When it comes to safe colors for kids' bathing suits, go with the most bright neon colors you can find. Busy, loud patterns are also great. Your kid's bathing suit should be a glaring contrast to the blue of the water to ensure you and the lifeguards can see them, especially if they dive below the water's surface. In her TikTok video and in the comments and replies below, Nikki Scarnati warned parents against buying even dark blue bathing suits because they can look like a shadow. Clearly, blue is not the way to go when it comes to swimming. 
Instead, opt for choices that are bright. Go with neon orange, pink, or yellow. A fire engine red works as well. Parents were all over this idea in the comments: "[M]y kids will forever wear neon everything so I can clearly spot them no matter where they are," someone wrote. When it comes to swimming, you want to see your kids with total precision. For water safety, bright is best!