Why You'll Want A Peanut Butter Jar Next Time You Head To The Beach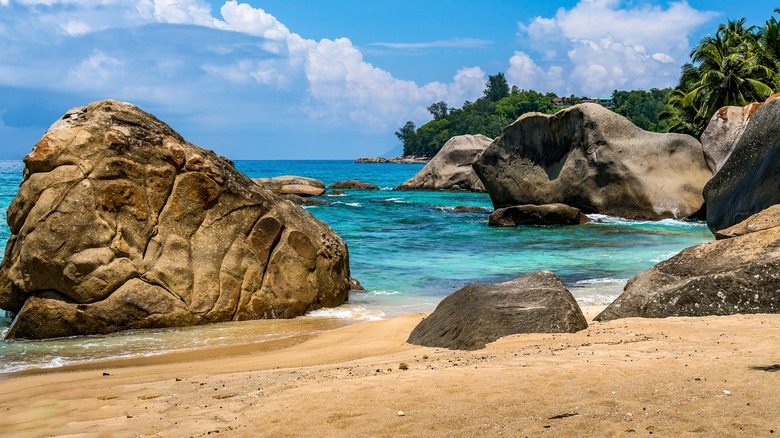 Ruslan Suseynov/Shutterstock
Packing for a beach trip may seem fairly simple. From sunscreen to snacks, you'll want to be well-stocked with all of the essential items. But there's more to protect than your skin. You'll undoubtedly have your phone, keys, and wallet with you. So, unless you're comfortable exposing your valuables, it's necessary to think about storage. One unconventional way to safeguard your items? Place them in a peanut butter jar!
That's right — don't throw out that empty peanut butter (or almond butter) jar. The next time you head to the beach, clean one out before tossing it in your bag. Go for plastic, as glass is easily breakable and more likely to cause an accident (not ideal if kids are going, either). If you're traveling with others, bring along several jars. There are lots of benefits to trying this nut butter beach hack. However, it's vital to complete the subsequent steps.
Hide your peanut butter jar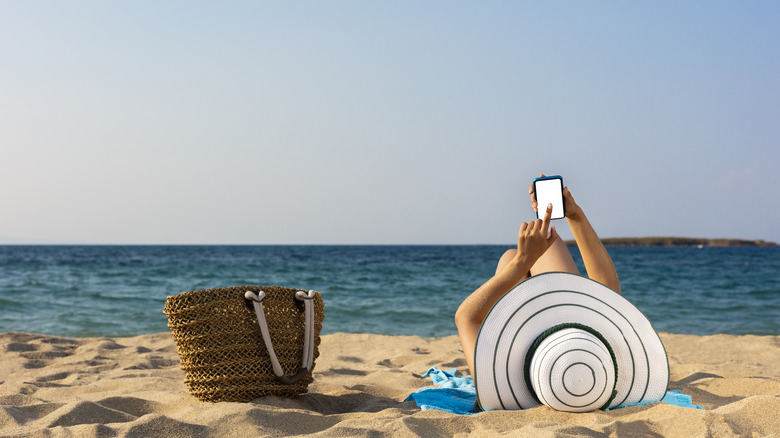 Gece33/Getty Images
If you're spending time at the beach, it's crucial to secure your belongings. If you leave your phone, keys, and wallet out, it's very possible they'll be flecked with sand. But a peanut butter jar will offer proper protection, as it'll keep your valuables airtight. This container is also easy to maneuver, should you need your phone quickly. And of course, it's big enough to actually hold these items. It's also lightweight, so it won't weigh down your tote bag. All in all, a peanut butter jar is the perfect storage solution for a beach day. Yet, you should go a step further to maximize safety.
If you're going into the water, you definitely don't want to leave your phone, keys, and wallet in plain sight. Various beachgoers shared simple tips for hiding possessions, per The New York Times. One person recommended burying bagged items in a hole and covering it with a blanket. Someone else suggested, "Wrap your valuables in a shirt and leave a bag sitting out in the open, so a potential thief would grab the wrong thing," Whatever method you prefer, just make sure that peanut butter jar stays completely hidden.
Take other precautions at the beach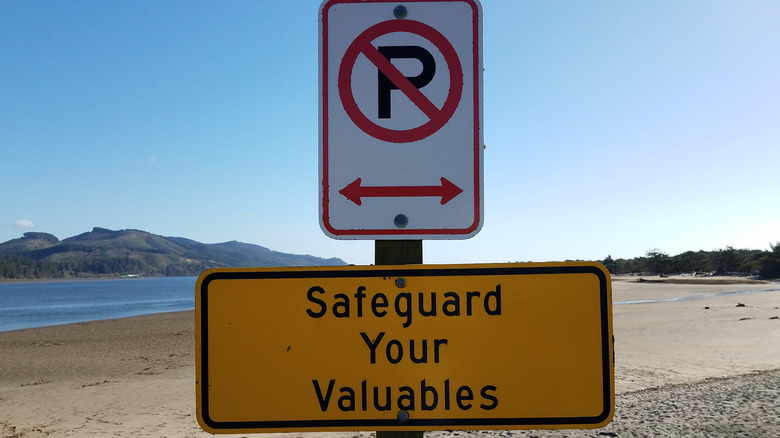 Justin Smith/Getty Images
While a peanut butter jar is optimal for holding your phone, keys, and wallet, it's not the only storage solution. A zip-close bag can also do the trick. Or, if you're a frequent beachgoer, it may be worth investing in a waterproof smartphone pouch or bag. This is an excellent option for those who spend a big chunk of the day swimming. You can put a variety of small belongings in there. It comes with a lanyard, which you'll attach to your wrist or neck in the water. Read the product instructions carefully, as many variations have restrictions on the amount of time they can be underwater.
There are various ways to keep your valuables safe at the beach. A portable chair locker is a super safe alternative that can be fastened to your umbrella or chair. Although it's uncommon, some beaches actually have lockers to hold your belongings. Taking other precautions can help set the stage for a hassle-free vacation. To prevent items from getting lost or damaged, set limits on what you bring to the beach. For example, it may not be the best idea to bring a load of cash with you. Consider leaving your electronic tablet at home. If you're on a group trip, take turns going into the water. That way, your valuables are never left unattended. Who wants to spend the day worrying that an important item will get stolen? A little effort goes a long way.