Use One Clever Restaurant Tip To Save Money On Dinner While Traveling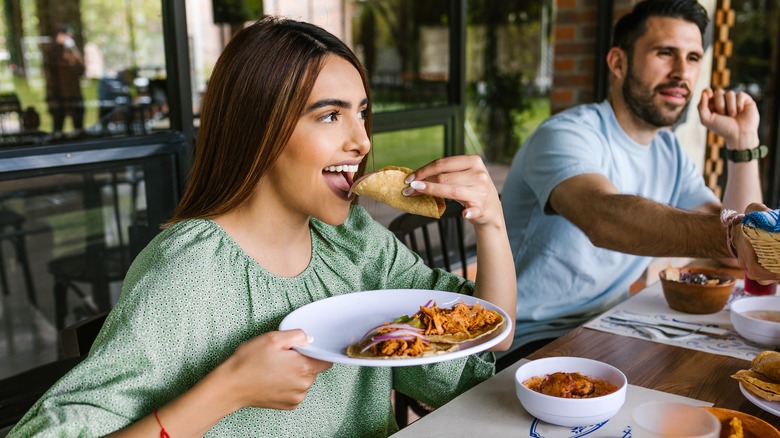 Marcos Castillo/Shutterstock
Vacations are a wonderful time for adventure — especially when it comes to food. Figuring out where the locals eat and indulging in the regional cuisines can introduce us to rich flavors we otherwise would've missed out on. These meals allow us to be immersed in an important part of culture. We might fall in love with a dish and search for a recipe to recreate at home, we may find ourselves in awe of the preparation process our dish requires, or we may not like the food but be proud of the fact we tried it. Regardless, vacations provide multiple opportunities for trying new (or sticking with familiar) cuisines.
With that being said, all this food can be costly. As much as our stomachs and taste buds may love it, our wallet likely will not. Food accounts for one of the largest expenses during vacations. It makes sense, after all — it's ideal to eat multiple times a day, and food is not free. There are, however, tricks for spending less on food when eating out on vacation, a key one being happy hour.
Happy hour around the world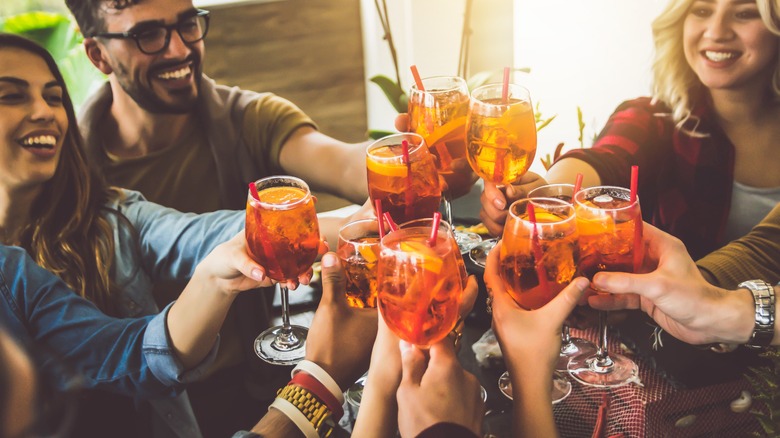 Taking advantage of happy hour has the potential to cut your bill in half. It can make figuring out how much you'll spend on food less stressful by reducing the amount of cash you'll need. Plenty of restaurants hold daily happy hours, some including on the weekends. You'll find food prices heavily discounted — oftentimes slashed in half — and even an option for low-priced drinks.
If you're in the U.S., happy hours tend to occur between 3 and 6 p.m., or 4 and 8 p.m. Some restaurants even start a happy hour 2 hours before closing. Weekdays are the most popular for happy hour. Yelp is a great place to start when looking for restaurants with happy hours, since it lets you look at reviews from those who've visited before. There are also apps like Appy Hour, HungryHour, and Checkle that are specifically for locating happy hours.
If you're traveling overseas, there's no need to worry. Hong Kong and Singapore are hotspots for happy hours. Europe has plenty, and Italy is even the originator of happy hour. Rather than calling it happy hour though, it's called aperitivo, and refers to a drink bearing the same name that's specifically made as a pre-meal beverage.
An opportunity for making friends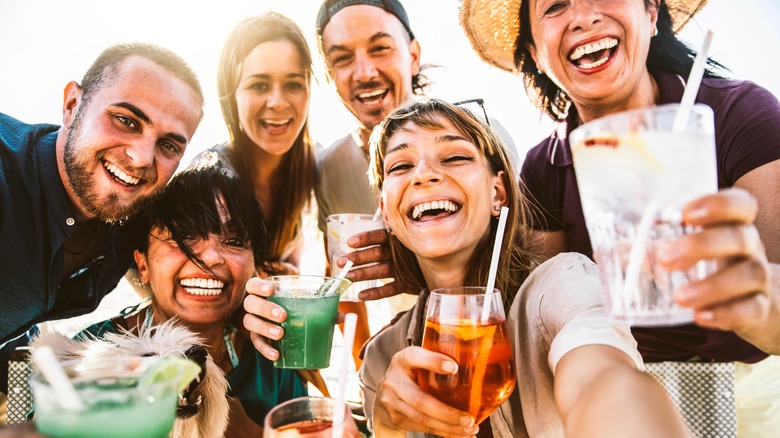 DavideAngelini/Shutterstock
In addition to getting great deals on food, happy hours provide an opportunity for socializing. You can strike up conversations with other travelers, or get insider tips from locals. You might just make a new friend during these social times. And don't forget the staff! Talking with your waiter or the bartender can be just as cordial and fun as talking with a stranger. Everyone has a story, and what better way to hear it than over half-priced drinks and a deal on food?
If you're introverted or simply too tired to mingle, you can always unwind and relax with your friends and family that you came with. You can also take your food to go and eat it at your hotel or somewhere else like a park. Some restaurants even have the option of taking your drink to go.
Remember, happy hour doesn't have to be reserved for vacations. It's a great way to save money at home or abroad.