How Locals Take Advantage Of Beautiful Key West Sunsets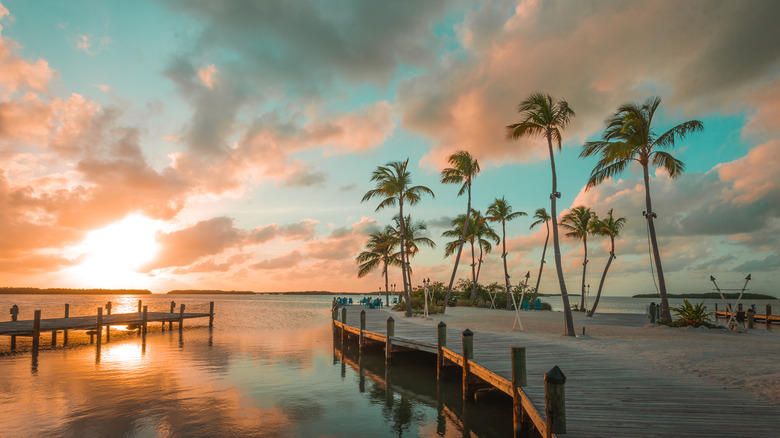 The Jon Fernandez/Shutterstock
If you've been craving a tropical getaway, why not head all the way down to the southern tip of the United States? Here you can find the magical paradise of Key West, Florida — a place filled with sandy beaches, crystalline waters, and many splendid sunsets. Some of the most breathtaking sundowns happen right over the ocean in this little oasis, and you will be amazed at the colors that come out to play as dusk sets in.
Key West separates the Caribbean and Atlantic Oceans, comprising a series of islands and straights. Sandwiched between Miami and Cuba, this area is known for its distinctly Caribbean feel and brings visitors from all over who want to escape to the tropics for a little R&R. Along with all the outdoor activities and free-flowing drinks that can be found here, there is one time of day people look forward to the most. According to @Home in Key West, sunset brings a plethora of vibrant colors, and sometimes even offers a green fluorescent flash when the last rays disappear. While there are a variety of ways to watch the sun sink down over the water (in the words of country music star Kenny Chesney), there is one option that outweighs them all.
Take a Hydrobike tour
One item you should add to your itinerary while in Key West is to stop and take in the sunset every evening. You can change up how you see it, but one of the best ways is by Hydrobike. If you're new to the Hydrobike concept, think of it like a personal-sized boat mixed with a floating bike. You can pedal across the water's surface, while still being able to see underneath your seat into the depths below. In Key West, the sunset Hydrobike tours allow you to follow a guide as you pedal out into the harbor to watch the sun slide beneath the waves. You might also catch a glimpse of the mystical green flash the area offers, which is made from the sun's rays reflecting into a thicker part of the atmosphere.
One of the biggest perks of Hydrobiking is how easy they are to use. According to Lagerheads Beach Bar & Watersports, the bikes are stable and safe, making them an ideal choice for groups of varying ages (although tours might have age restrictions for youths). This particular company offers 120 minutes of fun in the sun — or at least until it disappears from view. Because you don't have to worry about balance or focus too much on paddling like with kayaks, you can enjoy the scenery unhindered.
Other ways to check out the sunset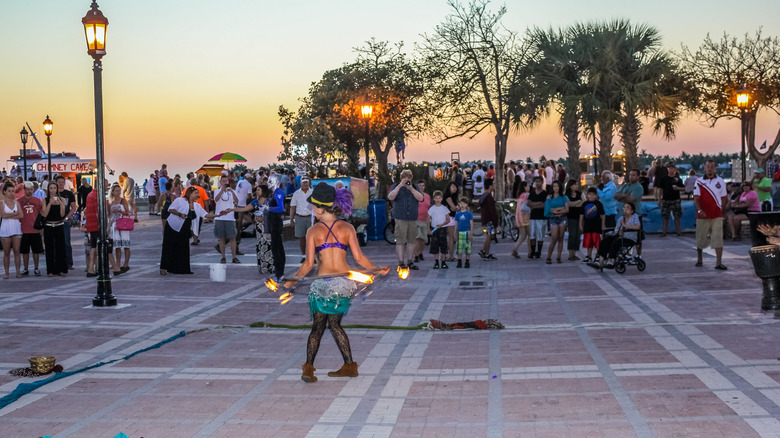 Benny Marty/Shutterstock
Because Key West is so well known for its epic sunsets, you have other options to catch this coveted time of day. Mallory Square is one of the most popular areas for visitors and locals alike, and every evening the locale hosts a sunset celebration. You can watch as street performers and vendors set up to awe and dazzle passersby, then scope the arriving dust across the harbor. While it might not be as immersive as Hydrobikes, if you're wanting to avoid the water one night (or several) Mallory Square is the place to be at sundown.
If crowds aren't your thing, The Boutique Adventurer suggests continuing on past the areas where entertainers set up shop to the docks. It's here you can find a quieter space to enjoy the last tidings of the day before it slips into inky darkness surrounded by the calming sounds of lapping waves and moored boats. To find the docks, look for a red-brick building known as the Custom House; then you can find a cozy and quiet spot to linger.