Simple Ways To Make Your Extended Stay Hotel Room Feel More Like Home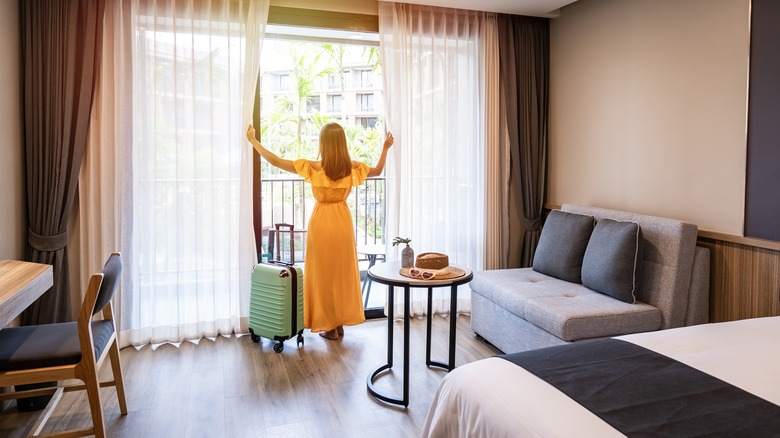 kitzcorner/Shutterstock
There's no way to get around it, a hotel will just never be home. There are all these sneaky little differences lurking in hotel rooms that borough their way into your psyche and make you feel like you're in someone else's space. While hotels can feel luxurious at first, these contrasts can leave you restless on an extended stay. 
Extended stays in hotels are common for business travelers, people relocating, and individuals on long trips. So, there is a good chance you'll have to deal with a lengthy hotel stay at some point in your life. Staying at a hotel for a long time doesn't have to make you feel out of place or uncomfortable, though. There are tons of surprising little hacks you can use to take a regular, dull hotel room and effortlessly transform it into a cozy nook that genuinely feels like a real home away from home. 
Bring some items you usually keep in your room, like family photos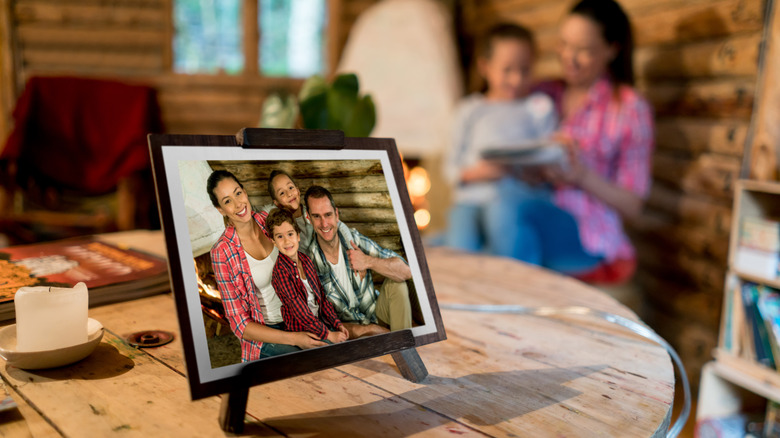 Andresr/Getty Images
One surefire way to make an extended stay hotel room feel a little more homely is by bringing along some familiar items from your actual residence. These small touches immediately bring a sense of comfort to an otherwise cookie-cutter hotel dwelling. Displaying a photo of your family or even your beloved pet on the nightstand next to your hotel bed can make the room a lot more snug in a heartbeat. 
There are actually even health benefits to displaying family photos in your living space because it fosters a sense of security and connection. This can be especially important when you're going through a transition or embarking on a long business trip away from home and staying in a hotel long-term. Some doctors even suggest that having a family photo to glance at on the nightstand or the desk can actually help you improve your mood during overcome challenging times. 
Hang up or fold your clothes instead of leaving them in your bag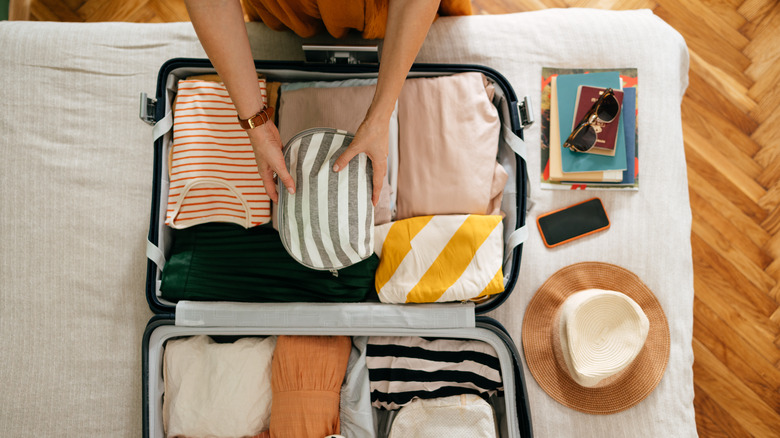 Miniseries/Getty Images
One 2020 survey found that more than half of American adults never unpack their suitcases at a hotel and just take out clothes when they need them, but this is a huge mistake for a long-term stay. When you arrive at a hotel after a big travel day, it may be tempting to curl up into bed immediately and toss your bag to the side. You're exhausted, travel days feel 30 hours long, and all your stuff is still conveniently stowed away. 
Do your best to fight this urge. Instead, take a few minutes to unpack all your clothes and put them away in the hotel's closets and dressers. You'll thank yourself later for the extra effort when you wake up feeling much more comfortable in the space.
Even if you don't accomplish the task of unpacking the moment you arrive, make sure you unpack all your stuff at some point during your extended stay. It's basically impossible to feel at home in a hotel when you're living out of a suitcase. Plus, keeping your clothes in a suitcase long-term will make them completely wrinkled.
Be prepared with a favorite incense or candle from home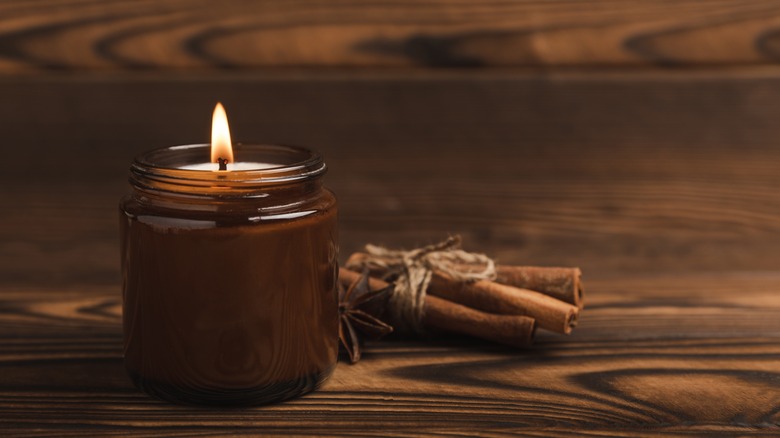 Avocado_studio/Shutterstock
Scents are one of the most powerful memory triggers in the natural world, even better than sight. Thanks to brain scans, doctors realized that odors trigger vivid memories because they're processed in the same part of the brain as emotions and memory. That's why people have a big emotional response to smells and they can totally affect your mood, for better or worse. 
Particular scents can do a lot to make you feel at ease or tense depending on your prior experience with it. One study found that nostalgic scents made participants feel happier and more comfortable, while emotions like anxiety diminished. That's why a major hotel hack is arriving extra prepared with your favorite incense or candle. 
Instead of settling for the scent of cleaning products or stale hotel air freshener, light up your rainy meadow candle or jasmine incense. Filling the room with recognizable scents tricks your brain into feeling the same comfort you would normally feel at your real home. If you're not allowed to light a candle or incense in your hotel room, swap those out for your perfume or a laundry scent spray instead to spray on your pillow.
Download your top movies or TV shows to watch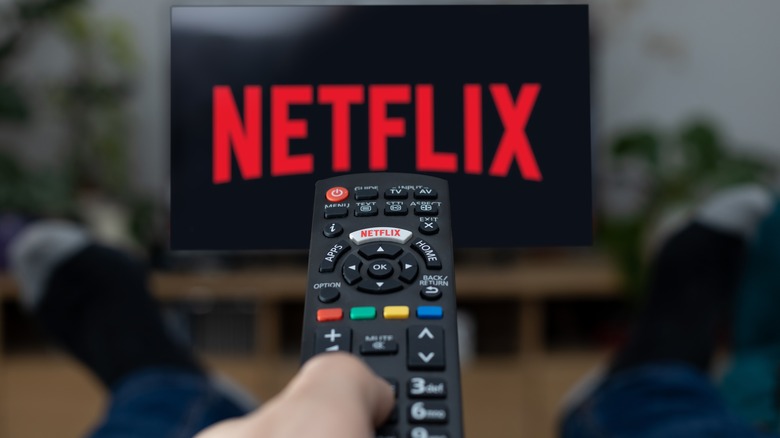 MAXSHOT.PL/Shutterstock
Think about how comforting it is to cozy up in bed at the end of a long day and watch your go-to movie. That's the type of energy you need during an extended hotel stay. Throwing on your favorite movie from childhood or a guilty pleasure TV show can do wonders to comfort you in an unfamiliar hotel room. However, you never know what you're going to get with a hotel's TV. 
To make sure you'll have access to your preferred flicks, just download them off your streaming platform of choice. On Netflix, you can download media to watch offline on the latest version of the app by hitting the download icon next to your fav tv show or movie. On Hulu, users with the 'no ads' plan can download stuff the same way as long as they're connected to WiFi or using cellular data as they're downloading it. Just keep in mind that only certain titles on streaming platforms are available to download and watch offline.
Listen to white noise at night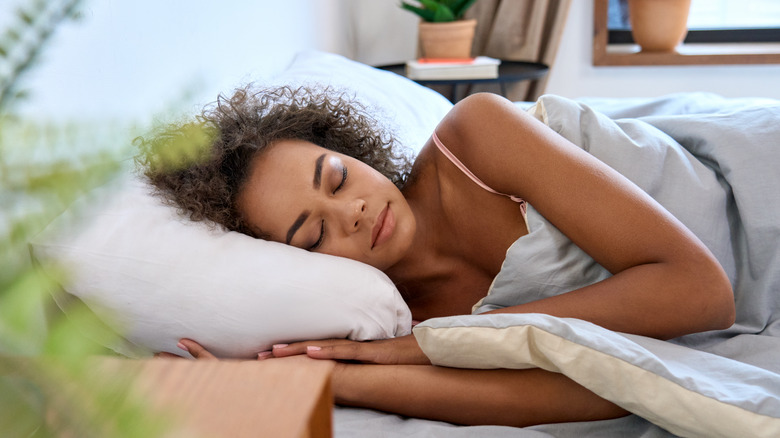 Ground Picture/Shutterstock
One of the things that makes you feel the most at home during a long-term hotel stay is getting a good night's sleep, which can be difficult in a new environment with more noise than usual. Even the slightest unfamiliar bump in the night can wake you up and ruin your rest. A good solution to this issue is listening to white noise at night during your extended hotel visit. 
White noise is a sound that includes all the frequencies at once and it sounds sort of like static from an old radio or television. There are also other variations of the consistent tones, like pink noise and brown noise. That might not sound very pleasant at bedtime, but there are actually a lot of benefits and it can drastically improve your sleep experience during an extended stay at a hotel. 
Studies have found that listening to white noise as you drift into dreamland helps adults fall asleep 38% faster and overall positively affects sleep quality. Sleeping bathed by the sounds of a white noise sound that you're acquainted with allows you to feel at home anywhere you go. You can easily find tons of 6 hour to 12 hour long white noise playlists on Spotify, Apple Music, or even YouTube for free.
Bring your favorite toiletries along with you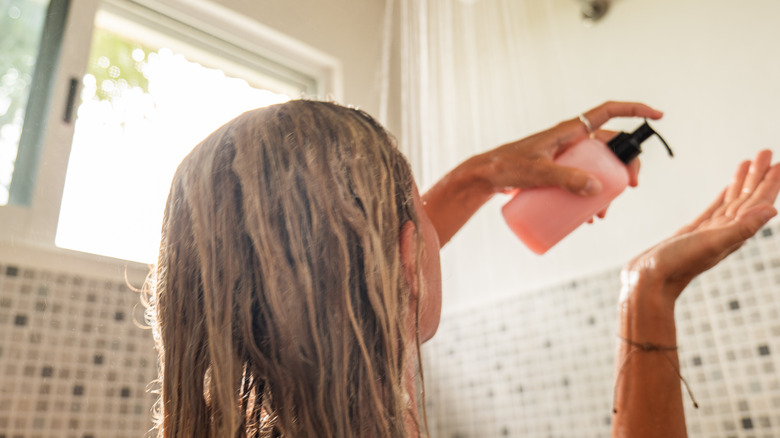 Mystockimages/Getty Images
Hotel toiletries are great for one night in a pinch, but nothing reminds you that you're staying in a hotel faster than going to take a shower and only having the generic, tiny shampoo bottles at your disposal for days on end. Ensure that your showers remain a revitalizing experience during a long-term hotel stay by bringing along your preferred toiletries from home. It may seem like a hassle to bring or buy brand-new bottles of all your favorite products, but it's worth it when you want to take a refreshing shower. 
Your toiletries list should include things like shampoo, conditioner, face and body wash, lotion, a hair brush, tooth care essentials, and deodorant as a bare minimum. You can make it an even more uncomplicated experience by packing it all in a sturdy, waterproof toiletry bag so everything stays organized. After testing over twenty different toiletry bags on the market right now, the New York Times determined that the State Bags Bensen Dopp Kit is the most versatile bag for any type of extended hotel stay. 
Take your own pillow and pillow case along for the extended stay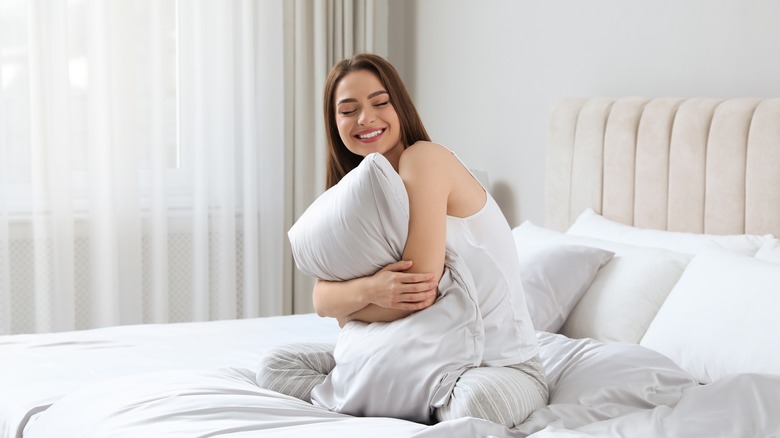 New Africa/Shutterstock
Having little pieces of home can really make you feel like you're in your own element, even if you're on an extended hotel stay. For example, laying your head down on your own pillow with your own pillow case helps you drift off peacefully and feel cozy. It might seem like a small thing, but it makes a huge difference to sleep on your own pillow every night. 
In addition to being more comfortable, it's also a lot more hygienic to use your own pillow while you're staying at a hotel. The standard hotel pillow is used for around two to three whole years. With over a billion people staying in hotels every year in America alone, that's a lot of different heads all sharing one pillow.  
Even if the staff does an exceptional job of cleaning the room between guests, there is no way to get around the fact that potentially hundreds of other people have slept on the same pillow as you at a hotel. So, you're better off just taking a fresh one along with you when you're spending a long time at a hotel. Don't forget the pillow case either, that's equally as important!
Pack a pair of super snuggly, cozy slippers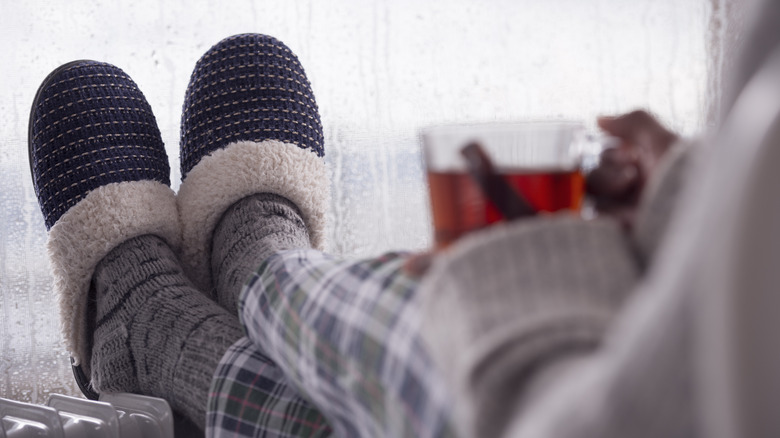 Ruslandashinsky/Getty Images
Half the battle of feeling comfortable at a hotel on an extended stay is packing the comfort essentials, like a pair of reliable slippers. It just adds a bit of the coziness factor to the equation when you have a pair of fluffy slippers to wear around your hotel room. Who wants to walk barefoot on an itchy hotel carpet anyway? 
Wearing slippers may have more benefits than just being exceptionally comfy, too. If you're staying in a hotel long term during the winter or in a cold destination, wearing slippers will help maintain your body temperature since having cold extremities can make you sick. Slippers also help you be more hygienic around your room and prevent you from tracking debris into your bed at night.
All these things are even more important when you're staying in a shared space like a hotel. If you're on the hunt for the perfect pair of slippers for your extended hotel stay, consider looking into the L.L. Bean Wicked Good Moccasin-Style slippers because they were ranked as the best overall pair for 2023. Alternatively, you can go for the Jessica Simpson Women's House Slipper for under $20 if you're on a budget. 
Bring a lightweight yoga mat and make time to stretch every morning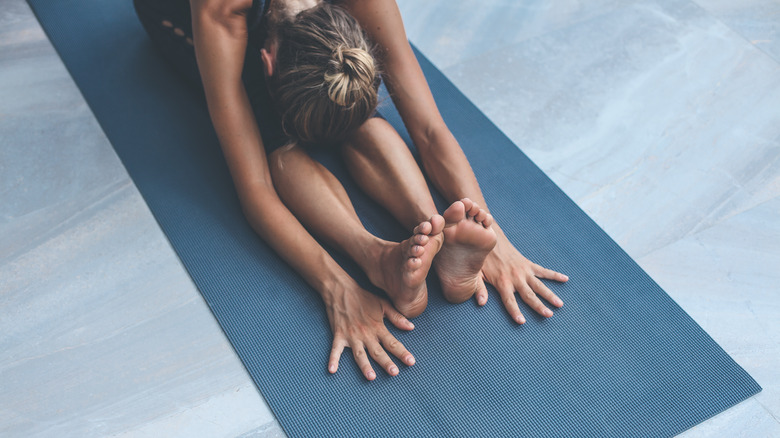 Jasmina007/Getty Images
When you're packing your bag for a long-term hotel stay, make the extra effort to bring along a lightweight yoga mat to stretch on every morning. This is one of those things that seems like it may be burdensome when you're getting ready for a trip, but it's definitely going to pay off in the long run. Even if you're not a regular stretcher at home, try to incorporate it into your routine before your trip so it feels more natural once you're at the hotel.
If you're new to building a stretching regime, try doing basic shoulder, side, forearm, back, and neck stretches every morning to kick off your day. There are lots of channels on YouTube that can guide you through a morning stretching routine for any skill level, too. Once you do it a couple of times, you'll start looking forward to it every morning.
There are so many hidden benefits to adding just a few minutes of stretching to your morning. According to the University of South Dakota, a little bit of stretching every morning can make you more flexible, help prevent injury, decrease stiffness, and relax your muscles to reduce stress. Stretching has even been found to improve your alertness and mood. All of these things are very useful when you're trying to feel more at home at a hotel.
Bring your own coffee maker or hot water steamer for tea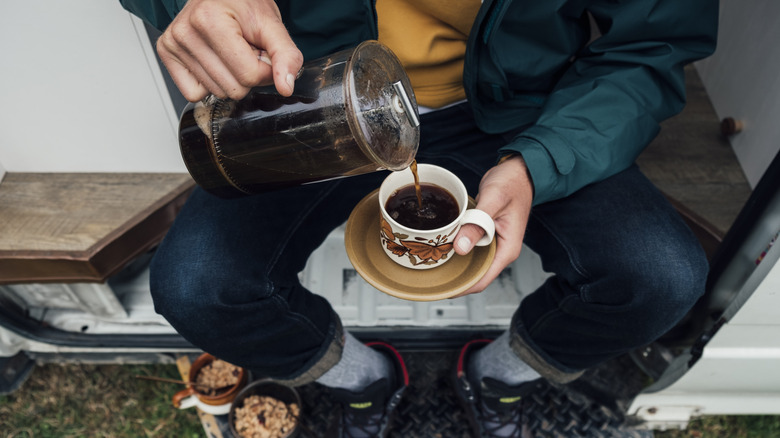 Solstock/Getty Images
If you're one of those people who can't live without your morning cup of coffee or tea, you'll really notice the differences between a hotel and home. To avoid all the caffeine headaches, think about taking a portable coffee maker or hot water steamer on your extended hotel stay. You don't want to have to rely on going down to the lobby for a poorly made cup of joe every time you want one. 
It may sound like a lot to carry, however, it will make your long-term stay so much more comfortable. There is a surprising amount of portable coffee makers and kettles out there for you to choose from, too. Forbes recommends the AeroPress Go Travel Coffee Maker for hiking and camping, but the handy little bullet also is an excellent option for long-term hotel stays. That way you don't have to compromise your good coffee on an extended hotel stay or go out of your way to get hot water every time you want tea. 
Get A Wi-Fi booster to combat unreliable hotel internet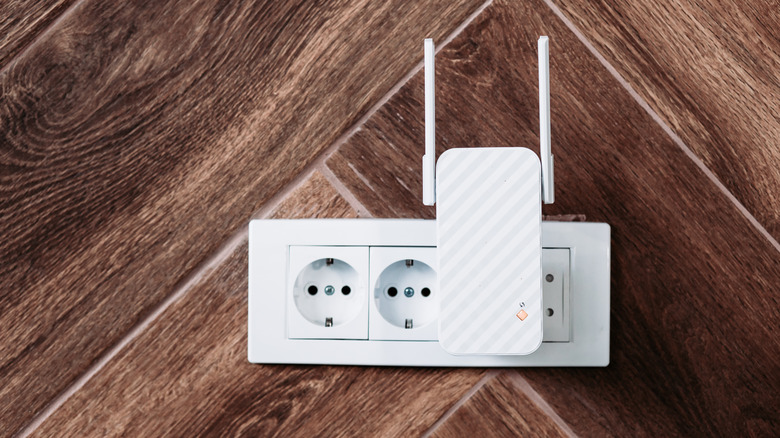 Stivog/Shutterstock
Hotel Wi-Fi is notoriously unreliable, which is absolutely not something you want to deal with on a long-term stay. This is even more crucial for people traveling for business. If you want to ensure you have the trustable internet connection you get at home, invest in a WiFi booster for your extended hotel stay. 
A WiFi booster is a compact device that you can plug into an outlet in your hotel room to help improve the wireless signal. It's perfect for when the WiFi router is far away from your room and supplying an entire hotel's worth of people with the internet. Most of them are small enough to bring wherever you're going, too. 
If you'll need to use the hotel Wi-Fi a lot to work, go for the more expensive NETGEAR AC1900. Alternatively, if you want a more budget-friendly booster, get the TP-Link Archer T3U for $20. There are options out there for any budget and it makes a long hotel stay a lot less of a headache, so it's definitely worth the extra splurge.
Clean up after yourself like you would at home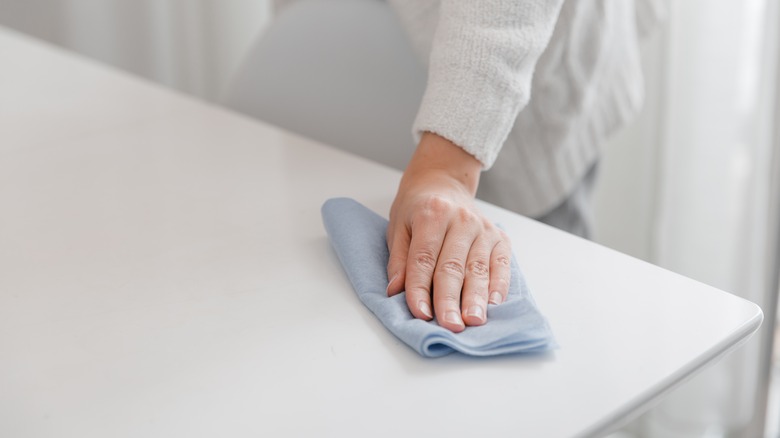 ml_photo/Shutterstock
One of the biggest pros of staying at a hotel is being pampered with things like a cleaning service and it's great for a week-long vacation or so. When you're staying at a hotel long-term, you may be enticed to leave the hotel room a mess knowing that it'll be tended to every day. However, this mentality inherently leaves you feeling like you're never truly at home and there are a few problems with it. 
First of all, it's just not polite to leave a dirty room for housekeepers unless you plan on tipping them well throughout your extended stay. Secondly, when you leave your messes for hotel housekeepers to take care of, you're still left with an unorganized space much of the time. That can have really negative impacts on your mental health and emotional state, which you really don't want during an extended hotel stay.
Psychologists have found that living in a disorderly space can create stress, anxiety, trouble focusing, and even relationship difficulties. Conversely, studies have also shown that keeping a tidy, organized room can uplift your mood, increase your attention span, and make you feel in control of your space. Those are all really helpful things when you're going to be staying at a hotel for a long time, so keep your room clean.
Put a little plant in your hotel room to keep you company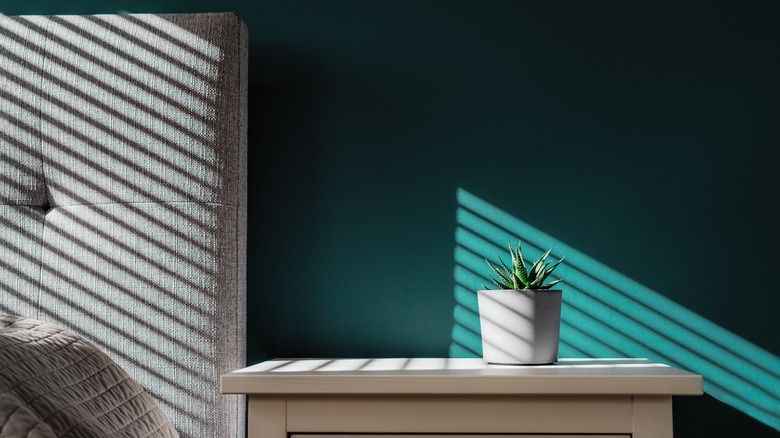 Okrasiuk/Shutterstock
If you're worried about being lonely during a long-term hotel stay, a tiny plant friend is the perfect companion to make you feel more at home. Most people wouldn't think about bringing their own plant to a hotel, but it can really do wonders to lighten up a boring hotel room. There are tons of little plants that are easy enough to care for on the go, too. Look into getting a jade plant, peperomia, or air plant if you want a low-maintenance flora for your extended-stay hotel room.
Besides the aesthetics, there are quite a few other benefits to having small plants in your room. For example, according to NASA, houseplants have been shown to remove up to 87% of air toxins after just 24 hours in your space. So, they can totally freshen up your hotel room during an extended stay. Some studies have even found that having plants around your room can reduce stress and improve concentration, making them ideal for a long work trip.