How To Block Out Pesky Hallway Noise When Staying In A Hotel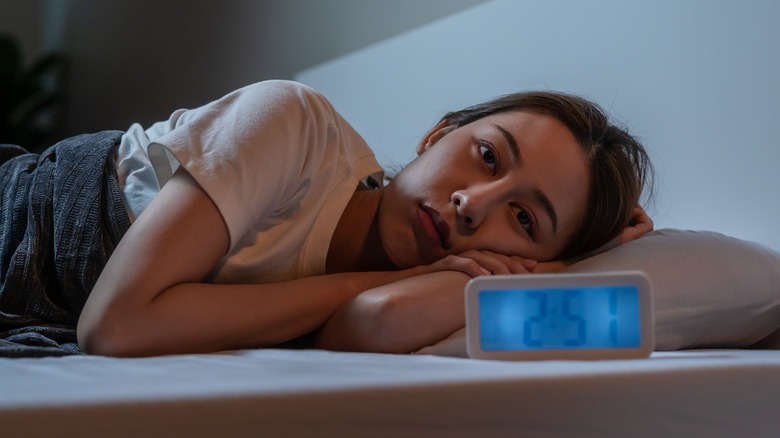 Kmpzzz/Shutterstock
When you're traveling out of town for work or fun, knowing you have a cozy hotel room waiting for you at the end of the journey can be a relief. Hotels offer up many important conveniences for travelers. They also make up an industry in the U.S. that IBIS World reports as being worth an impressive $239.2 billion.
It's estimated there are around 91,000 hotels and motels to choose from across the U.S. This means travelers have plenty of accommodation options, but one consistent issue found across many of these hotels is noise. Unfortunately, these intrusive sounds can make a hotel stay less than comfortable.
Hotels are inevitably designed to welcome many guests at once. This makes noise pollution tricky to entirely avoid. The issue can be more noticeable when a hotel is at capacity or hosting a big event.
The good news is, your hotel stay doesn't have to be a cacophony of unpleasant noises. When you're hoping to get a good night's rest, there are some simple hacks for blocking out hallway sounds that don't take long to put in place. One of the most effective strategies requires nothing more than a bathroom towel.
Simply grab an extra towel from the bathroom and roll it lengthwise into a bolster. Tuck the towel in the space between the room door and the floor to ensure hallway noise is blocked. If you have space in your suitcase to pack an extra thick blanket, this works even better.
Be sure to pack ear plugs and a white noise machine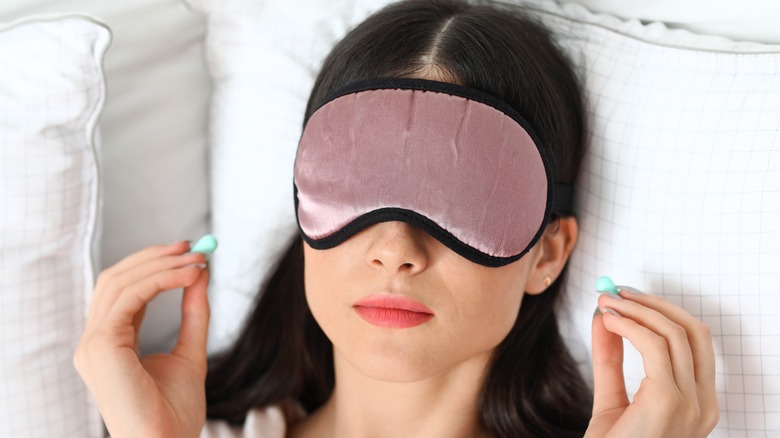 Pixel-Shot/Shutterstock
Once your noise-blocking towel is in place under the door, there are additional steps you can take to keep pesky hallway noises at bay. Consider investing in a pair of silicone earplugs to use during your stay. These will let you rest up without having to worry about unexpected and jarring sounds outside your door.
Silicone ear plugs are highly effective at blocking noise and also come with the benefit of being washable and reusable. The flexible ridges make a firm seal against noise pollution and they're easy to place in front of the ear canal. Unlike traditional foam ear plugs, silicone ear plugs are less likely to fall out of place while you sleep or work as well.
Packing a white noise machine for your journey is another effective strategy when you're hoping to combat hallway noise in a hotel. Many of these machines include soothing nature noises in addition to white noise selections. This means you have options to both block unpleasant sounds and replace them with something relaxing too.
Think about curtains and upgraded stays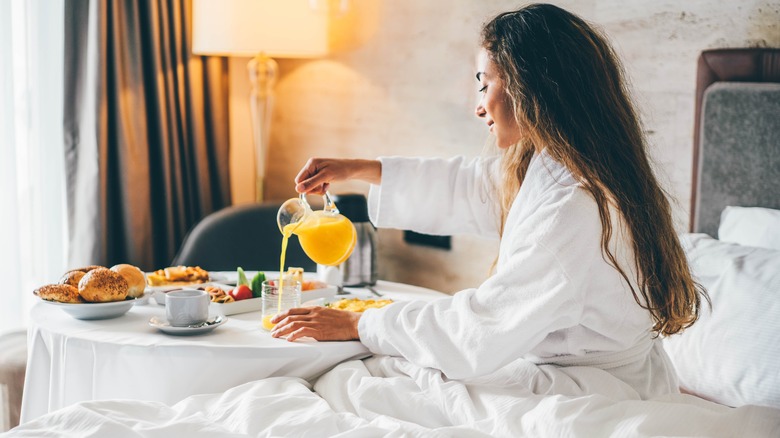 Mariia Korneeva/Shutterstock
Travelers who are willing to leave room in their suitcase for a set of heavy blackout curtains will find these items can do more than block window light. They can also be hung over a hotel door to absorb hallway excess hallway noise. This is a simple addition to the space that provides an added and welcoming layer of sound absorption.
Blocking out hallway noise comes down to room placement rather than product strategy in some cases. Towels can work well under doors and white noise machines redirect your focus away from annoying sounds, but there are scenarios where the location of your hotel room is the core issue. When this happens, it's likely time to upgrade your stay.
Investing a bit more in a hotel room that's further away from foot traffic, on a higher floor, or situated in a more private part of the hotel can make a huge difference in reducing overall hallway noise. While it can be tempting to want to book a room near the hotel pool or common areas for easy access, these destinations are notoriously loud. Keep in mind that it's also worth your while to avoid booking rooms near noisy appliances like ice and soda machines that could keep you up at night.
Hallway noise is inevitably part of a hotel stay. Knowing how to improve your experience is important. Whether you reach for earplugs or choose a different room entirely, you'll be glad you thought ahead.