What To Do If A Travel Delay Causes You To Miss Your Cruise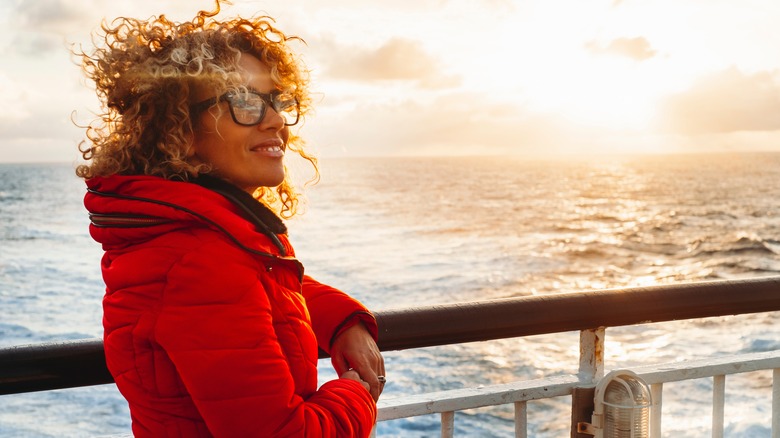 simona pilolla 2/Shutterstock
Cruises are designed to be relaxing experiences for travelers. These comprehensive voyages are often promoted as all-needs-met getaways where convenience leads the way to fun as soon as you step onboard. However, getting to your cruise can be a more stressful scenario.
Whenever your plans include flying to your departure destination, there's an inherent risk that a flight delay or cancellation could cause a major disruption in your agenda. If these delays are significant enough, you might even be faced with the reality of not making it onboard at all before the ship leaves. The prospect gives many cruise passengers plenty of reasons to worry with good reason.
According to FlightAware, recent data points to an estimated number of daily flight delays across the globe at around 30,000. Anywhere from 7,000 to 9,000 of those delayed daily flights are happening in the U.S. These numbers mean there's plenty of opportunity to miss the moment of setting sail no matter how early you book your cruise.
The good news is that if this happens, you aren't immediately out of luck. First, speak with airline staff about alternative connections that could get you where you're going in time. Be sure to also reach out to your cruise line to keep them updated. If it's looking like you won't make your cruise after all, there's still a chance you can catch up with your ship at the next port of call and have an amazing experience.
Find a path to the next port of call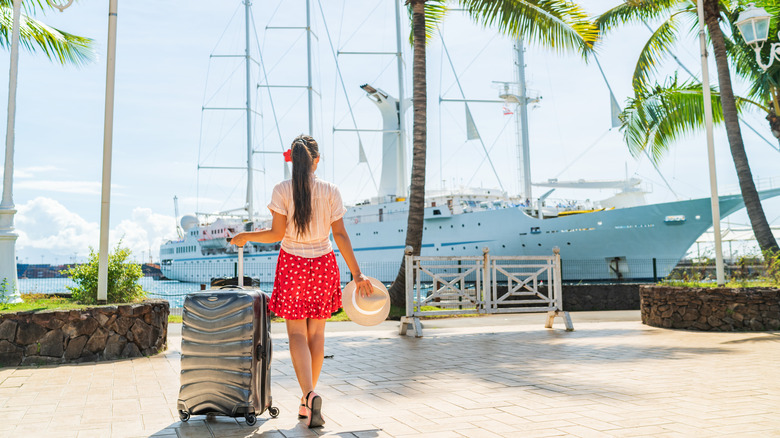 Maridav/Shutterstock
If your cruise is taking you across the Caribbean or Mediterranean, things might just be looking up for you. The chances of meeting up with your ship at an alternative port of call increase in this situation. These destinations are linked up with a larger number of daily flight routes than destinations you'll typically find on Alaska cruise itineraries.
It's not impossible to meet up with an Alaska-bound cruise ship, but there are legal hurdles to consider. According to the U.S. Customs and Border Protection, the Passenger Services Act prohibits a cruise ship that's not flagged in the U.S. from transporting passengers between U.S. ports without stopping at a foreign port in between. This is why many cruise ships touring Alaska either depart from or make stops in Vancouver, Canada. If your ship is foreign-flagged, it could be illegal for you to board elsewhere.
When your itinerary offers a clear and lawful path to the next port, you'll want to consider what documentation you'll need to get there and how much time you have to enjoy the cruise once you arrive. This is the perfect reason to always have your passport available when you cruise, even if it's not required. While meeting up with a three-day cruise at the next port of call might not be worth your while, those who have missed an extended cruise can hop on a flight and meet up anywhere their passport is valid.
Have a backup plan in place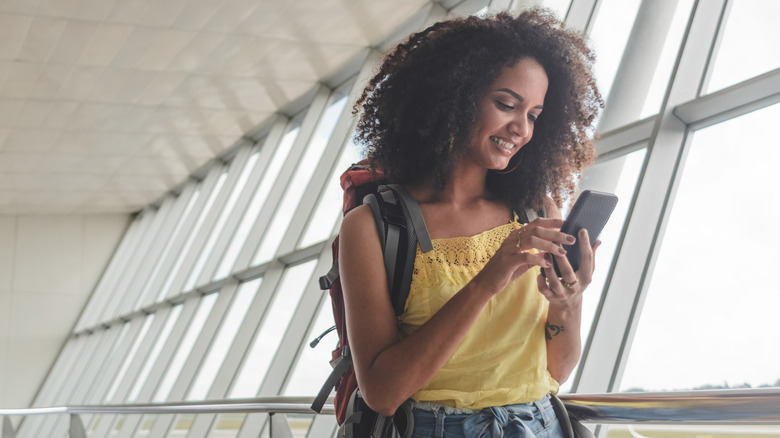 Wagnerokasaki/Getty Images
The worst-case scenario for many passengers who miss a cruise because of a travel delay is having to cancel their entire voyage. This can be understandably very disappointing in the moment, especially if you booked the cruise far in advance. However, how you booked that cruise you missed could actually help you get sailing quickly again in the near future.
Passengers who book flights to their cruises independently often have far fewer options when it comes to obtaining future cruise credit or rebooking a missed voyage. Those who book flights directly through the cruise line are more likely to be offered these helpful alternatives when they miss their original sailing experience due to travel delays. This can provide peace of mind when it comes to future sailing solutions. When you book flights through a cruise line's flight department, you'll also have professionals on your side helping you look for alternatives both while traveling and after you've missed your cruise.
If booking flights through the cruise line isn't something you can or want to do, consider reducing the risk of missing your cruise by flying to your departure destination a day or two early. This gives you time to relax, unwind, and head to the port early and with confidence. Investing in travel insurance with interruption coverage included is another great way to know you have options in the event of unexpected delays or flight cancellations.