11 Places To Go On A Cruise Without A Passport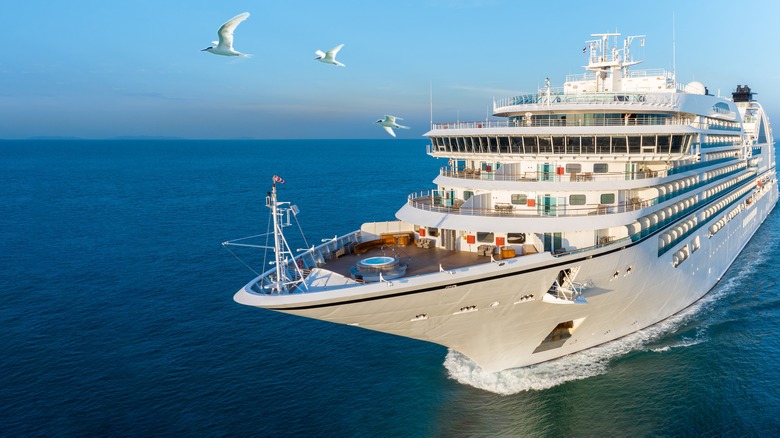 GreenOak/Shutterstock
Usually, there's only one major complication that stops the spontaneous traveler from dropping their immediate responsibilities and heading out on a trip at the drop of a hat, and that's the time and effort it takes to get or renew a passport. OK, so it's not terribly hard to get your passport sorted, but it can potentially take a good amount of time and be a drawn-out process in which the status of your passport is in the government's hands. There's no need to let the lack of a passport stop you from traveling, though, as there are a number of places you can go without one. If you're the kind of traveler that likes to do as little planning as possible, a cruise to one of these destinations just may be the thing to satisfy your travel bug.
Taking a cruise is arguably the most relaxing way to travel because you only need to worry about buying your ticket and getting on the ship. Making it on the ship, though, can be complicated if you don't have a valid passport, but it doesn't have to be. There are a number of destinations you are able to cruise to if you are without one, and we have the skinny on where you can go and the stipulations of getting there without typical travel documentation.
Before you book your cruise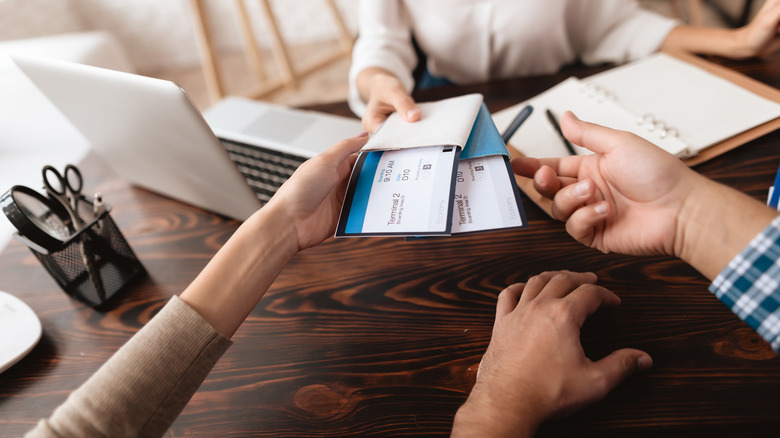 VGstockstudio/Shutterstock
If you are planning on booking a cruise without obtaining a passport, you should know a few things first. If you are a citizen traveling outside of the United States, it's highly recommended to have a passport even if your cruise doesn't require it because emergencies do arise and port plans on rare occasions do change. You can travel abroad on a cruise if the cruise in question is "closed"  or a "closed loop," meaning your beginning and ending ports are one and the same.
What you need instead of a passport, according to the U.S. Customs and Border Protection, is an enhanced driver's license or both your state-issued driver's license and your birth certificate. It's important to note that if you are bringing any minors under the age of 16 on vacation with you, they will still need a passport regardless if it is a closed cruise.
It's also important to check with your specific cruise line before you purchase any tickets and make sure that they do not require you to have a passport regardless of one not being absolutely needed by the governments touched by the cruise. Some cruise lines, like Windstar Cruises, always require passengers to have a valid passport. Also, make sure any documentation meets the cruise line's specifications, and the validity of some documents must extend for some time either before or after the cruise. For example, Windstar passengers' passports must be valid for six months after their return.
Alaska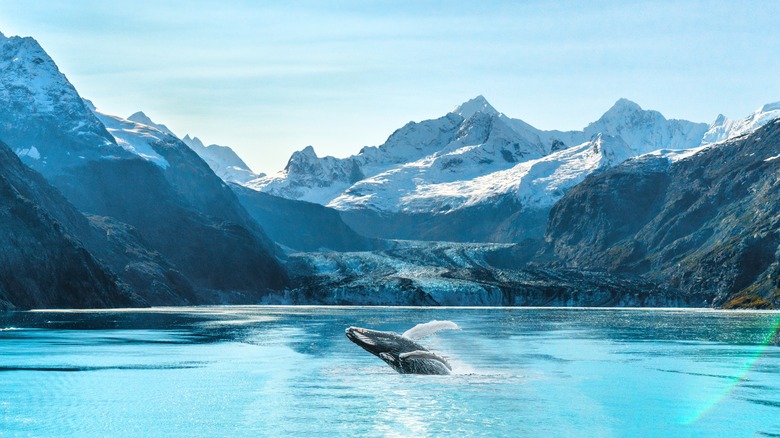 Maridav/Shutterstock
You likely know that you are able to travel to any of the 50 states without a passport, but a lot of people don't consider taking a cruise to one – especially one as chilly as Alaska. Traveling to the United States' most northern state via cruise comes with some complications compared to flying there, as you must make sure to select the correct route when traveling without a valid passport.
To make sure you are able to get on the ship without a hitch, you must make sure your trip does not depart or end in Canada. While many cruises destined for Alaska will require a passport because they port in Canada, you can find cruises that are closed in the United States. Princess is one of the most popular cruise company options for an Alaskan cruise and they have closed cruises from Seattle, Los Angeles, and San Francisco.
While Alaska may not be the first place you consider when picking a cruise destination, you shouldn't count the state out. The entire state is practically a natural wonder with gorgeous mountains, clear waters, and front-row seats to the aurora borealis. A cruise is one of the most affordable ways to see the large area that is Alaska and it is a trip you won't soon forget.
Hawaii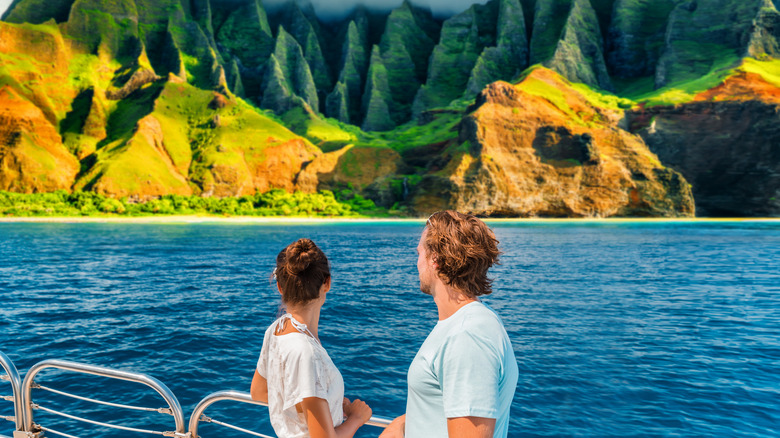 Maridav/Shutterstock
As the only other non-contiguous state of America, it would only make sense that you would consider a trip to Hawaii in the same thought as Alaska. Unlike Alaska, though, Hawaii has the warm and tropical atmosphere that most people connect to a luxury cruise. Even though Hawaii is one of the most tropical places in the United States and is quite expensive to visit, a cruise to the islands of Hawaii is a lot more affordable than flying in, not to mention the amount of planning that goes into visiting Hawaii without a cruise can get pretty intense.
Hawaii is made up of eight major islands and a number of smaller ones, making it a big endeavor to thoroughly see even a few of them with one trip. Taking a cruise through the islands is a great way to take it all in over the course of two weeks or so. Practicality aside, Hawaii should not be treated as just another state to visit. Though it is a state and was officially brought into the United States as one in 1959, Hawaii remains the home of the Kanaka Maoli and visitors should show the utmost respect to the land, waters, and people of Hawaii. If you decide to cruise to the beautiful islands of Hawaii, be sure to make it a learning experience and honor the culture there.
New England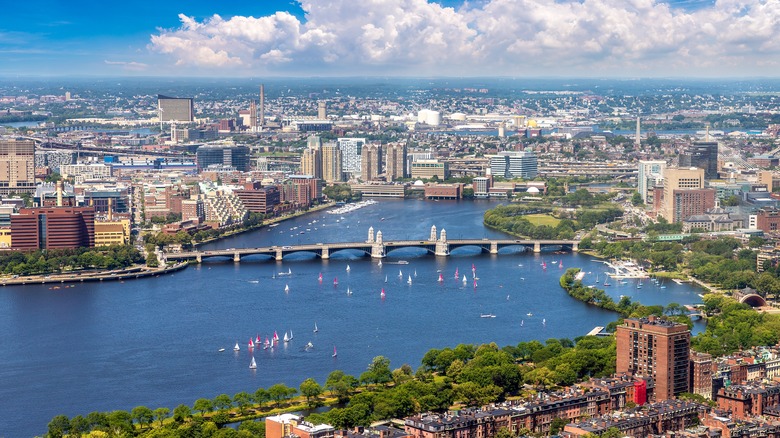 Sergii Figurnyi/Shutterstock
While not the tropical paradise of some of the other destinations on this list, swapping sandy beaches for rocky ones and cruising in New England actually makes for a pretty interesting vacation as well. Traveling north rather than south will result in a totally different trip, but it's a perfect option for people who want to take a cruise without a passport and want a different experience than a beach vacation.
New England is made up of the northeastern states of Maine, Massachusetts, Connecticut, Vermont, Rhode Island, and New Hampshire — it's a large area of the U.S. that was settled by England when the United States was being formed as the country we know today. The group of states still honor the part they played in America's birth and a trip up north will be somewhat heavy in influence from early American history.
A lot of popular New England cruises will also incorporate Canada, but you can find cruises that both depart and return in the same U.S. port that focuses on the northeastern part of the United States. These cruises will allow a more in-depth look at this part of the country and, as there is a lot to see, they would be ideal for travelers specifically interested in seeing certain spots in Cape Cod or along the Hudson River.
West Coast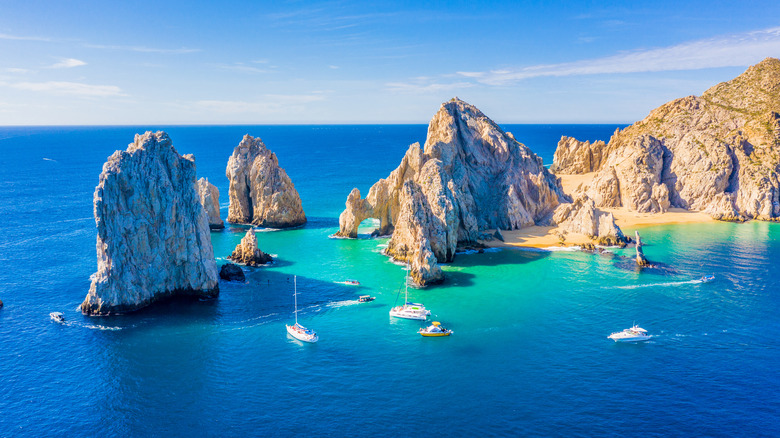 Frederick Millett/Shutterstock
It's possible to cruise the length of the United States' western coast. And as long as the route doesn't bleed over into Canada, there is no need to bring along a passport. These cruises are a great option for travelers taking a cruise for the very first time and for people who have always wanted a taste of California and the west coast but don't know quite where to start. Cruises along the west coast tend to be shorter, and the vast majority of the cruise spends its time along the coast of California, seeing as the long state makes up a substantial portion of the entire coast itself.
While California is beautiful and offers some awe-inspiring ocean views with sandy beaches, Seattle, Washington, and Astoria, Oregon also act as cruise ports and have plenty to offer travelers. Both these ports are interesting to explore, Seattle obviously being a desirable city for coffee lovers and market goers, while Astoria is a smaller city you may recognize from the film "The Goonies," making it ripe for adventure.
Cruises along the west coast offer somewhat of a unique opportunity to those local to a port, as just a couple hundred dollars and a free weekend can result in a mini vacation that is perfect for spontaneous travelers — particularly those without a passport. Of course, longer cruises are available and if you have a free week you can explore the west coast in full via cruise ship.
Panama Canal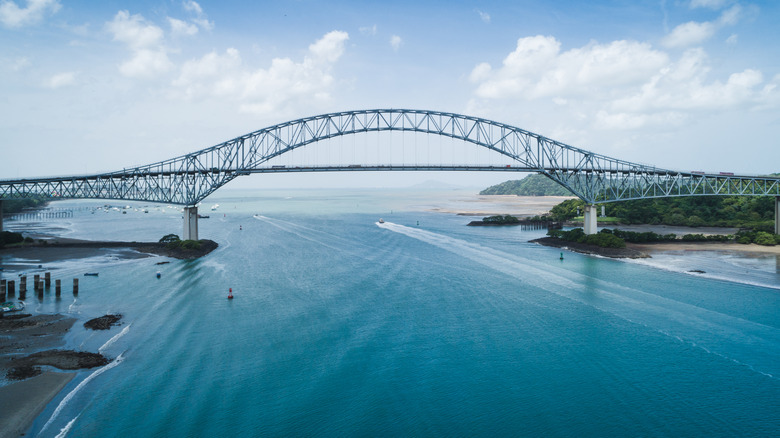 Faustino Sanchez/Getty Images
There are a few ways to do a cruise of the Panama Canal, but if you're planning on traveling without a passport, you're limited to only one option. You will need to begin and end in Florida and do a circular route that avoids making port in Columbia. Other routes will begin and end on either coast of the United States, which is a full trip of the Panama Canal, but will require a passport due to it not falling in line with the Western Hemisphere Travel Initiative, which is the travel agreement between the United States, Mexico, Canada, and the Caribbean meant to strengthen borders and make traveling easier. For this same reason, routes that make use of a South American port will need a passport as well.
Once you find a cruise that allows you to travel to the Panama Canal via cruise ship, you shouldn't miss the opportunity to go there. According to the American Society of Civil Engineers, the Panama Canal is one of the wonders of the modern world thanks to the technicality and impressive nature of its design. A cruise to the Panama Canal is an adventure that is akin to traveling to a different world, with the route full of lush rainforest and wildlife, both of which are sights you absolutely don't want to miss out on.
Canada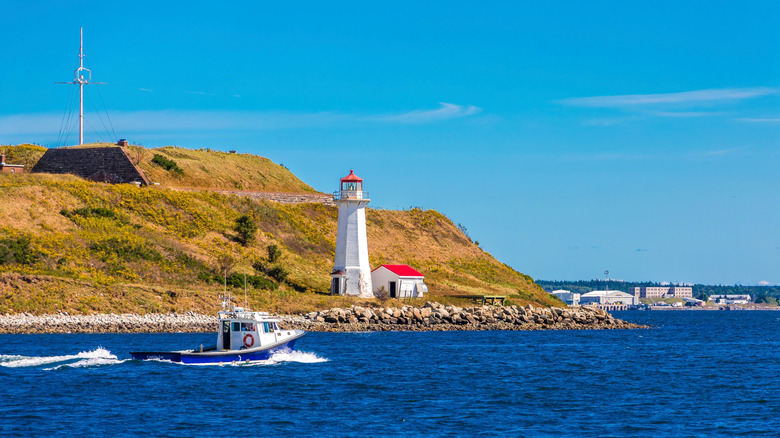 Darryl Brooks/Shutterstock
As a part of the Western Hemisphere Travel Initiative, you do not need a passport to cruise into Canada. Typically, cruises that take you to Canada will include some stops in the northeast of the United States, and it's important to know how to make the transition between the two countries — they may be neighbors but they do have cultural and atmospheric differences, including a potential language barrier in certain parts of Canada, where many people speak French. 
Canada is a touch larger than the United States, which means that it's a massive country – the second largest in the world – with different cultures and norms throughout. If you are traveling to Canada via cruise, though, chances are you are heading to its eastern coastline. A number of cruises make use of Halifax, the capital of Canada's Nova Scotia, and the maritime town is a great place to get some grub and do some shopping. Halifax is known for its involvement with the Titanic, as it sent out recovery ships during the incident and a number of departed passengers are buried in the city. Whether you're grabbing a lobster roll or exploring a lighthouse, Canada has plenty to offer cruise-goers.
Bermuda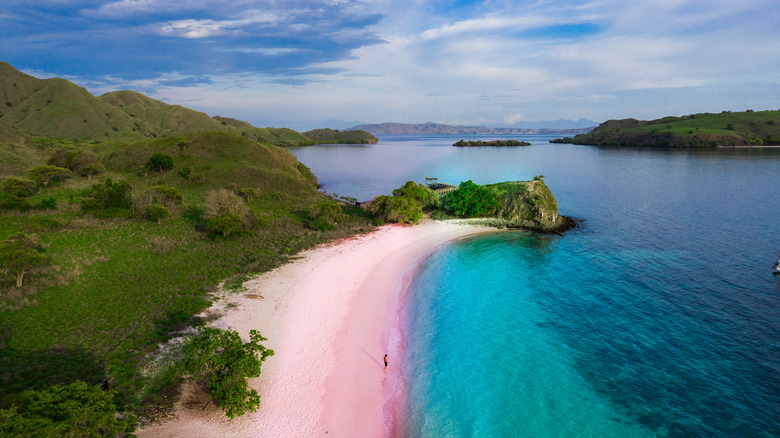 Petr Tran/Shutterstock
Bermuda is a popular cruise destination thanks to its pink sand beaches and luckily for travelers, you can travel to the island from the States without a passport. While Bermuda is not a part of the Caribbean, it shares a lot of characteristics (like tropical climate and clear water) with the group of islands and is a much closer destination for travelers who start out at more northern ports, like Virginia, Maryland, or even New York.
While travelers may feel a pang of nervousness about traveling to Bermuda, thanks to the infamous Bermuda Triangle, it is perfectly safe. In fact, if you are truly concerned about the Bermuda Triangle and its many legends, you may be surprised to hear that the vast majority of cruises from the United States to pretty much any Caribbean island pass through the mysterious destination. The island of Bermuda itself is located at the northernmost point of the triangle, making it much less involved than other incredibly popular cruise destinations.
Since there are no other island destinations near Bermuda, cruises to the island are typically just there and back. Passengers spend a decent amount of time on the ship, but they are granted plenty of time at the destination. This allows travelers to get the best of both worlds, a relaxing and stress-free cruise, and an island vacation.
The Caribbean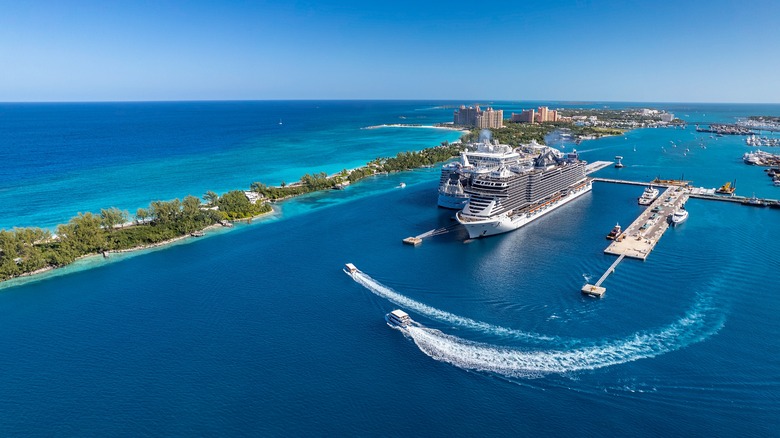 Brookgardener/Shutterstock
If you're looking for a tropical vacation that is full of variety, a cruise to the Caribbean is pretty much the perfect choice. Made up of hundreds of islands, the Caribbean contains 13 separate countries that all have their own culture and functionality. A Caribbean cruise will typically hit a few island destinations, making for a vacation full of new places and exploration.
If you ask the majority of people where their dream destination is, there is a good chance that a lot of them would say Aruba, the Bahamas, the Cayman Islands, or another of the tropical, paradise-like islands in the area. The reality is, though, that all these destinations belong to the whole of the Caribbean, and plenty of people each year visit a good many of them affordably via a cruise ship. Whether you'd like to indulge in oxtail in Jamaica or lay out on the beaches of Turks and Caicos, an island-hopping cruise to the Caribbean is just what you need a vacation to be and a great way to unwind from the real world for a while.
Dominican Republic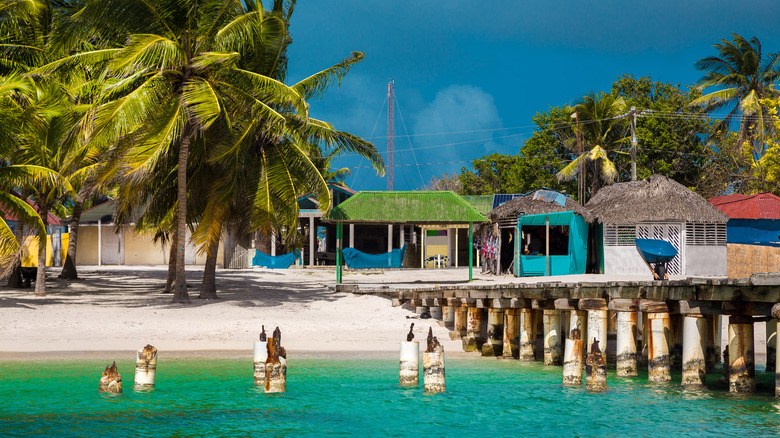 MarcinK3333/Shutterstock
The Dominican Republic is the most popular Caribbean destination and sees a lot of cruises come to its shore and, like the rest of the Caribbean islands, you do not need a passport if traveling here via cruise ship. Cruises that go to the Dominican Republic typically also go to a whole slew of Caribbean islands, but you may come away with the second largest Caribbean island as your ultimate favorite.
There is quite a lot going for the Dominican Republic in the way of travelers having the ultimate vacation there. The environment and atmosphere there is next to none, the clear waters allowing the perfect opportunity to go snorkeling with sea creatures. Later in the day, looking around to see which tropical and exotic animal is brave enough to show itself to you could lead to a parrot or squirrel monkey sighting.
Visiting the Dominican Republic can be as relaxing or as excitingly adventurous as you make it. Whether you just want to lay out on the beach or hike to see some of the island's many waterfalls, a cruise to the exceedingly popular Caribbean destination is something practically anyone can enjoy.
Mexico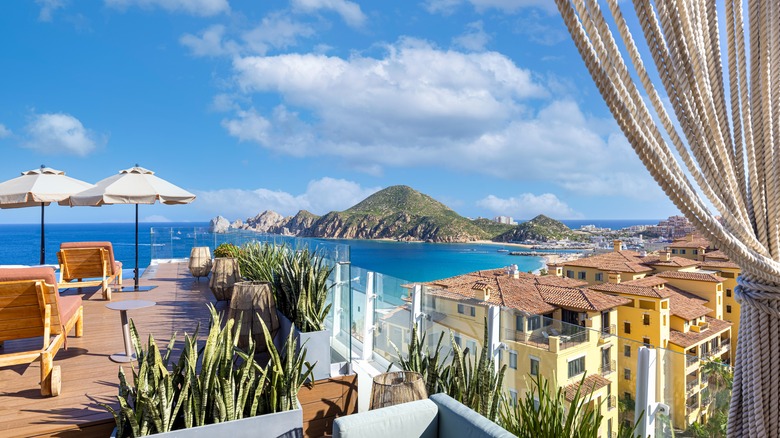 eskystudio/Shutterstock
If you have ever dreamt of visiting Mexico but have worried about the safety aspect of traveling there, taking a cruise is a great option for you. While Mexico is relatively safe to travel in a lot of areas that are big for tourism, it can be a dangerous place otherwise. By taking a cruise there, you will only really be taken to the high tourist areas and you can enjoy a different view from the sea that you can really only get with a cruise.
Cruises to Mexico typically leave from a port in either California or Florida and go to one (or more) of the country's 20 cruise ports. While you will still need to take a closed cruise, there are plenty of options when it comes to cruising to Mexico and you can have your pick.
Mexico is a great choice if you want to have it all. Not only will your time on the ship be relaxing, but Mexico has great beaches, some tropical areas, and is rich in culture. No two visits to Mexico will be the same, which will leave you open to returning again and again.
American river cruises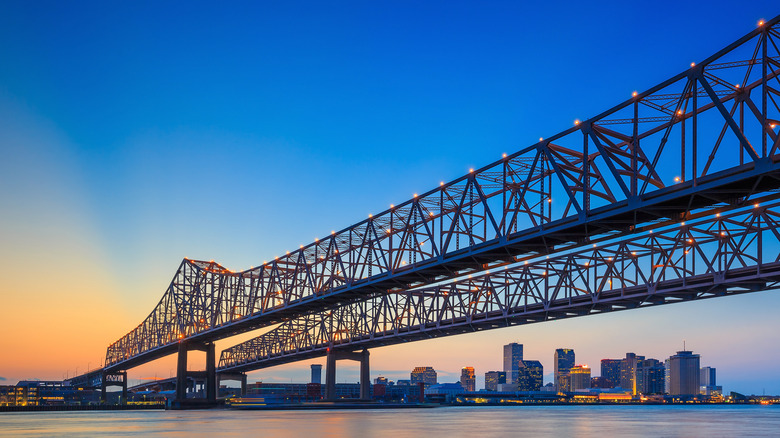 f11photo/Shutterstock
While it makes sense that you can cruise up and down both the country's coastlines, you don't typically think of cruising within the U.S. itself, but you certainly can. The United States is made up of waterways, a lot of which are absolutely beautiful to explore and have contributed greatly to American history.
With the United States being the melting pot that it is, different regions and even smaller areas within the states have wildly different cultures, so taking smaller, more concentrated cruises is a great way to dive into what helps make the United States a diverse and culturally rich country. Taking a trip on the Mississippi is a great example of how both culture and environment can quickly shift, and a cruise on this river could take you through the ethnic enclave of New Orleans. The river is typically broken up into multiple cruises, as it spans the entire country from top to bottom.
River cruises throughout the mainland of the United States tend to be more expensive than their affordable ocean-voyaging sisters, which may lend a hand in them being overall less common options for a lot of travelers. While this may be true, the two experiences are wildly different and a river cruise is an opportunity that shouldn't always be counted out just because there is a more affordable apple to its orange.