The Top-Ranked Budget-Friendly Beach Town In The Northeast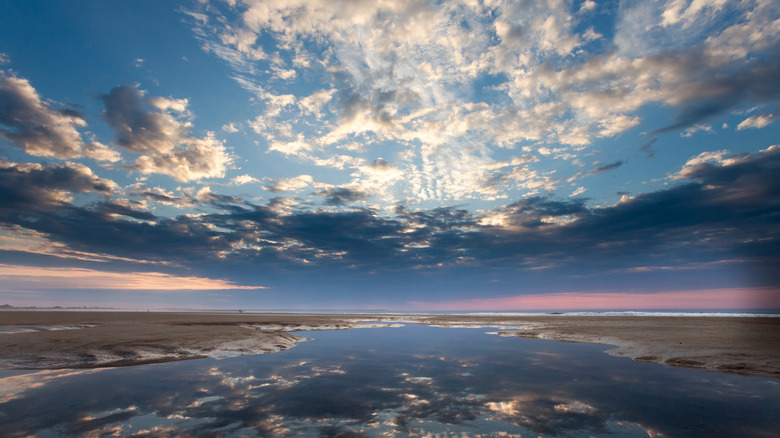 Fhogue/Getty Images
The Northeast coast of the United States is known for sandy beaches, picturesque coastal towns, and mouthwatering seafood. Unfortunately, it's also a notoriously pricey place to vacation during the summer months, and the prices of hotels and restaurants tend to skyrocket as soon as the weather gets warm.
If you're looking for a beautiful vacation destination in the Northeast that doesn't break the bank — look no further than Wells, Maine. Surrounded by pricier tourist hotspots like Ogunquit, Wells remains budget-friendly and true to its original small-town charm. On a trip to Wells, Maine, you can relax on the beaches, browse for antique treasures, or explore some of the many parks and nature preserves. The town has many options for delicious food, quality accommodations, and outdoor recreation. Despite its stunning beaches and enchanting historic architecture, Wells has remained affordable and authentic, making it one of the best coastal towns to visit in the Northeast.
How a historic fishing village transformed into a summer resort town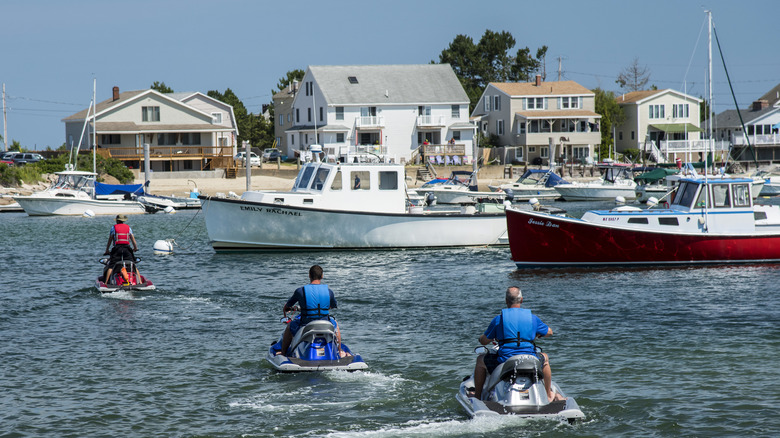 Rick Friedman/Getty Images
Fishermen and traders began to settle the area that would eventually become Wells in the 1600s, and the town was officially incorporated in 1653, according to the town's website, making it the third-oldest town in Maine. Settlers seeking opportunity and religious freedom soon began to establish permanent homes in the area, and the small community managed to thrive despite countless challenges and several wars, according to the Town of Wells.
Eventually, as the shipping industry began to boom, Wells became a hotspot for trade and shipbuilding. Due to its remote coastal location, it wasn't easy to reach the town by land, but with the construction of railroads in 1842, Wells became connected with the rest of Maine, and it wasn't long before tourists began arriving on the sandy shores.
Today, Wells is affectionately dubbed "The Friendliest Town in Maine" and has a population of just about 11,000 people, according to the most recent U.S. Census. The town thrives on tourism, with visitors traveling from around the world to enjoy the 7 miles of scenic coastline and the mild summer temperatures that tend to hover around 70 degrees Fahrenheit.
Peak tourist season in Wells runs from June through August, which coincides with the warmest weather and ocean temperatures. If you want to avoid the summer crowds, late spring and early fall are lovely times to visit, but be aware that the cooler temperatures might not allow for many balmy beach days.
Sand, surf, shopping, and seafood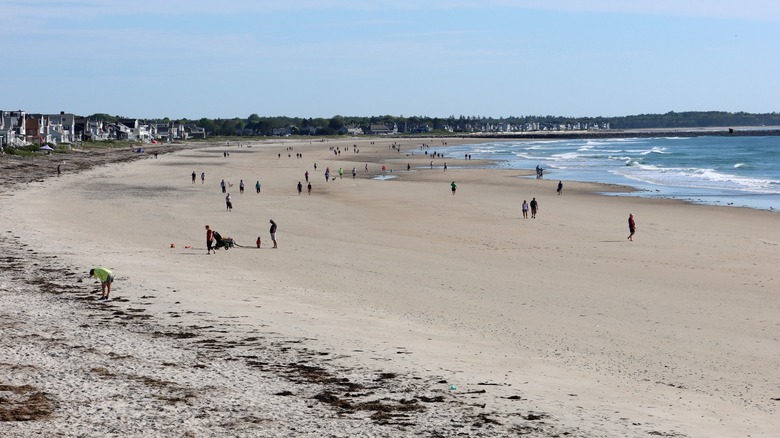 Theresa Lauria/Shutterstock
The fact that there are so many things to do in Wells is precisely why it's one of the best budget-friendly beach towns in the Northeast. Whether you're planning the ultimate family vacation for your little ones, a romantic getaway, or simply want to relax all summer after retirement — you'll find what you're looking for in the charming historic town.
Four incredible beaches await, including Wells Beach, Drakes Island Beach, Crescent Beach, and Moody Beach. There's plenty of space to spread out amongst the dunes so you can soak up the sun. When you've had your fill of relaxing on the beach, you can enjoy a variety of outdoor activities like sailing, kayaking, and canoeing on the Webhannet River or exploring the salt marshes at Rachel Carson National Wildlife Refuge.
If you're in search of a little retail therapy, be sure to carve out some time to visit the many antique shops in town; Wells is actually known as the Antique Capital of Maine. They're the perfect place to find unique souvenirs for loved ones and treat yourself to a one-of-a-kind treasure during your vacation.
Don't forget to eat some tasty Maine seafood! Wells has plenty of dining options, from seafood shacks to mouthwatering gourmet restaurants serving up fresh-caught fish, lobster, and clams. Whatever you do, don't skip out on trying the famous Maine lobster rolls! For the ultimate coastal adventure, pack your beach bag and head to Wells, Maine.