The World's Largest Cruise Ship Explained: Royal Caribbean's Icon Of The Seas
People that cruise frequently can't imagine traveling any other way. They love everything about seeing the world — and its rippling waters — by boat. It's easy to see why: the ease of hopping from port to port, the opportunity to meet new, like-minded travelers, the endless food and entertainment, and (here's the big one) the simple pleasure of only having to unpack (and re-pack) their suitcase one time despite multiple destinations. Cruising is certainly a beloved pastime, one that seems to be getting more popular — according to a report by the Cruise Line Industry Association in 2023, cruise line passenger volume bounced back from the pandemic faster than overall international tourism arrivals.
The market for cruisers is rife with competition, and operators are constantly tweaking and upgrading their products to pull in new customers. An example of this is the Icon of the Seas, the latest ship in the Royal Caribbean fleet — a behemoth that is redefining what is possible at sea and on board. The largest cruise ship ever constructed, it recently sailed on its maiden voyage. At 250,800 tons and nearly 1,200 feet in length (comparable to the height of the Empire State Building), the giant cruise ship did indeed float. Carrying hundreds of technicians over four days, the ship sailed for hundreds of miles on its first sea trial, with another sea trial due before its debut passenger sailing date from Miami in January 2024.
What is Royal Caribbean?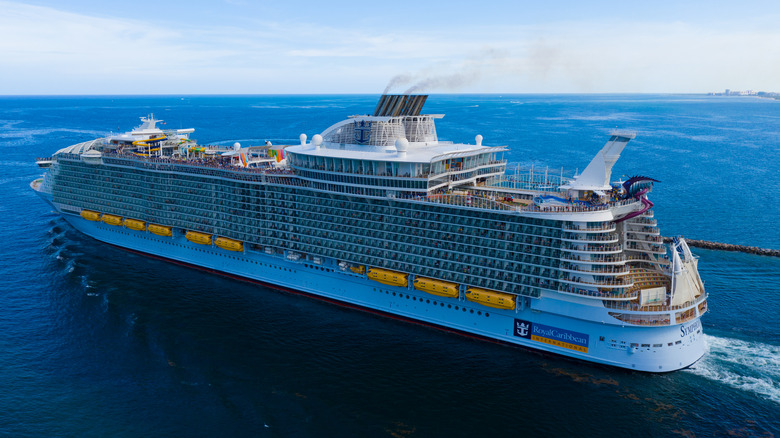 dgdigital/Shutterstock
A cruise conglomerate that dates back to the late 1960s, Royal Caribbean Group started as a one-ship venture in Florida, with some of its founders having shipping backgrounds in Norway. The owners of the company added the word "royal" to the name as a way to convey the polished service that passengers could expect while on board. The group now runs a number of cruise lines, including Silversea, Celebrity Cruises, and Royal Caribbean International (which is widely referred to as Royal Caribbean and will be the focus of this story). 
With its headquarters in Miami, the organization now has ships that sail to all corners of the globe. Royal Caribbean has longed carved out a name for its megaships — the top five biggest cruise ships in the world are all part of this line. With 40 dining and entertainment options across eight distinct "neighborhoods," the Icon of the Seas sets a new standard for the term "megaship," with variety that extends beyond just adults-only or family-friendly.
Is the ship's name appropriate?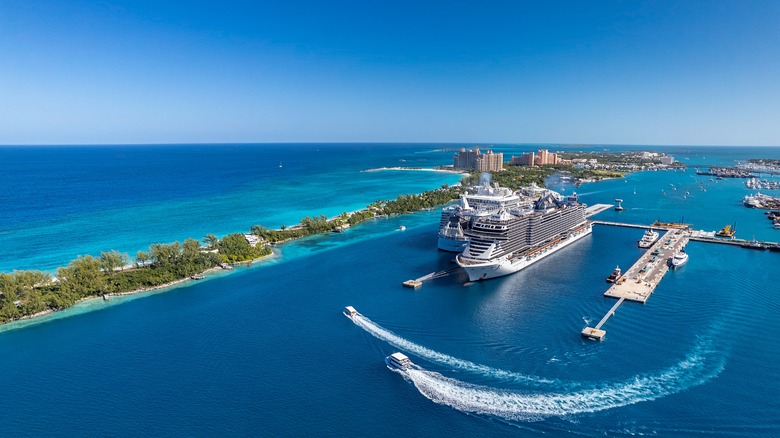 Brookgardener/Shutterstock
This might depend on your interpretation of the word icon, but the Icon of the Seas is certainly not something that travelers are likely to forget, either when looking at its magnitude online or in person. For starters, just survey some of the statistics. The ship was put together in Finland, utilizing the strong tradition of Nordic shipbuilding prowess, with its keel (the equivalent of a boat's spine) laid in April 2022. As the industry looks towards more sustainable practices, this ship marks a defining achievement, as it will be Royal Caribbean's first vessel to run on liquified natural gas, which is the cleanest fossil fuel available to cruise ships today. The top of the ship will feature a huge glass and steel structure, called the AquaDome, which weighs 363 tons and measures more than 160 feet across. 
AquaDome will serve many purposes — a lounge, a nightclub, an entertainment venue, and a great observation spot, allowing passengers to look through its 220-degree span of glass to marvel at the endless ocean. Elsewhere, visitors can anticipate 18 passenger decks, eight different neighborhoods, seven pools, nine whirlpools, and space for more than 7,500 guests at max capacity — all served by an international crew that is 2,350 strong. Even if you don't think that makes it iconic, it's certainly incredible.
How big is it?
In most measurable metrics, the Icon of the Seas is a record-breaking vessel, creating a new Icon-class of future ships for Royal Caribbean. The Icon of the Seas features 20 decks (two of those are set aside for the crew) with a total of 2,805 staterooms spanning over 28 unique cabin categories. When it starts sailing into the Caribbean early next year, the cruise ship will be able to carry a staggering 5,610 passengers at double occupancy, and thousands more if each room is pushed to its capacity limit. 
The ship's gross tonnage is just a shade above 250,000 tons — to put that in perspective, the Titanic had a gross tonnage 46,329, making Icon of the Seas more than five times larger. But as record-breakingly big as the Icon of the Seas is, Royal Caribbean seems to be trying something even more ambitious — to appeal to all different types of cruise passengers. There are options squarely aimed at adults, others that will delight kids, and things that will really excite everyone.
What does it look like?
Since the ship is still not ready to accept passengers, images of it are limited, and much of the content available online is either renderings, computer-generated video, or a few select images released by the cruise line itself. But, taken together, they provide enough material to get a sense of what the ship will actually look like when the curtain rises early next year. As with most megaships, the vessel appears a little like a wedding cake, with layer upon layer stacked up in a precarious configuration, ready to topple over at the slightest touch (passengers should not fret, these ships are completely stable and thoroughly safe on the sea). 
At a first glance of the images online, often of the stern of the boat and taken from above, one thing immediately comes to mind — Candy Land. The jumble of bright, poppy colors on the top deck of the ship, from the curling waterslides to the outdoor water and play areas, recalls the snaking pathway of that beloved board game. The ship's port and starboard are a warren of small openings, owing to the windows and balconies of the cabins in long, seemingly never-ending rows, running from bow to stern. Public spaces will vary in look and feel among the different neighborhoods and different room styles, though many will be in soothing tones and tastefully designed.
Where does it go?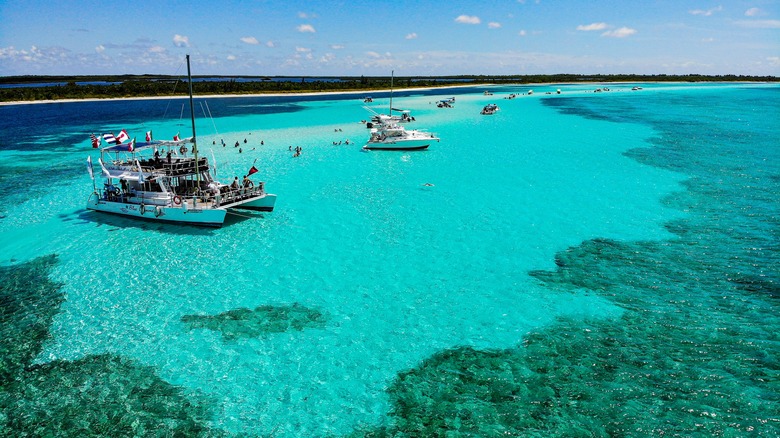 emiliovalram/Shutterstock
True to the name of the cruise line, the ship will start its life by sailing on seven-night itineraries in the western and eastern parts of the Caribbean. (It's important to note, though, that Royal Caribbean ships do sail all over the world, not just around the Caribbean). Like the parent company Royal Caribbean Group, the ship will be based in Miami, and initial sailings, at least for all of 2024, will depart from that port. 
The western Caribbean voyage will focus on Mexico and Central America, with stops at Costa Maya and Cozumel in Mexico, and Roatan in Honduras, an island that has exquisite diving. For the trips that venture out to the eastern Caribbean, passengers can expect port time on St. Maarten and the U.S. Virgin Island of St. Thomas. Both sets of routes, however, stop for a day at CocoCay, an island in The Bahamas that is used solely by Royal Caribbean. It's a cross between a water park and a traditional land-based resort, but without the overnight accommodations. On CocoCay, passengers will find beach clubs, large swimming pools, a whole network of water slides, a zip line, balloon rides, places to eat, and more.
What can I do on it?
The more appropriate question might be, what can't you do on it? In essence, the ship is a like a floating city, and guests will never find themselves lacking for things to keep them entertained. The eight distinct neighborhoods offer passengers a variety of themes and experiences. Thrill Island, for instance, is where families can line up to ride the bright, winding waterslides on the top, open deck of the ship; while Surfside, set in an central atrium in the thorax of the vessel, emulates the feeling of a beach retreat, and even features a marine animal-themed carousel ride. 
AquaDome, with spaces that blend inside and outside together, will host night events and also serve as a kind of observatory deck; while Central Park brings greenery and flora to the seafaring voyage. Elsewhere on the ship, travelers will find a surf simulator, a climbing wall, mini-golf, basketball and pickleball courts, a water park specifically designed for children, restaurants and places to get a drink, and of course, plenty of spots where passengers can just grab a seat and watch the world sail by.
Who will it be good for?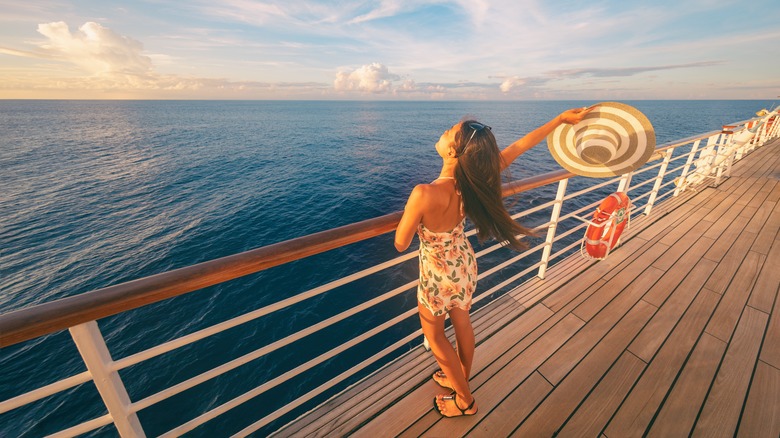 Maridav/Shutterstock
Cruises lead many to envision families, honeymooning couples, and older vacationers, and different cruise lines tend to cater to different crowds. For example, Carnival is known as the budget-friendly "fun" ship, whereas those that like luxury in the cruising experience might opt for Crystal Cruises or Regent Seven Seas Cruises. Disney Cruise Line caters mostly to families, while Princess Cruises often attract retirees and older cruisers. 
These are just generalizations, but they tend to be true, and the cruises often market themselves as such. Historically and comparatively, young adults just don't go on many cruises. But this is starting to change, and Royal Caribbean, which has typically attracted active families and travelers in the 30-50 age range, seems to be taking note. Among the 28 different types of cabins, the Icon of the Sea offers rooms catering to group travel, which you could surmise is intended to appeal to younger friend groups, though are equally suited to multi-generational trips.
Is it fun?
Let's start with the words "largest waterpark on the sea." Most land-based water parks don't have six different water slides, but to have that many on a ship as it slices through the Caribbean Sea, what's not to love? The sheer immensity of the Icon of the Seas is impressive. Called Category 6, due to the ship's record-breaking six waterslides, the waterpark also features raft slides (a first among cruise ships), which are hundreds of feet long, as well as drop slides and body slides. The waterpark also features a 40,000-gallon pool, the largest at sea, a suspended infinity pool (first among cruise ships), and a swim-up bar. In addition, the ship offers a separate kid's waterpark for families. 
In all, Icon of the Seas features seven pools and nine whirlpools. So, whether you want to ride the 425-foot Hurricane Hunter on a four-person raft, listen to live DJs with cocktails at the infinity Hideaway Pool, or watch the kids play in Splashaway Bay from the parent-friendly Surfside Water's Edge area, you can. By offering a variety of experiences and atmospheres at the waterpark, it seems to represent a larger goal of the ship. The rooms also incorporate some exciting features, such as an in-room slide and cinema in the three-story Ultimate Family Townhouse and a kid's alcove area in the Family Infinite Balcony that lets youngsters feel like they have their own space.
Will I get enough to eat?
Don't plan on boarding the ship if you want to diet because the choices are overpowering — with over 20 different places where a guest can have a bite to eat. At the Dining Room, set under a towering chandelier, diners can take a tour of the world's cuisines, with meals that celebrate the tastes of the Caribbean, flavors from the continent of Asia, and many places in between. Three-course meals change nightly, ensuring variety remains the one constant of the experience. 
Lobster rolls and crab cakes are the lures at the New England-style Hooked Seafood, while at Giovanni's Italian Kitchen & Wine Bar, pappardelle with cream sauce and fresh pizzas can be paired with wines selected from a deep list. Burgers, Japanese food, leafy cafés, spots that specialize in desserts, and even a food hall (another Royal Caribbean first) with five different food stands ensure that nobody will feel left out. Given the sheer volume of passengers, however, knowing how long you will have to wait for a table might be another matter entirely.
What can I do at the destinations?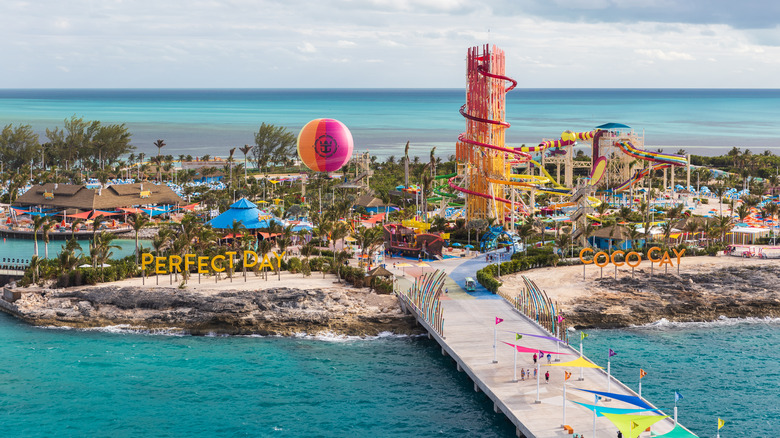 Hendrickson Photography/Shutterstock
Shore excursions are not usually available to see before booking a trip, but ships typically dock long enough in ports to let passengers explore each spot for at least most of the day. CocoCay is a self-contained getaway, and for kids that want to blow off some steam but can't wander off too far, this is one stop that families will really welcome. Excursions can be booked directly through Royal Caribbean, but, while they are the most convenient option, they might not be the most cost-effective, nor the most unique. 
Passengers are always advised to do some research before deciding whether to arrange a shore excursion directly with the cruise line or engage directly with an independent provider. Regardless of where you book activities, there is tons to do. In Cozumel, an island south of Cancún, for instance, passengers can take a snorkeling trip, tour a Mayan ruin, or hit the jungles aboard an ATV. On St. Thomas, travelers can book a kayaking trip, food tour, or beach excursion. Much is possible, all governed by the limits of time and money.
What has the reaction been?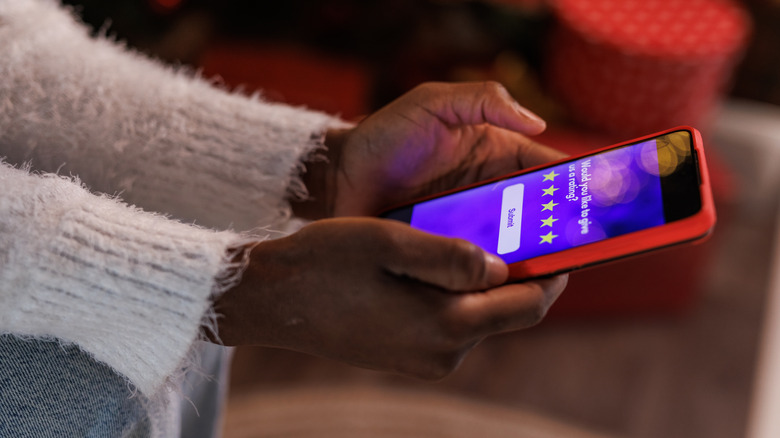 Fotostorm/Getty Images
Whether all of this together — DJs, infinity pools, group cabins, and eight distinct neighborhoods with different vibes — will work or not remains to be seen. But the Icon of the Seas has broken one more record for Royal Caribbean: advanced sales. The public reaction is clearly already positive; and with a ship this large, there may be enough space for everyone. But any review depends on perspective. Some art lovers prefer the precise, angular lines of Piet Mondrian, while others love the chaos of the drips and splatters that made Jackson Pollock famous. Social media, not surprisingly, has commentators on both sides of the fence when it comes to this mammoth undertaking. 
One user of Twitter remarked on how her son saw a photo of the ship and referred to it as "human lasagne," another likened the boat to a chaotic painting by the Dutch religious artist Hieronymus Bosch, and someone else called it "tacky and vulgar." On the other hand, a user of TikTok called the ship "epic," and comments on a YouTube post are mostly glowing in their praise, calling Icon of the Seas amazing and extolling the swim-up bar. The true public test, of course, is yet to come — that will be revealed when the first passengers complete the maiden journey in 2024.
Where do I sign up?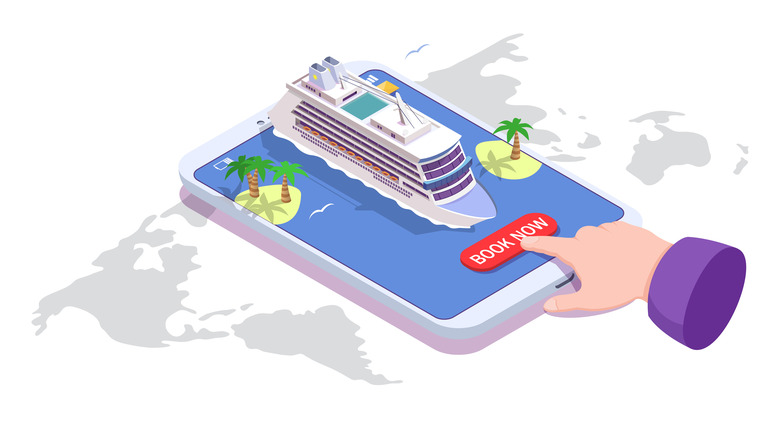 Siberianart/Getty Images
As mentioned earlier, sales have certainly been swift, and some dates have already sold out. When news of this ship broke, it led to the biggest number of bookings in one day in the company's history — a clear signal of the interest in the ship. That said, at press time, there was still availability early next year. Sailings can be booked through a travel agent or cruise specialist, but it's just as easy to organize the trip directly on the Royal Caribbean website. The website sometimes has sporadic sales, limited-time offers of discounted rates, or special promotions. Though, as with any offer, exclusions always apply. 
The Western Caribbean & Perfect Day itinerary has more than 30 dates available at the time of writing (some of them for 2025), with choices including an interior stateroom (interior cabins usually don't have any windows), rooms with a balcony, and even some suites. Fans of this ship will also be excited to hear about Royal Caribbean's next Icon ship, already under construction, and planned for a debut in 2025.