Simple Tricks For A Stress-Free Return From Vacation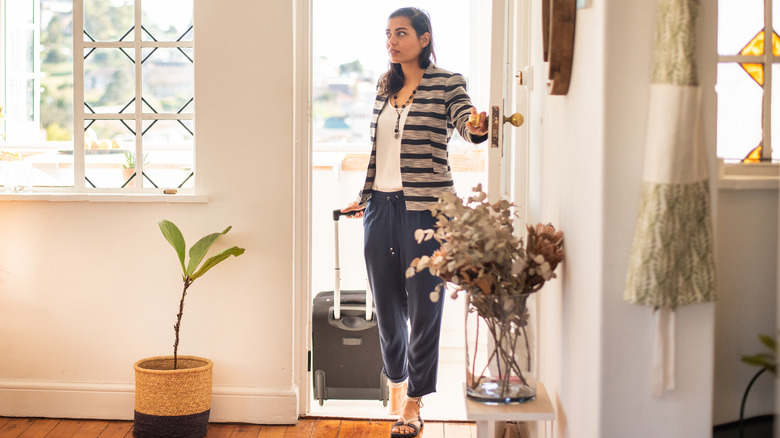 Nickylloyd/Getty Images
While we may never want to leave our vacations, once on the road home, most of us can't wait to get back to our comfortable and familiar surroundings. There's nothing quite like sipping an Aperol spritz by your hotel pool in Dubrovnik. However, there's also something uniquely satisfying about taking a shower in your own bathroom with your own non-hotel-supplied toiletries and sliding into your own comfy, cozy bed.
If you haven't experienced this before, maybe you just had too good of a time on vacation. Or maybe you didn't do a little pre-vacation planning and prep? If you fall into the latter category, we have some primo tips for you. Whether you're a frequent traveler, a pet owner, or you're just looking for ways to make coming home easier, there's a solution for you. Just be aware that this does require some forward planning. However, if executed correctly, you'll feel like your vacation hasn't truly ended until you get back to your desk or your normal daily routine.
Keep the vacation going after it's ended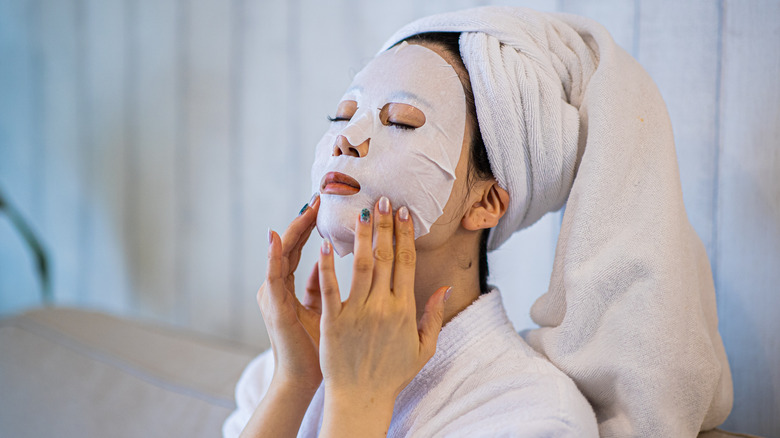 Xijian/Getty Images
If you have some time and can manage a bit of forward planning to get your home ready for your return, you will absolutely not regret it. Before you leave, clean up and organize your house. If you're short on time, focus on these three things: your bed, your bathroom, and your kitchen.
Change the sheets and pillowcases on your bed. Clean your bathroom or at the very least the toilet and shower, if nothing else. Finally, make sure there are no dirty dishes in the kitchen sink and that any food that's close to its expiration date is tossed or given to a friend or neighbor.
If you really want to treat yourself, buy a couple of face masks, bath bombs, and/or a bottle of wine or spirits you particularly like and have it all waiting and ready for you when you come home.
To really take the load off future you, create a to-do list before you leave so you have an idea of what needs to be done when you get back. This could be things to take care of at home, people to call, or a grocery list of things to stock up on. Finally, plan your return home for a Saturday so you have a day to actually unwind and get chores done.
Make your vacation more relaxing in the first place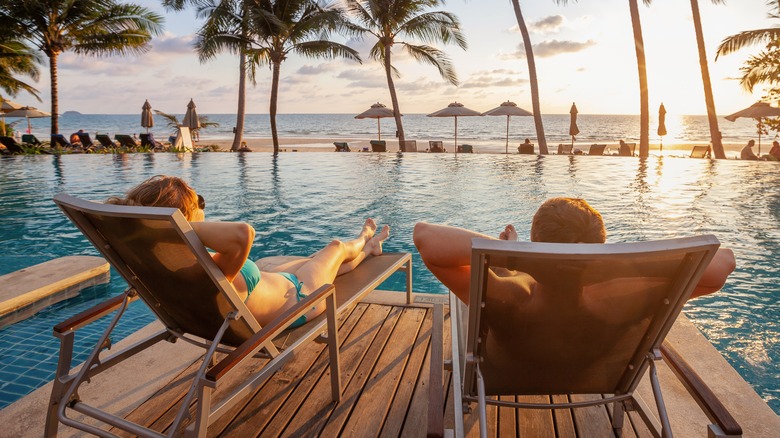 Song_about_summer/Shutterstock
Why is it such a common saying that we need a vacation from our vacations? Shouldn't our time off actually be relaxing so that coming home doesn't feel like such a chore in the first place? That's why we recommend being more mindful about your vacation planning.
It's so tempting to cram as much as possible into your time off as you can. With places like Iceland's Blue Lagoon and this Colombian town, how could you not? However, it would be far better to build time into your vacation for relaxation and spend a few more days in a place than you normally would. There's a reason why slow travel is more than a passing trend. You embed yourself in experiences and connect with local cultures more thoughtfully instead of trying to see as much as possible. It's also a more sustainable form of travel for you and the planet.
Also, if you use social media, try to disconnect while away. This can be hard for those who want to keep loved ones updated on their lives, but we have a solution: Take as many photos as you want on your trip and just post them to your feed and stories when you get back or while you're on your way home. Apart from your closest family and friends, trust us, no one will know the difference.
Tips for better post-vacation recovery for parents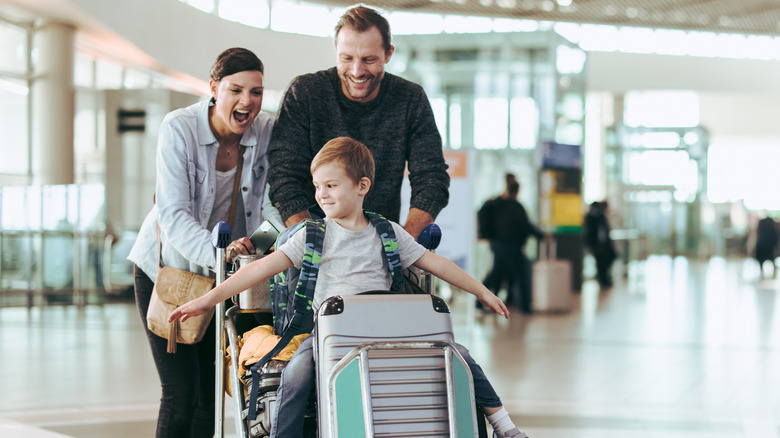 Jacoblund/Getty Images
When preparing and returning from vacation with kiddos, time is your biggest enemy. You've got suitcases — little and big — to pack and then unpack; carry-ons to stuff with toys and snacks; and other things that need to be done before and after the big trip. So, if you're able, reduce the time spent on things that can just be outsourced.
Don't have time to clean the house before you leave? Hire a one-time cleaning service to come in before you come home and get things cleaned up and in order. If you don't regularly use a cleaning service and you're worried about new people coming into your home, ask folks you trust whether they have a person or crew they use and hire them.
If you or your partner also don't have time to run to the grocery store, don't sweat it! There's a digital solution for everything these days. Look up which stores in your area deliver and pick out the items you'll need in your fridge for when you get home. Focus on breakfast and lunch, but if you can also grab some easy dinners for your first day back, you'll probably be glad you did.
Tips for easier homecomings for pet parents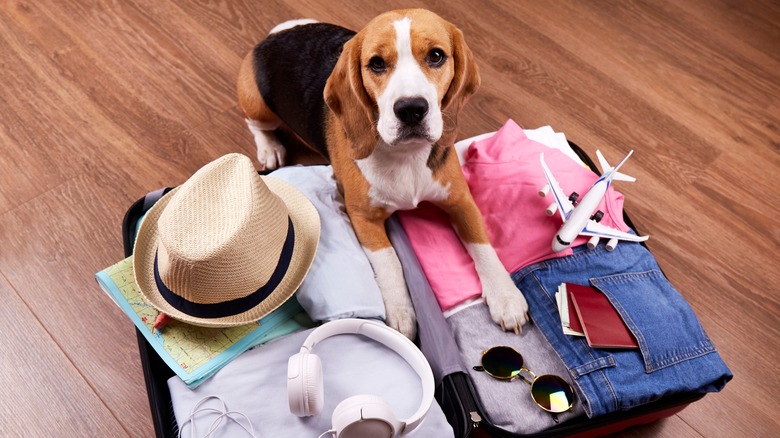 Viktorya Telminova/Shutterstock
Pet parents need to plan ahead, too. Some people may travel with pets. However, you may need to leave your furry friend at home, in which case you'll need to do some preparation before you leave and when you return.
Make sure all of your pet's information is up to date on their ID tags. If, for some reason, your information has changed and you haven't updated their tags, this is a great time to tick this chore off your list. While it can feel like the end of the world if your pet has gotten loose while you're away, at least you'll feel a little better knowing their tags are updated.
To make things less stressful for your pets, consider having someone to come housesit or leave them with someone they know in a place they've visited before. This will make things less stressful for your pets. They're already missing you, and being in an unfamiliar environment can make things even harder. Also, make sure to leave something with your scent with your pet. The best thing to use is a blanket since it's soft and can easily be placed in their bed to sleep with.
Tips for frequent travelers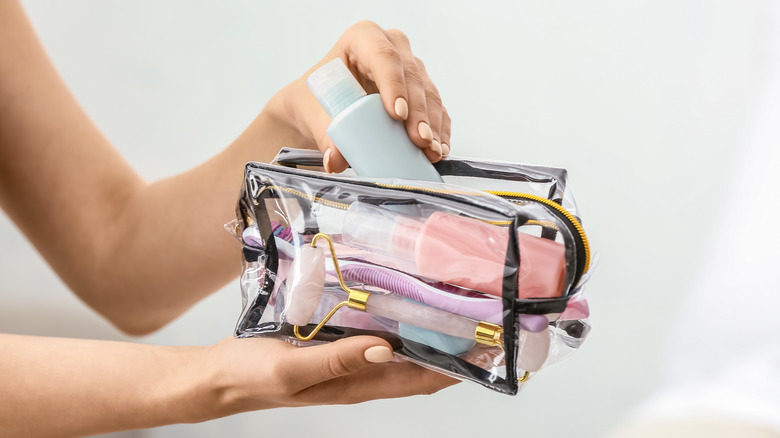 Pixel-Shot/Shutterstock
If you're a frequent traveler, you may already have a return routine down. However, if you're looking for ways to improve this routine, we've got you. For starters, if you're traveling more than once a month, keep a separate travel toiletry bag that you never need to unpack. This way, you'll never forget to bring any important items with you, and if you forget something while traveling, you have it at home when you get back. Additionally, try the solid versions of your toiletries like a shampoo or conditioner bar. You'll have a better idea of when they need to be replaced than with opaque bottles and it's also better for the environment.
If you're traveling often, consider purchasing wrinkle-resistant and even similarly colored clothing. This way, you can come home and chuck the dirty laundry in the washer without worrying about hot or cold water; gentle or normal wash; or low or high tumble dry.
Finally, arrange your life at home in a way that makes it easy to leave for a trip at a moment's notice. Keep your appliance cords within reaching distance so you can unplug them easily before you go. Don't buy food at the grocery store unless you have a plan in place to use the food in the next few days, or you can freeze it. If you have trouble remembering what to do before you leave, consider making a checklist so you don't forget anything.