Why You Should Consider A Back-To-Back Cruise For Your Next Vacation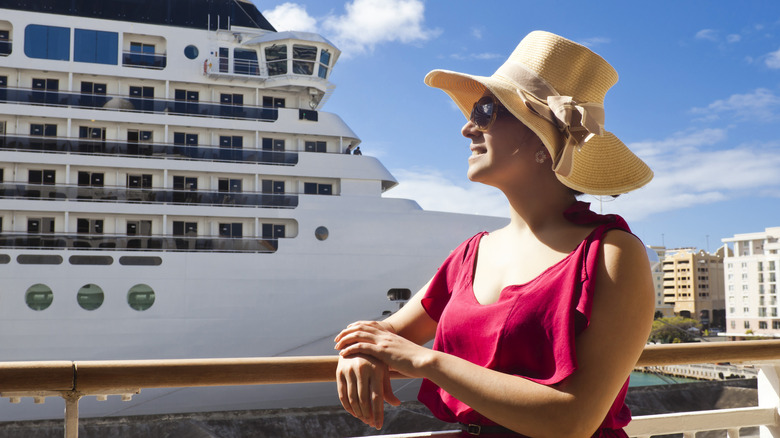 Guvendemir/Getty Images
The term "back-to-back cruise" is often used to also mean "side-to-side cruise," but these are two distinct types of cruises. While both involve booking two or more sailings consecutively, a back-to-back (B2B) cruise entails voyaging on the same ship while a side-to-side cruise means you'll be traveling on two separate ships.
You won't typically find back-to-back cruises when you go searching on major cruise websites or elsewhere. Instead, what you'll need to do is book two separate cruises that are scheduled one after the other. Some cruisers like reserving the same cabin on both voyages, while others prefer staying in different staterooms on each sailing. You can go either way, depending on your preference. Reserving the same cabin means you'll only have to pack and unpack once, but you might save more when you're flexible with your room assignment. A travel agent can help you pick good cabins on both cruises.
This flexibility, among other advantages, entices travelers to join back-to-back cruises. You might go on one for any number of reasons, but this type of sailing has plenty to offer new cruisers and veterans alike and is more common than you might think. 
Lengthen your time off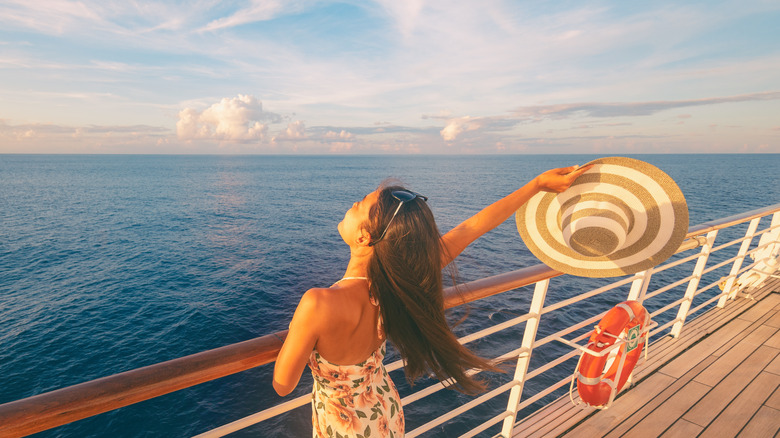 Maridav/Shutterstock
According to Forbes, the typical American receives only 11 days of paid vacation annually. This might increase as their tenure extends, but in general, vacation time is precious. So, vacationers who can extend their trip, do. For cruisers, your options are limited only by the itineraries, sailing dates, and rates available during the time you book them.
While it might be easy to just purchase a single sailing that fits exactly the number of paid days you have, this is easier said than done. So, some people grab a great deal on a short voyage when they see one and add that on to another short cruise. The sailings could visit the same ports of call or journey to completely different routes altogether. Again, these things will always depend on where you want to go, what you want to do on your vacation, and how much time you have.
Of course, you have to ensure that on the day the first cruise ends, the next one begins. Otherwise, you might have to arrange for your transportation and accommodation before embarking on the second leg of your vacation. It's always a smart idea to talk to your travel agent about these details.
Get to know your ship better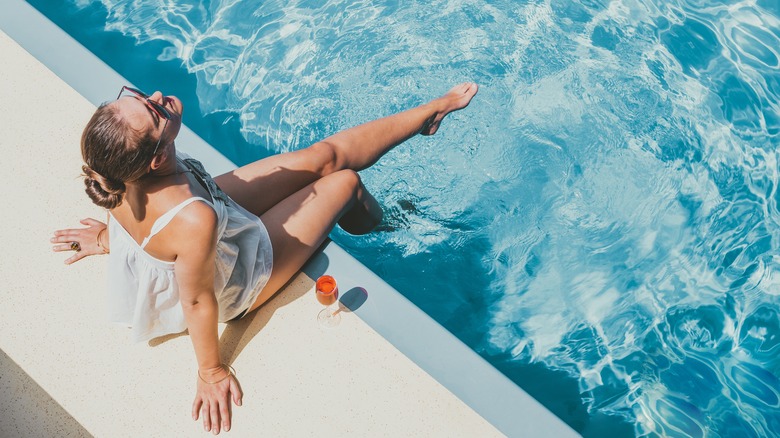 SvetikovaV/Shutterstock
If typical voyages ever felt short on time, a back-to-back cruise allows you to get familiar with your ship. You can pack your schedule with all the shows and activities you've always wanted to do. Or, if that's too hectic, just enjoy the sea breeze at your balcony or lounge by the pool.
As the last ones to disembark and the first ones to get onboard before the next round of cruisers, you'll have the ship almost all to yourself — at least for a few hours. Though there will be fewer crew and other areas, such as shops, salons, and casinos, are typically inaccessible, you can still have a good time roaming the ship while there's only a handful of people around. You can soak under the sun, rest, or take a nap on that day bed you've been eyeing on the previous cruise. Or, have fun on the water slide to your heart's content. How about selfies on the most coveted areas onboard sans the crowd? You can do that too. And, savor a quiet meal while the other cruisers are still going through check-in.
The best part: Crew members will recognize you as part of the B2Bs and provide excellent service. "Being able to sit back and relax while everyone else is packing and rushing around is wonderful — makes you feel special," a B2B shared on TripAdvisor. "And knowing the ship and knowing the staff by name when everyone else is just getting on board is good."
More time to explore ports of call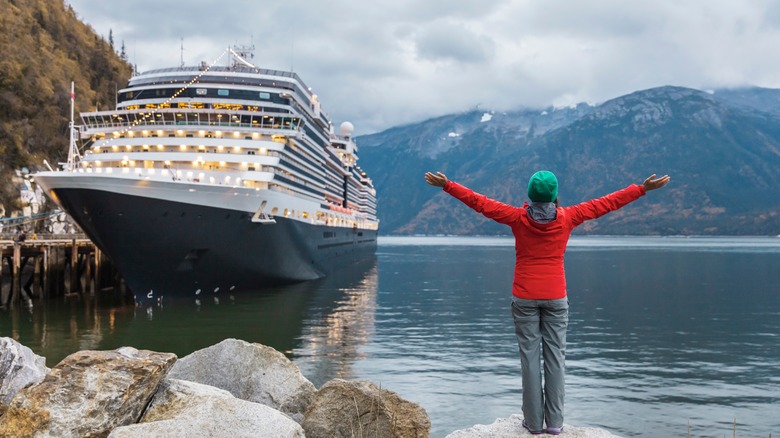 Maridav/Shutterstock
If your back-to-back cruise includes itineraries featuring different ports of call, you'll be able to visit more places and get an overview of what the locality is all about. For instance, you can have a Western Caribbean sailing and then explore the Eastern Caribbean on the other one. In this way, you'll have a general idea of what the people, the region, and the culture are like.
Or, get to know your favorite ports of call better on back-to-back-cruises that visit the same destinations. Love the New England region? A back-to-back cruise with the same ports of call will allow you to spend more time exploring the area. If you missed any places the first time, you can stop by on the next cruise.
Alternatively, if you have some time before the start of the next cruise, you can explore a port of call a little more deeply — albeit just closer to the port. Sites and activities farther away would require a lot of time to get from the ship and back, and anything could happen in between. To avoid being late and missing your embarkation time, keep your exploration a short distance from the port and always include some buffer time for traveling back to the ship.
Save on costs and earn points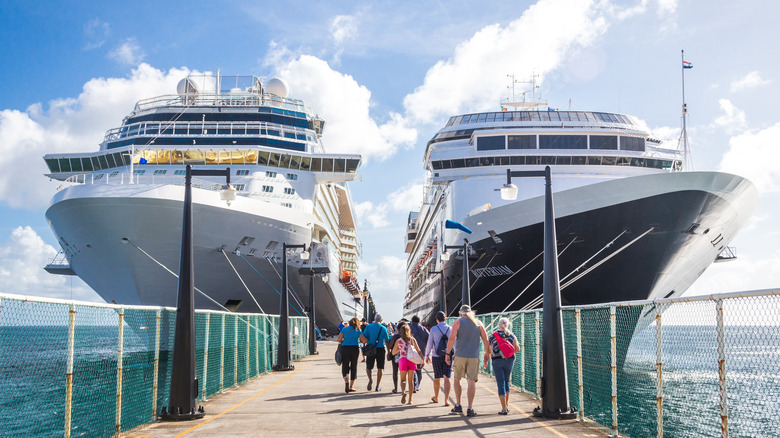 Mariakray/Getty Images
With a back-to-back cruise, you'll only need two flights instead of four. And, with the cost of an average round-trip flight reaching $306, according to Hopper, you'll save a great deal on airfare alone. Plus, if you need to drive or fly to the embarkation point, that's time, effort, and money saved too. Speaking of saving time, customs and immigration will also be a breeze for your subsequent cruises. Typically, crew members will whisk you from the ship to the port customs and immigration office where they'll check your documents or the officials will come to the ship's off ramp to perform the checking. Either way, the process is convenient and you'll be done in no time at all.
Although not massively advertised, some cruise lines do offer some discounts or incentives for B2Bs. For instance, Azamara currently offers from $150 to $400 onboard credit per stateroom, per voyage for cruisers who are doing back-to-back sailings. These types of promotions can change frequently, so always ask your cruise line about them.
Another benefit of back-to-back cruises is the opportunity to earn more cruise loyalty points. Of course, the points you earn will vary with each cruise line's program, so check their website or reach out to them for details. Some cruise lines like Royal Caribbean will reward you for the number of nights sailed while others like Disney Cruise Line, for the number of sailings. Still others like Princess use a hybrid model and will reward you for both.
Nurture existing relationships and build new ones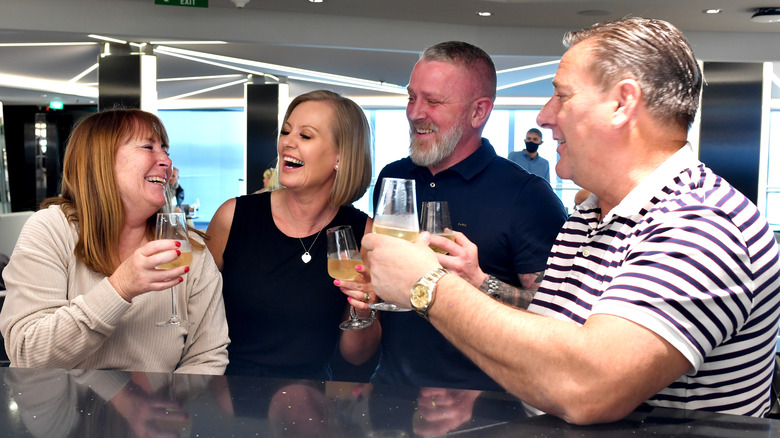 Anthony Devlin/Getty Images
If you're a grandparent, scheduling some vacation time with all of your children and grandchildren can be difficult. With differing responsibilities and commitments and varied off times, your loved ones might be hard-pressed to settle on a set of dates to spend with everyone at once. Back-to-back cruises offer a solution. You can plan to have your children and their families join you on a leg of your back-to-back sailings and spend the other half enjoying the cruise by yourselves. Or, you can arrange for them to join you when they're able anytime within your voyages. The same strategy will also work with a group of friends or colleagues who wish to catch up and spend the holidays together.
Back-to-back cruises are also a great avenue for you to meet other like-minded people. Some cruise lines ask their B2Bs to converge in a lounge or other area before debarkation, while others may host a reception with a special lunch and drinks for back-to-backers. But, even before embarking on your voyages, you can check out social media for forums where you can connect with other back-to-backers on your specific sailings. Some cruise lines host the event in a lounge or other venue for cruises that are at least 7 nights long. You might find some people you bond with and decide to go on a shore excursion together and perhaps continue the relationship even long after your cruises.