Yosemite National Park's Mist Trail Is Not For The Faint Of Heart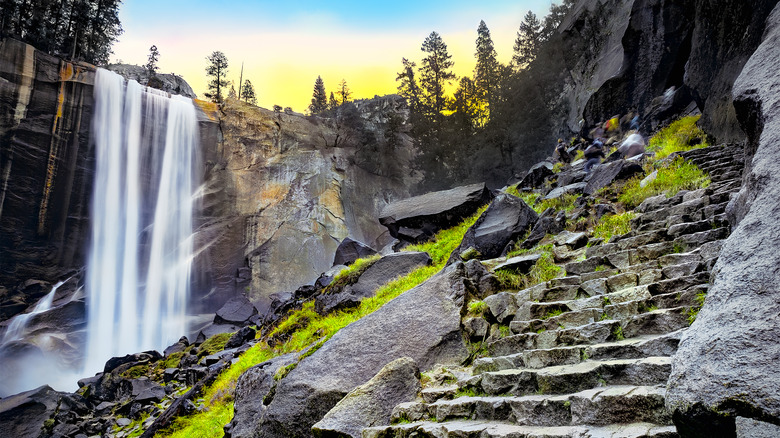 Dancestrokes/Shutterstock
Yosemite National Park is a California icon best known for its incredible views, astounding natural features like the Half Dome, and stunning hiking trails like the Mist Trail — a park favorite. In 2022, over three million people flocked to this abundant natural area to disconnect from daily life and commune with nature. However, in Yosemite — and places like it — accidents tend to happen. 
As beautiful as nature is, it can also be unforgiving. Especially when people lack the knowledge or preparation required to conduct themselves in a safe manner or simply find themselves in a bad luck situation. That being said, as many as 15 people die each year at Yosemite due to preventable slips, falls, and drownings.
Unfortunately, while Mist Trail is very popular at Yosemite for its scenic views, it's also well-known for being dangerous. By no means does this mean you should avoid Mist Trail — it's very popular for good reason — but visitors should be informed of the risks and properly prepare for their hike.
Tread lightly on Mist Trail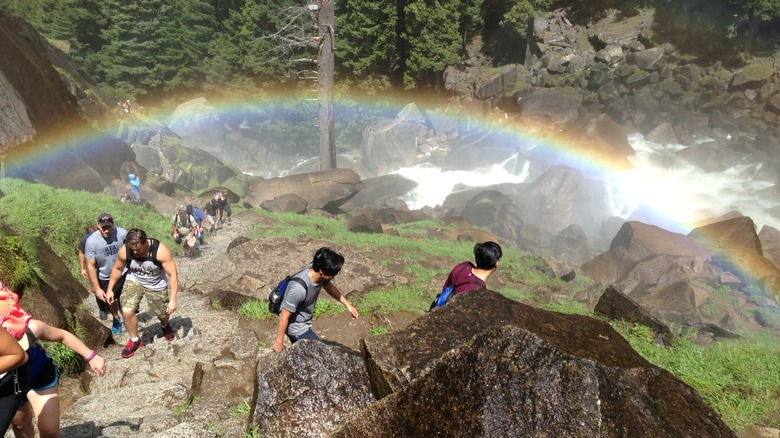 Kelli Lee/Getty Images
If you're wondering what makes Mist Trail so prone to accidents, it's really a combination of factors. For one, it's a very popular trail, so the likelihood of accidents simply increases as more people flock to this hike. Additionally, it's in the name. The trail can get wet and slippery due to the mist from the falls, and areas are quite narrow, making it a bit treacherous for hikers who are not as surefooted — namely children and older adults.
Lastly, the flow of water that goes over the falls is barricaded, but this doesn't stop people from hopping over for photos. People have been known to slip into the water or wade in mistakenly thinking it's safe, only to be carried off by the strong current.
This problem is not going ignored by the park stewards, the Yosemite Conservancy. Los Angeles Times reports that Mist Trail will soon receive a whopping $5 million to make areas of the trail more accessible and safer with additional railings and signage. There's no doubt this will make the trail more appealing to a wider range of visitors to the park and hopefully reduce future incidents.
Experience Mist Trail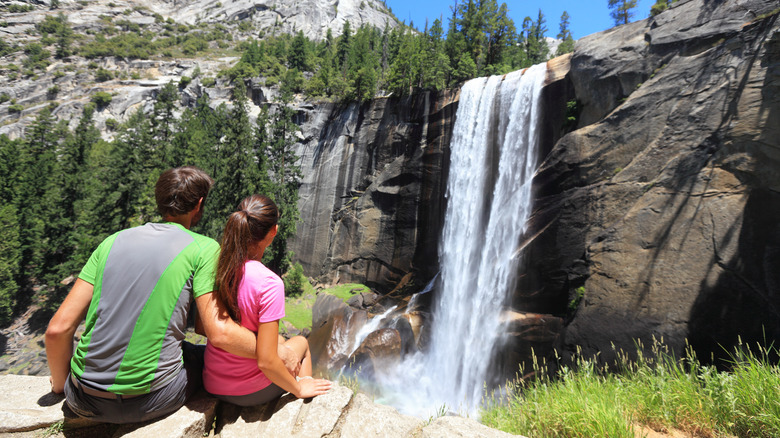 Maridav/Shutterstock
Despite its track record for accidents, Mist Trail is one of the most popular trails in the park and is recommended as a must-see if you only have time for a couple of hikes in the area. This is because the experience of hiking this trail is unparalleled. It also appeals to both amateur and experienced hikers looking for a challenging hike that can be as long or as short as desired.
There are several hikes of varying lengths (between 1.6 to 6.7 miles roundtrip) and difficulties (moderate to strenuous) that will take you to the top of Vernal Falls and even Nevada Falls if you feel up to it. Regardless of the length you choose, though, a number of hiking trails begin at the Happy Isles trailhead, including the John Muir Trail, Cloud's Rest, and Half Dome.
The shortest hike will be the Vernal Footbridge (1.6 miles roundtrip), which doesn't take you all the way to the falls but rather gives you a glimpse of them. There's a small rest stop here where you can use the facilities or fill up your water bottles.
If you wish to continue you can take Mist Trail to Vernal Falls, which will be a 2.4-mile hike roundtrip. The hike to this point can be extremely wet, especially in years with heavy snowpack, so bring waterproof clothing or a poncho to wear and keep your non-waterproof electronics in your pockets or backpack.