The Best Time To Visit Yosemite National Park If You're Craving Some Alone Time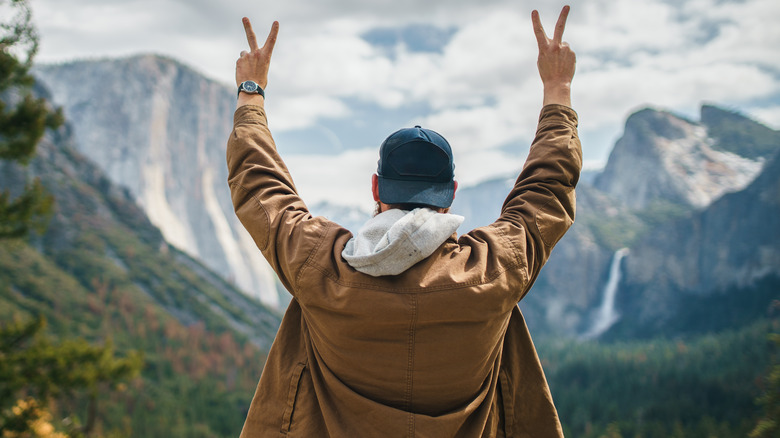 Joshua Resnick/Shutterstock
Once in a while, we all need a break from the hustle and bustle of everyday life. Unsurprisingly, nature is the perfect place to escape to get away from it all and be alone with our thoughts. The Mental Health Foundation writes that spending time in nature can help reduce stress levels, improve mental clarity, and even inspire creative ideas. Reconnecting with nature can also help us appreciate the beauty of our world while giving us some much-needed alone time. Whether you're looking for a peaceful walk in the woods or taking on a challenging hike to a mountain peak, there is something nature can provide for everyone to enjoy. So why not take advantage of this natural gift and head to California's Yosemite National Park?
Yosemite is one of the premier natural attractions in all of America, boasting stunningly beautiful vistas, plentiful wildlife, and hiking trails for any skill level. The valley floor is filled with sequoias and meadows full of wildflowers in the spring — all of which can be enjoyed from the many lookouts along the way. Plus, it's a great place to take in some breathtaking views on a star-filled night! But if you're looking for the best time to visit Yosemite for some peace and quiet, then you should look no further than the off-season.
Get some much needed alone time in Yosemite National Park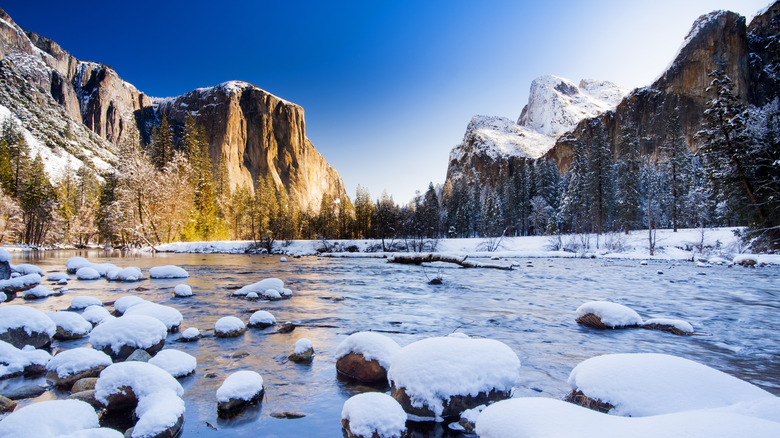 Somchaij/Getty Images
Yosemite National Park is typically crowded with visitors in the warmer months, specifically between May and September. That's why if you truly want some peace and quiet, it's best to visit Yosemite in the off-season in the fall or winter. Yosemite's off-season falls between October and April (per Practical Wanderlust), and though it is chillier, it can be a great time to explore the park without the crowds. The icy waterfalls, snow-covered peaks, and crisp air will make you feel like you have Yosemite all to yourself and give you plenty of space to explore and recharge.
And with fewer people around, this means that availability and prices are often more favorable in Yosemite during the off-season. You can find some amazing deals on lodging — including Curry Village — and there is plenty of space for camping if that's your thing. Sounds like a win-win-win situation to us! Not only do you get your much-needed alone time but you also save a buck and get access to prime accommodation options in the park.
Things to do in Yosemite National Park in the off-season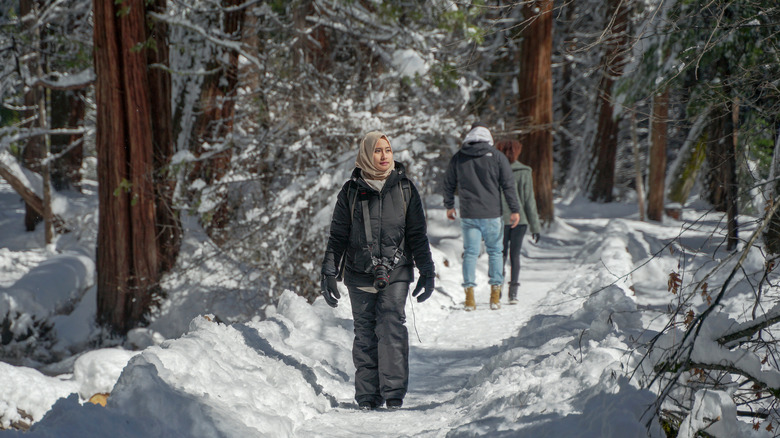 ferita Rahayuningsih/Shutterstock
Visitors to Yosemite during the off-season can still find plenty of activities to enjoy while taking in its beauty. Sonoma Magazine writes that visitors should head to Tuolumne Grove where you'll find giant sequoias, some of the oldest and largest living things on Earth! There is also the Mariposa Grove, which the NPS (National Park Service) writes is accessible on foot in the winter. There you'll see some of the most iconic landmarks in Yosemite including more giant sequoias, the Fallen Monarch, and the California Tunnel Tree.
If it's too cold outside, Sonoma Magazine also suggests heading indoors for a visit to Yosemite Museum where you can learn about Native American history and culture as well as early settlers of Yosemite Valley — all before heading back out into nature for another adventure! If you're looking for an easy hike through a beautiful meadow, Practical Wanderlust suggests heading to the Sentinel Meadow and Cook's Meadow Loop where you'll get incredible views of Yosemite Falls and the famous Half Dome all to yourself.