Why Cape May Should Be Your Family's Jersey Shore Destination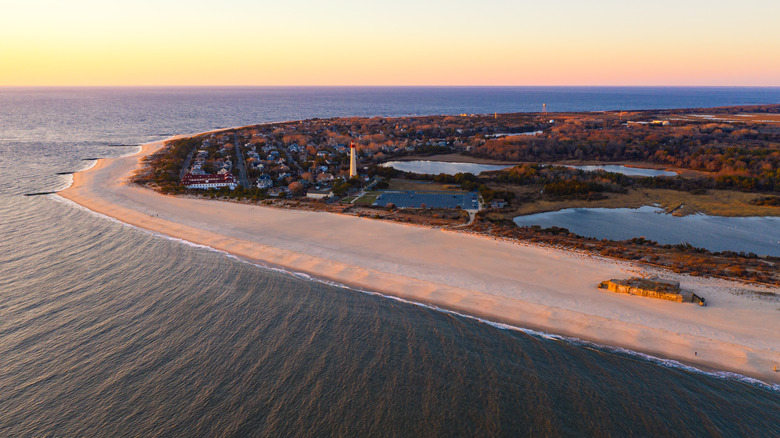 Photo_Land/Shutterstock
Mention the Jersey Shore and there's a good chance bustling boardwalks and a few television shows by the same name might come to mind. However, if it's a family-focused getaway you're after with all-in-one vacation appeal, amazing scenery, and no added drama, then it's time to make Cape May your Jersey Shore destination of choice. According to the Cape May County Board of Commissioners, Cape May welcomed more than 10 million visitors in 2021 pursuing unforgettable seaside fun.
Families that set their travel sights on Cape May will find it's a vacation destination that offers up beautiful views alongside a variety of activities and attractions that appeal to visitors of all ages. No matter what your traveling crew's primary interests might entail, there's a good chance you'll find something inspiring here to enjoy. In Cape May, history, nature, access to family-fun activities, and breathtaking vistas all have a way of colliding seamlessly. This makes for a trip that's memorable for everyone no matter what time of year you happen to be heading this way.
Cape May is located at the southern tip of New Jersey and holds the title of the oldest beach resort in the country. It's a destination with a reputation for amazing beaches and great waves that has nearly 4,000 people calling it home year-round. It sees 40,000 people in the summer thanks to a plethora of easy-to-reach activities, charming shops, and savory dining stops in town that make customizing each day a breeze.
A place to embrace outdoor fun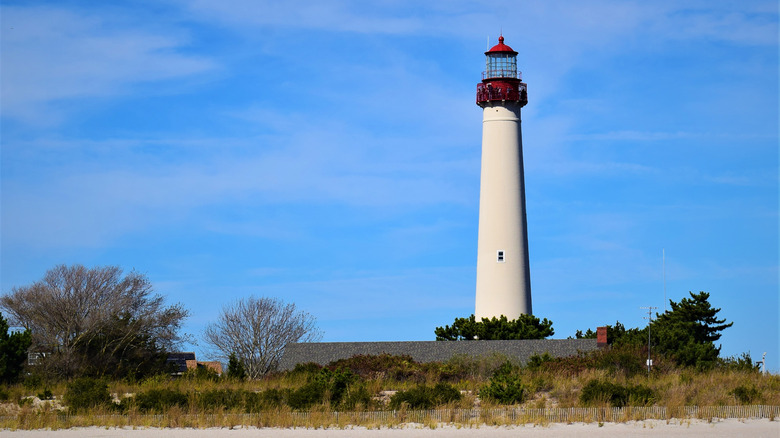 Lisa Rapko/Shutterstock
Whether you're traveling to Cape May with little ones looking forward to time on the sand; school-age travelers who would appreciate a round of miniature golf; or teenagers who love arcades, shopping, and museums, it's not hard to find it all here. From wildlife-watching opportunities to top-notch restaurants designed to please just about every palate, Cape May is brimming with options that are easy to tailor to your preferences. Of course, it's the tantalizing stretches of shoreline that often prove irresistible no matter what age of traveler you happen to be.
The beaches that Cape May calls its own are not only well-maintained but famously safe. The Cape May Beach Patrol protects the beaches in the summertime, and you'll want to be sure to stop by beach entrances or the City Hall Tax Office to pick up a required beach tag for those 12 and older between Memorial Day and Labor Day. In total, Cape May visitors can enjoy easy access to 2.5 miles of shoreline during their stay. A trip to Cape May is also a chance for families to enjoy wildlife watching. Cape May attracts all types of migrating birds to the area, and there's a good chance of spotting everything from owls and ospreys to eagles, hawks, and falcons too.
Activities, exciting landmarks, and savory stops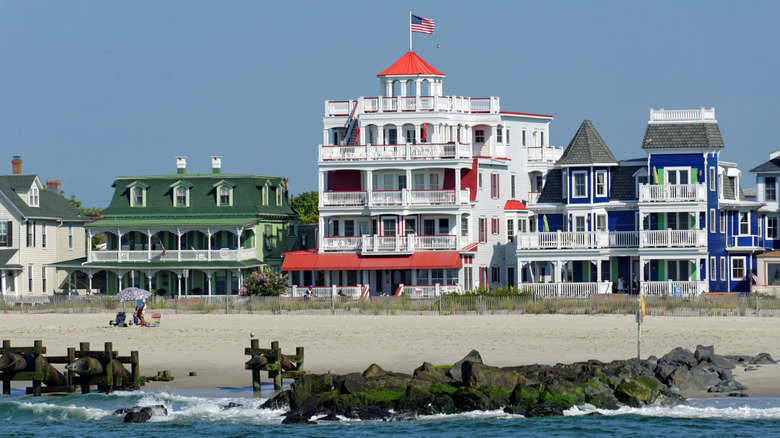 Sparhawk4242/Getty Images
Beyond the sand, Cape May is packed with fun activities to try. Cape May County Park and Zoo provides a wild adventure and encounters with species from across the globe. The Cape May Point Science Center is great if you find yourself here on a rainy day. For on-the-water fun focused on ecotourism, the Cape May Whale Watch & Research Center offers thrilling whale and dolphin tours.
Explore the Naval Air Station Wildwood Aviation Museum before making your way to Ocean Putt Golf on Beach Avenue which is fun for everyone. Stroll and admire the historic Victorian homes that dot Cape May in a rainbow of hues or opt for a comprehensive historic district trolley tour instead. For another vantage point, plan on taking the family to the historic Cape May Lighthouse which hosts an observation platform 199 stairs up off the ground. 
Afterward, curb a craving or two by heading to the Rusty Nail. This colorful and lively beach eatery is family and dog-friendly and often pairs a menu featuring crab cakes, tacos, and wings with live music. Whether you settle in by the fire pit or head to a table, it's bound to be a tasty moment.
When you're looking for a versatile, scenic, and entertaining vacation destination Cape May has you covered. It's worth visiting when your group includes travelers of all ages and interests. Year-round, it's a destination that's designed to inspire.