How To Skip The Lines At The Airport Bag-Check Counter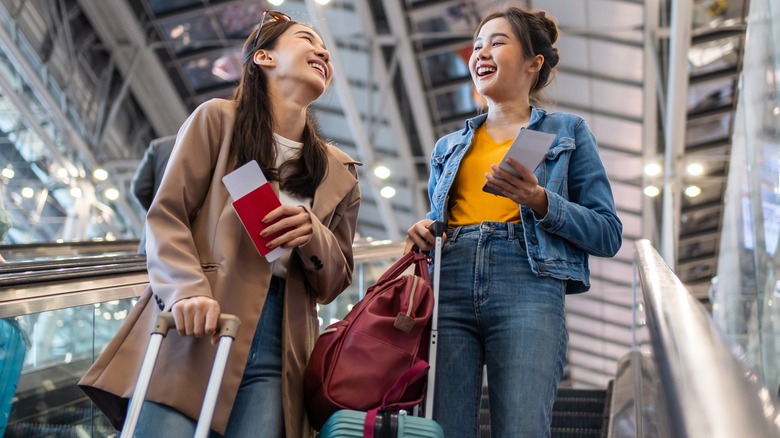 Hananeko_Studio/Shutterstock
Traveling can sometimes feel a lot like a day at an amusement park. You're rushing all over from place to place to stand in yet another line in the hot sun or in a stuffy room. Except when it comes to air travel, the rollercoaster at the end of the line is, with any luck, a pretty uneventful experience.
To start off your trip the right way, sometimes it pays to find ways to skip the long and dreary baggage-check line. From credit card and airline elite status perks to upgrades and improved packing strategies, nowadays passengers have plenty of options to choose from that will painlessly get them to the gate with time to spare.
If you combine these tips with Clear and TSA Precheck, you'll be well on your way to breaking the record for fastest airport check-in. This gives you more time to spend on the important things, like browsing the duty-free shops or catching up on some reading at your gate.
The easiest ways to skip the bag-check line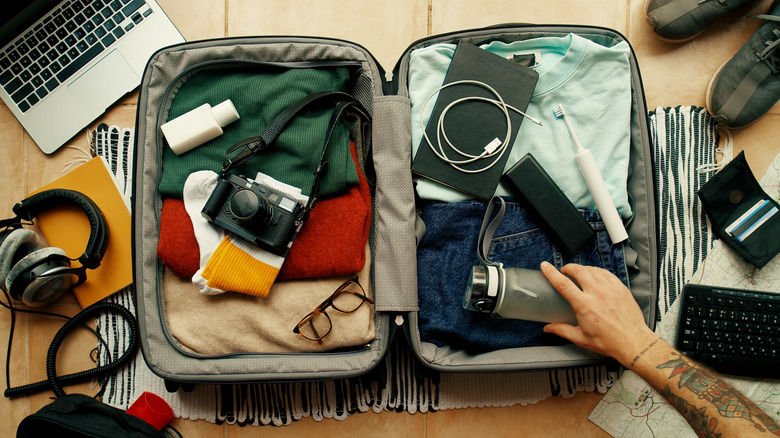 BublikHaus/Shutterstock
If you travel often, you may have noticed how long the check-in lines can be for international or even cross-country domestic flights. Whether you arrive one hour or three hours before boarding, that line can be harrowing. This is typically because everyone has bags that need to be checked — including you.
If you want to avoid this line the next time you fly, you can simply purchase a priority access upgrade through your airline. Thankfully, you can purchase it separately from a business or first-class ticket at a mere fraction of the price. With this upgrade, you'll typically be able to use the priority check-in line and have priority boarding, too. A two-for-one deal on line-skipping.
Another way to circumvent the whole line ordeal altogether is simply to only pack carry-on luggage. This way you can check in online, print out or download your tickets electronically, and head straight to security.
You may still want to consider purchasing an upgrade, though: You'll be saving on checked luggage fees anyways, so why not, right? This way you can get priority boarding and ensure you get first pick of the overhead bin space.
Take advantage of multiple perks at once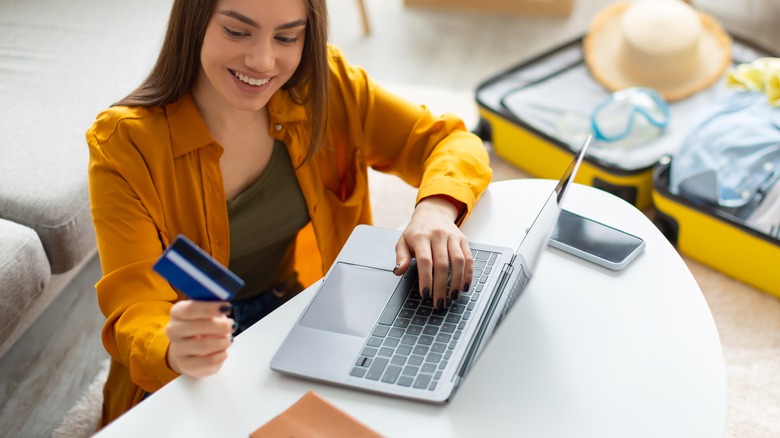 Prostock-studio/Shutterstock
There is one other way to skip the long lines at check-in. This option is suited for travelers who are frequent flyers. It may also appeal to those who see carry-on luggage as an additional hassle at security or simply want more than just priority check-in and boarding.
Getting airline elite status is a great way to access a whole menagerie of travel perks. From free checked bags to lounge access to free upgrades, elite status offers some major advantages if you're a frequent flyer.
There are many ways you can get airline elite status, but the best way (and possibly the easiest, other than flying a whole bunch) is to get a travel credit card. With a travel credit card, you'll get access to a number of benefits and with strategic spending, you can quickly rack up miles to use on your next flight and get airline elite status.