Cruise Vets Offer Up Helpful Hacks For Finding Your Way Around The Ship
Modern cruise ships are often like floating cities. When visiting a new place on land, most of us rely on a map app to get around, but, sadly, Google Maps is MIA on cruise ships. New cruisers often find themselves lost in the labyrinth of mysterious hallways that all look the same, and pass the same restaurant four times in their desperate attempt to find their intended destination.
You can take small comfort in the fact that you won't be alone in this, as you'll bump into many souls lost at sea as you circle the ship. However, you'll also see veteran cruisers striding around confidently, disappearing through doorways you hadn't noticed, and mounting the staircases assuredly. Luckily, these veteran cruises aren't gatekeeping their navigational secrets; they're happy to help novice cruisers turn up on time for their spa appointment and find hidden lounges and tucked-away bars with stunning views.
Preparation is key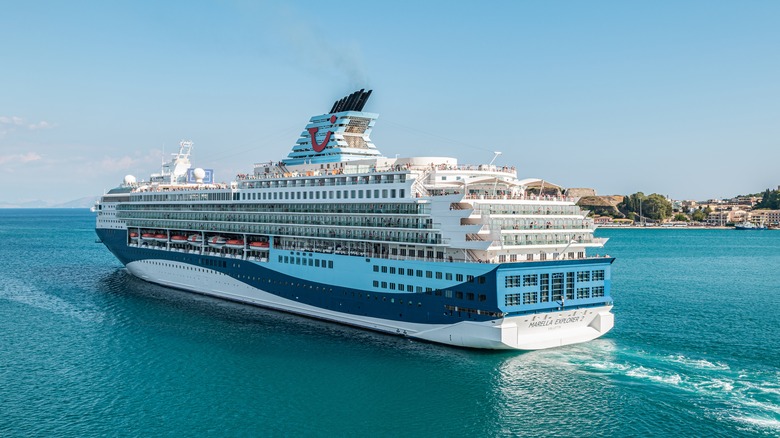 NAPA/Shutterstock
Let's start with what seems to be many cruisers' favorite tip: watch YouTube. In the Reddit r/royalcaribbean forum, posters recommend watching YouTube videos that have a full walkthrough tour of the ship to get a feel for the layout, with several mentioning the Harr Travel channel as a good place to start. Another piece of advice is to download the cruise line's smartphone app before you go. Many cruise lines have one, and often the app will include deck plans and/or still photos so you can study up. Most of the apps also allow you to browse activities, restaurant menus, and more so you can plan out your days at sea.
Even after watching the videos and checking diagrams, you might still get lost onboard the ship. So you can just ask for directions from helpful crew members, right? Yes, but the nautical terms they use can sound like a foreign language that you never learned. Part of your preparation, say experienced cruisers Don and Heidi of Eat Sleep Cruise, is learning the lingo. Get to know your bow from your stern and your port from your starboard.
Once you're aboard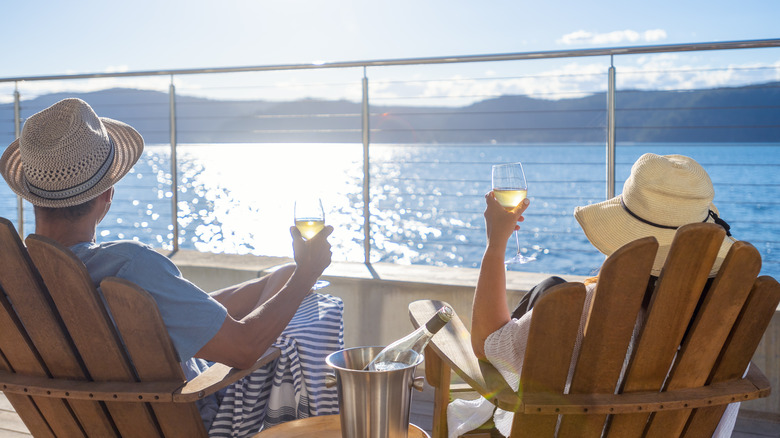 Courtneyk/Getty Images
Ahoy! You've boarded the ship and you're ready to explore. Even with all the preparation you've done, you might still end up a little (or a lot) disoriented on a cruise ship. Veteran cruisers come to the rescue again! First, there are maps and deck plans all over the place. Blogger Cruiser at Heart says the crew often passes out paper maps when you board, and advises that there are deck plans on the back of your cabin door (these show emergency exits — very important — but can also help orient you.) If you get turned around, head for an elevator or staircase, assuming you can find one. There are usually deck plans, often interactive, near these places.
Speaking of stairways, it's a good idea to get to know the ones near your cabin and others that are close by places you're going to visit frequently. Blogger My Cruise Stories says that there is usually some artwork between decks, and often it's themed so you know which stairway you're on. There are often other helpful navigational elements baked into the ship's decor, too. Cruiser at Heart has a ton of tips like looking for arrows or swimming fish in the carpeting that point to the front of the ship on Disney Cruise Lines and Norwegian respectively.
Lastly, almost all veteran cruisers recommend embracing getting a little lost on the ship. You never know what you might stumble across. Just make sure you're wearing comfortable shoes, and you can happily pound the hallways for hours.