The Locals' Guide To New York City's Most Underrated Pizza Joints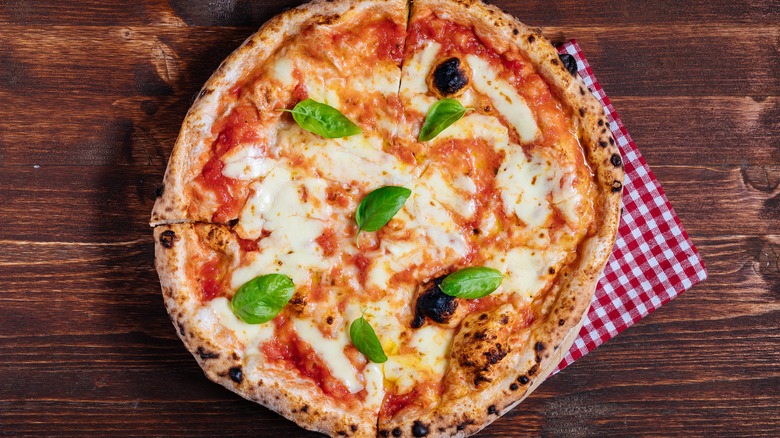 harexape/Shutterstock
Knives out! It's time for the battle of the New York City pizzas. (Actually, put those knives away — who eats pizza with a knife?) New York City is the home of pizza in the United States — it was here that the first licensed American pizzeria opened in 1905 — and from the dollar slices that dot the city to chain restaurants like Sbarro to the posh pizzas of Pasquale Jones, competition to be the best is fierce. As a city filled with pizza, New York has heaps of underrated places the locals love but tourists might not be aware of.
But first, there are some places that are well-known for a reason and locals love them despite the sometimes interminable lines (Lucali, we're looking at you). In fact, let's look at Carroll Gardens' Lucali. One Redditor in r/FoodNYC says, " ... [T]he hype is real." Everything is made fresh daily, they don't take reservations, and the lines are long. What locals can help you with at Lucali is the best time to go; one poster recommends hopping in line at around 3:30 p.m. to get your name down an hour later.
Other big hitters on the NYC pizza scene include L'Industrie, with one Redditor in the same forum highly recommending their burrata slice. Fini is also recommended for its tantalizing white slice with lemon, and so is Di Fara. They are all worth heading across the bridge to Brooklyn for. In Lower Manhattan, the slices at the award-winning Bleeker Street Pizza get a ton of mentions, including in the r/AskNYC forum.
Pizzerias that locals love
You can hardly call any of those places underrated, though, so here are some true local picks. We'll start with four in Manhattan below the park. The first, Sacco Pizza, is in midtown, with Reddit users in the r/FoodNYC forum highly recommending the slices there. Sacco has been in business for over 50 years, which is some staying power in New York City.
Another pizza joint that is endorsed by locals in Manhattan is NY Pizza Suprema. One Redditor in the r/Pizza forum comments that NY Pizza Suprema doesn't get the respect it deserves, and it is praised across Reddit, with one commenter saying it's the only good slice near Penn Station, so if you're in the area, check it out.
And then there are J's Pizza and Baked by Luigi, both of which have a whopping 4.9/5 rating on Google. Redditor BAPyogi in the r/FoodNYC forum writes that Baked by Luigi is " ... SO good." Meanwhile, poster maximumslanketry in the same forum says this: "J's pizza is a local, unpretentious spot that nobody talks about, but what a new york slice should be." That's what we're looking for.
More under-the-radar pizza joints
If you're willing to travel a little, there are so many more places you can grab a slice or a whole pie. Staying in Manhattan but going up to Washington Heights, you'll find Fresco's Pizzeria. Fresco's is featured in the Your Brooklyn Guide blog as a seriously underrated pizza joint that you'll recommend to others. The writer particularly recommends the vodka slice.
Over in Flushing, you'll find Amore Pizzeria. Amore comes recommended on the r/Pizza forum on Reddit and on Eater New York. Finally, in Brooklyn, there's Lucia Of Avenue X. Lucia has garnered great reviews from locals on Facebook and in the New Yorker. While Lucia is relatively new, the owner's family has owned Papa Leone Pizzeria in Sheepshead Bay for more than four decades.
So, no more soggy crusts and lackluster sauces. Next time you're in NYC, follow the locals' advice and hit these underrated pizza joints. Just be prepared that when you think you've found the best pizza in the city, you'll catch a whiff of baking dough and sizzling marinara and set off on your quest again.