Fun US Destinations For A Memorial Day Weekend Getaway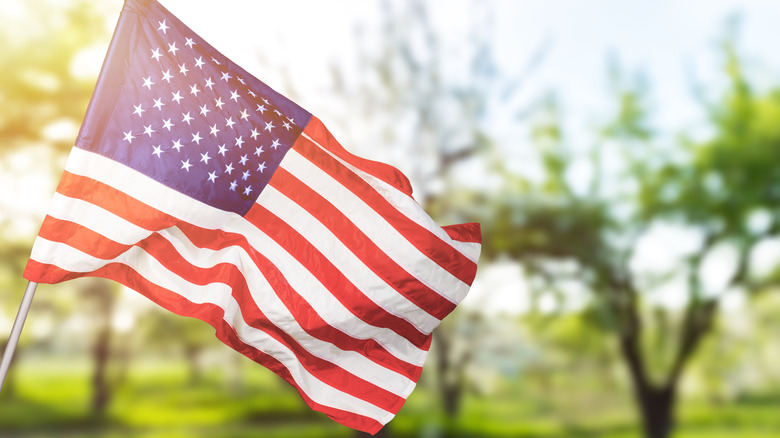 Billion Photos/Shutterstock
Few vacations get the people of the United States up and about, happy to rush outdoors, as Memorial Day, the official start of the summer season. Though it represents a moment in the year that is primarily positioned for us all to reflect, to remember those that have fallen in wars both recent and those that occurred much further back in time, the last Monday in May has become a time to fire up the barbecue, head to the beach, or enjoy some festivities as the days head toward their peak length, and the temperatures start to push the mercury ever upwards. 
And while we will not forget the sacrifices that those that perished have made, the long weekend of this public holiday presents a perfect window for a quick escape, a time to let loose, have some fun, and usher in the hottest few months of the year. There are celebrations and commemorations for this day all over the country, but some destinations are worth seeking, especially for anyone in search of a bit of excitement over the holiday weekend. Here are 15 places worth checking out.
Albuquerque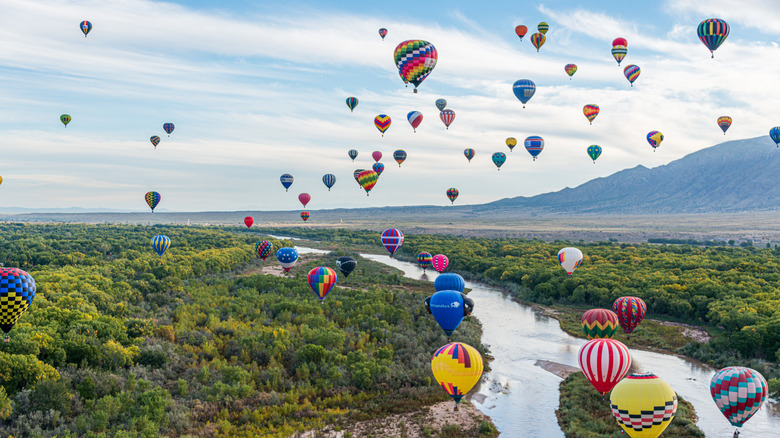 gmeland/Shutterstock
The most populous city in New Mexico by a long stretch, Albuquerque springs to life over the long weekend with a pair of grand spectacles. The city has a dry climate and is blessed with sunshine year-round, making it a perfect spot for hot-air ballooning. This fact isn't lost on those that fly balloons competitively, hence the Rio Grande Classic balloon contest, held in Rio Rancho, a suburb of the city. 
The events will include the Southwest Regional Championship, an official part of the Balloon Federation of America and the Hot Air Competition Division calendar, as well as a New Mexico State Championship. The site of the vast balloons over the clear New Mexico sky is a sight to be treasured. More excitement awaits nearby at the New Mexico Wine Festival, held in Balloon Fiesta Park. Here, visitors will be able to sample the wines of some of the state's most polished wineries, chow down on delectable dishes from food trucks, and shimmy to the sounds of live music.
Atlanta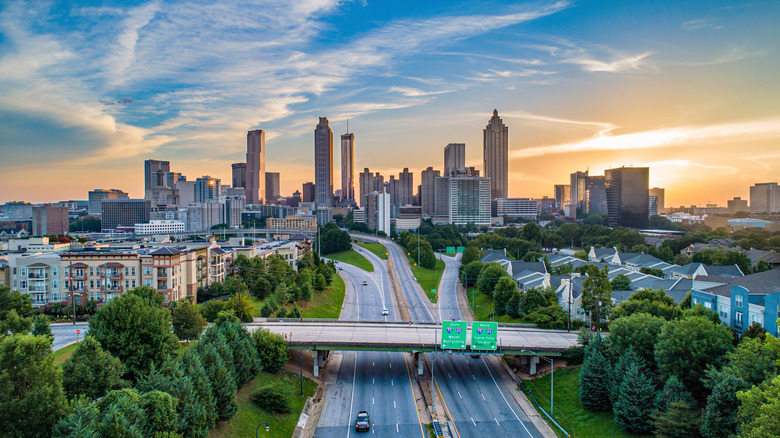 Kevin Ruck/Shutterstock
According to a 2019 estimate by the Migration Policy Institute, the Atlanta metro area was home to more than 80,000 people from the Caribbean, a figure that has likely grown since then. The Caribbean is famous for many things, from fabulous fruits to scintillating patois, from infectious music to stunning beaches. It's also famous for its carnivals, a celebration that originated in Trinidad and has now spread throughout the region, as well as throughout the Caribbean diaspora worldwide. On the Saturday of Memorial Day weekend, the streets of the Big Peach come alive with a Caribbean-style carnival. Anchored by a Festival Village, where small, independent vendors sell food and drinks, and all things carnival-related can be found, the Atlanta Carnival is a riot of sequins, noise, revelry, and undistilled joy that brings together people from across the islands as well as local Georgians and out-of-state visitors. 
Travelers will see parade-goers in bejeweled costumes, and there will be plenty of music, dancing, food, and good cheer. The festival first kicked off here in 1988 and has grown every year, a beloved highlight of the city's annual events calendar. The parade winds through the city, and visitors can join a Mas Band (short for masquerade band), a group that marches as a unified troupe together in the parade, wearing matching outfits and synching their steps as they dance/sway/move/tap along the route — one troupe wins the prestigious title of best band. Look out for festivities before and after the parade as well.
Boston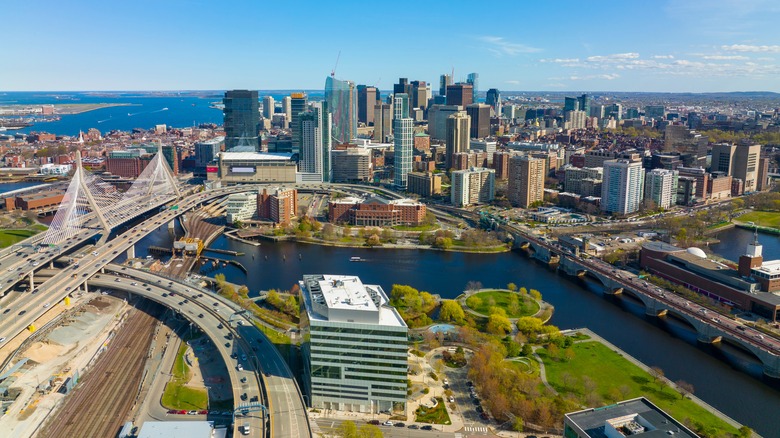 Wangkun Jia/Shutterstock
If Memorial Day is meant for quiet contemplation, to mark sober moments in history, then the three days beforehand, at least for attendees of Boston Calling, will be devoted to a full-scale sound-wave blowout. The three-day musical orgy, held at the Harvard University Athletics Complex, right on a tight bend on the Charles River, promises ticket holders some ear-splitting tunes churned out by big-name headliners. Tickets can be purchased for individual days, or all three, and children under 10 — dare they attend — can enter for free. 
There are four stages at the event, with marquee artists like the Foo Fighters, Alanis Morissette, and Queens of the Stone Age ready to get the crowds bumping. Beyond the music, travelers here can expect a 100-foot Ferris wheel that will supply give concert-goers an elevated experience of the event, artworks dotted around the grounds, food vendors galore, and a wild sense of unbridled fun. For a different sort of artistic culture, entry to the Museum of Fine Arts Boston is free for state residents on Memorial Day.
Chicago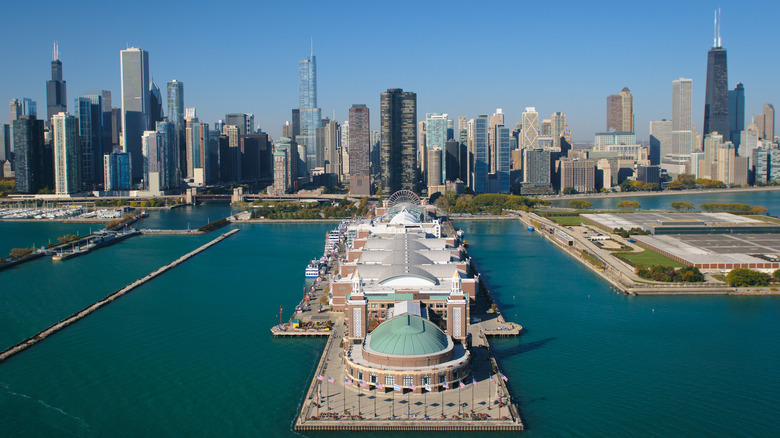 Kristopher Kettner/Shutterstock
A beloved event for Chicagoans each summer, the fireworks at Navy Pier take place twice a week throughout the warmer months, turning the night sky over Lake Michigan into a festive array of colors, and casting a warming glow onto the city's incredible skyline. The pier gets packed during those shows during the season, and the shrieks and whoops of delight and wonder from children and adults alike are a joyous sound to hear. 
While the displays happen on Saturdays and Wednesdays for a few months, the very first of them takes place on Memorial Day weekend, at 10 p.m. on Saturday night of the long weekend. Go there to see how the Windy City kicks off the summer season. A short distance to the south, in Grant Park, the second iteration of Sueños — it means "dreams" in Spanish — takes place. A festival dedicated largely to the pulsing beats of that relentless, percussive, musical genre Reggaeton, as well as other types of Latin music, is sure to get attendees dancing up a storm.
Denver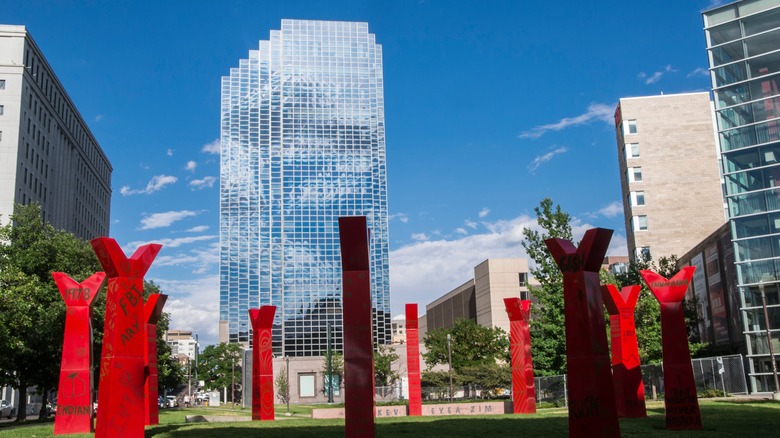 Jjay69/Shutterstock
The mile-high city will make visitors smile a mile long this weekend, with so much on offer to keep them happy, engaged, and full! For starters, BBQ Fest, which runs on Saturday and Sunday, is a smorgasbord of succulent meat and live music, plus a five-kilometer run that will help visitors shed some of those calories. Three stages are set up for demonstrations, and Pitmasters — the generals of each barbecue area, with experts flying in from around the country — will give out tips on their special recipes, grilling techniques, and how they get their creative juices marinating. 
There will also, thankfully, be samples for the public to taste. Over the same two days, the Denver Arts Festival brings mixed media to Central Park, with displays, live instrumental music, and a special zone set aside for children keen to express their artistic verve. On Friday, May 26, a striking musical event takes place at Lakewood's Belmar Park, a little west of Denver. A concert by candlelight honors the 100th anniversary of Warner Brothers Pictures, with classical renditions of such iconic tunes as "Over the Rainbow" ("The Wizard of Oz"), "As Time Goes By" (from "Casablanca"), "Singin' in the Rain," and the rousing sounds of "The Lord of the Rings: The Fellowship of the Ring," all performed to the shimmering glow of hundreds of candles.
Hudson Valley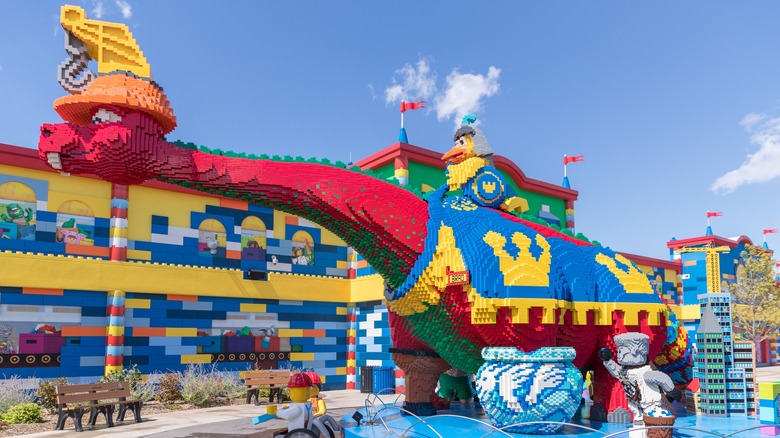 Helen89/Shutterstock
Fun is weaved into the DNA of Legoland New York Resort, an amusement park modeled on those chunky little Danish blocks that are a staple plaything of children the world over. Located about a two-hour drive northwest of New York City, the destination first opened in the summer of 2021 and has been slowly growing its fan base. The park is divided into seven themed areas — labeled as lands — and these range from Lego Castle, where visitors can build models, climb a block tower, or ride a rollercoaster fashioned like a dragon, to Miniland, where famous skylines are recreated in intricate detail solely from Lego blocks (about 22 million of them). 
There are also 4-D shows, and the chance to meet life-size recreations of Lego characters, something sure to thrill youngsters (and sure to make great photo ops). Best of all, a new water playground section opens on Memorial Day weekend, with slides, giant water buckets, and rafting courses — all letting visitors have some aquatic fun without getting sand in all their crevices, or saltwater in their eyes.
Mackinac Island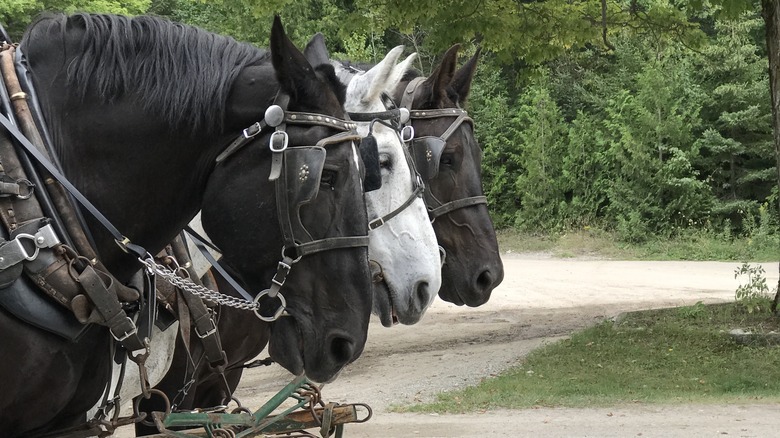 Christina A Jensen/Shutterstock
A quintessential Michigan summer escape, this island is known for its picturesque beauty, and, perhaps more famously, for not having any cars. It's a dream destination; for many visitors, it feels like they have entered a time capsule from a bygone era (the lack of cars is a primary reason for that). For walkers and bikers, there is also plenty to see and many options ripe for exploration, while there is even the opportunity to take a horse-drawn carriage ride. 
Travelers can get around on foot, hiking up to the highest point of the island on Fort Holmes for views of Lake Huron beyond the thick forests, and wandering around the numerous fudge stores in the heart of town. A loop of the island by bike is a fine way to enjoy the coastal scenery, and it's not exhausting, along nine miles of tarmac that's cooled by soft winds that glide in off the lakefront. A couple of days after Memorial Day, the island also hosts a solemn remembrance at Fort Mackinac, with soldiers proceeding to the island's cemetery for a ceremony to honor the dead.
Miami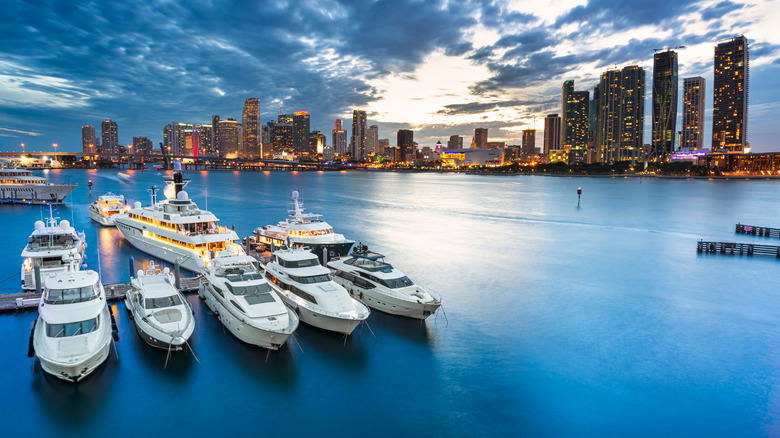 Don Donelson/Shutterstock
What better place to feel the warming rays of summer than at the sumptuous beaches of this South Florida metropolis? Temperatures at this time of year in Miami usually hover around the mid-80s, with the warmth of the Atlantic waters sitting not far behind that number. Clearly, this is a great time to be out and about, which is welcome news because this long weekend promises numerous outdoor lures beyond the beach. The Hyundai Air & Sea Show is an extravaganza that honors the various branches of the U.S. military and features exhibitions of powerboats and jet skis going at full tilt, demonstrations of rescues at sea, and teams parachuting in formation. There are also flight maneuvers by aircraft both old and new, live music from internationally famous acts and U.S. military bands, and a grand fireworks display. 
Over the same two days, Afro Nation, which bills itself as the largest Afrobeat festival in the world (it's a roaming musical bonanza that pitches up at different global cities), will be held for the first time in North America here in Miami and will host a wild weekend of hypnotic, infectious, rhythmic beats that will get anyone dancing. Culture vultures can also use this weekend to catch up on some museum hopping at reduced rates, with the city's Miami Attraction & Museum Months promotion, which supplies discounted entry into a number of institutions, winding up on May 31.
New Braunfels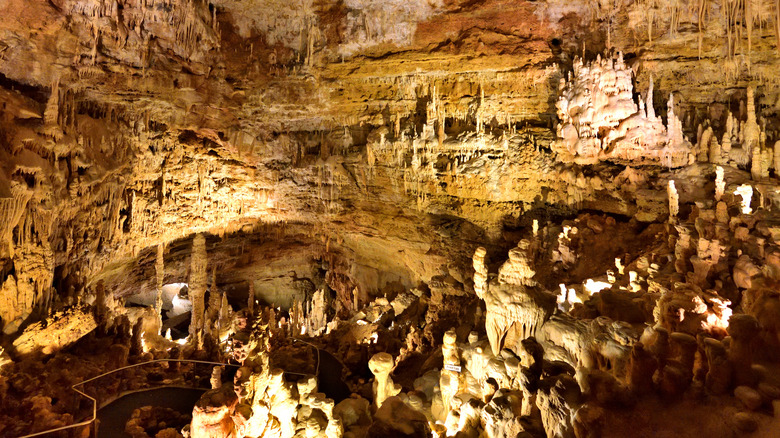 John Le/Shutterstock
Summer means long, sunny days, icy treats, road trips, and . . . water parks! One of the best in the country, and located near San Antonio in the Texas Hill Country, Schlitterbahn Waterpark & Resort does open intermittently before the Memorial Day weekend, but from this holiday weekend, it lets aquatic adventurers in daily, ready to get wet and have some guaranteed fun. 
There is a wide variety of water features here that will appeal to visitors of all ages, with exciting rides, slick, fast waterslides, and vast pools in a park divided up into four separate areas. Kids will love the tube and body slides, a wave pool where they can boogie board, and a mat slide where dizzying speed is the intoxicating sales pitch. Adults might prefer to unwind in the heated pools or the lazy rivers. Close by, travelers will find another treat where water plays an important role — the Natural Bridge Caverns, where ghoulish stalactites, stalagmites, and dramatically lit chambers shaped by the erosion of water, are a fantastical sight. The truly adventurous can even get on their hands and knees to crawl through sections of the caves during a spelunking tour.
New York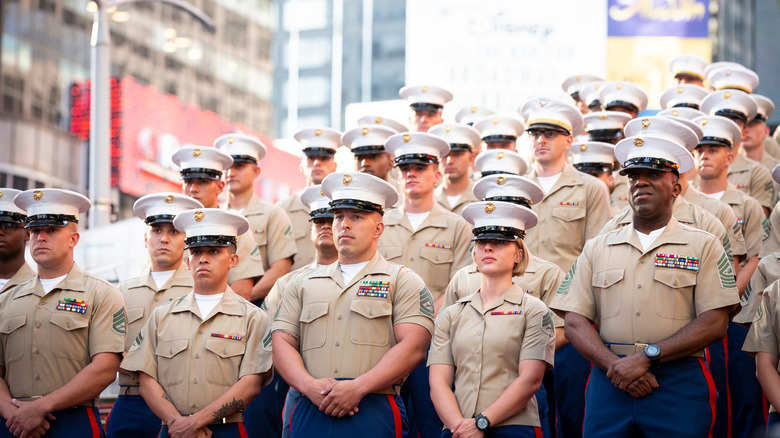 Glynnis Jones/Shutterstock
In its 156th year, the Brooklyn Memorial Day Parade isn't populated just by those connected to the military — in addition to active soldiers and veterans,  onlookers will also see city departments, members of the local business community, politicians, school bands, youth groups, and plenty of kids taking part in the walk. It's an event that is both solemn and celebratory, taking place wholly within the Bay Ridge neighborhood of Brooklyn, and ending with a service that includes the spirited sounds of bagpipes, and a 21-gun salute. 
Fleet Week also takes place this time of the year, with plenty of sailors flooding the city's streets — meaning it's time to get the camera out for some fun photos. During the week, expect the chance to get on tours of ships, and see a whole host of grand vessels dotted around the city's busy waterways. While in town, visitors should take the opportunity to check out a brand-new addition to the American Natural History Museum. The Richard Gilder Center for Science, Innovation, and Education opened on May 4, 2023, with a striking facade made of pink granite (and looking almost like something designed by Antoni Gaudí), and a wavy, organic central atrium that's as memorable as the exhibits within.
Portland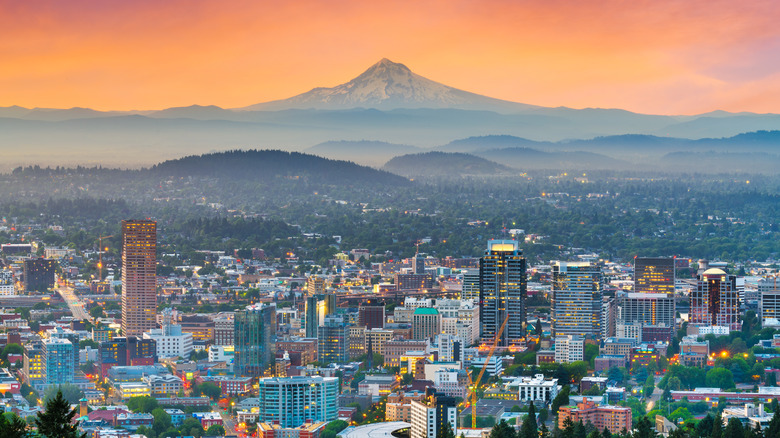 Sean Pavone/Shutterstock
There's plenty to do during the City Fair held over the weekend as part of the Portland Rose Festival, a window of celebration that starts at the end of May and extends through parts of June in Oregon's largest city. The festivities start on Friday night, with a giant fireworks display at Tom McCall Waterfront Park, with the night sky enlivened by bursts of color and flashes of wonder that also light up the city's skyline. The same location hosts City Fair, with loads of diversions to keep the whole family entertained. 
There are carnival rides to excite kids and adults, plenty of places to grab a bite to eat, and clowns and costumed festival staff to bring even more joy to those in attendance. Oodles of more rides are in store at the Multnomah County Fair, held over the weekend at the Oaks Amusement Park in the south of the city. In addition to the thrills and spills of the rides, visitors can enjoy such whimsical delights as a dog costume contest, encounters with local farm animals (a kid's favorite), and performances by Latin dance and musical troupes.
San Francisco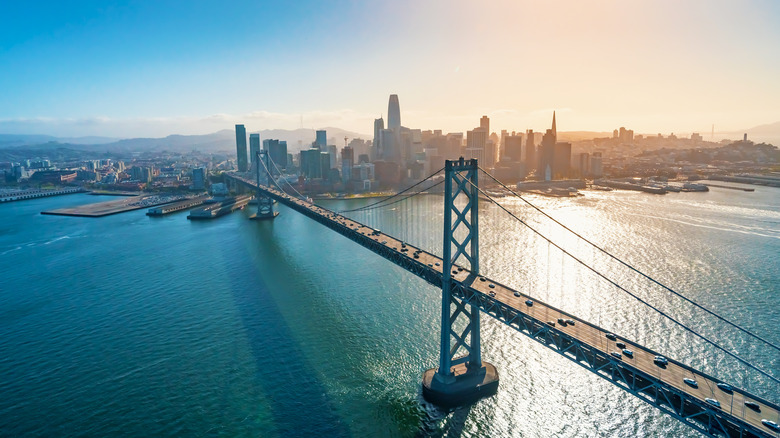 TierneyMJ/Shutterstock
A riot of color paints 'Frisco during the Carnaval Grand Parade, when the streets of the Mission district come alive with revelers and parade participants dressed to impress. These bacchanalians, with bright, glittering, jeweled outfits, dancing down the parade route, or exhorting the crowds and onlookers to amp up the festive atmosphere, make the Sunday of this weekend an energizing start to summer. The numbers behind the event are impressive indeed, with thousands of artists showcasing the traditions of many Latin American countries — among them Brazil, Bolivia, Nicaragua, El Salvador, and Cuba, as well as those from the Caribbean, setting the city's streets on fire, figuratively of course. 
Latin culture is also the attraction at the Sazon Latin Food Festival, a roving event that tours the country, and happens to land in Alameda — just across the bay from San Fran — on Memorial Day. Expect lots of great Latin food, and music that mines the riches of Latin America to get your toes tapping, assuming that you have any energy after the previous day's festivities.
Shreveport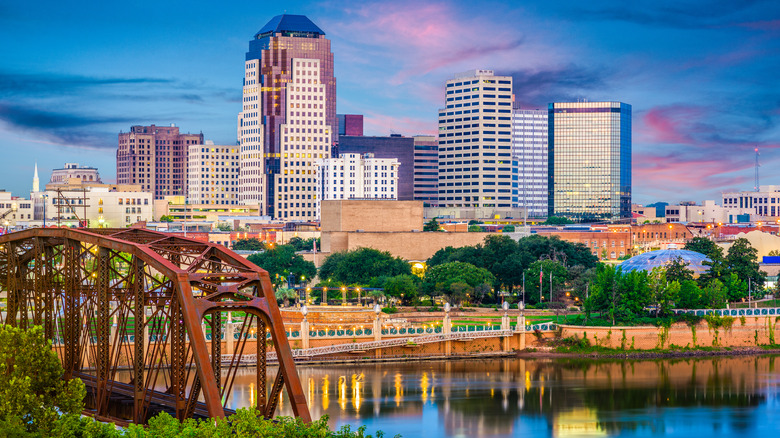 Sean Pavone/Shutterstock
Fans of all things Cajun will not want to miss this weekend's Mudbug Madness festival, held in the heart of this town set between Cross Lake and the Red River. Its genesis dates back to 1984, a simple street event held in the middle of the city, but over time it has flourished, and now is a rich, lively realm of Cajun, Zydeco, Blues, and other music, as well as a great place to sample some traditional and inventive Cajun food. 
While the musical performances kick off on the Thursday before Memorial Day, the intensity ramps up from Friday, with music on two stages for the next three days. Anyone planning to attend who has great faith in the arm swing and accuracy in throwing small, grainy objects, can enter the cornhole contest, with a top prize of $1,000. For lovers of dishes that use crawfish, this festival might just be as close as they get to paradise on Earth.
Southern California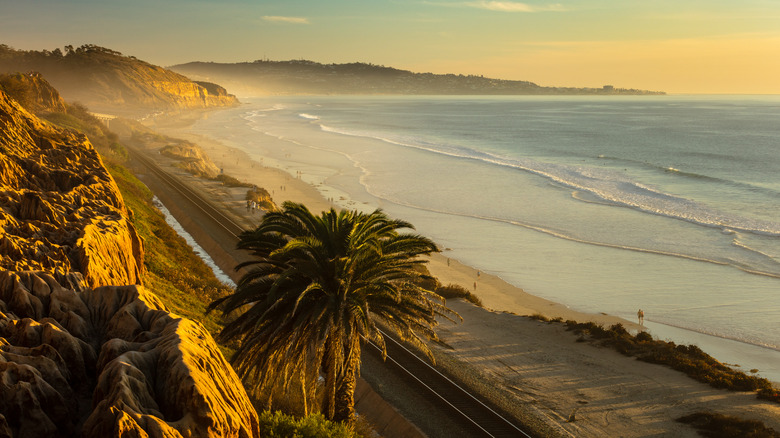 Janson George/Shutterstock
With long stretches of sandy coastline, this part of the country has some fine spots for early summer camping, especially pleasant in late May when the temperatures hover in the upper 70s and the humidity tends to be low. There's something so rewarding about waking up to see the sand and sea right before you, spending a day on the beach before watching the sun drop into the ocean, right from your tent, and sleeping to the sound of the rushing surf. On a gorgeous sweep of coastline a little west of Santa Barbara, Refugio State Beach features some simple hiking trails and places to take a picnic, and a campground populated with towering palm trees. 
Close to Malibu, Leo Carrillo State Park is deeply connected to its environment — the beach extends for more than a mile, and the waters are often populated with surfers, anglers, and dolphins. Along the sands, walkers can explore caves and the Lilliputian life that exists inside tide pools. And the campground, set back a little distance from the Pacific, sits under large sycamore trees, with great hiking further inland.
Washington, D.C.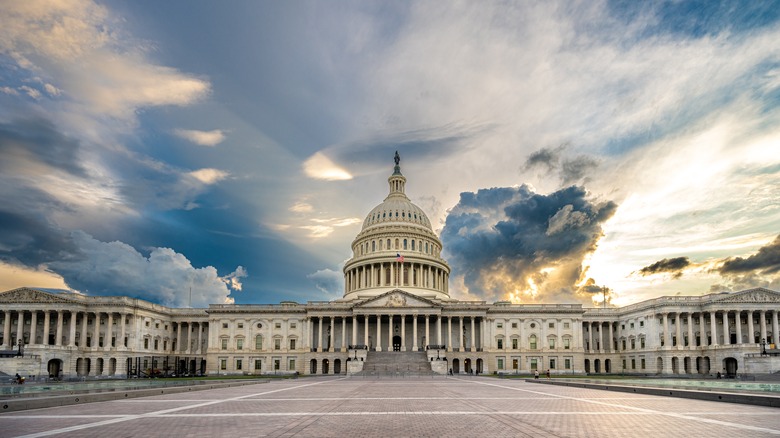 Traci L. Clever/Shutterstock
The nation's capital promises a wealth of options during the Memorial Day weekend. For starters, there are so many memorials here that commemorate fallen soldiers, this place takes on extra poignancy this weekend. The World War II Memorial is a moving piece of architecture, with pillars set around a large plaza. The Vietnam Veterans Memorial adds a personal aspect to the horrors of war, with the names of thousands of deceased troops carved into giant slabs of black granite. Perhaps one of the most iconic sites is the U.S. Marine Corps War Memorial, which recreates American troops raising a flag in the Battle of Iwo Jima in World War II. These heroes from days past are remembered during the National Memorial Day Parade, which makes its way along Constitution Avenue on Monday afternoon. 
The day prior, the National Memorial Day Concert fills one of the lawns of the U.S. Capitol with music and readings by actors that salute the sacrifices of the troops. The concert, broadcast each year on PBS, is free for the public to attend. Another way that soldiers are remembered is via the Rolling Thunder motorcycle rally, held on the same day as the concert. A giant motorcycle cavalcade that strives to ensure that veterans and those missing in action are never forgotten, it's an arresting, unforgettable sight — and a loud one too — with estimates of one million people either riding along or watching the procession.