The Best Museums To Visit On Your Next Trip To Las Vegas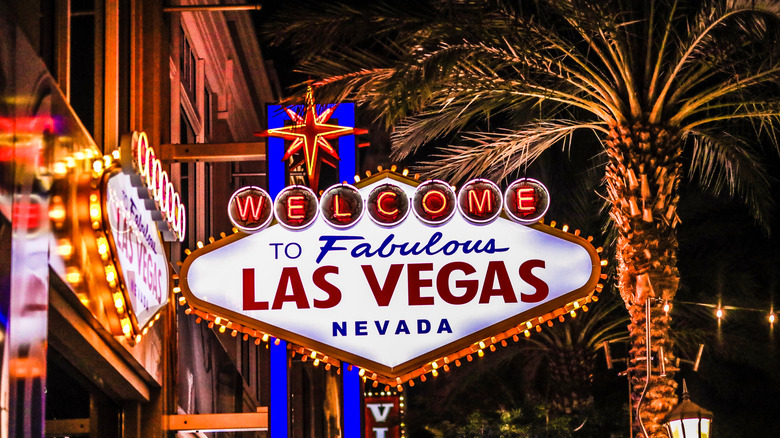 yawitthaya/Shutterstock
Las Vegas is one of the most popular attraction destinations in the United States for good reason. Not only is it famous for its neon strip and wildly themed casinos where patrons can win it big, but more people get married in Vegas than anywhere else, making it the wedding capital of the world. There is so much more to do in Las Vegas than gamble and get married, though, as the neon city is home to some pretty niche museums that are worth a visit, even for travelers who don't normally do the whole museum tour thing when visiting a new place.
If you hit some of the best – and let's be honest, most bizarre – museums in the city, it'll be next to impossible to let everything that happens in Vegas stay there, because you'll want to share what you've seen and learned with all your friends and family. On second thought, some of Sin City's more niche museums may not be too family-friendly. Either way, though, our list of must-see museums will make your next visit to Vegas one you're not likely to forget anytime soon.
The Neon Museum Las Vegas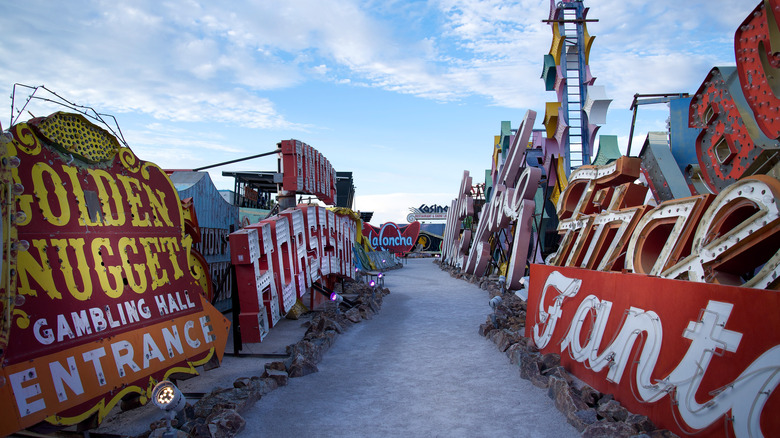 Smeerjewegproducties/Shutterstock
One of the most fitting museums in Vegas is the Neon Museum, which is home to hundreds of dazzling neon signs that have been laid to rest. In fact, they actually have their own neon sign "boneyard," which is basically an outdoor maze of both restored and inoperable signs that have once donned the front of businesses all over Vegas.
The Neon Museum is the perfect follow-up to seeing the city's dazzling centerpiece, the neon strip. The popular destination and the museum are both a maximalists' dream, but where the strip gives off the feeling of ultimate luxury, the neon museum and its boneyard have a gritty, artistic vibe that will leave you feeling like you've seen the history of Vegas through its former shining signage.
Dedicated to preserving the city's history, the Neon Museum has restored nine signs throughout Downtown Vegas that are available for public viewing as art installations at all times. Most are located on Las Vegas Boulevard, with the pouring martini sign at 5th Street Liquor Store just a block over. Though there is plenty of neon on display in Vegas, a trip to the museum dedicated to the city's lighting history is both impressive and awe-inspiring.
The Mob Museum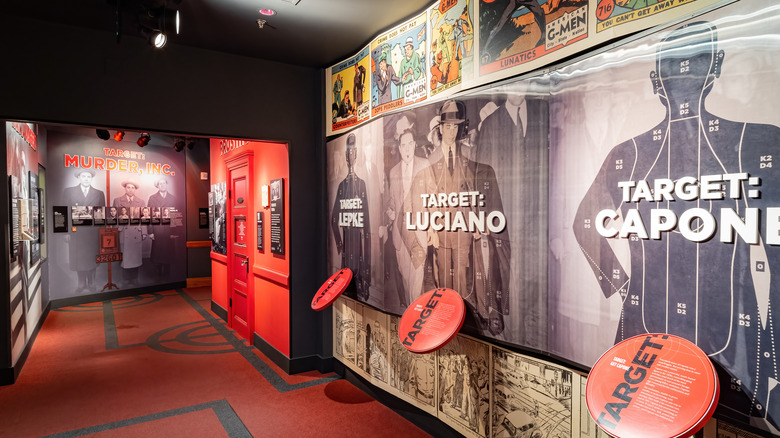 Kit Leong/Shutterstock
It only makes sense that a place famous for gambling and questionable morals would love mobsters and everything related to organized crime – so much so that they've got a museum dedicated to it. The Mob Museum is so much more than a building with mob memorabilia displayed, though, as they also reflect on how organized crime has affected modern-day law and culture.
The museum offers interactive exhibits, like its crime lab experience and a gun training simulator, both designed to give you insight into the training of law enforcement professionals. Another cool feature of the three-story museum is a police line-up where you can get a cool keepsake photo of your time here.
In addition to the formal museum, there is an on-site distillery and a speakeasy, both references to prohibition and the rise of the American gangster. The speakeasy, aptly named The Underground, regularly has live music for patrons' enjoyment and is a chill way to spend a night in Vegas. You'll need the password to get it, but don't worry, all you have to do is check the website before heading to the door.
Burlesque Hall of Fame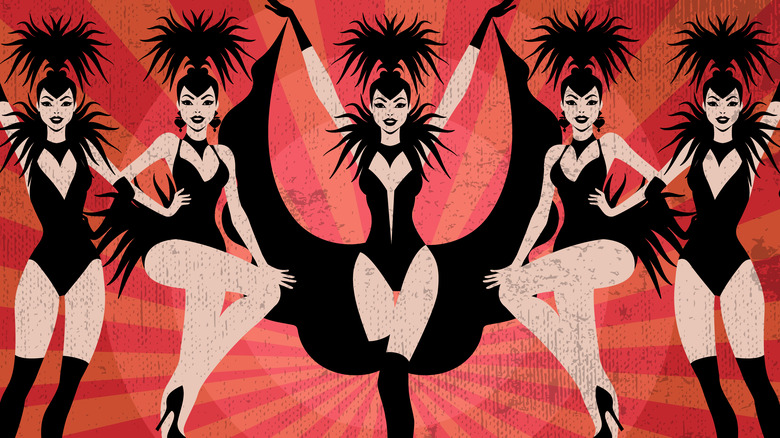 Serhii Yakovliev/Getty Images
As if the thrill of either losing it all or winning a life changing amount of money wasn't enough, Sin City makes a point to maintain an air of bustling activity and liveliness at night with its many live performances. There's always something unique to see in Vegas, and burlesque is quite popular throughout the strip in a lot of different variations, from dancing zombies to scantily clad cowgirls. The history of burlesque is rich in the city, so it makes sense that the Hall of Fame for the art form is here.
The Burlesque Hall of Fame is a nonprofit organization whose mission is to make sure the legacy and history of burlesque isn't lost. The museum is home to many vintage burlesque costumes and props as well as personal items from burlesque stars and a slew of old photos that document the history of the art form.
With education and preservation being the goal of the Burlesque Hall of Fame, the museum also offers a top tier striptease education with classes for individuals of all stages of learning. This museum is a great addition to a fun bachelorette or bachelor weekend or a night of seeing a burlesque performance.
Atomic Testing Museum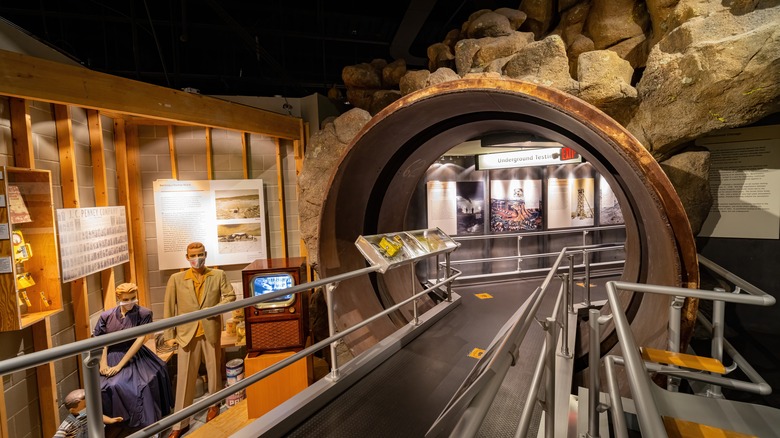 Kit Leong/Shutterstock
Las Vegas may be home to many epic museums that are references to its own past and reputation, but there's one museum in the city that seems wildly out of place, which may just be perfect in itself for an oddball city like Vegas. The Atomic Testing Museums seems like a bizarre museum to be here, but it's actually due to the testing site that is only a mere 65 miles from the major city, and in true Las Vegas fashion, there's really no other museum like it.
If you're skeptical that the government allowed enough artifacts and visuals as documentation for their nuclear testing, you'd be right to. The Atomic Testing Museums is one of the few places in the country where you can see such displays, and it is one of the only places where a large nuclear reactor is open for viewing as well as inspired weapons like the backpack nuke.
It's not all violence and environmental catastrophe at the Atomic Testing Museums, though, as in addition to finding very real weaponry and scientific artifacts that aided the creation and testing of nuclear weapons in the museum, you can also see memorabilia from the Atomic Era. The era influenced pop culture of the time as well, for which the museum has an interesting and colorful exhibit.
BODIES...The Exhibition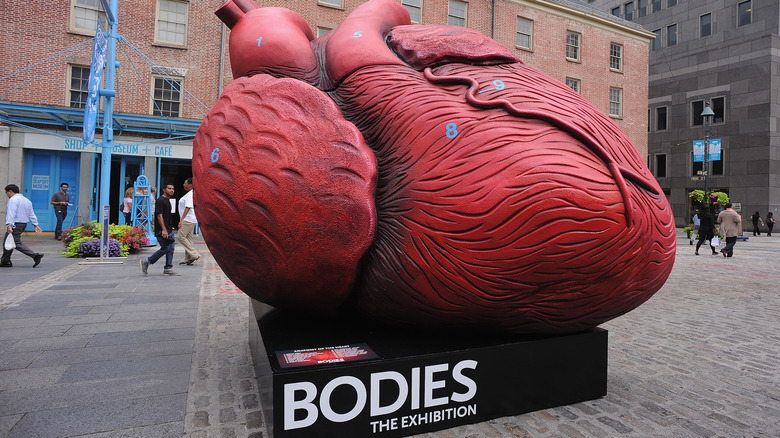 Fernando Leon/Getty Images
Okay, this one can get a little wild. If you're the type of person who loves science and the very real magic that enables every minuscule part of the human body to work together to create a functioning and thriving human being, then BODIES just might be the place for you. This exhibition showcases 13 very real, very dead human bodies and hundreds of organs in order to display how very complex and beautiful our bodies are, especially on the inside.
While great care is taken with the bodies and all human parts are treated with the utmost respect, the thorough exhibition isn't for the squeamish or the faint of heart. Those who decide to take part in viewing and studying the exhibition will come face to face with the idea of their own mortality in the most educational way possible. If you've ever found yourself identifying with characters like Wednesday Adams, though, you will find all your morbid curiosities satiated.
Pinball Hall of Fame
On a lighter note, Las Vegas has one pretty cool ode to the gamer, and that's the Pinball Hall of Fame. Here you will find an attempt at displaying the world's largest collection of pinball arcade machines, the result of which is 25,000 square feet of pinball machines packed in pretty tight. You won't find any new age games here, as they are all vintage from the '50s to the '90s — but that only increases the fun.
The coolest part of this is not seeing all the vintage machines that are in like-new condition all lit up, but the fact that you can actually play them. For just a quarter or two, you can play a machine that was very likely once played by a kid visiting the arcade after school with no worries and a pocket full of quarters. If you just plan on taking a look at all the different pinball machines, there is no charge – but be sure to bring some money anyway, because you may not be able to resist the call of pinball. It's a non-profit, so the coins you use to game ends up going toward the continued existence of the pinball Mecca and other great causes.
Zak Bagans' The Haunted Museum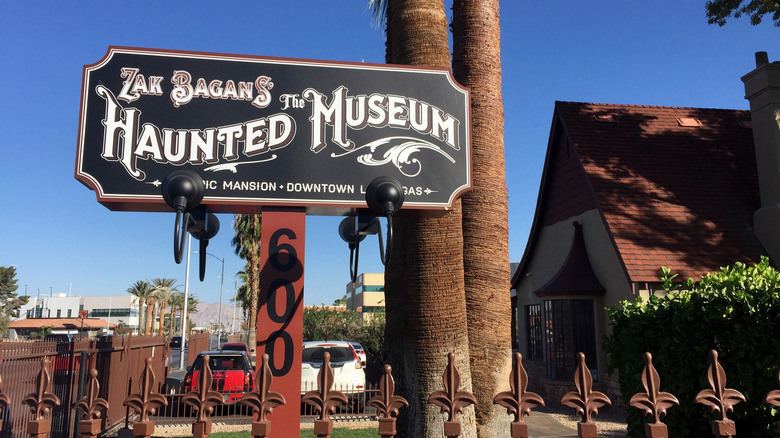 JMOF/Shutterstock
If you've ever seen "The Conjuring" and saw the Warrens' room of haunted artifacts and thought, "Wow! I'd really like to take a look in there!" then Zak Bagans' The Haunted Museum provides you with a very similar opportunity. Safely – if there is such a thing – behind glass cases, the museum displays items from haunted locations as well as over 30 rooms of creepy artifacts.
Zak Bagans is a famous paranormal investigator who has produced and been featured on a large number of paranormal reality shows, one of which centers on The Haunted Museum and some of its more horrific artifacts. Bagans regularly pops into the museum, so it's not uncommon to run into him there. The same goes for the spirits attached to some of the museum's relics.
If visiting the spooky museum during the day isn't thrilling enough for you, opt for the flash light experience! No more than 20 individuals are permitted to peruse the inside of The Haunted Museum in the dark, free of restraint, for an hour and a half. You must sign a waiver and are able to borrow paranormal investigative equipment, but be warned that there are numerous artifacts said to have hostile spirits attached to them.
AREA15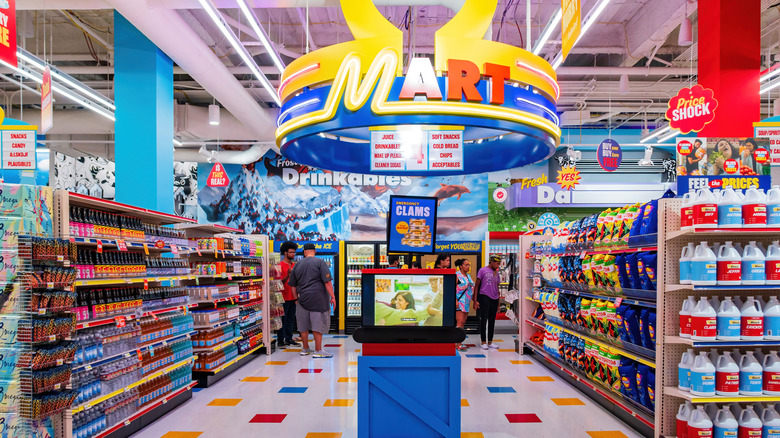 Kit Leong/Shutterstock
For travelers looking for an immersive, mind bending experience, AREA15 needs to be on the itinerary. While not a traditional museum at all, the warehouse is home to a number of exhibits that will scratch any kind of brain-itch. Most notable of these is Meow Wolf's "Omega Mart" exhibit, which looks like your typical grocery store until you look closer at what's on the shelves.
The exhibit will make you feel like you've walked into a portal to another world, as you'll find things like tattooed roasts, pigeon flavored soup, and Salt After Dark at the imitation grocery store, as well as some hidden passages to other trippy experiences. Over 300 artists contributed to the exhibit for an amazing and mind blowing effect.
Omega Mart is just the tip of the experiential iceberg at AREA15, as there are over 10 different things to do and see at the collective museum. From a VR Van Gogh and Wink World's psychedelic, neon art show to a zip line and moving, aerial bar, there are so many things to experience at AREA15 that doing it all in one day may leave you in a complete daze.
Erotic Heritage Museum
Fittingly nicknamed, Sin City is a place where vices are celebrated, which makes the Erotic Heritage Museum an obvious choice for the city. The museum goes through the long, rich history of erotica, even dating back to ancient Rome.
Despite what you may be imagining, the Erotic Heritage Museum is a classical museum in the sense that there are no live people or sex shows taking place in the actual museum, though you can find plenty of those elsewhere in Vegas. The museum does play host to a private, naked yoga class once a week with a max of six individuals, though!
While not for everyone, some travelers who really dig the museum and find it to be the perfect place to celebrate love even get married in the museum's in-house chapel. Other events hosted at the museum include the live Puppetry of the Penis show in the Jewel Box Theater — if it wasn't clear, this show involved full frontal male nudity. The Erotic Heritage Museum has plenty to offer those who have an interest in erotic history and culture.
Museum of Selfies Las Vegas
Right on the strip within the LINQ Promenade, the Museum of Selfies is a quick and easy activity to fit into a trip to Las Vegas. The museum is a collection of maximalist sets that guests can insert themselves in for a selfie, which pretty much makes for the perfect keepsake of your trip or proof to everyone on your social media timeline that you're having a blast. It's an ideal modern museum and will make for a great way to keep the memory of your Vegas vacation alive.
The museum features an emoji pit where you can dive in and get covered with enough foam emojis to swim in and an endless room of mirrors and hanging lights that will have you seeing way more than double. From optical illusions to fully interactive sets, you'll find some crazy ways to take a selfie and show everyone that Vegas is a place unlike any other.
DISCOVERY Children's Museum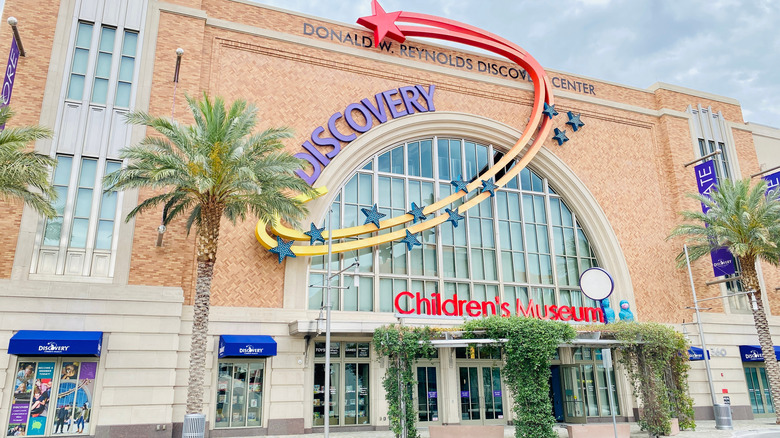 ZikG/Shutterstock
When most people think of Sin City, they think of wild Vegas bachelor parties and shotgun weddings, but the city is home to families and children as well. It's true there are certainly a wild amount of adult-only activities here, but the city comes through for the kids sometimes too, and the DISCOVERY Children's Museum is one of the best ways it does so. Though there are Children's Museums locations all over the country, none of them goes all out for the kids like this Las Vegas museum.
The DISCOVERY Children's Museum features three entire floors of exhibits geared toward children that will keep your family busy for hours. If you grew up reveling in McDonalds' play tower and ball pit, then you'll be amazed at the museum's Summit, which allows children to climb through a dozen levels that span all three floors of the museum while interacting with science exhibits and also getting a great view of downtown Vegas.
There's almost always something new and exciting happening at the Children's Museum other than the permanent museums. Check their events schedule before you head out to Vegas if you plan on visiting the museum so you can plan around whatever they have going on during your stay and your kids won't miss out on a fun and educational event.
Springs Preserve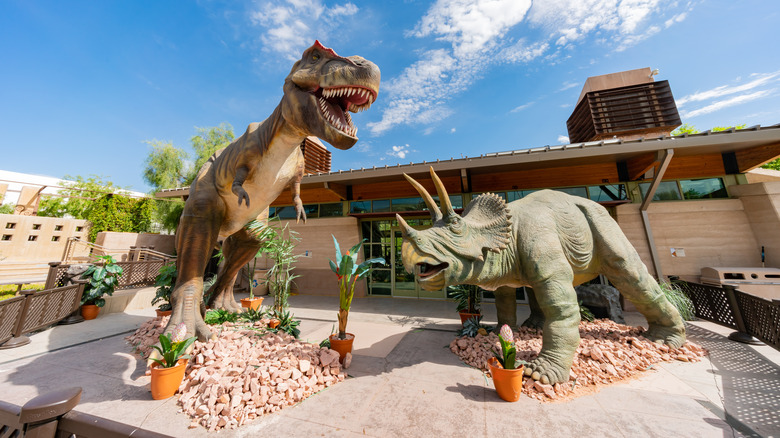 Kit Leong/Shutterstock
Las Vegas is a little bit of a neon jungle, but the city is surrounded by some epic outdoor attractions. Springs Preserve is one such attraction that can be found right in the city. With 180 acres of preserved land and history that aims to create a sustainable future, Springs Preserves is a great destination for the eco-minded.
The Springs Preserves offers educational value at every turn and is much more than gorgeous nature views. A pumping station is on display with lessons on harmful minerals that can get into water and the challenges people all around the world face in getting fresh water to drink. There's a butterfly habitat, dinosaur exhibit, and a recreated street from the early 1900s called Boomtown that tells visitors the story of how Las Vegas grew rapidly and what it looked like once upon a time.
Education is a focus toward children of all ages at Springs Preserve, and as younger children learn best from play, there is a main playground and various child friendly areas all throughout the preserve. Refreshing on a warm day, the site includes a splash pad geared toward toddlers and young children.
Nostalgia Street Rods
Las Vegas loves cars, and you don't have to go far to see vintage and restored cars on the strip and showcased in all kinds of businesses. Some travelers come to the city just to see luxury or classic cars, and several local chapels offer a wedding experience that involves a gorgeous car. There are a number of museums in the city dedicated to classic cars, but the coolest is probably Nostalgia Street Rods.
Stepping into the showroom of Nostalgia Street Rods is, if nothing else, a shiny experience. They have over 150 impressive items to feast your eyes on, all polished and in seemingly near mint condition. Splurging for the VIP experience will have you leaving with a new t-shirt and some seriously extensive knowledge from a 1-on-1 guided tour.
The classic hot rod museum has a nearly perfect score of Google Reviews, and hundreds of fans have raved about their experience here. Tons of reviews make it known that their expectations were not only met, but greatly exceeded and that the Nostalgia Street Rods is well worth a visit for travelers who have a love of cars and Americana.