How To Find Long-Term RV Parking Spaces For Rent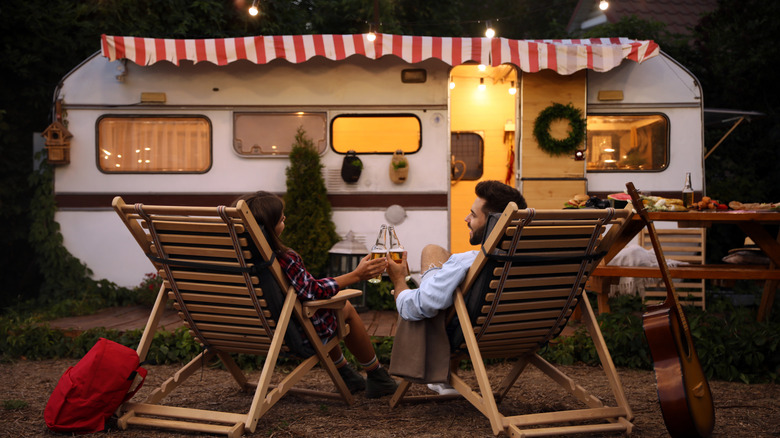 New Africa/Shutterstock
The RV lifestyle is becoming increasingly popular, which isn't surprising. The freedom to hit the open road to the next scenic park, fun event, or vibrant city is an enticing proposition. Those who choose to RV may travel full-time, part-time, or simply use their RV for weekend vacations. Although traveling may contribute to the allure of the RV lifestyle, it doesn't necessarily mean RVers drive around constantly. In fact, many choose to live in a particular place long-term.
Whether you're chasing (then staying to enjoy) seasonal weather, taking advantage of a job opportunity, or you simply prefer traveling slowly, there are plenty of reasons to park your rig for a month or longer. However, finding an ideal long-term RV space for rent can take a bit of planning. You'll need to explore your options while considering your preferred amenities, budget, and location. Finding a long-term RV parking spot isn't difficult, as they're a popular option for many RVers, but if you're staying for a while, you'll want to find the right space.
KOAs and high-end RV resorts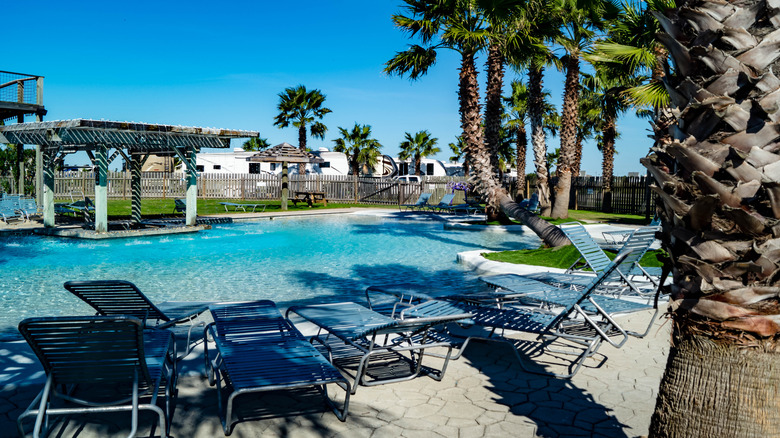 Jesse Stephens/Shutterstock
First, let's define "long-term" in terms of RVing. For most RV parks, long-term parking is generally considered parking somewhere for a month or longer. And these long-term parking spots aren't difficult to find. Many private RV parks offer short-term, long-term, seasonal, and annual RV parking options. Some parks may not advertise their long-term rates online, so you may need to contact the park directly. However, many RV parks actually prefer long-term tenants, as it cuts down on in-and-out traffic and guarantees revenue.
Choosing the right RV park for you will depend on your personal preferences. Luxury RV resorts typically only accommodate long-term RV spots and offer a range of high-end amenities, such as laundry facilities, pools, hot tubs, clubhouses, cabanas, and gyms. Unfortunately, these resorts can be booked solid for years, so you may need to join a waitlist to score an RV space for rent at popular luxury RV resorts.
KOA Campgrounds are ideal options for many long-term RVers. As the world's largest network of privately owned campgrounds, KOAs are located throughout the country in desirable locations. Also, KOAs offer three types of camping experiences for RVers: Holiday, Journey, and Resort. Each type of camping features its own amenities — from basic to resort-like — and price tags.
Campground and off-the-grid restrictions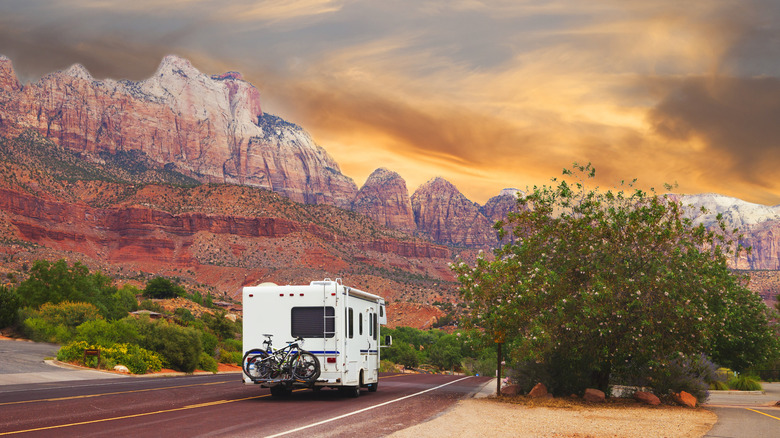 Stellalevi/Getty Images
For a more immersive experience in nature, you'd typically need to find private land to park your RV long-term. Typically, national parks, state parks, and other forms of government-owned land do not allow RVers to camp longer than a few weeks. For example, government-run campgrounds usually only allow RV parking for 14 consecutive days within a 30-day timeframe.
The public land operated by the Bureau of Land Management (BLM) has similar rules concerning boondocking. Boondocking is camping outside of a campground on public land. Boondocking is free, but you won't have access to any amenities or hookups. Many BLM sites also have stay limits of 14 consecutive days within a month's time.
To help you find the ideal long-term RV spot, Campendium is an excellent online resource, offering information on various RV parks, campgrounds, public and private land, and free RV parking options throughout the U.S. Simply choose the geographical region you'd like to explore, peruse all the long-term RV parking options, and hit the open road.