The Food-Lover's Guide To A Copenhagen Vacation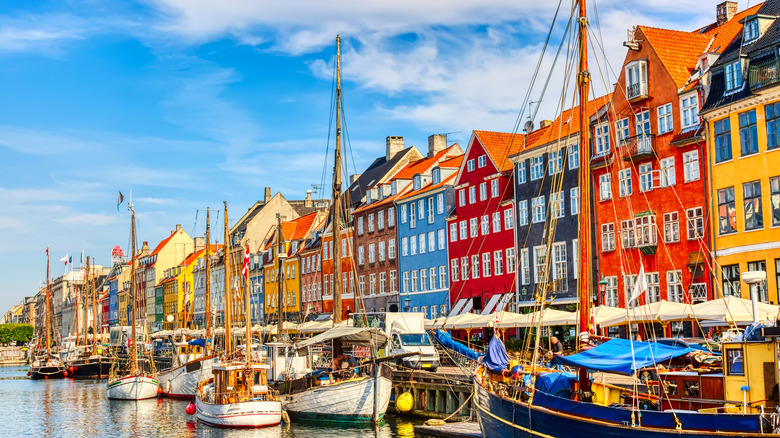 Nick N A/Shutterstock
Copenhagen restaurant Noma has worn the crown of the world's best restaurant for many years. However, the three-Michelin-starred establishment announced it would close its doors at the end of 2024, bringing about the end of an era. While Noma may have had a hand in Copenhagen's vibrant food scene, it no longer defines it, and Denmark's capital overflows with mouth-wateringly good food options. So those heading to Copenhagen to eat won't be disappointed even after Noma has gone.
With traditional Danish foods like smørrebrød and pastries, New Nordic cuisine, and international restaurants serving up everything from Italian to Japanese, there's something for every food lover in Copenhagen. And while Denmark and its restaurants can be expensive — lunch with wine at Noma can cost around $900 — Copenhagen's street food is every bit as delectable as its fine dining. Offering everything from hot dogs to herring, here are some of the best places to eat in Copenhagen.
Traditional Danish foods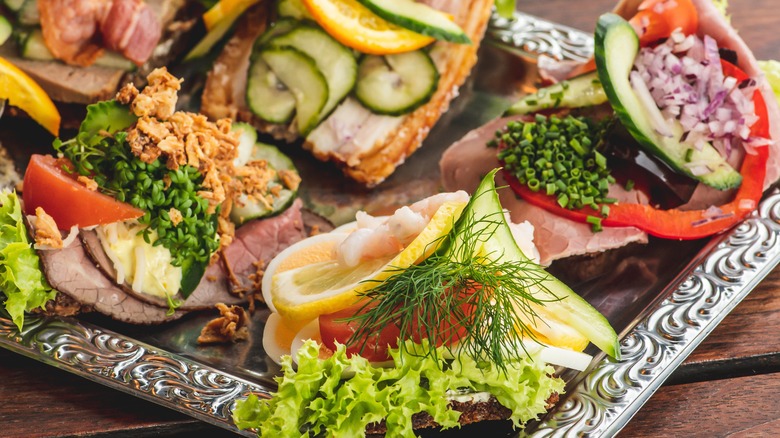 Michele Ursi/Shutterstock
When in Denmark, your first stop should be to try some traditional Danish food. The country is famous for its smørrebrød — an open-faced sandwich usually eaten at lunchtime. Smørrebrød is typically made of sourdough rye bread topped with meat, seafood (here's the herring), and/or cheese, plus some garnishes. These sandwiches are often piled so high with toppings that you need to eat them with a knife and fork. One of the best places to try them is at Aamanns, where traditional smørrebrød gets a modern twist. If you want to have a hands-on experience, try a smørrebrød cooking class. 
When you're ready for dinner, it's time to tuck into Denmark's national dish: stegt flæsk med persillesovs. This is hearty fare: pork belly with parsley sauce and potatoes. The best place to try this is in someone's grandparents' kitchen, but failing that, visit Restaurant Klubben, where the atmosphere is homely and the portions generous.
Seafood is also big in Denmark. For a truly traditional experience in beautiful surroundings, visit Krog's Fish Restaurant, one of Copenhagen's oldest restaurants, dating back to 1910. They serve a wide selection of sustainable fish and seafood, including oysters, scallops, and Norwegian king crab. 
New Nordic cuisine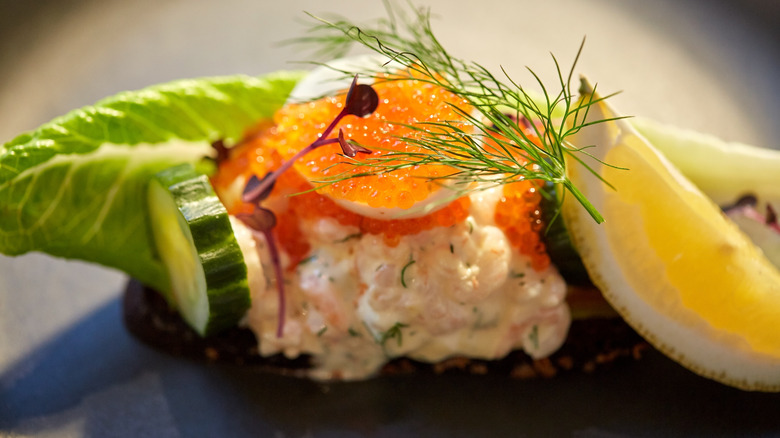 Ground Picture/Shutterstock
Sticking with local food but moving away from the traditional, Copenhagen is famous for New Nordic cuisine. "New Nordic [f]ood is food produced with care and with a focus on taste and diversity, forgotten varieties and breeds, old processing methods and new ideas in the kitchen," explains the Nordic Council of Ministers and the Nordic Council. 
Since the mid-2000s, the New Nordic food revolution has exploded in the Nordic countries, and Copenhagen is home to some of the best restaurants to try it. Noma was one of the pioneers of this type of food, but there are plenty of others. If you want to splash out, visit two-Michelin-starred Kadeau, where the menu changes seasonally. 
There is also Geranium, which was named the world's best restaurant by the World's 50 Best Restaurants in 2022. It's in a stunning location in the middle of Copenhagen. "Our mission is to create meals that involve all our senses — restores, challenges and enriches," explains the restaurant's official website. 
More affordable dining is available at Høst, where menu items include halibut and baked cod, and there is a vegetarian menu available. The restaurant has won numerous design awards, so you'll be dining in style.
International eats
Copenhagen is home to a lot of excellent international restaurants. For Italian-inspired cuisine, try Bæst. The organic restaurant has won many awards, including accolades for best pizza. 
If you fancy Japanese, you can't go wrong with a visit to Jah Izakaya & Sake Bar, where all dishes are served as they would be in a Japanese bar. They have a year-round menu, which includes classics like gyoza and sashimi, as well as a seasonal menu. Another popular Japanese place is Ramen to Bíiru, which serves a huge variety of ramen dishes and Japanese beer. It's a great place to get a budget bite to eat.
For a not-to-be-missed organic food experience, try Morgenstedet in the Christiania neighborhood. It serves an ever-changing menu of vegetarian home-cooked meals. "It has existed for more than 20 years on a concept of collectivism and a voluntary workforce," writes Visit Copenhagen. "This results in an intriguing mixture of cuisines; from Far Eastern to the Mediterranean, depending on what chef is on shift." It's really popular, so get there early!
Street food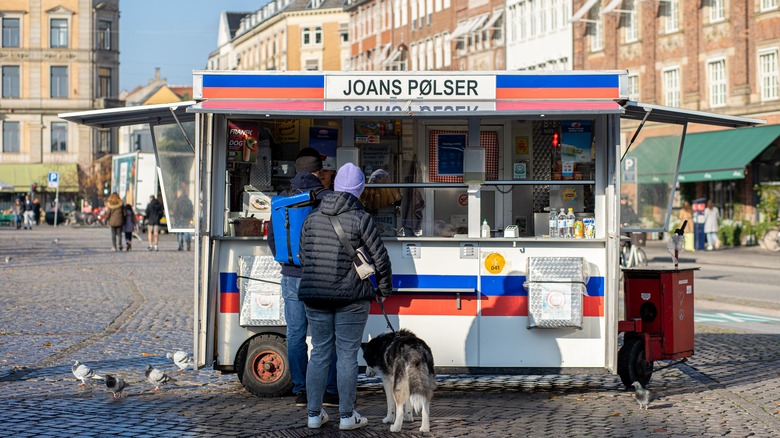 Oliver Foerstner/Shutterstock
Street food, whether in markets, carts, or food trucks, is very popular in Copenhagen. It's usually a cheaper alternative to eating in a restaurant, and there's a huge choice of different cuisines, including hot dogs, burgers, and Japanese food. Let's start with hot dogs, as they are the classic Danish street food. Hot dog vans are ubiquitous in the city, and popular ones include John's Hotdog Deli, famous for its homemade toppings and spicy sauce, and DØP, which sells organic hot dogs.
Wherever you're exploring, you'll probably stumble across a street food market in Copenhagen, and it's the perfect place to take a break from sightseeing. If you're in the hugely popular Tivoli Gardens, check out the Tivoli Food Hall, where there'll be something to suit everyone in your group, from lovers of Indian food to those who fancy North African or Mexican. For food with sustainability in mind, head to Reffen, a food market where all of the stalls follow low-waste strategies and where Nepalese and Kurdish food rubs shoulders with Cajun and Argentinian.
Bakeries and coffee culture
All right, this is what you've been waiting for. It's time to have a Danish pastry in Copenhagen. But first, luckily for you, there isn't one "Danish pastry" in Denmark. There are several, so you'll need to try them all. The one you probably know as a Danish pastry is called a spandauer, which has a little custard cream in the middle, but another famous one is the kanelsnegle, which is like a cinnamon roll.
For some of the city's best, go to Hart Bageri, or if you're looking for a more traditional vibe and some of the best cinnamon rolls in town, head to Sankt Peders Bageri, the oldest bakery in Copenhagen. Juno the Bakery is also beloved in Copenhagen, particularly for its appetizing cardamom rolls.
If you're about to fall into a food coma, never fear. Copenhagen's coffee is here. If you're serious about good coffee, head to Prolog, where they roast their own sustainably sourced beans. In fact, there are heaps of coffee shops in Copenhagen that roast their own beans, including ROAST Coffee and Coffee Collective. In all of them, you'll get to experience the cozy sense of hygge that Denmark has become known for.