How To Book Your Cruise And Flight Together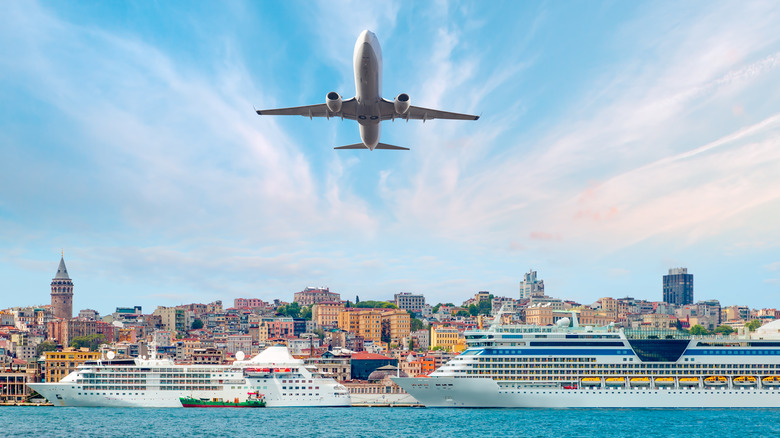 muratart/Shutterstock
When a well-deserved vacation is in order, nearly 30 million passengers across the globe choose to cruise annually. Whether you're heading to the Caribbean or looking forward to a European tour, cruising is an appealing way to travel. A cruise provides passengers access to a variety of destinations. It's often seen as a comprehensive and convenient form of travel where onboard luxuries can be as inviting as the ports of call.
Travel logistics are typically taken care of onboard, but getting to the ship can be another story. Many travelers who book a cruise are tempted to book airline tickets to the ship's point of departure after the cruise reservation is already in place. However, you might be setting yourself up for unnecessary stress and expenses when you choose this approach to planning.
The Bureau of Transportation Statistics reported its highest flight cancellation rate in a decade in 2022. Delays were also on the rise, giving travelers every reason to assume that modern flying comes with plenty of unexpected hurdles. When you're heading toward a cruise departure point and are faced with delays or flight cancellations, it can be an expensive and inevitably disappointing experience.
Fortunately, there are routes to booking your cruise and flights together that don't require plotting out time-sensitive connections on your own. There's no reason to tackle uncertain flight planning when you can eliminate the stress from the process altogether. A better option is to book your cruise and flight simultaneously directly through the cruise line.
Book through the cruise line and enjoy peace of mind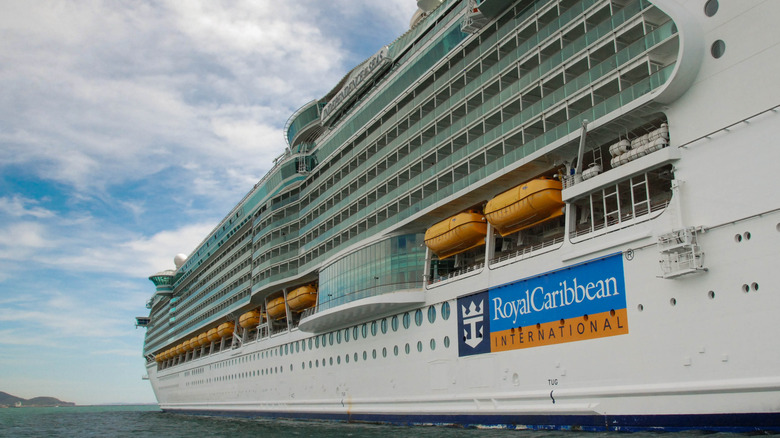 Ceri Breeze/Shutterstock
When a flight you've booked separately from your cruise reservation is canceled or delayed, there's a good chance you'll be responsible for booking an entirely new flight to meet your cruise at its first port of call. This is expensive and means missing a significant portion of your first sailing days. Your cruise is cut short and money that could have gone toward fun is now directed to additional flight costs.
That's what makes booking flights and a cruise together through the cruise line so reassuring. Booking airfare and cruises together is also a refreshingly simple process. Passengers just need to call up a cruise line representative directly to make their cruise reservations and receive flight options that suit their plans.
In many cases, cruise reservations that are made alongside flights through a cruise line come with some great guarantees that provide peace of mind. For example, many cruise lines will fly passengers to the first port of call if the flight they've booked through the cruise line is canceled or delayed. Cruise lines will typically cover the cost of a hotel in those situations too.
Many major cruise lines try to make combining flights and sailing experiences as smooth as possible through specialized reservation programs. Carnival operates Fly2Fun while Princess offers EZair booking options to passengers. If you're cruising with Holland America or Royal Caribbean, start your cruise and flight search at Flight Ease and Air2Sea respectively.
Consider the benefits of travel agent services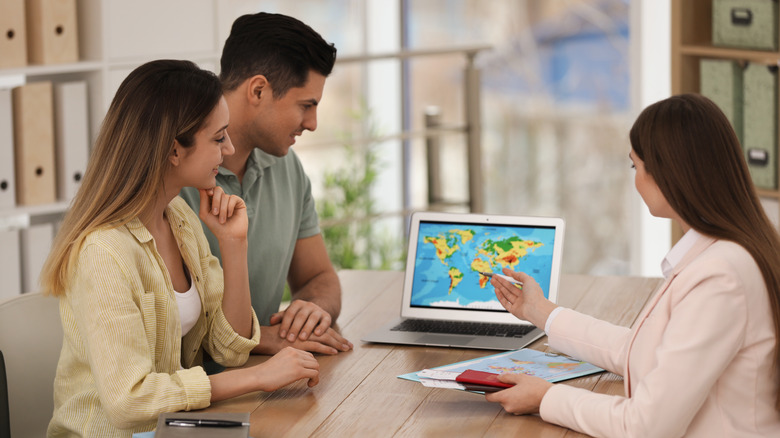 New Africa/Shutterstock
Another convenient option when you're ready to book a cruise and flight together is to go through a travel agent. Much like the cruise lines, travel agents who specialize in cruises often have access to special fares and flights. This is largely due to meticulously negotiated contracts with both cruise companies and airlines alike.
Many cruise travel agents have taken time to experience various cruise routes for themselves. This gives them first-hand experience with how flight times and cruise departures match up. That makes them a wonderful resource when you're looking for a stress-free booking experience that's well planned out too.
A travel agent is also a great choice when getting to your cruise requires multiple flight connections. Your agent will handle the reservations to ensure you get where you're going easily and successfully. They can adjust itineraries on your behalf to make sure you have plenty of time between flights to reach your next gate and are available to contact should problems arise.
If you ultimately remain completely committed to the idea of booking your cruise and flights on your own, there are still options for making the process more streamlined. In many cases, the reservation ID for the cruise you've booked can be used to search for corresponding flights online. This will likely lead you back to the cruise line's flight program and is a good route to making sure you reach your departure destination on time.