The Best Towns To Visit On The Great Lakes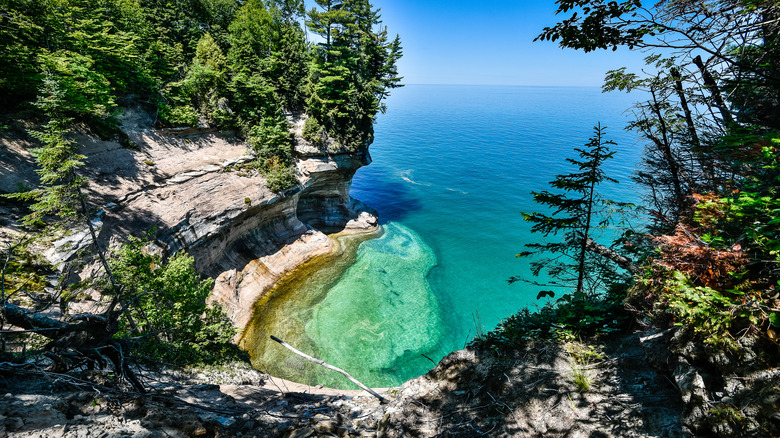 Travis J. Camp/Shutterstock
Just take a moment to look at the name of these bodies of water, and you'll realize how truly appropriate it is. The vast scope of the Great Lakes is mind-boggling, immense tracts that make up one-fifth of the freshwater supply on the planet, and that is really quite astounding. These five lakes — Erie, Huron, Michigan, Ontario, and Superior — bend and curl to create more than 9,000 miles of shore, and their total footprint is almost 95,000 square miles (to put that into context, that is larger than the United Kingdom). 
Straddling both the United States and Canada, they are like inland seas — standing on a shoreline here, they stretch far past where the eye can see — but seas without that irksome salt water. Just like seas, they promise rewarding opportunities for fans of the water. Anticipate picturesque views that, when snapped and posted, are sure to garner plenty of likes, activities galore, the restorative qualities of being somewhere by water, and open, clear geography that allows you to truly decompress. While the Great Lakes are dotted with peaceful towns and thrumming cities all around their curving shores, a number of destinations manage to capture the best of their environment. Here are some of the places worth visiting on the lakes, both in the U.S. and in Canada, towns that will make your lakeside getaway a trip to remember.
Chesterton, Indiana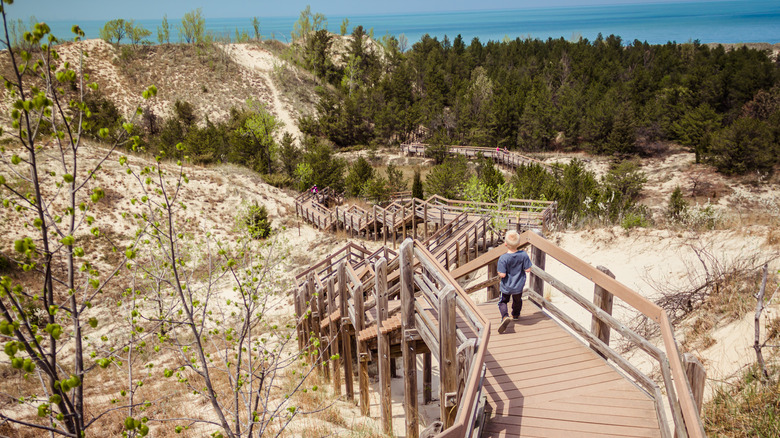 Jon Lauriat/Shutterstock
OK, without getting into semantics, Chesterton isn't strictly situated on one of the Great Lakes. But this town that is only an hour's drive from Chicago, with a vibrant artistic tradition, sits just inland from Lake Michigan. What makes it worth adding to this list is its proximity to striking natural wonders, sitting a little to its north — Indiana Dunes National Park and the neighboring Indiana Dunes State Park. 
Molded by the forces of wind and the waters of Lake Michigan, these two habitats extend along the shore, and promise visitors towering dunes, areas of thick woodland, wetlands visited by rich avian life, and fine beaches along the coast. Together, they cover more than 17,000 acres, and hiking trails here allow travelers to explore the wilderness in more detail. Back in Chesterton, you will find a number of art studios and galleries, independent boutiques that stock accessories made by local artists, and even a book store that dates to 1882.
Winthrop Harbor, Illinois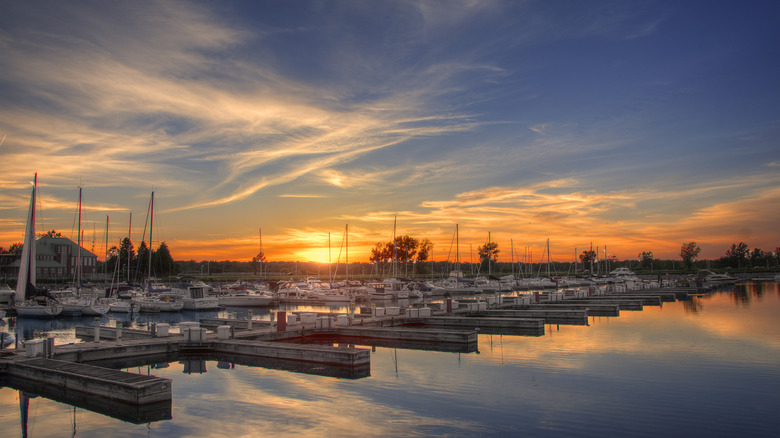 Ray Flores/Shutterstock
A peaceful town right by the border with Wisconsin, Winthrop Harbor totally makes the most of its waterfront location. This is where to find the huge North Point Marina, which spreads over more than 4,000 acres of preserves, features in excess of six miles of coast, and that houses boat slips for 1,500 vessels, making it the largest marina anywhere on the Great Lakes. It's a boat-lover's Nirvana, not just for the array of ships here, but also the opportunities that present themselves. Visitors can charter a boat on the lake, either for simple sailing excursions, or for the hugely popular fishing trips organized here, lured by a lake bursting with trout and salmon. 
Elsewhere, there is a fishing pier directly on the lake, and fishing ponds throughout the town and nearby areas. Nature lovers will enjoy the network of hiking and biking trails through the built-up areas (like the Robert McClory bike path) and expanses of wilderness. These include the North Dunes Nature Preserve, a tableau of beaches, prairies, wild fields, and wetland that sustain the ecosystem thriving with plants and wildlife — visitors can encounter unusual flora like the downy yellow painted cup, and trailing juniper, as well are birds like the Henslow's sparrow, and common snipe. Hawks even frequent the area during times of migration. Given its easterly orientation, sunrises here, over the lake, are magnificent.
Grand Haven, Michigan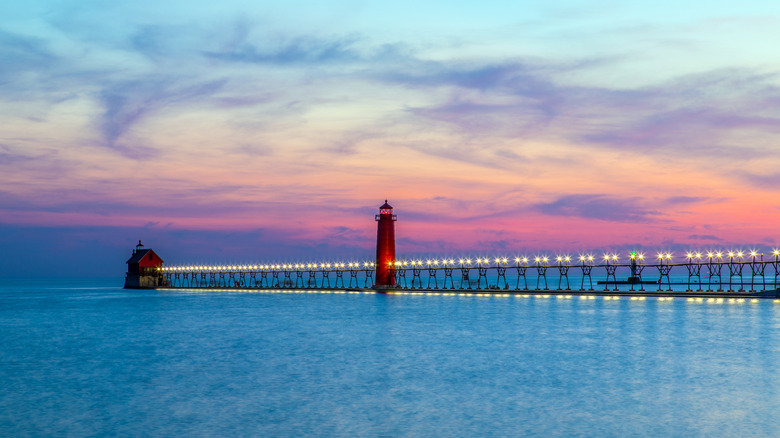 Frederick Millett/Shutterstock
This town on Lake Michigan has a genesis that dates to the 1800s as a fur-trading post and later as a hub for the lumber industry. In the 1850s, when the rail line opened, it heralded the advent of the growth of manufacturing, and of tourism, when visitors started to experience the lake's multifold delights. The water continues to appeal to tourists, especially when seen from the town's 2.5-mile boardwalk, a highlight of any visit, or the broad sandy beaches that are a hallmark of Grand Haven. But the town isn't simply a summer destination that resigns itself to a faded, sleepy existence for the rest of the year — this town has things to do in any season. 
During the summer, visitors of all ages marvel at the Grand Haven Musical Fountain, a light and water show that plays throughout the season with different shows each night. Great photos entice travelers to the lighthouse, which looks over the lake's still waters, while the town center retains a historic old-world charm. Biking trails and nature parks are attractions at any time of the year, and festivals occur throughout the seasons, with a kite festival in the spring, a coast guard festival in the winter, and even a Winterfest at the local ski area. Keep an eye out for the sledding competition where artfully designed vehicles are made of cardboard!
Leland, Michigan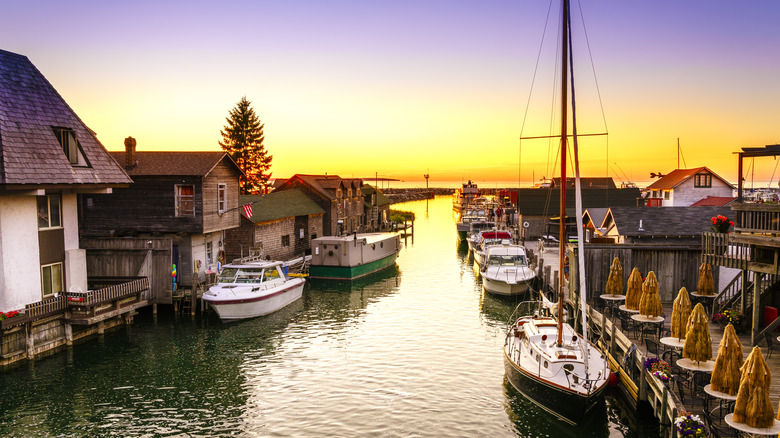 Alexey Stiop/Shutterstock
This destination actually sits between two lakes, making it a water-lover's paradise. Leland is a small town, a blip on the map, set between Lake Michigan and Lake Leelanau, with dramatic coastal scenery and effortlessly exuding a classic, old-fishing-village atmosphere. It's a very compact place, a quaint hamlet that is intimately connected to the water, and all its numerous lodging options, shops, museums or art galleries, and access points to the lake close to each other, so it's eminently walkable. 
Many visitors come here for the Whaleback Natural Area, Leland's prize, a bluff that sits above the lake like a slumbering giant, and that has a viewing platform with views of nearby North Manitou and South Manitou islands, especially stunning at sunset. The natural beauty here is astounding, from the clear blue seas of Lake Michigan to the mammoth oak and hemlock trees and the chance to spot bald eagles. You can explore the area on a hilltop walk on a loop trail that is steep at times but is worth the exertion, especially during fall's changing of colors.
Mackinac Island, Michigan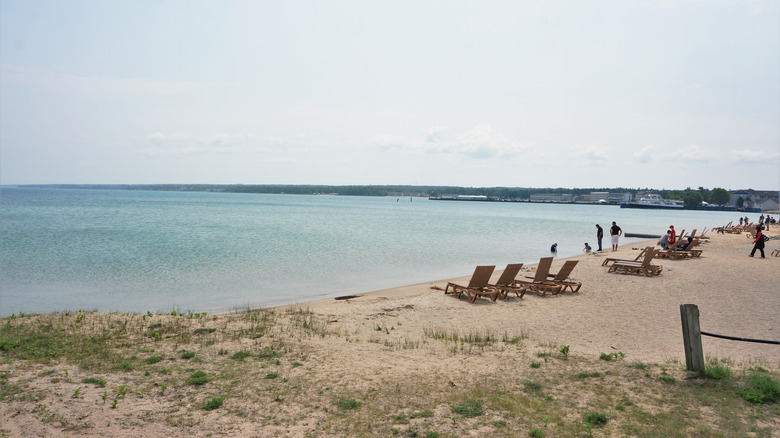 Carroll Minji/Shutterstock
A historic vacation spot for Michiganders, and even those from out of state, this place feels like a throwback in time. Much of that is due to the absence of a specific sight that is commonplace throughout the United States — and indeed the world over — cars. Motor vehicles are not allowed on this island that is located close to where Lake Huron and Lake Michigan meet. An ordinance dating to the early 1900s banned cars from the island and has been in place ever since, becoming state law in 1960. Even electric bikes are banned here! 
The island is mostly part of a state park and is refreshing for its simplicity, a charm not lost on the droves of tourists that descend here to enjoy the island's yesteryear feel. Most people get around by walking, by renting one of the bicycles that appear around the isle, while some like to take a photo of themselves being ferried around in a horse-drawn carriage. Given the strong tourism industry here, there is plenty of choice for places to stay, destinations for dining, nightlife, shopping, art galleries, and an extravagant number of fudge shops.
Munising, Michigan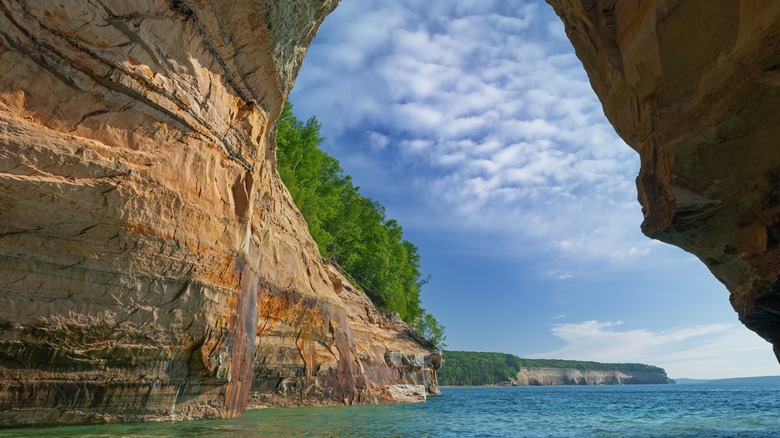 Dean Pennala/Shutterstock
This town set around a bay has a sizeable trove of hotels and motels where visitors can stay, many of them using Munising as a launching pad for visits to Pictured Rocks National Lakeshore, a few miles northeast of here. A realm of incredible beauty, the lakeshore is a year-round destination, with snowshoeing, skiing, and ice climbing among the enticements during the colder months. But to not visit when it's warmer would be a shame, for to cast your eyes upon the jagged, craggy cliffs along the indented coastline, strips of colors gleaming in the light, the cliff faces eroded by water and wind, is a feast for the eyes (the photos will also be stunning!).
You can get close to the cliffs on a boat tour, or aboard a kayaking trip where you might even be able to slide through a natural arch. The park also features walking trails and inland lakes, but the lakefront, with the cliffs and some fine beaches, is definitely the star attraction (the fall colors are stupendous). Munising has a number of lighthouses in town, waterfalls nearby, and even local diving sites with underwater sea caves and shipwrecks.
New Buffalo, Michigan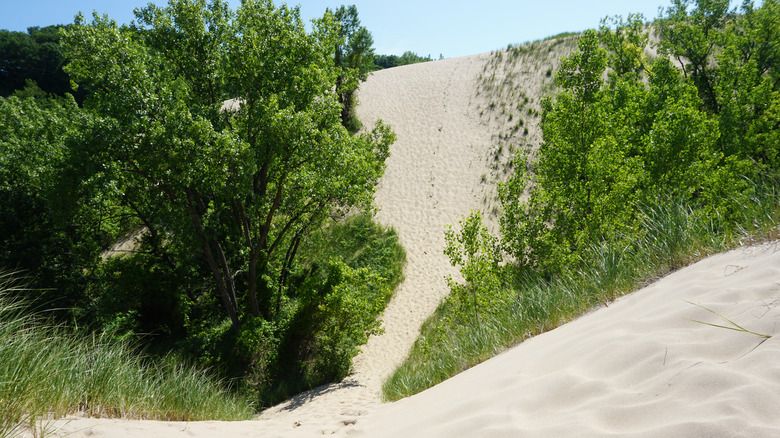 margalus/Shutterstock
Chicago is a striking city, with architecture to make the heart melt and a lakefront that skirts its eastern edge. But swimming here is not for everyone, even if the city has swimmable stretches. Just an hour away, about 70 miles by car, New Buffalo has fantastic sandy beaches that make wading into the lake a joy. It's a lively community with a low-key beach vibe and an easy getaway from that Illinois metropolis. The vibrant food and drink scene includes the bright bakery Froehlich's, which also has a restaurant and store across the street. 
Shoppers will find plenty to keep them entertained, with antique shops and outlets selling vintage clothing and more. While the water is great for swimming, it's also where travelers will find water sports enthusiasts practicing their kayaking, paddle-boarding, and other aquatic activities, while nearby cycling routes will keep sporty types occupied. Just northeast of town, Warren Dunes State Park supplies soaring dunes and is popular with hang gliders and with hikers that explore its array of trails.
South Haven, Michigan
Kenneth Keifer/Shutterstock
If there's one thing you might remember from a trip to this city almost due west of Kalamazoo, it's the sunsets. They are, simply put, breathtaking, especially when seen from the beach next to the pier, the one that has the historic lighthouse at the end. Here, as the sun sinks into the still waters of Lake Michigan, casting the lighthouse into a silhouette, life will suddenly seem so simple, uncomplicated, created for the sole purpose of enjoying this silky moment. 
Beyond the sunsets, of course, South Haven has plenty to offer. There are many galleries and museums, including a car museum, farms in the surrounding area where you can pick your own produce (including peaches, apples, raspberries, and blueberries), and even a raceway for an injection of excitement. Adventurers can get on the lake with rentals of paddle-boards, kayaks, or dinghies, while outfitters also rent bicycles, and street-legal golf carts that will get visitors around town, though the core of South Haven is compact enough that walking to most sites is a breeze.
St. Joseph, Michigan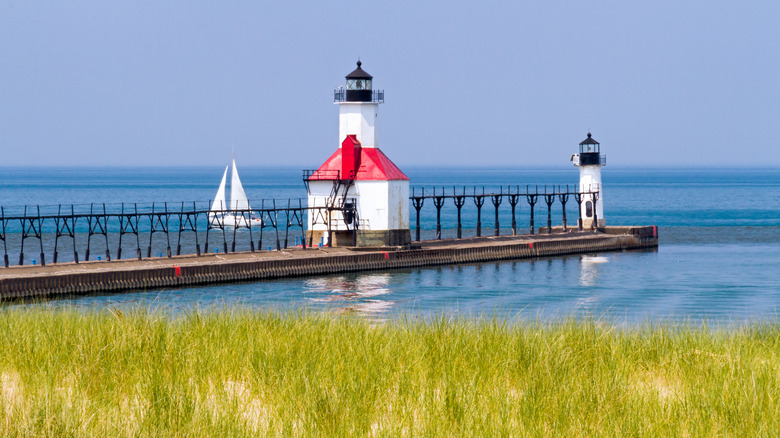 Kenneth Keifer/Shutterstock
The North Pier lighthouse, more than a century old, is a popular gathering spot in this town in the southwest of the state. It's especially alluring at sunset, the hues of the dusk sky turning the whole panorama into a live canvas of sorts. Visitors to this town will certainly enjoy the beaches on Lake Michigan, where the sand is golden and soft to the touch, and the water is clear and calm. The town becomes a hotbed of activity during the summer, with festivals, live music concerts, and bustling markets. 
Each year, from May through October, Lake Bluff Park (it has fabulous views of Lake Michigan), holds an antiques market on the first Sunday of the month, great for bargain hunters looking for that something special and casual perusers that can't resist a bit of window shopping. No visit to St. Joseph would be complete without dropping by Krasl Art Center, a nexus with galleries, art studios, sculptures, and a darkroom for black-and-white photo development.
Traverse City, Michigan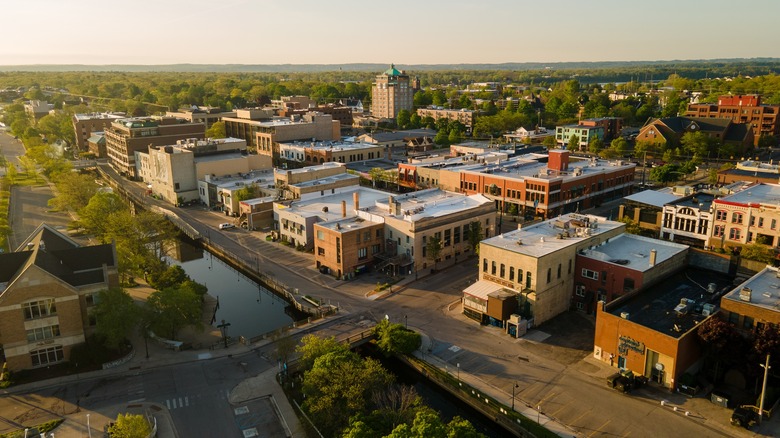 Matthew G Eddy/Shutterstock
Each summer, Traverse City explodes into a realm of blood-red bliss — this is when the annual National Cherry Festival takes place (this year from July 1-8). First started in 1925, it was a way for the town to mark the rich vein of cherry production in the area and has gone from strength to strength ever since, with half-a-million people expected to attend. In addition to celebrating the joys of that tart/sweet, hard-pitted, small fruit, the festival is where to encounter a classic car show, an air show, cherry-pit spitting contests, an amusement park, live music concerts, and fireworks displays. Expect a whirlwind of activity and fun. 
The festival isn't the only reason to visit this city. Nearby, another small, juicy fruit garners plaudits — grapes form the cornerstone of the excellent wine businesses located near Traverse City, with 40 wineries dotted around the area. And a visit to Sleeping Bear Dunes National Lakeshore, north of the city, is a must, with forests and grand dunes, high above the lake, weaving a magical arena ripe for exploration.
Grand Marais, Minnesota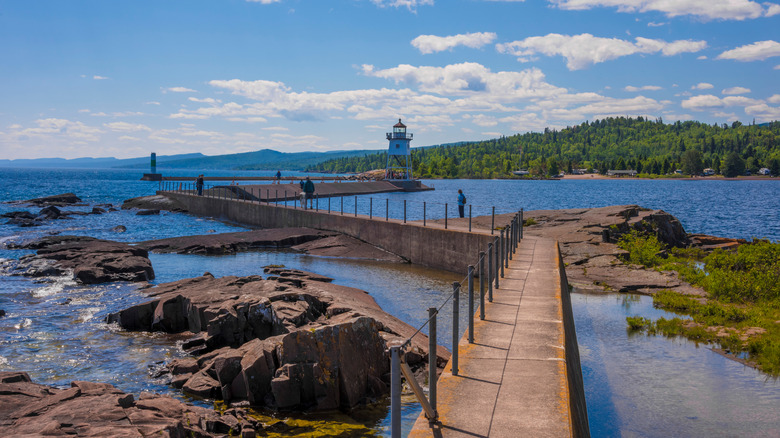 Craig Hinton/Shutterstock
An artsy, bohemian hub with fabulous mountain biking nearby, this town not far from the Canadian border is an energizing escape. Creativity pulses through the city, perhaps drawing inspiration from the setting, sandwiched between Lake Superior and the undulating Sawtooth Mountains. Grand Marais has its own art colony, a generator of artistic excellence in the region, and a space where local talents are able to explore and create. Visitors can learn to paint the outdoors, study print-making, get a grasp on the unforgiving nature of painting with oil, learn about ceramics molded on a wheel, and much more. Working with your hands is also key at North House Folk School, where travelers can enroll in traditional crafting workshops on topics such as boatbuilding, blacksmithing, basketry, and wood carving. 
While boating on Lake Superior is a fun way to get out on the water, more in-depth exploration is available at the thousands of lakes just inland from Grand Marais, with fabulous options around the Boundary Waters Canoe Area Wilderness.
Cobourg, Ontario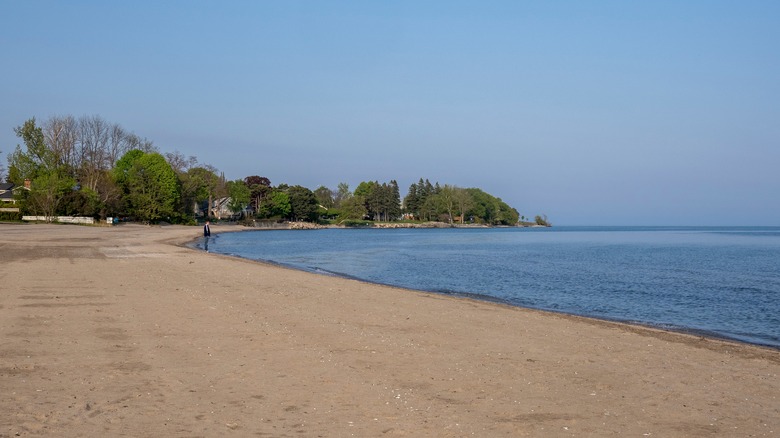 Dgu/Shutterstock
For a quaint small town that's not on the typical tourist radar, located on Lake Ontario, Cobourg certainly punches above its weight in its variety of festivals. Each summer, its Highland Games celebrate the country's Scottish culture, with strength contests, bagpipe performances, dancing, and plenty of artisanal crafts for sale. Earlier in the summer season, the Strawberry Festival brings that juicy sweet fruit to the focus, with live music, and a grand assortment of goodies made from the seasonal delight. 
At other times of the year, the town puts on a blues festival, a fete that honors the waterfront location of the town, and an event to mark the joy of Christmas. Of course, Cobourg also promises visitors a fine beach, with calm, clear, clean, blue waters suitable for the entire family, a beachfront promenade, and pretty parklands. Boat rentals for trips further out into the lake are available at the town's two marinas, and families can also enjoy the outdoors by picking peaches, pears, and apples at Moore Orchards.
Kincardine, Ontario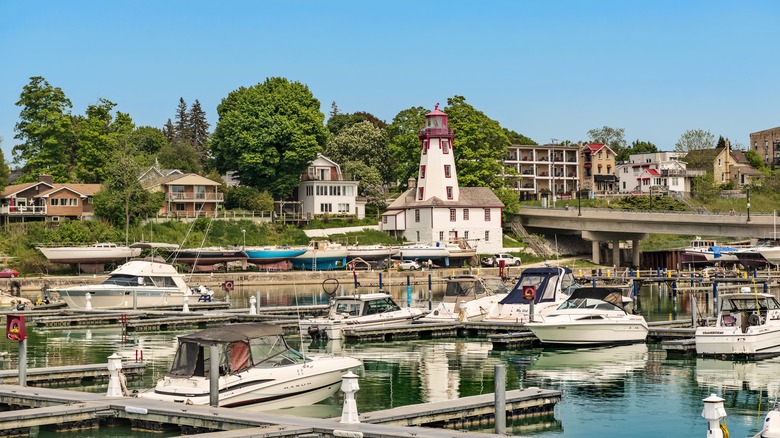 Marek Poplawski/Shutterstock
A small settlement about three hours northwest of Toronto, Kincardine has a lovely setting on Lake Huron. There's plenty to do on the lake, but, looking inward, the town is a fascinating repository for public art. It's all around the town, and varies in subject matter, an eclectic melange that casts a light on history, whimsy, and delicate artistry. There is an art walk in Kincardine, taking in street scenes from the early 20th century, a crosswalk of the Pride flag, murals that showcase the bustling harbor, a playground of musical instruments, and a sculpture of a mythical Scottish sea creature known as the Selkie. 
In the nearby town of Tiverton, one mural looks at life in days of yore there, showing a farmer in overalls using horses and a plow to work his land, while a wood carving made using a chainsaw represents an old king. Back to nature, the town has tons of parks, a wonderful beach with a pier, and trails of varying difficulty that are used by cyclists and walkers.
Terrace Bay, Ontario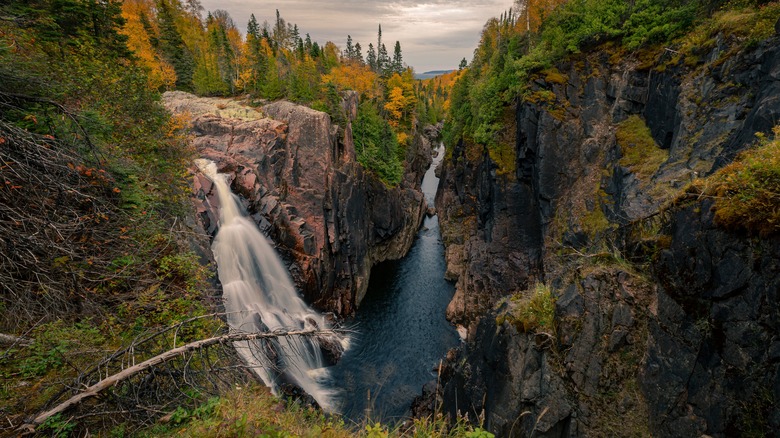 Boxcar Media/Shutterstock
Blink and you might miss this tiny town with about 1,500 residents, but to pass it by would be a mistake. Anchored by a bright lighthouse that's not huge but that dominates the scenery, the town is picturesque, with marvelous views of the lake and Slate Islands Provincial Park a few miles offshore. Summer visitors will be sure to spend some time on Terrace Bay Beach, with gentle waves lapping at the shore. Around the town, the options for trips into the wilderness are impressive. Aguasabon Falls and Gorge couples a thundering, 100-foot cascade, especially powerful in the spring, with a gorge carved into rocks that are billions of years old (expect some great hiking). 
Another place primed for wandering is the Casque Isles Hiking Trail, a 33-mile stretch broken up into five sections, and with a number of different entry points, allowing hikers of any experience to complete parts of it. Walk here and you'll see forests, overlooks of the lake, and tracts of unspoiled wilderness. Be sure to leave some time to venture to Slate Islands Provincial Park, perfect to kayak around, and home to wild, woodland caribou, and arctic-alpine plants. Some theories believe the islands can trace their origins to a fallen meteorite.
Thessalon, Ontario
By the Thessalon River and Lake Huron, this destination is great for water sports lovers, located a short drive from Sault Ste. Marie — a town that exists both in Ontario and Michigan. Summer's warmer climes make this town a joy for kayaking, fishing, hitting the water on a boat, wading in the lake's calm environment, and paddling around the shore on a stand-up paddleboard or canoe. The sand beaches are also fine for lounging on. But it's not just sun seekers that are drawn to this part of the state. 
The town is a meeting point for birds during the twice-annual migrations seasons — spring and fall — with birds such as warblers and sparrows filling the air with their intoxicating songs. Seagulls and shorebirds tend to congregate at the beach or by the marina, a facility that has 40 slips, while birds of prey like hawks and falcons roam and soar above the open areas of land just north of town. Perhaps Thessalon's most photographed subjects are the old-style, metal Red Bridge, first unveiled in the 1880s, and beautiful for its aged simplicity, and the trees burnished with color each fall.
Tobermory, Ontario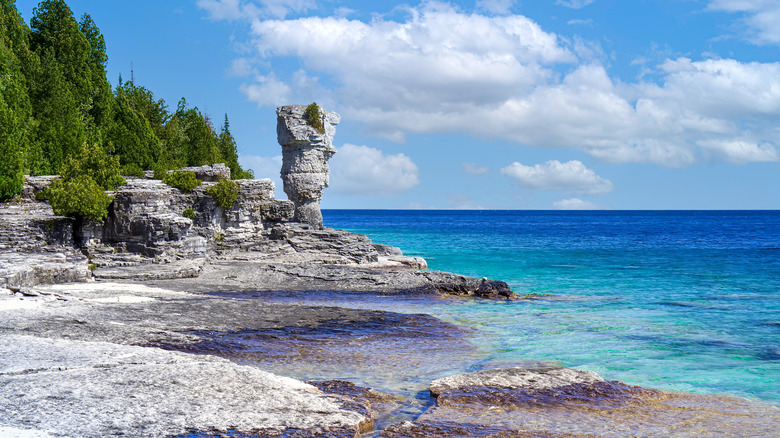 eskystudio/Shutterstock
You can explore some gorgeous natural areas from this town on the Bruce Peninsula. Trips into Bruce Peninsula National Park allow adventurers to hike to limestone cliffs, beaches that cede to crystal-clear blue water, fir, spruce, and aspen forests, and wetlands teeming with flora and fauna — orchids, ferns, deer, beavers, foxes, and hares. You can get a closer look at the water with an excursion to Fathom Five National Marine Park, with supreme snorkeling and diving, and the chance to saunter around the caves and rock towers of Flowerpot Island. 
In town, and located in a former school, the St. Edmunds Bruce Peninsula Museum may have only opened in 1967, but it feels much older because its building dates to the late 1800s. It houses historic property documents, old photographs that trace the area's evolution, and tools and displays on the industries of fishing, lumber, and hunting, all important parts of the town's history. The marine past is also explored, with maps, and items from shipwrecks exhibited, while an old recreated log house, set on the grounds, recreates the living conditions here in the 19th century.
Bayfield, Wisconsin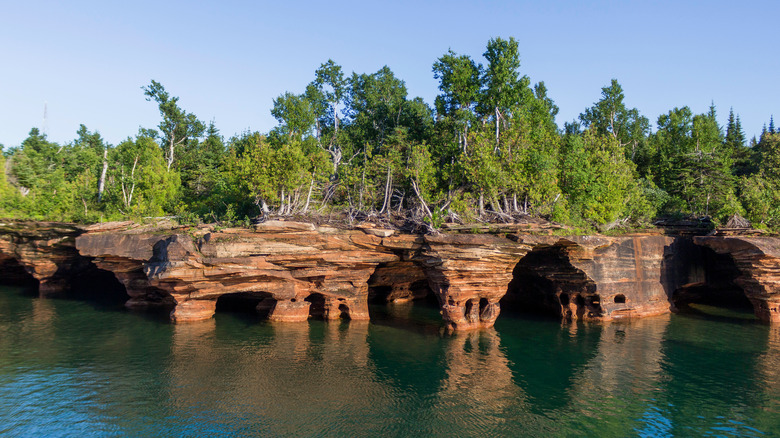 Gottography/Shutterstock
If you want to experience some of the best kayaking in North America, you've come to the right place. This town on Lake Superior is where many visitors come to launch their trips into the Apostle Islands National Lakeshore. Comprising 21 dots of land set just beyond Bayfield Peninsula, the islands are unforgettable for their physicality — sandstone rock from the Precambrian area relentlessly eroded over time, creating sea caves, grottos, beaches, curved cliffs of banded, bright color, a scene that at times looks like a miniature Grand Canyon but set by a large body of water. 
Hemlock and pine trees top the terrain, but it is what you'll see from the water that will really take your breath away — join a kayaking tour for the most thrilling way to see the formations. Beyond this once-in-a-lifetime natural wonder, Bayfield allows travelers to enjoy summer music festivals and live music at Big Top Chautauqua, visit a maritime museum, and pick fresh produce from nearby orchards.