What To Consider Before Buying A Vacation Home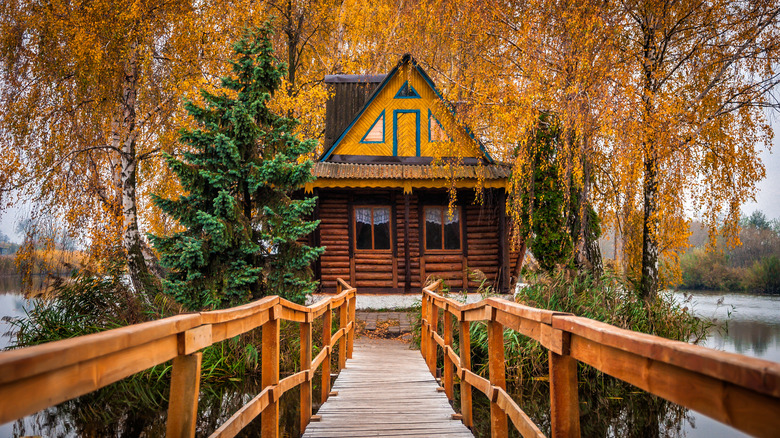 Alina Filatova/Shutterstock
Ever dreamed of having your own little getaway pad somewhere? Maybe you want a place in the mountains where you can ski during every winter break and hike in the summer. Or perhaps you'd rather have a home at the beach in Florida, where you can enjoy warm weather year-round.
A vacation home can be an excellent investment, not just monetarily, but to give you and your family a home away from home to escape to year after year. There's something really special about going somewhere familiar but that's away from the stresses of everyday life. Somewhere you can slip into vacation mode immediately because you already know the best beaches or hiking trails and which shop sells the tastiest ice cream in town. Whatever your dream is, before you make it a reality and put down your hard-earned dollars, there are many things to consider before you buy a vacation home.
Location is the place to start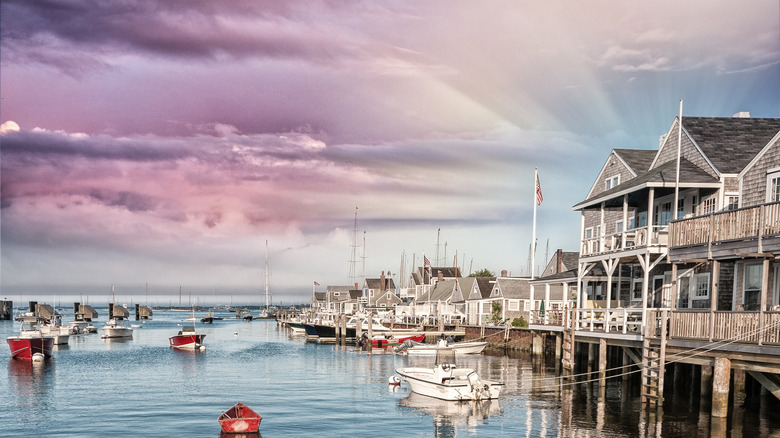 GagliardiPhotography/Shutterstock
Location is one of the primary considerations when buying a vacation home. Our advice: don't buy emotionally. One sublime trip to Key West doesn't mean you should buy a vacation home there as soon as you get home. Accessibility is a key consideration. Think about whether you want to be able to drive there or if there are reasonably priced, direct flights from a nearby airport. You are not going to want to take three flights plus a boat journey to your vacation home several times a year. A survey conducted by Pacaso found that 87% of people wanted to be able to drive to their second home, and 64% wanted to be able to get there in four hours or less.
Next, visit in different seasons. Yes, coastal Maine is stunning in July, but what about in January? Consider the amenities nearby, too — does everything shut down in the low season, or will you still be able to visit your favorite coffee shop? It's a good idea to buy somewhere that's buzzing year-round, like Naples, Florida, where the weather is almost always invitingly warm, or Lake Tahoe, where there are outdoor activities at all times of the year.
Once you've nailed your general location, choose the neighborhood carefully. Research local crime rates (especially important as your property will be unoccupied at times) and check if there are other holiday homes in the area. It's also worth finding out how walkable the neighborhood is so you can have a car-free vacation.
Now think lifestyle and expectations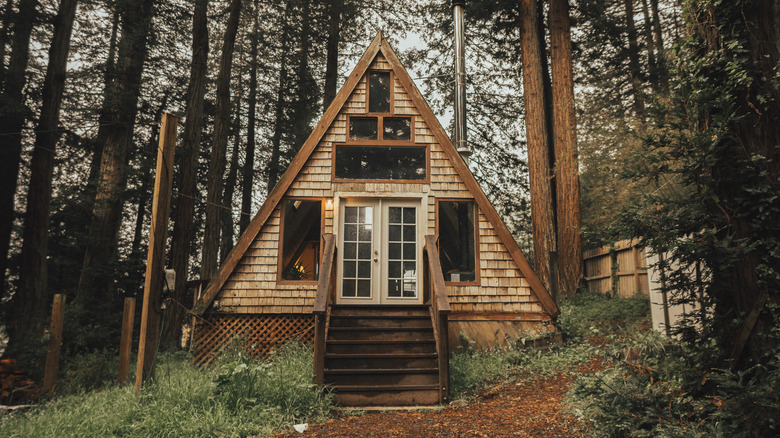 Sean Jorg/Shutterstock
Next, think realistically about your lifestyle and how often you're going to use a vacation home if you buy one. If you only get two weeks' vacation a year, is the house going to sit empty for the rest of the time? If you want to rent it, then it might still make sense (more on that below.)
A big concern in the Reddit r/AskMenOver30 forum is that having a vacation home limits you to holidaying in one place all the time, with one user writing they feel locked into vacationing at their second home all the time to make it worth it. Think about how much you value new experiences on your trips.
Other things to think about are the ongoing repairs at your vacation home. Users in the same Reddit forum mention having to do repairs on their second homes often. This would eat into your vacation time, so you need to be prepared for the fact that your vacation isn't going to be entirely relaxing. You can counteract this by buying a property that needs little maintenance, like a new-build condo. You should also factor in availability of nearby repair professionals. An isolated cabin is an oasis, except when the pipes freeze and there are no plumbers within 100 miles.  
To rent or not to rent?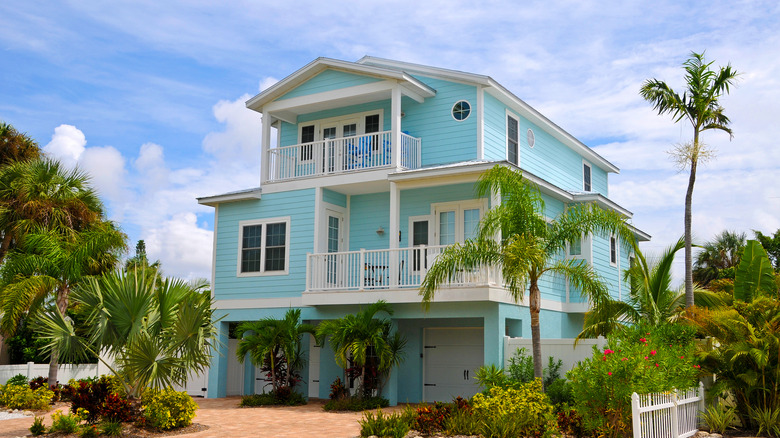 Mark Winfrey/Shutterstock
That is, do you want to rent out your vacation home or not? It seems like a sensible way to make some extra income, but there are important things to consider. Firstly, check whether you can rent the house at all. Zoning restrictions or Home Owner Association (HOA) regulations may not allow it.
If you want to rent, be aware that to maximize your income, you'll need to rent your home out during the high season. That means you'll have to sacrifice some of your vacation time there, which makes it even more important to visit the location during the off-season before you buy. Check occupancy rates and prices in the neighborhood to get an idea of how much you could make via renting.
There are several reasons why you might not want to rent out a vacation property, too. As several users in the Reddit r/fatFIRE forum point out, one of the joys of having a vacation home is that you can store your things there and just turn up with a small bag. If you rent, you'll need to factor in the extra maintenance costs of having tons of strangers passing through your home.
Finances are realistically the most important consideration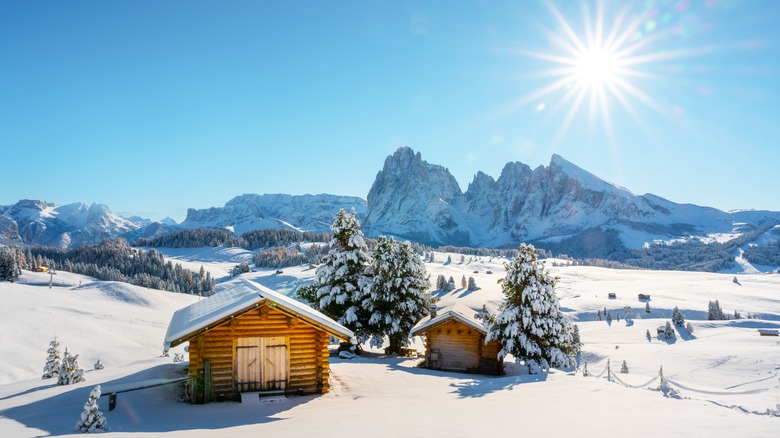 Smit/Shutterstock
Can you afford to buy a vacation home? It's not just the initial purchase price, but the cost of upkeep, insurance, HOA fees, and local taxes that you need to take into account. You'll likely need to employ a property management service to take care of the home while you're not there, and this will also cost money. They can do maintenance and repairs to the home for you, which will be a lifesaver (or at least a home-saver) when that aforementioned pipe freezes in the winter.
If you're renting, you will probably want to get a management service in to help you, and certainly, you'll need someone to do the cleaning between renters unless you plan to go to the house every time. These costs reduce the rental income you can expect. However, there are tax breaks available for homeowners who rent out their properties for a specified length of time during the year, which can help increase profitability.
Choose the right agent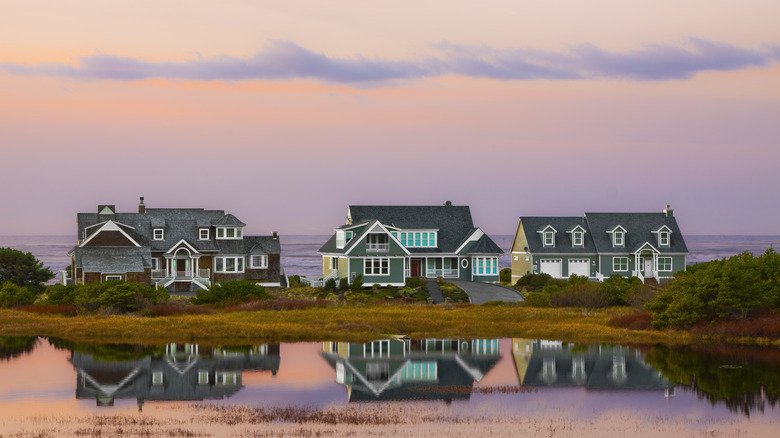 Bendc/Getty Images
Finally, choose a local real estate agent who specializes in vacation home purchases. The National Association of Realtors offers a Resort and Second-Home Property Specialist certification, so it's worth looking for a realtor who has that. An experienced realtor will also be aware of local regulations on renting and may be able to help you to maximize your income by advising you on which properties make the most sense in the local rental market. They will likely also be able to put you in touch with a reliable property manager.
Real estate agents will also know the local area well, so they'll be able to tell you if there are planned roadworks or construction work near a property or whether the charming little town you're looking at really is a year-round community. Buying a second home is a huge financial investment, so do your due diligence before putting down a deposit on your ideal abode.