5 May Day Celebrations European Tourists Don't Want To Miss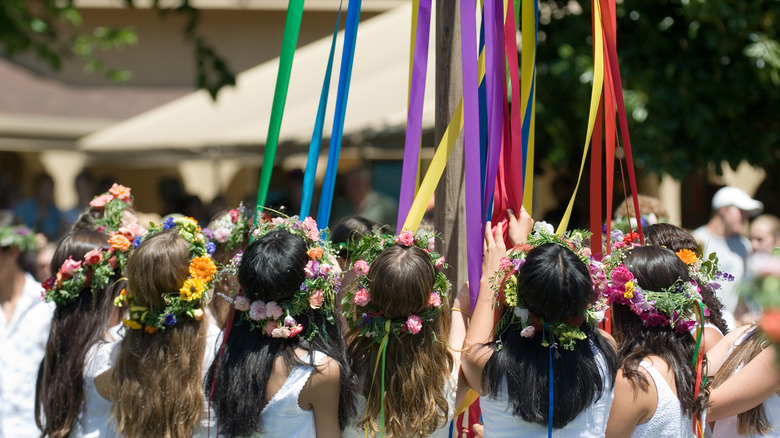 Sarradet/Getty Images
Depending on where you find yourself, the way you celebrate May Day could look drastically different. That's because the holiday itself has varying origin stories and is viewed through different cultural and historical lenses from one country to the next. In some places, May Day is seen as a moment to celebrate the arrival of spring. In others, it's viewed as a celebration of workers' rights. Both are valid and linked to defining moments in history.
An association between May Day celebrations and the arrival of spring dates back to the time of the ancient Greeks and Romans. During this era, the season was often celebrated by gathering flowers, weaving floral garlands, and dancing around a Maypole. Participating was thought to encourage a productive season of crops and livestock ahead.
Celebrating the arrival of spring was the exclusive focus of May Day festivities through the 19th century. At this time, the first day of May was designated International Workers' Day. A labor movement took hold in 1886 in Chicago which saw protesters advocating for a standard 8-hour work day and more workers' rights. The confrontation between demonstrators and police turned violent but resulted in dramatic workplace changes and protections.
May Day in the U.S. is typically marked with the simple giving of May baskets. Travel to Europe and you'll find more in the way of large-scale May Day festivities underway. Across the continent, tourists can participate in exciting celebrations that are truly one-of-a-kind.
Start celebrating May Day early in Germany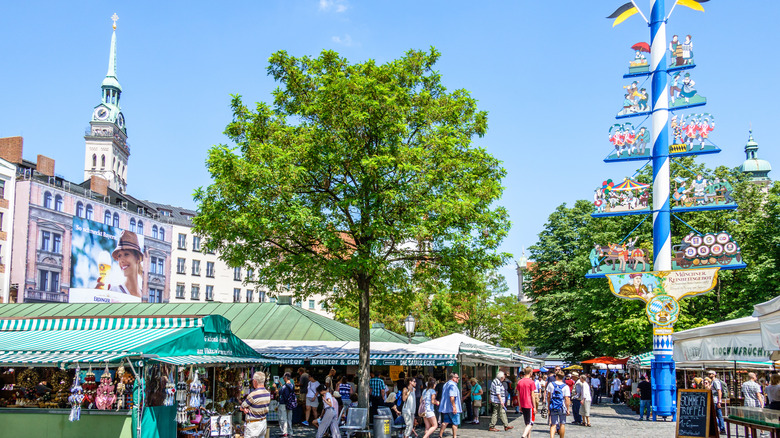 FooTToo/Shutterstock
The May Day fun in European countries like Germany begins as early as April 30. This is especially true for travelers that are heading to Bavaria, where Walpurgisnacht, translated to Walpurgis Night, is celebrated. Bonfires are often set on this evening as a symbol of leaving winter behind and ringing in spring the next morning. The festivities also include costumes, fireworks, dancing, and folk songs referencing Walpurgis Night as a time to rid the city of evil spirits.
When the sun rises on the first morning of May, all of Bavaria transitions into celebrating Maibaumaufstellen. This is an undeniably colorful event with the centerpiece in most villages, towns, and cities being the towering Maypole known as the Maibaum. Every Bavarian community decorates its own Maypole to represent regional colors so you're likely to see blue and white stripes everywhere you go.
Munich hosts one of the largest May Day celebrations around known as Viktualienmarkt. Drop by to enjoy folklore dance and music performances, drink a dark beer or savor traditional Bavarian fare. National costumes are worn on this day and dancing around the Maypole is always a highlight.
Plan on enjoying protests and bouquets in France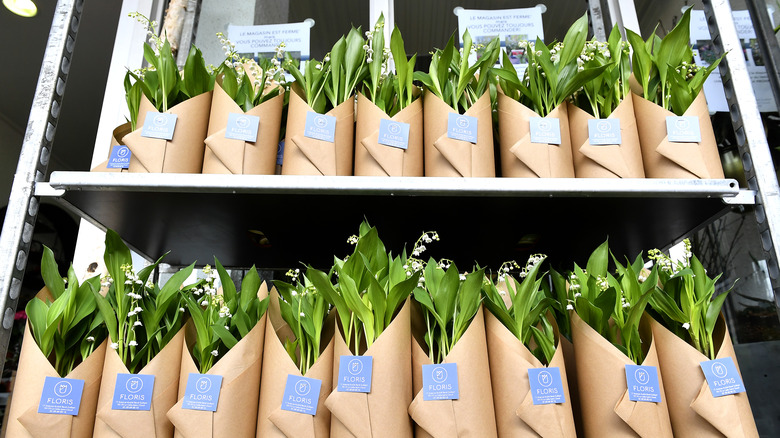 Aurelien Meunier/Getty Images
If you're in France on May Day, celebrations are vast and varied. This is a day where you'll find yourself amid festivities and events that honor labor rights as well as royal traditions dating back to 1561. Celebrating May Day in France is an event filled with symbolism.
After the Chicago labor strikes of 1886, workers in France followed suit. They began demanding improved work conditions throughout the country in 1890. Demonstrations continued on the first day of May through 1936 until more worker's rights were enacted and May Day was officially renamed Fête du Travail (Labor Day) in 1941. In cities all across France today, May Day celebrations continue to include trade union protests and demonstrations on this paid public holiday.
May Day in France is also known as La Fête du Muguet (Lily of the Valley Day). If you're spending time in Paris, you're going to want to drop by a florist and pick up a bouquet of Lily of the Valley. On May Day, these are traditionally given as gifts to family, friends, and co-workers.
The tradition dates back to the time when King Charles IX ruled France. It's said he was presented with a bouquet of these flowers and loved the gesture so much that he made it customary to give ladies of his court a bouquet every first day of May. The tradition continues to be celebrated throughout France today.
Enjoy Vappu in Finland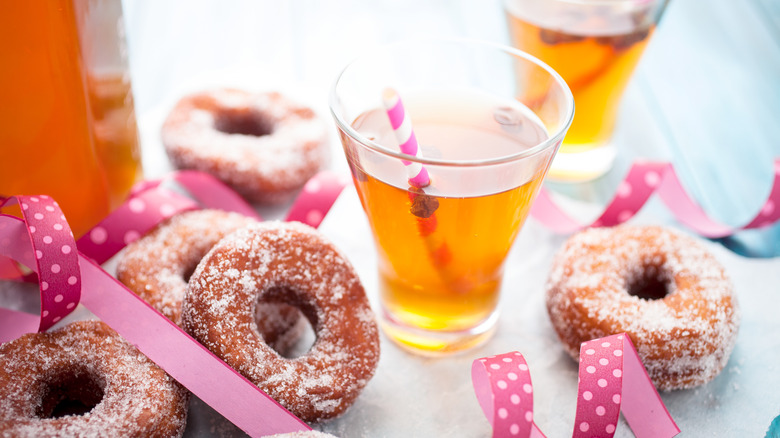 Kati Finell/Shutterstock
If you're heading to Finland for May Day fun, you'll be right on time to celebrate the two-day festival known as Vappu. It begins on the last day of April and runs through the entire first day of May. Helsinki is a main hub for Vappu celebrations with the main square becoming a one-stop resource for fantastic food, music, light displays, and parades over these two days.
On the last day of April, it's not uncommon to see students across Helsinki and Tampere donning whimsical and colorful costumes. They also often wear funny graduation caps as they bar hop, dine outdoors, or enjoy live concerts. While the weather in Finland can be fickle in May, this doesn't stop holiday revelers from attempting to host picnics in all of the parks.
The flavor of the Vappu celebrations across Finland is defined by the aptly named Vappu donut. This sweet and fresh baked good is served up in abundance during the holiday much to the delight of locals and tourists alike. You shouldn't have any trouble finding one as they're frequently offered at parties, restaurants, and street carts on market squares this time of year.
Find your floral celebratory style in Greece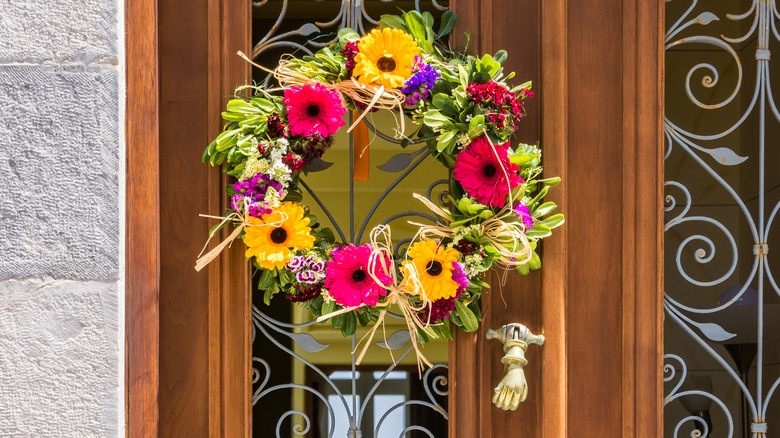 Spyros_Syros/Shutterstock
If your getaway to Europe over May Day takes you to Greece, you'll find the country focused on all things floral this time of year. Here, May Day is referred to as Protomagia which translates to mean the first day of May. It's a public holiday where many businesses are closed, sending locals to the countryside in pursuit of picnics and quality time together.
May Day is aligned with the peak of the Greek flower season so the two have long gone hand-in-hand. A Greek May Day custom that's sure to brighten your visit this time is the May wreath. Most homes gather wildflowers and create colorful wreaths that are hung on front doors and balconies to celebrate the season. Oftentimes, they remain in place until the St. John Harvester's Feast Day on June 24 when they're ceremonially burned.
To participate in a unique May Day celebration in Greece, you'll want to make your way to the city of Heraklion on Crete. This is where the annual May Day flower show is hosted and many believe it's an event that dates back thousands of years. Greeks today point to the flower festival celebrated by the ancient Minoans to honor the Greek god Dionysus as the modern flower show's predecessor.
Make it a musical May Day in Italy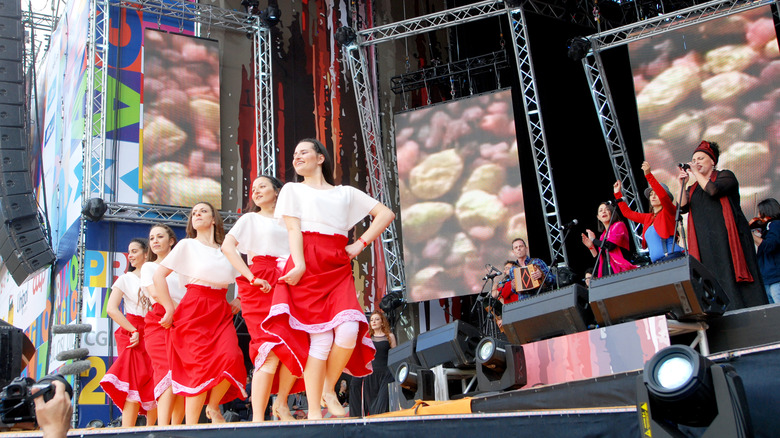 Gloria Imbrogno/Shutterstock
If it's a musical May Day celebration you're looking for, you're going to want to center your European fun around Italy. Much like in France, May Day is seen as Labor Day throughout the country. However, the fight for worker's rights has been paired with exciting musical performances since 1990 and continues to go strong.
May Day, known as Primo Maggio in Italy, marks the arrival of Il Concertone in Rome. This is recognized as one of the most popular seasonal events in the area. The free live concert is hosted annually at Piazza San Giovanni and is not only a thrilling experience for audiences, but well promoted by Italian trade unions too on May Day. Il Concertone sees thousands of visitors make their way to Rome in the name of May Day musical fun and linger well into the early morning hours.
No matter where you spend your May Day in Europe, you're sure to find celebrations that are not only meaningful but memorable. From the flowers of France to the wreaths of Greece, symbolism and festivities come together seamlessly. Whether you opt for the music of Italy or delicious Finnish donuts, these events are all worth experiencing for yourself this May Day.