These 11 Apps Are A Must-Download If You're Headed To France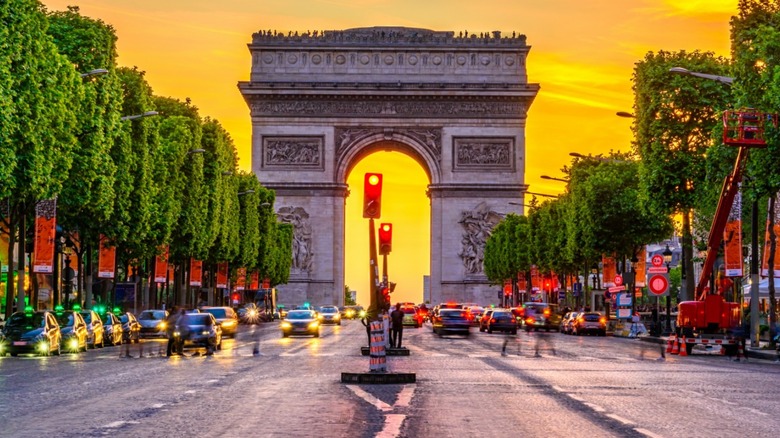 Catarina Belova/Shutterstock
Every year, the millions of travelers who visit France are instantly captivated by its age-old allure and timeless beauty. It is impossible not to be enamored with everything this country has to offer. Whether you're looking to explore the rich cultural history, admire stunning architecture, or simply relax with a glass of French wine and enjoy beautiful scenery, there's no shortage of memorable experiences awaiting you in this enchanting country. 
Though you might want to take your time abroad to disconnect from technology, you'll want to make sure you download some must-have apps before setting off on your journey. Even in a place like France, which often feels far removed from the trappings of modernity, there are some apps that will help make sure everything goes smoothly. From navigating public transportation to finding an amazing restaurant near your hotel, these are the best apps to download if you're headed to France.
Apps that will get you around more easily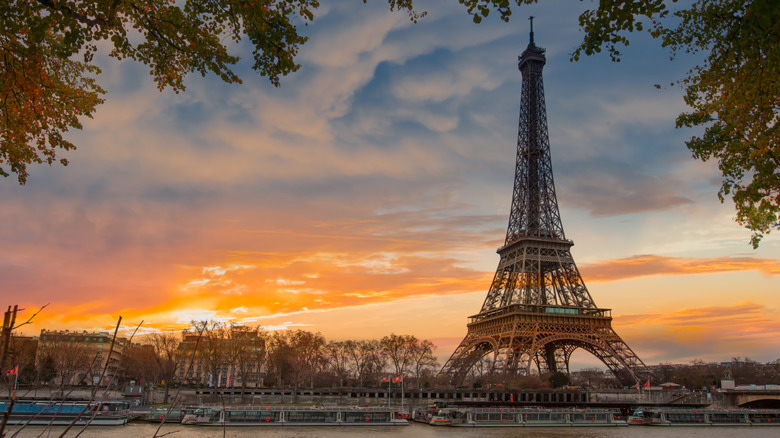 muratart/Shutterstock
While there is fun to be had in losing your way while meandering around a new city or village, there is almost nothing worse than getting lost or stranded far away from your hotel or desired destination. This is why it's recommended to download a few important navigation and trip-planning apps to keep you safe and on schedule. 
While in the United States most people rely on Google Maps for navigation, the most recommended GPS application in France is Waze. This is because Waze is known to provide more accurate information on traffic and road closures, as well as provide users with alternate routes when needed. If you're sticking to the big cities you'll also want to consider downloading Citymapper, an app that allows you to compare public transportation options and find the quickest route to your destination. Citymapper is especially helpful when using the Paris Metro.
Apps that will help you eat the best food in France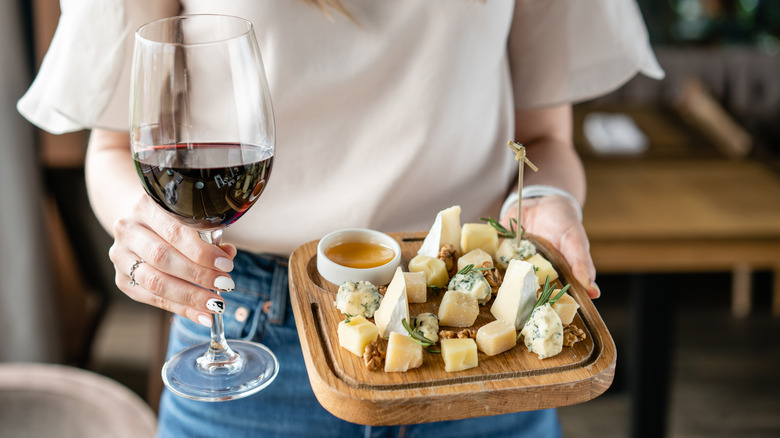 Fusionstudio/Shutterstock
France is widely considered the global standard for fine dining with many countries having at least some of their food culture rooted in French cuisine. To make sure you're getting the most out of your culinary experience, consider downloading the popular restaurant app, TheFork. Owned by Tripadvisor, this app is heavily used throughout Europe for rating restaurants and making reservations. If you're not used to making reservations for dinner, you'll want to make it a habit pretty quickly as this is very common practice throughout Europe but especially in France. Don't be left without a table at the best restaurant in town on your romantic night out!
If you're a cocktail connoisseur, you don't want to miss out on Parisian mixology. Download the Paris Cocktails app to find the bars and restaurants serving the best spirits in the city. The app can even filter your search to find you the perfect rooftop bar or happy hour.
Apps that will find you the nicest accommodations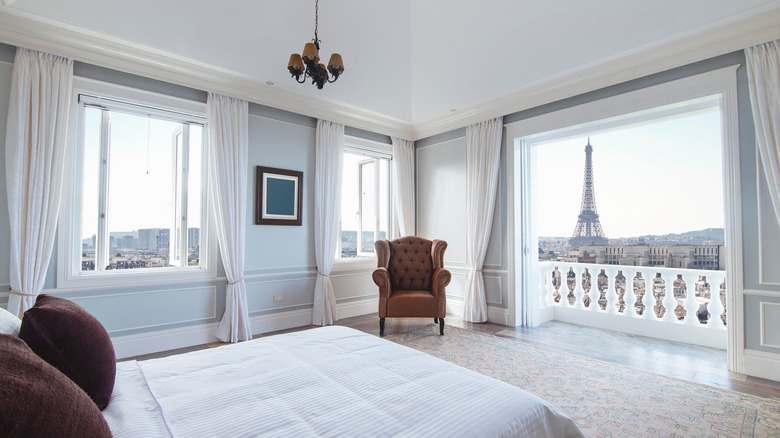 MDV Edwards/Shutterstock
No matter the length of your stay in France, you'll need a place to rest and recharge. Airbnb is one of the most popular services for finding accommodations all across Europe. Download the app to easily stay in communication with your host and manage your booking. 
However, if you want to find something more unique than a generic studio apartment during your visit, consider downloading and joining one of the many housesitting platforms such as TrustedHousesitters. These platforms help connect homeowners around the world with travelers seeking beautiful accommodations for a budget. This doesn't mean your stay is free though. You will be trading house or pet-sitting services for your accommodations but it will be in some of the most beautiful places in the world. This concept of housesitting has grown to be very popular throughout Europe and has especially picked up in France with some listings offering stays at chateaus in the countryside or beautiful apartments in Paris and Lyon.
Apps that will get you talking to the locals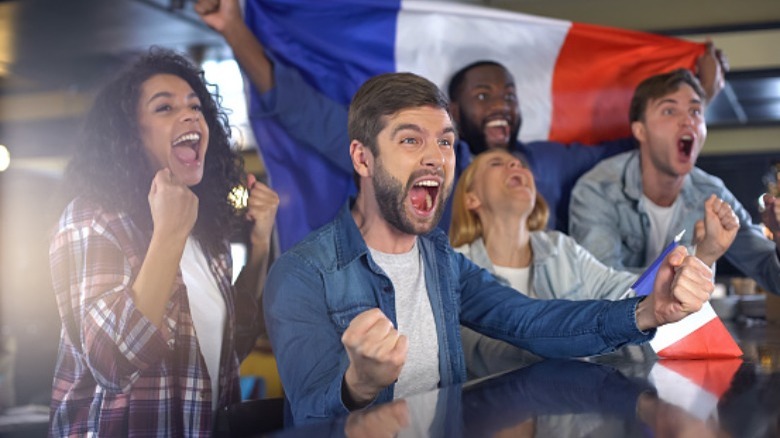 Motortion/Getty Images
There are few things locals love more than seeing visitors attempting to communicate in their language. Despite the somewhat negative stereotypes of the French actually being an exception to this, by and large, it's not true. Travelers heading to France should use language learning apps like Duolingo and Babbel to learn some French before they arrive. Just do your best and don't be discouraged if you get a less-than-enthusiastic response. You will meet more people who appreciate the effort than not. When all else fails, you should not be afraid to rely on Google Translate, a staple application for travelers to any destination.
Another communication app you'll want to make sure to download is WhatsApp. Many businesses use this free texting app to communicate with customers and clients, and it is often used to make bookings and reservations for restaurants and activities. Additionally, if you meet any French people you'd like to stay in touch with there's a high chance they will want to use WhatsApp over anything else.
Other apps and tech you should consider getting for your trip to France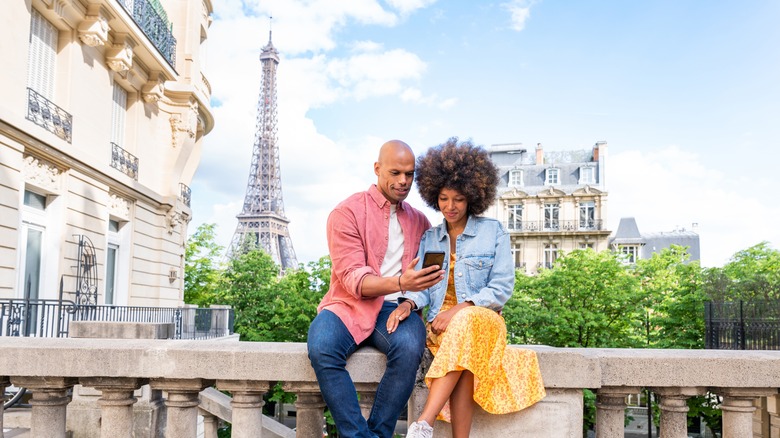 oneinchpunch/Shutterstock
All of the previously mentioned apps are basically must-haves for your trip to France but there are others that are just plain fun. If you'll be spending time in Paris, consider downloading a street art app called FlashInvaders which basically gamifies your travel around the city. This was created by a Parisian artist called Invader and allows you to collect points as you find each of their 8-bit-inspired mosaic artworks around the city.
You might be wondering how you'll be able to use all these apps as they admittedly use a lot of data while you're on your roaming plan. Yes, it won't be cheap if you stick with your home country's provider. This is why it's a great idea to swap out your SIM card with one from Orange or SFR which are the two largest telecom providers in the country. Plans can range from €2 for a very basic monthly plan to €20 for upper-tier monthly plans and most will offer very robust data packages that will cost you far less than an international plan with a major U.S. carrier. This will give you the peace of mind you need while you travel so you can avoid running out of data or racking up a big bill to deal with when you get home.