Here's How To Get A Baby Bassinet For Your Flight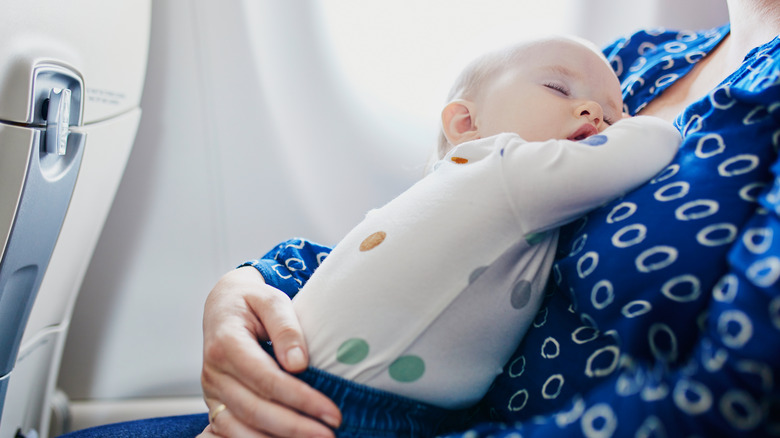 Encrier/Getty Images
Knowing you have a long haul or red-eye flight coming up can be daunting. Bringing an infant into that travel experience is even more complicated. When faced with extended flight times, it's rather unrealistic to assume you'll simply hold your infant comfortably for the duration. The prospect is stressful, which is when booking a baby bassinet can be a good option.
Instead of lugging a bulky car seat of your own onto a plane, many airlines offer options for guests traveling with infants to reserve a baby bassinet for long flights. Some airlines refer to these as skycots. While every airline's weight and size restrictions around baby bassinets are slightly different, there are some general guidelines to keep in mind.
In most cases, a baby bassinet on an aircraft is well suited for infants who are less than 6 months old. Many bassinets are designed with a 20-pound weight limit in place. They are also typically designed exclusively for infants who aren't able to sit up on their own.
When it comes to safety standards, baby bassinets are crafted with simple Velcro straps in place to keep an infant secure while flying. This allows the baby to sleep in intervals during the flight and for parents to get some rest as well. Bassinets are not designed to be used during taxi, take-off, turbulence, or landing. If all of these scenarios fit your upcoming travel plans, reserving a baby bassinet could be a great idea.
Reserve your bassinet with the airline early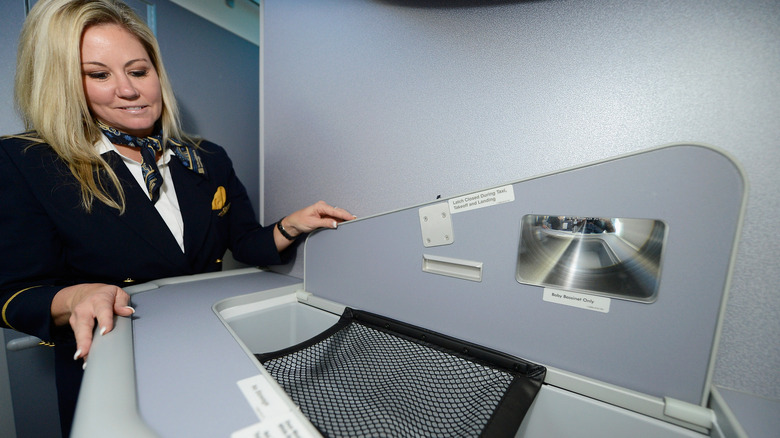 Kevork Djansezian/Getty Images
The Federal Aviation Administration allows children under the age of 2 to fly on an accompanying adult's lap. However, this type of travel is not hailed as the safest way for young children to fly. Reserving a baby bassinet for a long flight can help travelers stay more closely aligned to the agency's recommendation that children fly secured in some fashion, much like adults.
There are a few essential things to keep in mind when you're ready to book your baby bassinet. The first is that airlines typically only have a limited number available per flight. The second is that unless you're booking premium class tickets where bassinets fit on side paneling, baby bassinets need to be secured to bulkhead seats. This makes it important to call the airline directly and tell them you're hoping to reserve a baby bassinet for your upcoming flight.
Reserving your seats and bassinet on the phone directly with an airline representative is a good way to make sure you fully understand the specific airline policies around baby bassinet use. It also ensures you book seats in a bassinet-friendly area of the plane. Do note that while the use of a bassinet may be offered for free, it's possible some airlines will charge an extra fee for reserving bulkhead seating.
Always confirm after booking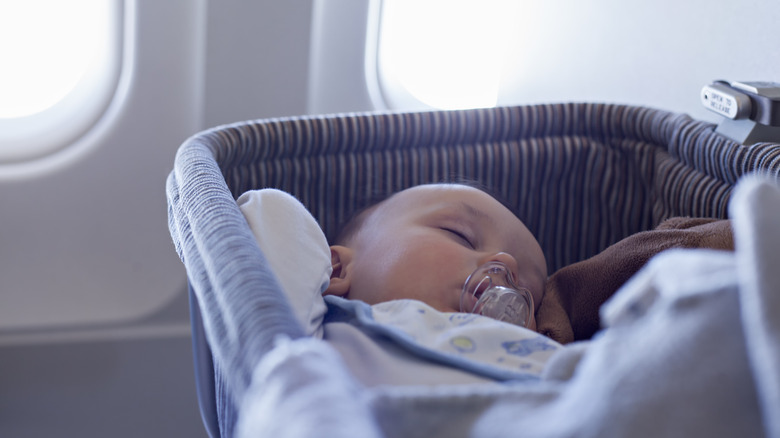 Dangubic/Getty Images
Some travelers prefer to book their flights through travel agents. If you happen to be an explorer who falls into this category, you can still easily reserve a baby bassinet. Just be sure to clearly state your request to your travel agent. They will then need to speak with the airline on your behalf to secure the bassinet booking.
If you've gone the route of booking your airline tickets through an online reservation site instead, you'll still need to call. Following up with the airline about your bassinet request by phone as soon as possible is advisable. This is especially important if you've booked connecting flights that will require a bassinet request specific to multiple airlines.
No matter how you choose to book tickets or how far in advance you make a bassinet request with the airline, reconfirming your reservation closer to departure time is key to a successful experience. A few weeks and even a few days before you travel, double-check over the phone with an airline representative that the request is still firmly in place. Doing so takes time, but is going to give you the peace of mind you deserve. It's also going to provide your baby with the comfortable sleep he or she requires while flying.