Think You're Going To Miss Your Flight? Here's What You Can Do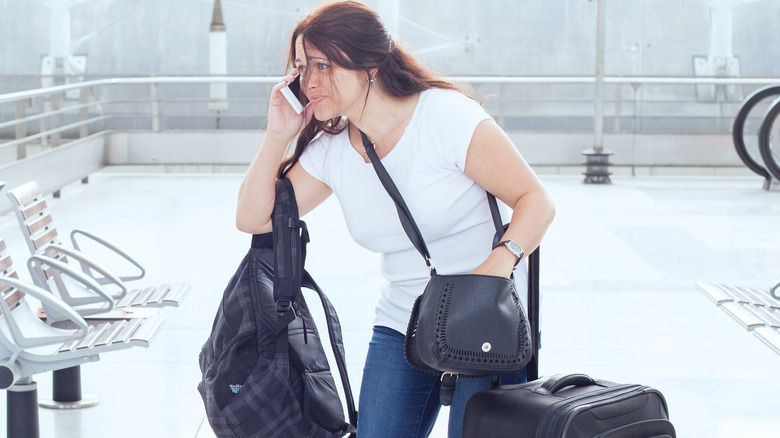 Song_about_summer/Shutterstock
Missed flight. These two words are possibly the most anxiety-inducing words in the traveler's lexicon. Whether you overslept at the hotel, struggled to find an airport transfer, or hit a brick wall of a security line, there are plenty of reasons and circumstances that can cause us to miss our departures.
Despite our best efforts and planning, missing a flight is relatively common. According to USA Today, around 2 to 8% of passengers miss flights on any given flight, which creates standby opportunities, so while missing your flight isn't ideal, you're not alone. Stuff happens. While freaking out won't help you, taking the next appropriate steps can. 
By being informed, polite, and proactive, there are several ways to salvage your vacation itinerary or business trip. You should know how to rebook a missed flight and understand your airline's informal "flat-tire" rule. If you're knowledgeable about these two things, you can quickly remedy a missed flight.
Notify the airline and speak with an agent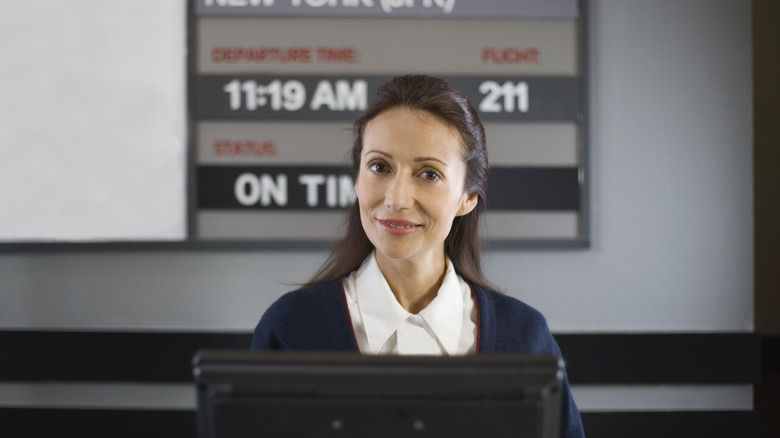 Jupiterimages/Getty Images
If you're stuck in traffic, still at the hotel, or just generally sure you're going to miss a flight, notify the airline as soon as possible. Not only is this polite (more on this later), but the sooner your airline knows your situation, the more time they have to explore available options. Also, it should help your case if the airline knows that your seat can be given to a standby passenger.
After informing the airline, speak to an airline representative once you've arrived at the airport. Since it's your fault (or not the airline's fault) for missing the flight, it's important to remember that the airline is under no obligation to assist you or refund you. However, if you've notified the airline and they've been able to fill your seat (or even if not), most airlines will help you. But keep in mind that their representatives are giving a lot of discretion for assisting you. In other words, being demanding or boorish with an agent won't help your situation.
If there's an available seat on an upcoming flight, the airline agent shouldn't have a problem placing you on that flight. However, depending on the airline, you may be charged a rebooking fee or need to pay the difference in airfare between the two flights.
Check your airline's flat-tire rules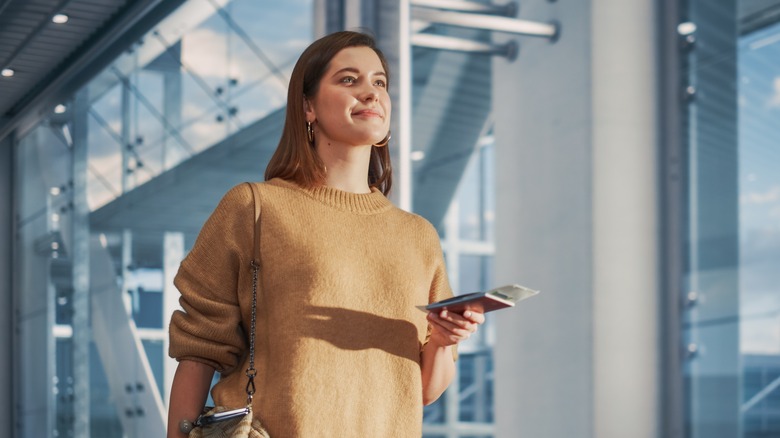 Gorodenkoff/Shutterstock
Most airlines follow an informal "flat-tire" rule. While not widely publicized, these policies give passengers who miss their flights some recourse. Basically, flat-tire rules help passengers avoid rebooking fees or covering the difference in airfare if they missed their flight due to circumstances outside of their control, such as traffic delays, security lines, or flat tires.
Flat-tire rules vary by airline. For instance, if you arrive within two hours of your departure time, American Airlines allows you to travel as a standby passenger on the next available flight without charging any fees, while Delta accommodates travelers on a case-by-case basis. Other airlines, such as JetBlue and Southwest, follow their own practices of how to rebook a missed flight using their flat-tire rules.
While airlines differ in their flat-tire rules, we should note that these rules are designed to address incidents outside of your control. Oversleep doesn't exactly fall under this category. However, by communicating with the airline as soon as possible and remaining polite, you can typically find a trip-saving solution — no matter the reason.