How To Pack Boots (Without Damaging Them)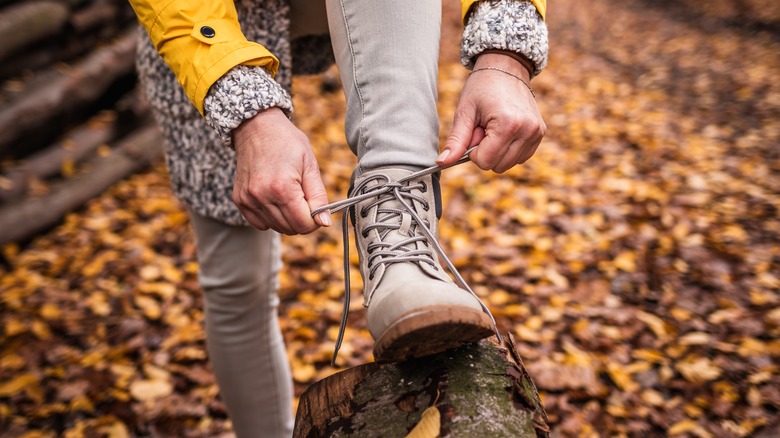 encierro/Shutterstock
While it may seem superficial to some, packing the right shoes is essential to having a stress-free trip. Especially if you're going to be in different environments throughout your vacation or excursion. While it's a great idea in theory to find a pair that can be worn in all situations — nights out, walking around the city, hiking, and going to the beach — this just isn't possible. And while they are versatile and comfy, some of the worst offenders when it comes to packing shoes are boots.
Hiking boots, combat boots, heeled boots, riding boots — it's hard to find one pair that can fit all situations. Let's say you're going to be doing outdoor activities: hiking or snow boots are essential. While they might be heavy and bulky, you can't just leave them at home. If you won't be doing such intense activities but still need something for various situations, don't worry — we got you. Here are a few suggestions for how to pack your boots and some alternatives for those who are serious about saving space.
Packing your heaviest, bulkiest boots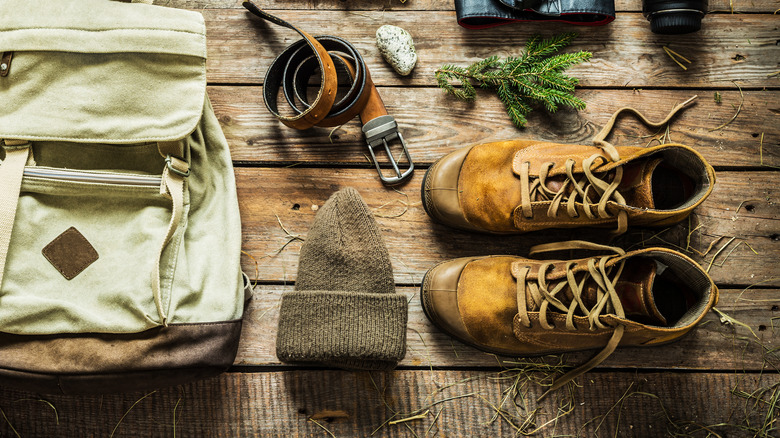 Pinkyone/Shutterstock
Ideally, you would just wear these things while traveling. But we get it, wearing hiking boots on a 10-hour flight from Toronto to Lima, or riding boots from Houston to London sounds kind of awful. Sometimes, you just need to prioritize comfort over convenience or functionality, but you need to bring those boots for your hike to Machu Picchu. So what's an intrepid traveler like you to do?
First, you'll want to stuff all your small, squishable clothes into your shoes — socks, underwear, sports bras, and so on. Don't cram them in there too much, as you want to avoid stretching them out, but don't be afraid to maximize the empty space. This will also help keep them from getting crushed and creased by the other items in your suitcase or backpack as well as give you more room for other clothes. It's a win-win!
Next, play a little Tetris. For hiking boots being packed in a backpack, place them at the bottom for better weight distribution and pack around them. For heeled booties, combat boots, knee-highs, and other boots that are being packed in a suitcase, you'll want to play around with the configuration of your items, but always make sure to try and keep the bottom of your shoes facing away from your clothing or cover them with a plastic bag.
Choosing the best boot for your trip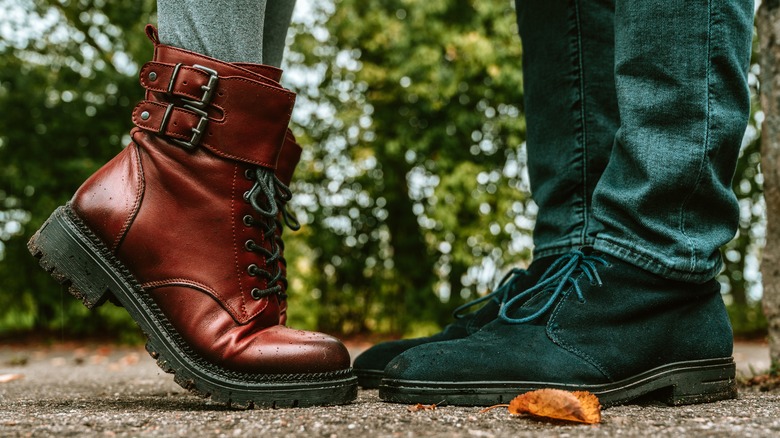 Anastasia Sotchenko/Shutterstock
Unless you're doing a specialized sport like thru-hiking or skiing, you probably don't need a very specific boot for your trip. So, if you're planning a casual trip with a bit of city here and a bit of country there and want to maximize the space and weight in your bag, you'll need to be flexible and creative. If you are doing a lot of walking around in the cold seasons, you might want to consider a leather lace-up boot. These can be dressed up with a nice skirt or dress and some tights for a night out but are also great for walking around cities, up hills, and for mild hiking excursions. Just be sure to break them in before your trip and get some comfy inserts to prevent soreness and tired feet. 
If you won't be walking as much, consider an ankle bootie with a little heel for a fancier feel. These are a great option for a travel boot. They are usually lighter than a lace-up boot, take up less space, and can be worn for many occasions.