Here's Why March Is The Perfect Month To Go Skiing In Aspen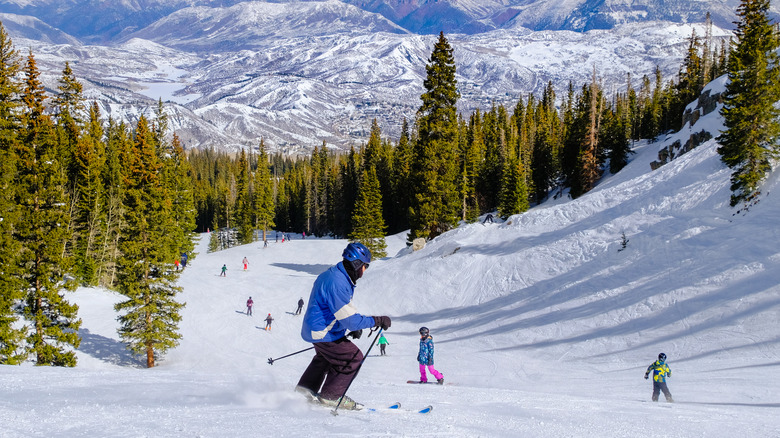 LanaG/Shutterstock
Aspen, Colorado is a ski resort town and perhaps one of the best and most famous in the entire United States. Last year, some 1.4 million people came to bask in the glory of Aspen skiing, per Aspen Times. Though all skiers are bound to have their preferences, there's virtually no dispute that March is the perfect month to go skiing in Aspen. According to the Aspen Chamber Resort Association, the top reason for this is the longer days. An extra hour of sunshine during daylight saving time means more time to hit the slopes. Starting in March, certain ski lifts on Aspen's four mountains extend their hours until about 4 p.m. Another reason the chamber gives is that springtime provides sunnier weather. First-timers may want to keep in mind that despite the chilly weather, you should still apply some sunscreen! Additionally, March is usually one of the snowiest months, but with blue and sunny skies, it affords a perfect skiing combination.
Plenty of options and events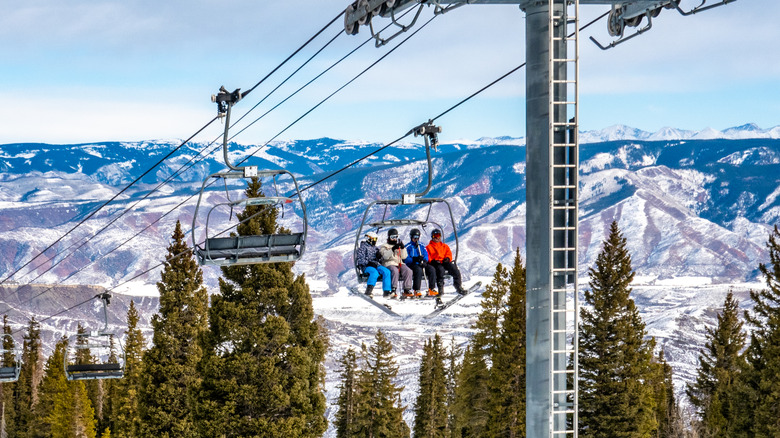 David A Litman/Shutterstock
Aspen Snowmass says March is a perfect time to not only go skiing but for newbie skiers to learn the sport as well. They say that the spring climate makes for an ideal time to fall in love with skiing as a sport.
With more than 5,300 acres of terrain in Aspen, skiers have plenty of options, too, according to On the Snow. Post-skiing, Aspen is known for its superb dining, nightlife, and shopping scenes. Many visitors not at all interested in skiing still tag along on ski trips because the resort town is so nice.
Plus, springtime in general may be the best time of the year for special events, which include championships, free concerts, special dinners, and nighttime skiing, just to name a few. While you don't need to be a skier or snowboarder to enjoy many of the events, it does enhance the experience overall.
Springtime deals abound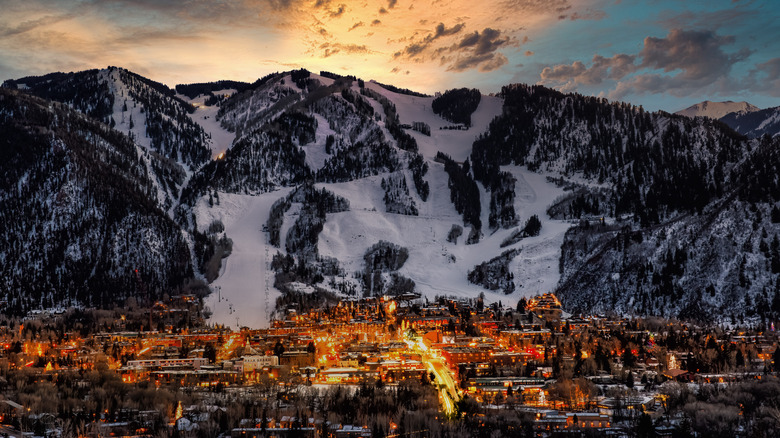 jdross75/Shutterstock
Après in Aspen is another great reason to go skiing in March. It's the sort of chill-down aspect of life on the slopes. According to Aspen Real Life, a "proper après" consists of wine or beer, yes, but also appetizers like fondue and raclette, a Swiss dish with melted cheese. Add to this some incredible views of the mountains from a heated patio and you've got yourself après in Aspen.
Another reason why March is the perfect month to go skiing in Aspen is that it's less expensive. Spring is a great time to get discounts and deals as the ski season winds down from its peak in winter. Visitors can expect to find not only lodging deals, but discounts on lift passes, gear, and more.
As Aspen Real Life notes, skiers staying in the town can expect a dizzying variety of lodging options such as heated mountain igloos, as well as top-notch resort hotels that offer everything under Aspen's springtime sun.