The Clever Post-It Note Trick That Can Make Your Passport Last Longer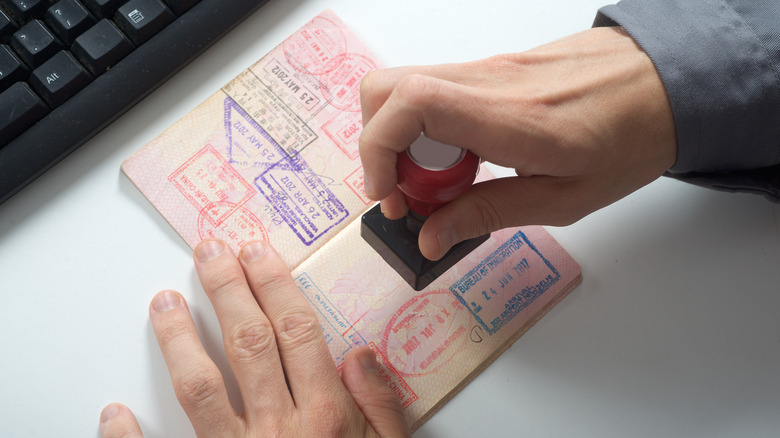 ArtWell/Shutterstock
Many travelers bound for international destinations know they need to have a passport before heading out on an adventure. Frequent international travelers take that knowledge a step further and recognize how important it is for that passport to have a certain number of free pages available as well. Unfortunately, customs officers are known to be prone to simply stamping a passport wherever there's availability upon visitor arrival. This seems like a harmless choice, but it can present problems for travelers in certain scenarios.
Once you realize blank pages in your passport matter, the next question to ask is, how many blank passport pages do I need? The answer depends on the type of travel you have planned. Two situations where the number of blank passport pages could affect your travel are when you need a visa to enter a country, or a country's entry requirements clearly list blank page regulations.
The U.S. Department of State indicates that it's a good idea to have at least two to four blank pages available to be stamped. This number satisfies several countries' regulations for entrance. If you require a visa to enter a country, one blank page is the minimum with some countries requiring anywhere from two to six pages in order for a visa to be successfully issued. Travelers who are looking to expand the life of their passport and keep essential pages blank for future travel can find a surprisingly simple solution in nothing more than a Post-it Note.
A simple Post-it Note can make all the difference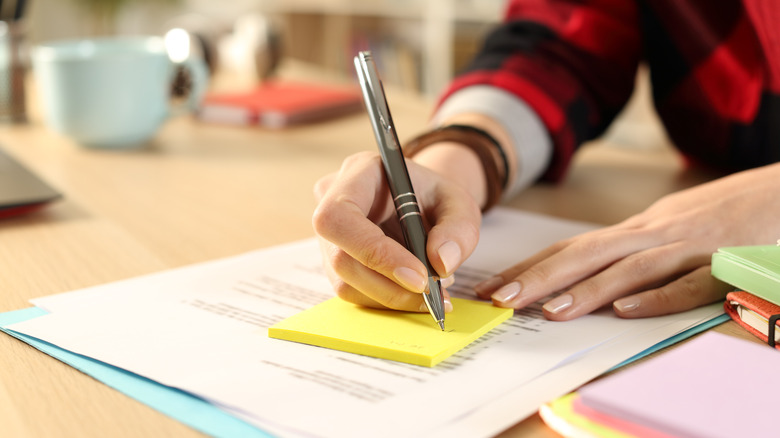 Pheelings media/Shutterstock
Post-it Notes have long been helpful accessories in the office. They can also be strategic items to put to use in saving passport pages too. Whether you're down to your last two essential passport pages or you're thinking ahead to a future visa application, there's a simple Post-it Note hack to help keep pages blank.
Travelers looking to politely direct customs officers to other pages to stamp in their passport book will want to consider covering the pages they want to remain blank with a single Post-it Note. Next, you'll want to write a short message kindly indicating to the customs agent that the Post-it Note is a placeholder. This could be something to the effect of "Please stamp elsewhere, saving space for a visa."
While customs officers aren't ever obligated to accept this request, there's a good chance they will. This is especially true if the note is politely written and there are plenty of other pages or space available for entrance stamps. A Post-it Note is a great choice for this type of request in an official document because it can be added in an eye-catching color for added visibility. 
Details to keep in mind when preserving passport pages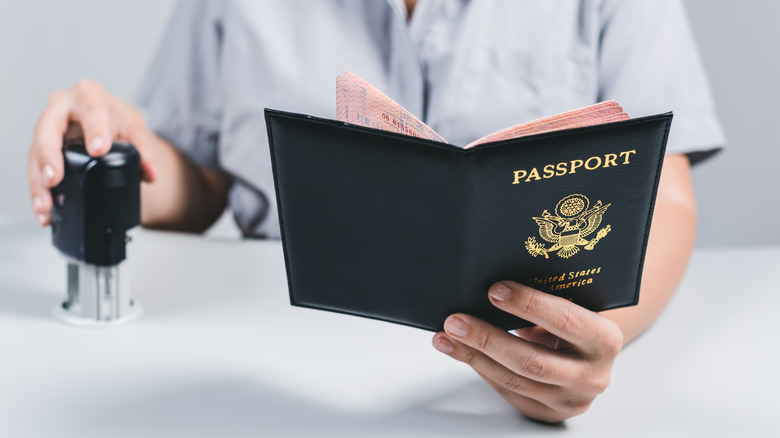 Ftiare/Getty Images
Depending on how often you travel internationally, the Post-it Note page-saver approach could potentially extend the life of a passport by years. Frequent travelers can enjoy saving time and money by not having to renew a passport so often. Because the Post-it Note is removable, it doesn't interfere with passport regulations either.
Many customs and immigration officers will likely be amenable to your Post-it Note request. However, if an officer decides to stamp the page anyway, it's important not to argue. The role of a customs officer is to ensure visitors enter a country legally. If they feel the Post-it Note request doesn't align with a country's requirements for entrance, it's better to let the note be removed. Disputing the details could lead to detention in a foreign country or even deportation.
When you're looking to ensure you have enough free pages available in your passport, also take time to note if there are any visible damage points on those blank pages. This is often and easily overlooked by travelers. In many countries, a damaged passport is deemed invalid, and trying to use the document can lead to a traveler being denied entrance.
A single Post-it Note can work wonders when you're looking to preserve passport pages. Give one or two a try the next time you travel. It's a simple and harmless route to keeping your passport pages more readily available in the long run.