Here's How To Ensure You Get Seats Next To Each Other On An Airplane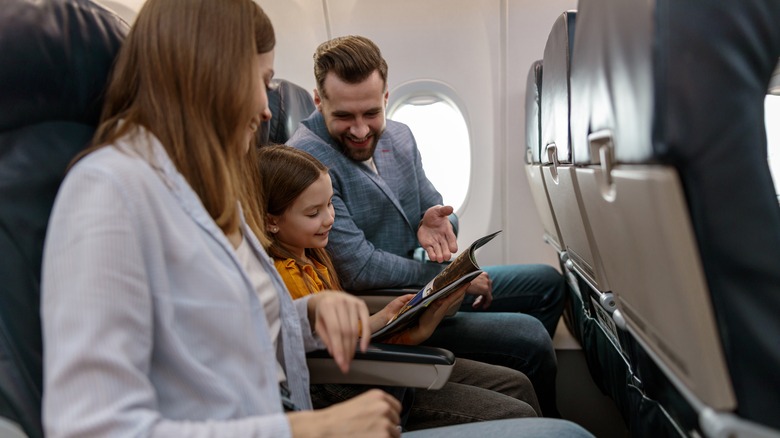 Friends Stock/Shutterstock
For many travelers, flying is the most efficient route to get from point A to point B on the itinerary. The Federal Aviation Administration handles nearly 3 million passengers flying in and out of around 20,000 U.S. airports each day. These numbers tell the story of an aviation industry that thrives despite some well-recognized drawbacks to flying.
For all of the conveniences modern air travel provides, it also comes with some innate stress-inducing moments too. Whether you fly frequently or rarely, there's a good chance your flight comes with a few natural worries. Travelers taking to the skies typically stress about everything from potential excess baggage fees and safety standards to missing flights, getting through the security line successfully, or having enough time to grab a connecting flight upon arrival.
Another pain point that often comes along with air travel is finding out that you can't sit next to family members or traveling companions when your ticket is issued. For many travelers, sitting together on the plane is not only convenient but comforting. The good news is, a little planning can go a long way when it comes to ensuring you land in an airline seat next to each other on your flight. A few extra and simple steps when booking can provide travelers with the peace of mind they deserve and reduce the stress of wondering how your seating arrangements will ultimately end up.
Plan to book and check in early for every flight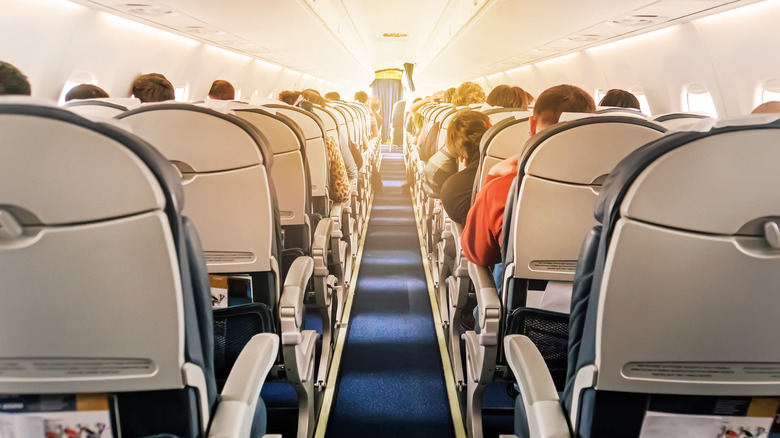 Diy13/Getty Images
If you want to avoid disappointing or unacceptable seating arrangements on an airplane, you'll want to be sure to book your tickets as early as possible. Last-minute bookings are a common culprit when it comes to separated seating arrangements on flights. This is a particularly common scenario for travelers seated in economy where seats for a flight can open up to the public as early as 330 days before travel.
Those traveling with children typically prioritize getting seats together on an airplane for safety reasons as well as emotional well-being. Unfortunately, travelers reserving seats in economy aren't always guaranteed family seating arrangements automatically. Booking tickets as soon as you have your travel dates in place can help remedy the situation in many cases. It's a strategy that also works well with group travel plans, especially when you call the airlines directly to book.
Once you've checked early booking off your list, the next step to making sure you get seats next to each other on an airplane is to make sure you check in early for your flight too. While some airlines offer options to select your seats at the time of booking, most economy-class bookings only offer the opportunity at check-in. This means the earlier you check in, the more likely you are to find seats together.
Skip economy options for guaranteed seating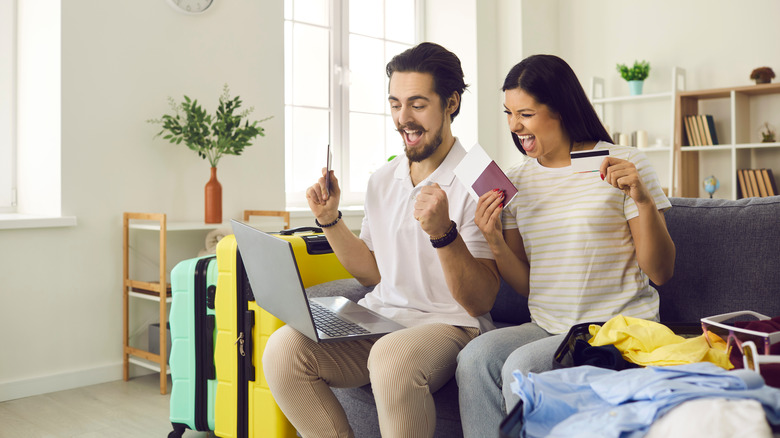 Studio Romantic/Shutterstock
Economy-class seating is a budget-friendly way to fly. However, saving on ticket prices often comes with less certainty regarding seating assignments next to your family or friends. When sitting next to each other is a priority, it might be worth it to spend a little more to enjoy peace of mind.
Many airlines offer travelers the option to secure their seats ahead of time for an added fee. Depending on the airline and the type of itinerary, these fees can range from under $10 per person up to $50 per person. While it puts a dent in your travel budget, it's a fee that also guarantees you won't have to worry about sitting apart from your travel companion.
For travelers that fly frequently and are part of an airline miles program, it's often worth looking into whether or not preferred seating options are part of the earned benefits. Some of these programs offer options for elite-status travelers to book seating on behalf of their traveling companions. Certain airline credit cards also come with preferred seating perks that will keep unexpected seating arrangements out of your travel plans.
If all else fails, don't forget that a gate agent can be your biggest advocate when it comes to making seating adjustments. Arrive at the gate early and make it a point to ask politely for assistance. There's always a chance they might be able to do some strategic rearranging on your behalf.