Solo Travel: How To Enjoy A Cruise Alone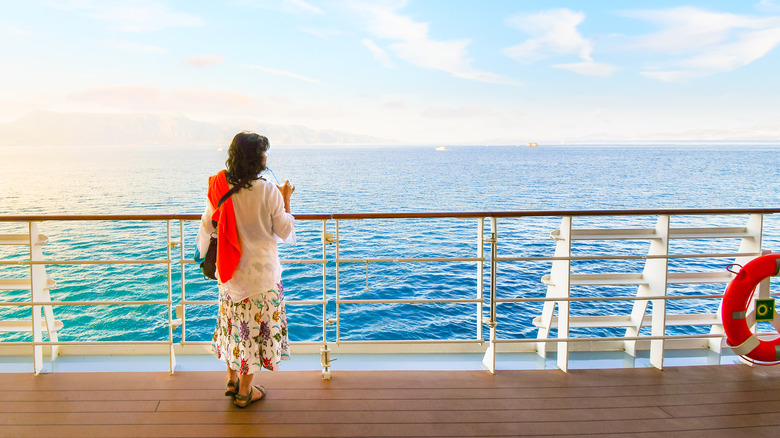 Kirk Fisher/Shutterstock
Traveling alone can be a source of great stress, but it really doesn't have to be. Traveling solo — especially taking a cruise solo — should be a time when you can kick back and relax, without the worry of being judged by fellow travelers or feeling like you are missing out. Even if you start out nervous to be embarking on an adventure solo, you will likely quickly come to know all the benefits that traveling alone has, like the freedom that comes with having all the choices. You may even see an increase in self-confidence after traveling alone, potentially making a solo cruise a lasting part of your personality.
As frightening as it may be to take the plunge in booking your very first cruise alone, once you make the move there are plenty of ways to enjoy your trip. We've compiled a list of helpful pieces of advice for enjoying a cruise alone and following these tips, you can build a cruise that fits you perfectly and set yourself up to have the most enjoyable solo cruise you can and even meet some other lone travelers along the way.
Set your expectations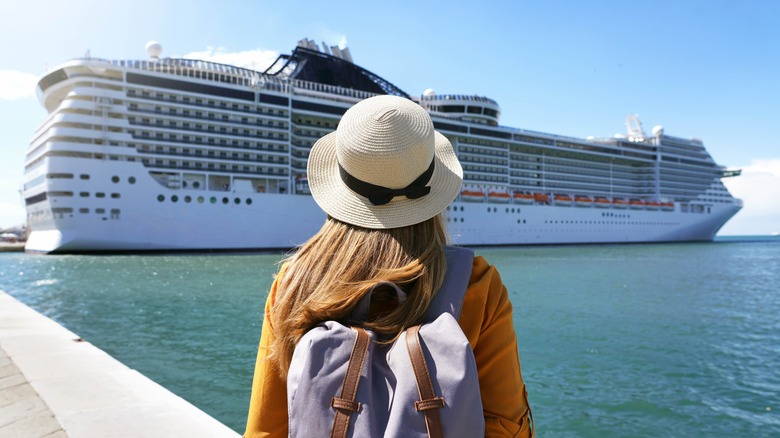 Zigres/Shutterstock
We are all for being spontaneous and winging an exciting trip to new destinations, but when you're traveling alone it's usually best to do a little planning. Cruises take much less planning than your typical trip, however you should absolutely reflect on what you would like to get out of your solo cruise, the vibe you'd like to achieve, and what your perfect solo cruise looks like.
Ask yourself why you are taking a cruise and why you are doing it alone. These questions will help you to explore what you should strive to get out of the cruise. If you need a break, spend a lot of time unwinding. If you are entering a new phase in your life or have had an unexpected shift in your personal life, maybe spend some time exploring your new circumstances. If you just don't feel at home with yourself anymore, your time may be better spent doing some self reflecting.
Whatever the reason you have booked a solo getaway or what you are hoping to get from it, make sure to set yourself up to have the cruise of your dreams by understanding exactly what you want it to look like and how you want it to benefit you. Be sure to research all port destinations of a cruise before booking, that way you can make sure they fit what you are looking for in a cruise. If you can picture yourself there, that's a good sign.
Have an open mind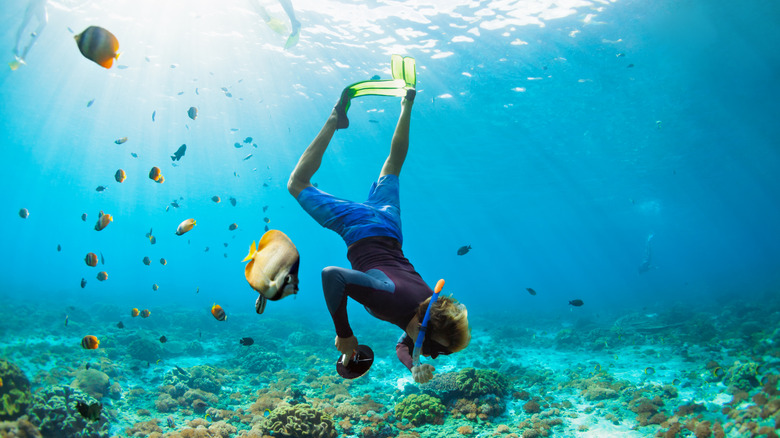 Denis Moskvinov/Shutterstock
While it's important to figure out what it is that you want from a solo cruise, it's also a good idea to be open to whatever else you may gain from your trip. Any cruise you may go on will be ripe with new experiences, and you should be open to having some of them. Just because your original idea of the perfect solo cruise may have you laying by the pool with a drink in hand for the vast majority of the trip, there are plenty of exciting adventures to be had that may not have even crossed your mind as a possibility.
We are not saying you should settle for a long weekend cruise to Iceland when you want to spend a two week cruise exploring the Caribbean. However, going on a diving excursion with a group of travelers you just met at breakfast instead of walking the beach alone, for example, could be a great way to elevate the original cruise you had in your mind's eye. Don't be afraid to be daring, as one of the benefits of cruising alone is that you get to explore different possibilities and experiences without fears or anxieties you may have when accompanied by others.
Choose your type of cruise wisely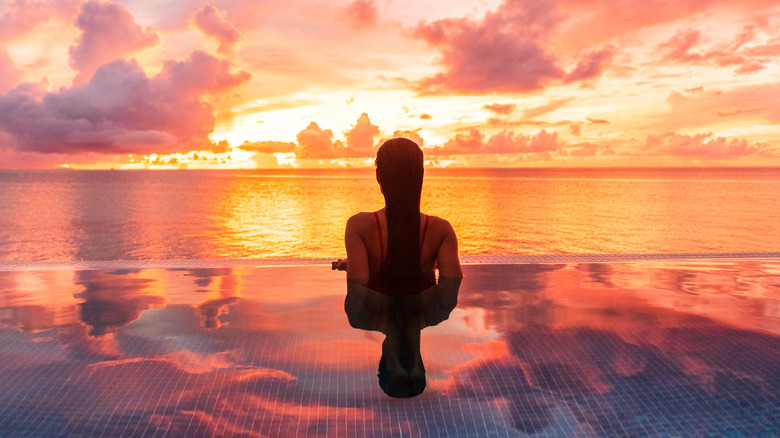 Maridav/Shutterstock
While you can take pretty much any cruise alone, there are some that are especially for solo travelers. If you are the type of traveler who does not want to be sharing space with children, be sure to book an adult-only trip. If you are single and looking to potentially meet "the one," a singles cruise might be more up your alley. Singles cruises will also be kid-free, and if neither type of cruise is available to you and you desire a fid-free trip, you can look for cruises that do not have activities for kids laid out in their offering, or who have plenty of activities geared toward adults only.
If you're looking for an elevated experience on your solo venture, you may want to look into a luxury cruise. For some, luxury is almost a parallel to relaxation and comfort. If that's the case for you and your ideal cruise is purely a getaway of leisure, you may want to indulge and spend a little more money on a luxury cruise.
Conversely, your dream cruise could be geared toward your destination rather than the comfort of the ship. If this is the case, an adventure cruise is likely pretty perfect for you, as they come with an array of benefits, like more in-depth excursions that are more like expeditions. The great thing about cruises is that there's no lack of variation, and any type of traveler can find their ideal getaway.
Take into account your cruise ship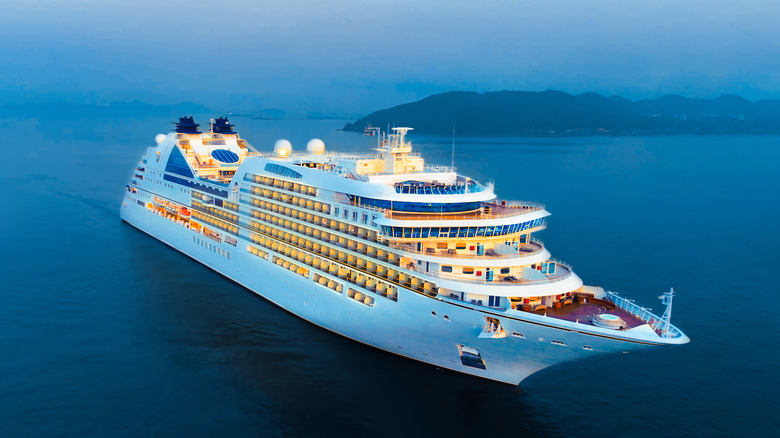 GreenOak/Shutterstock
Cruise ships are not one-fits-all and they come with a lot of varying amenities. If you are the type of solo traveler who is looking to socialize and potentially make some friendships that will last past the point of port, then you may want to opt for a smaller cruise ship. If you were to choose a larger ship, the likelihood of running into a connection made in passing is very slim. Adventure cruises tend to have smaller ships while Royal Caribbean has some of the largest cruise ships.
Though, a larger ship may be perfect for the traveler who is either incredibly outgoing or extra introverted. More people on a ship means that the extroverted traveler has more people to schmooze with casually while the shy explorer can find comfort in the shelter formed from being inconspicuous in large crowds. Depending on what kind of social life you'd like to have on your solo cruise, you should make sure that the ship you will be setting off on is accommodating to your expectations.
It's also important to note that different cruise lines also have different room types available, which may be particularly important to you if traveling alone. Not all cruise lines offer single cabins for solo travelers, which may be a selling point for the lines that do, like Norwegian Cruise Lines or Holland America.
Be social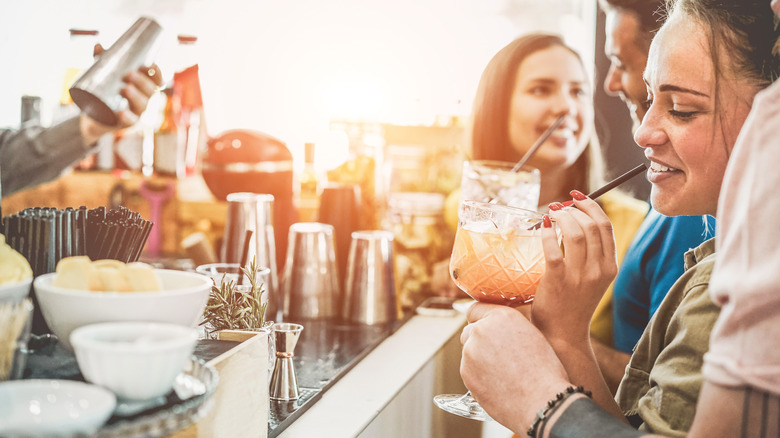 DisobeyArt/Shutterstock
Cruises can vary in length, and going on a 3-day getaway without talking to another soul can sound like paradise on Earth. You will likely be away for longer than that though, as the average cruise is about a week, which is a long time to go without human interaction. You can do much more than just survive a solo cruise by interacting with other people, though, because meeting and socializing with other travelers can make all the difference in experiencing a fun and memorable cruise.
Whether you like to be surrounded by friends or prefer to maintain a smaller friend group, making friends on a cruise ship is actually pretty easy. It's normal for cruise friendships to seem expedited, as everyone is isolated on the ship and you may spend a whole lot of time with anyone you may meet on the cruise. It's important to remember that everyone on board is quite literally on the same boat and likely wants to make connections to other travelers, and might also be a little nervous about doing so.
Making use of the ship's bar and pool areas as well as any other common areas where people like to kick back is a great way to easily keep yourself open to socialization. It's also helpful to remember that once the cruise is over, you will likely never see these people again unless you actively want to, so there's not much to lose by pursuing social engagement.
Make friends before you depart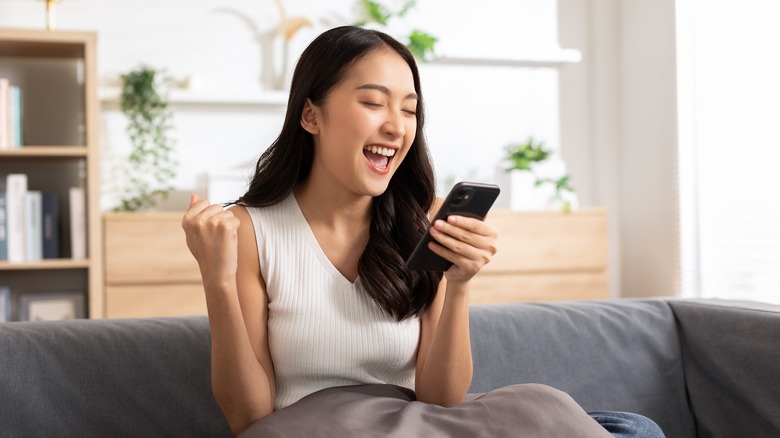 220 Selfmade studio/Shutterstock
Even though you are traveling solo, you can still make connections with fellow cruisers before you even set foot on the cruise ship. We're in the age of technology, which means that a new friend or a connection is just a few clicks away, you just need to know where to look.
Some cruisegoers join what they refer to as "roll calls" to find other people who will be on their same cruise. These are basically online forums where people can chat and get together once they are on the cruise. Roll calls can be found throughout the internet, but some of the most popular places are Facebook, Cruise Critic, and Shipmate.
Once you find a community of cruisers who will be heading out on the same voyage and connect with a could-be friend, you'll likely be able to join a mixer or meet-and-greet once you're on the ship. If your roll call doesn't put together an event, feel free to suggest one or even just meet up with the individuals you connect with! You'll also be able to plan for excursions together and just have a general tag-along buddy while on your journey, though there's a chance you make a friend and stay connected after the cruise is over as well.
Book a comfortable room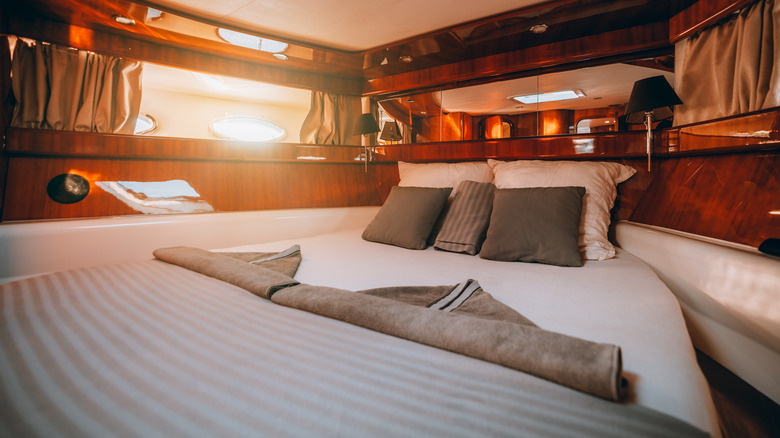 skyNext/Shutterstock
Cruise accommodations vary depending on which ship and cruise liner you decide to book with, and a lot of cruise ships actually do not have single cabins. In this case, for a cruiser to room alone, they must pay what is called a single supplement. This makes sense as the vast majority of cruises charge per person, and single supplements can cost upward of 100% the price of fare.
There are some cruise lines that do have single cabins, though, and you'll likely want to explore those when choosing what cruise you will go on. Cruises that cater specifically to single travelers, like singles cruises and adult-only cruises, as well as luxury and adventure cruises are more likely to offer single cabins and suites or have minimal single supplements.
If you end up finding the perfect cruise that checks all your boxes, but can't seem to get past a large singles supplement, you might consider using a roommate match service. There are free resources like CabinMate can aid you in finding a person to room with to save some money, and you can search for same-sex travelers who are compatible with your particular travel style.
Pack appropriately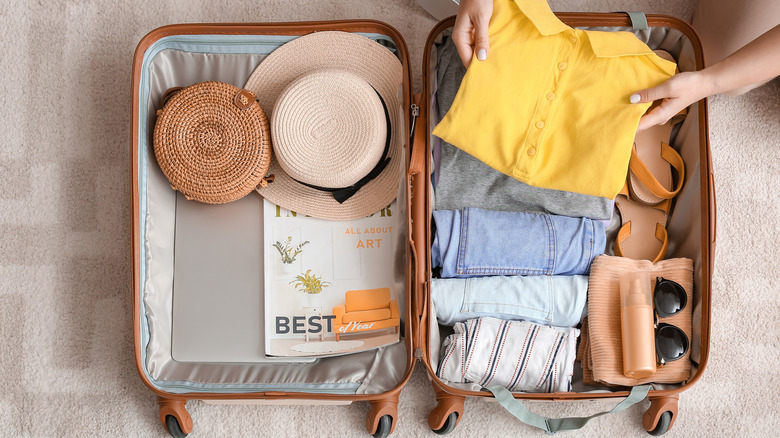 Pixel-Shot/Shutterstock
Packing the necessities as well as some luxuries may be the make it or break it step for a comfortable and refreshing vacation. Since you'll be away from the mainland, there won't be much availability for toiletries. While the ship will have a limited supply that you can purchase at marked up prices, the brands you regularly enjoy will probably not be an option.
Additionally, if you are the type of person who enjoys to read while traveling and the idea of reading a book poolside is peak relaxation, you will be needing some reading material. The cruise ship will likely be similar to an airport in that some reading material will be on a store shelf somewhere, but to have the full reader experience you will likely want to have your own hand-picked title available. This goes for any other portable hobby you may have — pack accordingly if you want access to it.
You'll want a decent array of clothing packed as well, as the cruise will likely have at least one day where it is appropriate to dress more formally — especially if you choose to go on a single's cruise. Your clothing choices will of course depend on your specific cruise, as there are destinations that will require swim suits and warm weather attire and others that you'll want to pack layers for an extra cozy trip into colder climates.
Participate in activities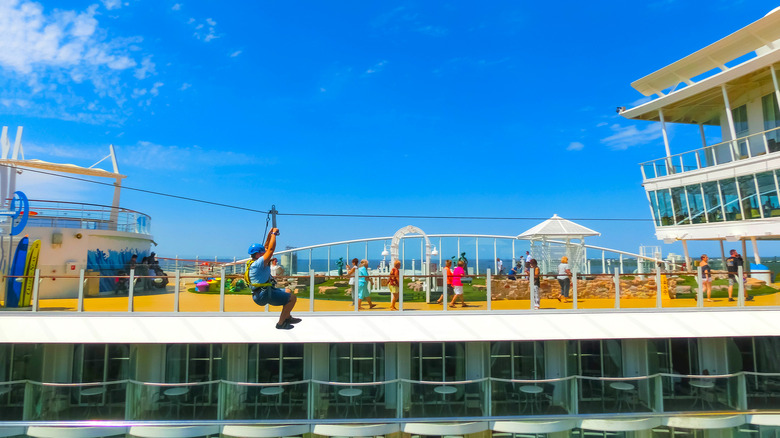 Solarisys/Shutterstock
Cruise lines have plenty to keep you busy and entertained even if you stick to yourself, but most cruises also have a whole itinerary of activities that you can indulge in before you even reach your first destination. While it may be nerve-wracking to try something new or to join an activity when you are traveling alone, they can be great socializing opportunities as well as fun ways to pass the travel time.
The activities available to you will vary depending on what cruise ship and line you are on, so you will want to check out their offerings before booking. However, some of the things you may encounter while doing your research are ships that have casinos, zip lines, water slides, and even indoor skydiving. In addition to these offerings, most cruises will also have a daily program that explains what scheduled activities are available for guests to participate in. Don't sleep on these, as they can be great opportunities to learn new skills as well as bond with other travelers.
Go on excursions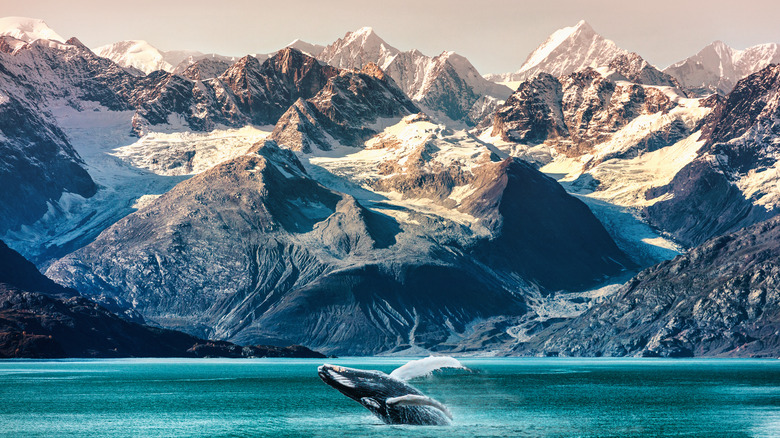 Maridav/Shutterstock
There are plenty of people who book trips with no intention of going on excursions, as their paradise is right on the ship where they need not worry about a thing. While there is absolutely nothing wrong with this and you should enjoy your vacation however you see fit, participating in the excursions have so many benefits for travelers, especially those traveling alone.
By being active outside of the ship and going on excursions, you are able to dive into your cruise destination more fully and experience the local culture as well as gain a shared experience with your fellow travelers. Participating in excursions will help build bonds with the other cruisegoers and may even leave you with skills, memories, and even friends that will last well past the time you return home from the cruise.
Another benefit of signing up for an activity at your cruise destination is that it may help with any travel anxiety you may suffer from. The excursions offer a solid and safe option to travelers who may not know how to spend their time off the ship and do not want to chance wasting their port time trying to figure out where to go and what to see.
Be on time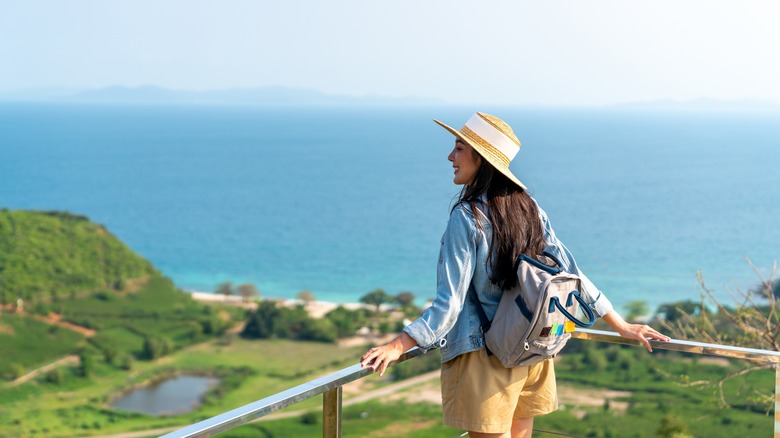 CandyRetriever/Shutterstock
It can be tough to keep track of time on a cruise because not only are you having fun, but you're also thrown off of your typical, everyday schedule. There will be plenty of instances where you can throw the idea of a clock away, like while you are on the ship during travel time. However, when you leave the cruise ship for an excursion or to explore a new port, the ship will quite literally sail on your leisurely cruise if you miss the arranged boarding time.
When you're cruising solo, it's even more dire that you are vigilant in keeping track of time if you have somewhere you need to be, because you will not have anyone else to catch a missed half hour or two while exploring. It's easy to lose track of time when you're enthralled by a new place, so make sure that you leave the ship with a watch and/or a fully charged phone. Setting an alarm that gives you plenty of time to get back to the ship isn't a bad idea either; don't rely on it, though, as a missed alarm won't be an excuse worthy of holding the ship for you.
Stay connected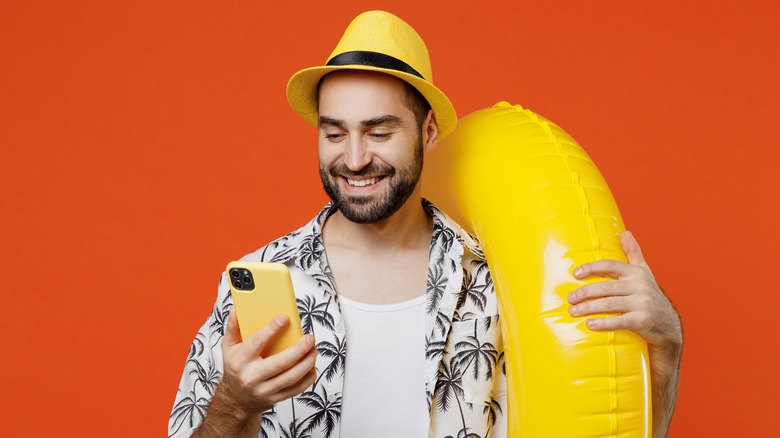 ViDI Studio/Shutterstock
Sure, you may be going on a solo cruise to get away from the world and everyone in it. However, once you embark on a large ship full of strangers, you may miss those on the mainland. Checking in with at least one of your loved ones while away and sharing your location and itinerary with them once or twice a day can also give you some peace of mind and increase your safety while traveling alone.
Checking in with loved ones during your down time and Facetiming those in your life who are important to you can elevate your trip into one that doesn't leave you distanced from those you'll be going back to one the cruise ship docks for the last time. Don't worry – for all of the future solo cruisers who are looking forward to not seeing anyone they know for a week or so, this is totally optional for a fun and relaxing cruise alone.
Embrace being a solo traveler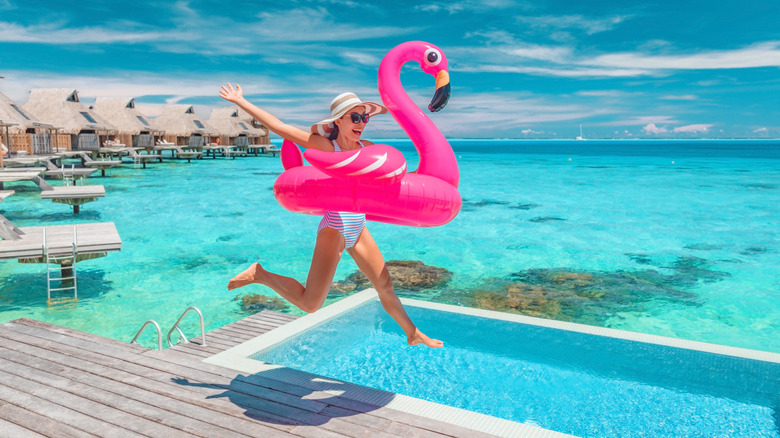 Maridav/Shutterstock
If you aren't used to doing social activities alone before embarking on a cruise by yourself, it might be a little uncomfortable going on excursions, participating in activities, or even dining by yourself. Not to fear, though, as it can quickly become an empowering affair. To make the most of your trip and have the best experience possible, embrace the fact that you are going it alone this time. You don't need another person to fill in gaps in conversation or for appearances' sake; you are fully enough by yourself, and spending some one-on-one time with yourself could be a great time for reflection.
As many as 20% of cruisers on a regular cruise are solo travelers so there is a whole community of people to lean on. Don't be afraid to reach out, and don't be surprised if a fellow traveler reaches out to you first. You're all on the same boat, and while you may be starting out alone, you may make some connections along the ride.