Why Soho Is The Best London Neighborhood For Foodies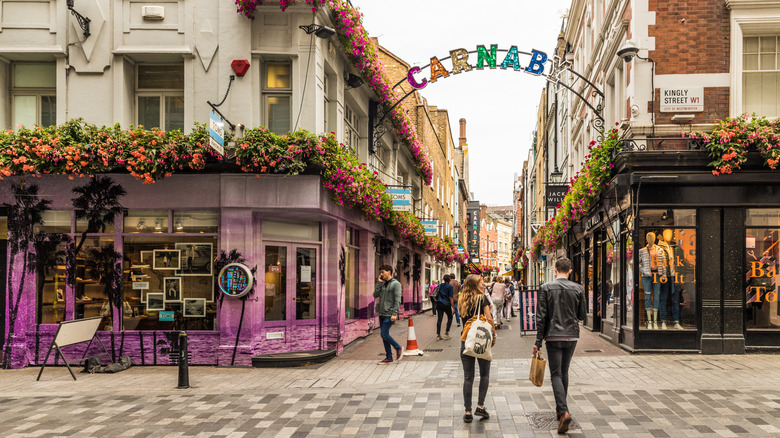 Chrispictures/Shutterstock
Forget the boiled carrots and peas stereotype; Britain has some seriously delicious food. And, as one of the world's most multicultural cities, London offers the hungry traveler no shortage of mouthwatering cuisine from all around the world. To stay in the heart of London's foodie culture, choose the neighborhood of Soho. Here, you'll have your pick of incredible Sri Lankan street food, Michelin-starred tapas, and traditional British smoked eel sandwiches.
Soho covers around one square mile of London's West End and is an animated part of the city, day and night. Once home to the famous poet William Blake and philosopher Karl Marx, it also played a large role in the Swinging Sixties movement and is now at the heart of London's LGBTQ+ community. Between shopping on Carnaby Street and hitting a live music venue as darkness falls, you're going to need to eat. And luckily, Soho's food scene pulsates with energy and is filled with delights. To help you decide where to fill your stomach while in the city, here are some of Soho's best restaurants.
Soho's best restaurants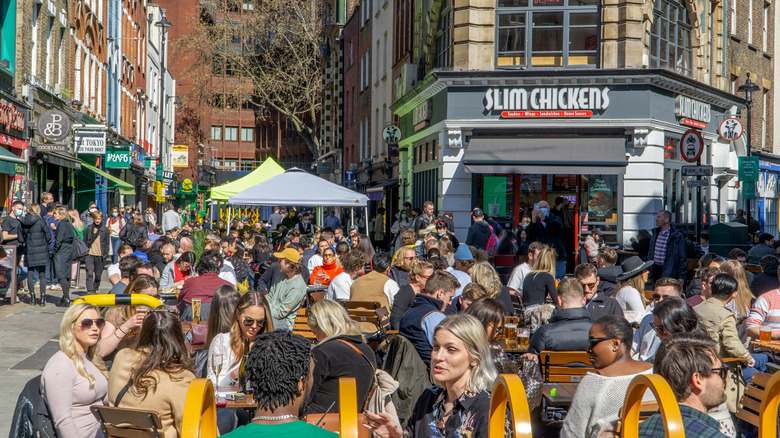 cktravels.com/Shutterstock
Let's start with the award-winning places. There are three Michelin-starred restaurants within the square mile that makes up Soho: Barrafina, Yauatcha, and Social Eating House. Barrafina is the place to get your fill of tapas in Soho. Yauatcha will transport you to a Cantonese-style teahouse where you can enjoy dim sum in a relaxed atmosphere; Social Eating House has a bistro menu and is particularly famous for its cocktail bar, The Blind Pig.
Several South Asian restaurants also make it onto our list. Sri Lankan restaurant Hoppers serves Tamil street food like the eponymous egg hoppers and dosas, while Kolamba presents Sri Lankan delicacies like monkfish curry and jaggery beef. We can't mention Kolamba without saying what sits next door: Dishoom. This is the Carnaby Street location of the renowned Indian restaurant; Dishoom serves dishes like chicken ruby and vada pau. If you're craving Indian food but don't want to queue for Dishoom, try Masala Zone with its sophisticated cocktail bar.
More places to eat in Soho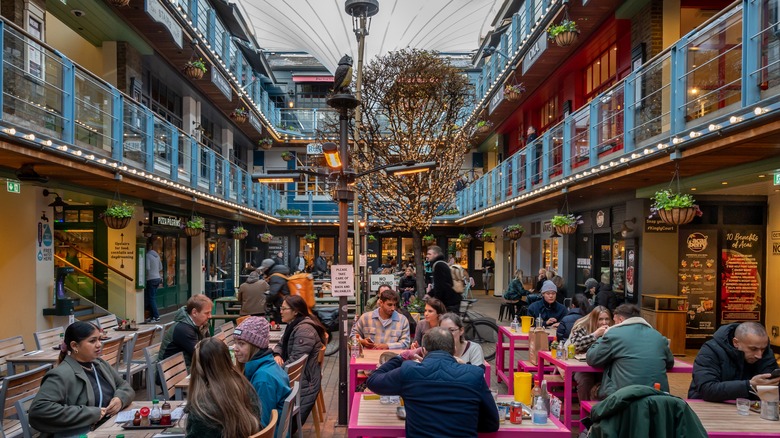 Boris-B/Shutterstock
If you're traveling with friends who can't agree on what to eat, visit Kingly Court, an open-air food hub set in a lively courtyard. Perfectly situated for those needing a break from shopping on Carnaby Street, there are 21 restaurants here, ranging from the Peruvian Señor Ceviche to Japanese Shoryu, serving Hakata Tonkotsu ramen, and the Caribbean The Rum Kitchen.
No visit to London would be complete without a stop in a cozy pub. The French House is a pocket of peace in spirited Soho, with a no music, no machines policy (so put away your phone), and a dining room upstairs serving seasonal food. Alternatively, to try some of Soho's best vegan food, visit Gauthier Soho, a French fine-dining spot that is 100% vegan. And the smoked eel sandwich we mentioned earlier? If that whet your appetite, visit Quo Vadis, a private member's club with a restaurant, which serves British fare, including delights like ox tongue and guinea fowl. When in Rome ... as they say.