13 Best Day Trips From Paris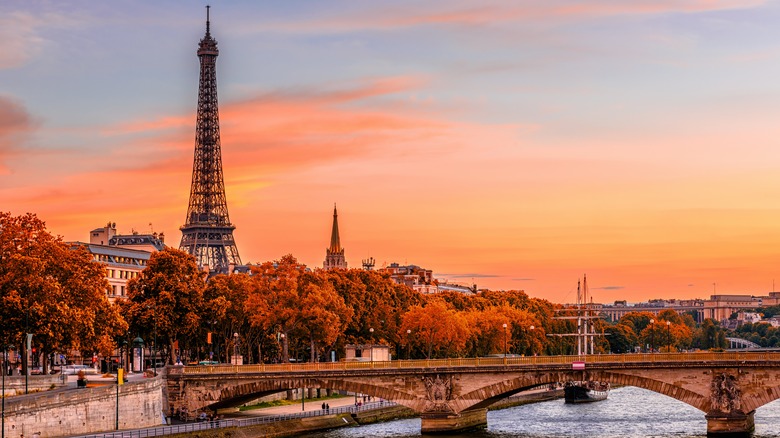 Catarina Belova/Shutterstock
While Paris is the city of light, love, and plenty of activities and sites to take in, if you have time to spare (or you simply want a breather from the bustling city) there are numerous amazing day trips to be taken! From royal palaces to adorable villages, the seaside, and other European capitals, your perfect city escape awaits! 
Of course, we all love a good Parisian cafe, view of the Eiffel Tower, and wandering museums, but heading out of the city expands your knowledge and gives you an opportunity to explore other parts of France. There's always the option to rent a car — but the train, either regional RER or high-speed TGV, is often the most stress-free and affordable. So put on your explorer's hat, because here are some incredible day trips from Paris! Bisou Bisou!
Versailles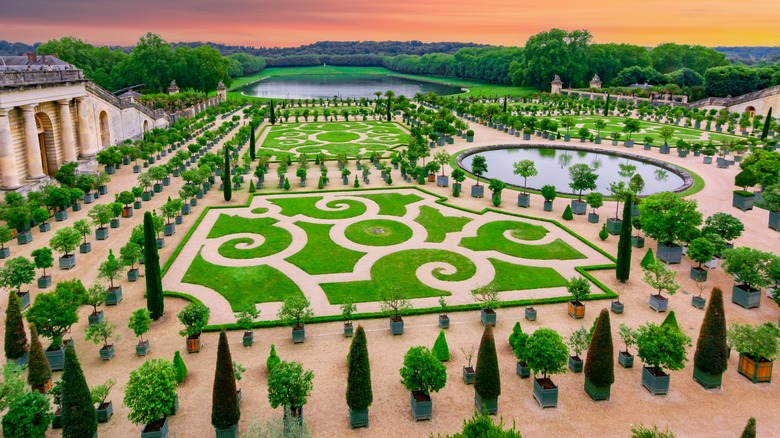 Mistervlad/Shutterstock
The most popular day trip from Paris is of course the Palace of Versailles. Originally a favorite hunting location for Louie the 13th, the palace grounds originally housed a lodge. The king liked it for its location between the main royal residence and Paris. Over the years his love for the area grew and eventually the lodge was replaced with what would become the chateau we queue to visit today. And what a palace it is! Decadent gold decor, more than 60,000 works of art and historical artifacts, and the famous room of mirrors.
There are also stables, home to the National Equestrian Academy, where horse shows that include fencing, vaulting, and more are frequently put on (you can often add that to a Versailles ticket) as well as lovely gardens perfect for a stroll. The estate also connects to a large park where you can picnic along the lake, walk, or have a drink at one of the brasseries. And while the palace is absolutely worth a visit, don't forget to explore the equally impressive town surrounding it! Versailles has numerous restaurants and shops to be enjoyed. The easiest way to reach the palace is by regional train RER C to the Chateau Rive Gauche station in Versailles — it takes about 45 minutes depending on where you board. Alternatively, you can drive which takes about the same time or a bit longer with traffic.
Fontainebleau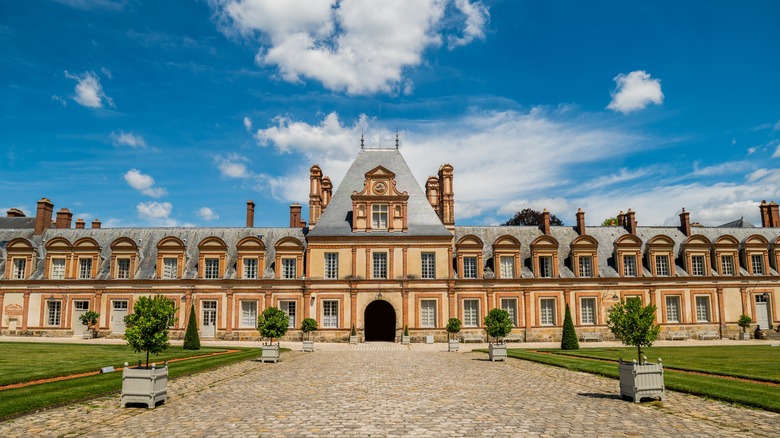 Strikernia/Shutterstock
The popular alternative to Versailles, this lovely chateau is a perfect day trip from Paris. Deemed the royal "family home" it housed all members of the monarchy up until the revolution in the 19th century. During the Napolean years, it underwent many renovations and definitely feels different from other palaces. Additionally, unlike Versailles, it wasn't ransacked during the revolution and thus there is more to see inside the actual palace. Bonus, as it's the less famous castle, you'll have fewer crowds to deal with! There are also beautiful gardens and a lake you can rent rowboats to explore. And don't forget to schedule in time to visit the town itself which makes for a nice afternoon.
Fontainebleau is about a 45-minute train ride from the Paris Gare de Lyon station, accessible from other parts of the city by metro. Take any train in the direction of Montargis, Montereau, or Laroche-Migennes and get off at Fontainebleau-Avon station. Driving often takes longer due to traffic.
Brussels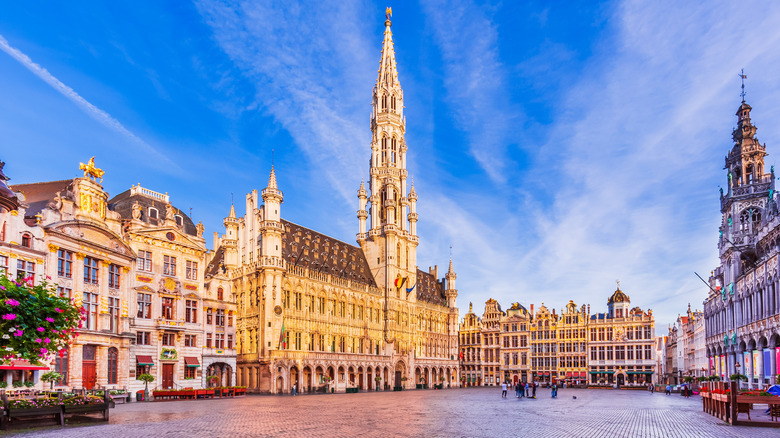 SCStock/Shutterstock
The Belgian capital is often overlooked by travelers to Europe, but it shouldn't be as there's so much to see in the European capital! The Grand Place is a golden wonder and home to the most beautiful Starbucks you'll ever see. The winding streets of the old town are full of bars with delicious Belgian beers to sample, cafes serving the most decadent waffles, and adorable shops. It's a great city for museums with something for everyone — comic books, beer, chocolate, and European history are just a few of the topics you can learn about in Brussels.
It is also quite walkable with many parks perfect for a stroll. And don't forget to visit the Palace Royale — you might even catch a change of guard! If you have more time to spare, the Coutenbourg archeological sight below the current palace is a great activity for history buffs or those looking for a little different activity in the city. Brussels is just a 1.5 hours by high-speed train from Paris but feels a complete world away! Alternatively, you can drive which takes about three hours and is only recommended as part of a larger road trip or if you'll be needing a car in Belgium.
Chantilly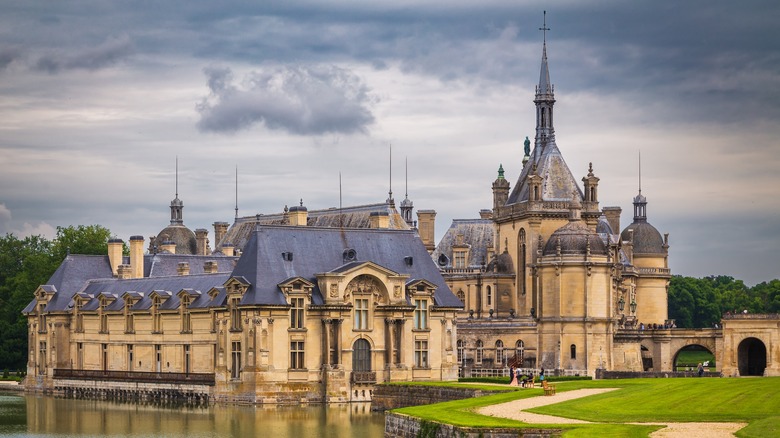 Lev Levin/Shutterstock
If you've ever been to France, you'll know that whipped cream is very present in many desserts. Named for the town and castle where it was invented, both make for a wonderful day trip from Paris. The chateau grounds originally housed a hamlet of a small inn and cottages where the chef Vatel created a cream that became renowned and associated with the chateau name. Today, you can visit the chateau and the sprawling estate including immense gardens and water features. You can even rent bikes, electric boats, or a little train around the estate.
Additionally, the town of Chantilly is a horse town, full of polo and racing. You can visit the Museum of the Horse and learn about the region's equine history and tour the stables. Then stroll the shops in town and have lunch at one of the many restaurants. Even better, it's only 25 minutes by train from Paris, making it one of the more doable day trips from the capital city!
Loire Valley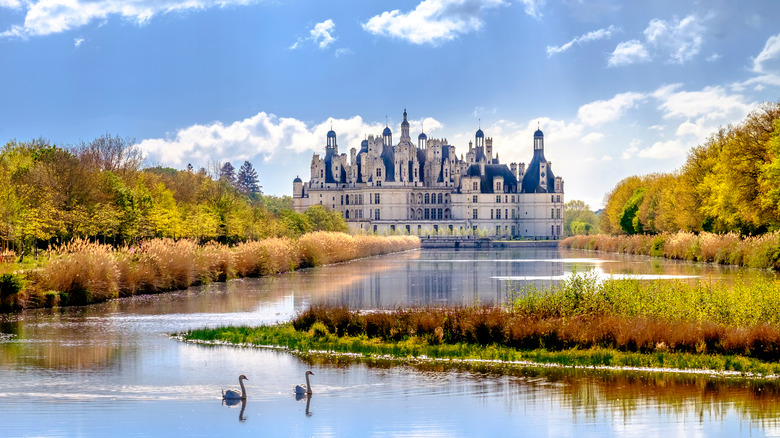 yvon52/Shutterstock
The Loire Valley is full of history and important French sites. Tours is the main city of the region and is easily accessed by train at little more than 90 minutes from the Gare de l'Est. Wander the city museums, indoor market, town cathedral, and chateau! Set along the river like many French cities, Tours is a lovely place for a day. Additionally, day trips to nearby chateaux and wineries are easily organized from the city.
However, the main pulls are the castles which are often housed in picturesque villages. If you only have one day to spend visiting the region, you'll want to use it efficiently. Some castles are more easily reached from Paris than others. If you want to only rely on public transportation, the Royal Chateau of Blois will be your best bet as it's an easy 2.5-hour train ride from the Gare de l'Est. Also, the castle is within walking distance from the train station! If you'll be renting a car, check out others — such as Chenonceau, known as the ladies' castle due to its prominence in the power struggle between Catherine Medici and Diane de Poitiers, is just under three hours by car from the capital. Additionally, Cheverny is home to a large pack of hunting dogs and a Tintin Museum and is about a 2.5-hour drive from the center of Paris.
Provins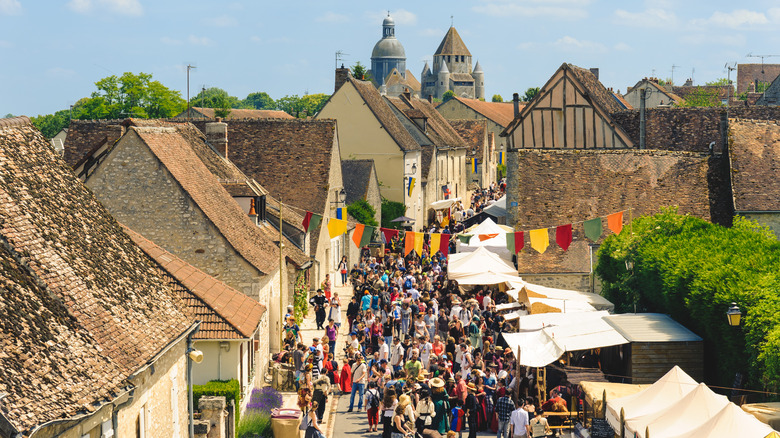 Richie Chan/Shutterstock
Most international tourists likely haven't heard of Provins, but that doesn't mean it should be ignored! The cute medieval village is perfect as a Parisian day trip and will likely surprise you with how much it delights you! The streets and cobblestones are like stepping back in a time machine — and just wait until you explore the castle and ramparts! Another fun thing to do is wander the underground tunnels, one set is medieval like much of the city and the others are even older and have more mysterious origins.
Beyond time-traveling, food and drink are huge reasons to visit Provins. The regional specialty of rose is present in the food, from beer to jam and even soap! Trains run hourly from the Gare de l'Est and the journey takes about 80 minutes. Driving takes around the same amount of time, but parking can be challenging so isn't recommended unless as part of a larger road trip.
Senlis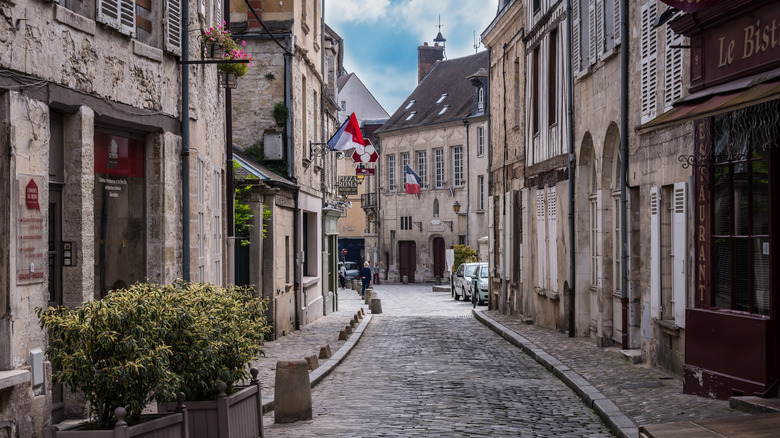 timsimages.uk/Shutterstock
Another slightly off-beat town in the area, Senlis is a lovely trip from Paris. Located near the Chantilly forest, not too far away from the chateau and town, the architecture is reminiscent of Normandy or Bretagne. The old town is perfect for a stroll, with impressive centuries-old mansions and a Gothic-style cathedral. There's also an adorable art and archeology museum for history buffs and an old royal residence for when monarchs called Senlis home.
The town may be small, but it still has plenty to offer on the food front, with numerous bars, cafes, and brasseries awaiting you. And don't forget to sample the Séraphine, local orange chocolate, a delicious treat you won't find elsewhere in France. Senlis is slightly trickier than other places to access by public transport, you'll first need to get yourself to Chantilly, likely via train. Then, you can take the buses that run daily and take around 20 minutes.
Le Havre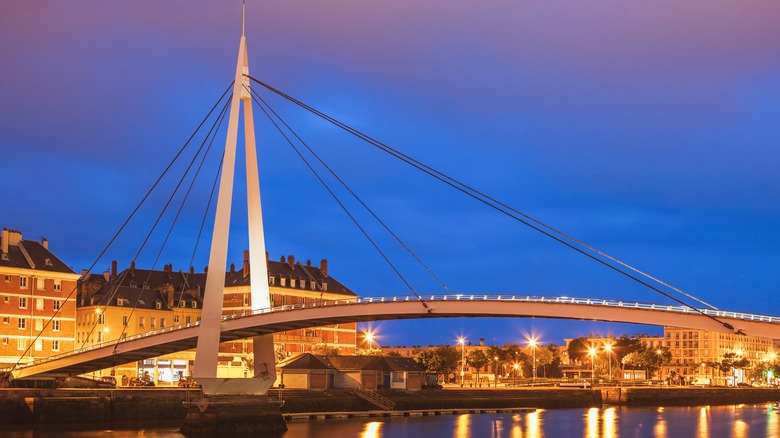 Henryk Sadura/Shutterstock
If you're craving a bit of Normandy and the sea, then Le Havre is the place you need to be. The seaside town is a favorite among Paris locals who want to really get away from the city for the weekend. However, it also works as a nice day trip from the city, if a longer one at a 2.5-hour train ride from the capital. The UNESCO World Heritage site explains that "Le Havre is one of the main attractions of Normandy." It was largely destroyed in WWII and has since been rebuilt and thus has very interesting architecture and not many older churches or buildings. 
The port is nice to visit, but also don't miss the beach and cliffs. If you have time and the weather cooperates, make sure to enjoy some of the amazing sports like windsurfing, kitesurfing, and paddleboarding in the ocean. Finally, check out the Shipowner's House and Natural History Museum to learn more about the area! In addition to the 2.5 hour train ride, you can drive a couple of hours from Paris to reach Le Havre.
Vincennes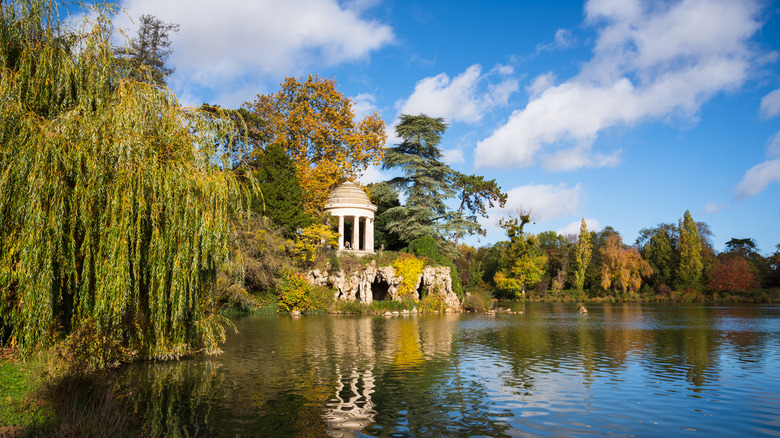 Elena Dijour/Shutterstock
One of the closest trips from Paris is this beautiful park and accompanying chateau. Located on the edge of the Bois de Vincennes, which was historically hunting woods for French royalty. Today it is the largest park in the city limits and is perfect for those needing an urban breather in the form of a forest stroll, boat ride, or pony ride for the kids. After you've had your exercise for the day, make sure to check out the zoological park, arboretum, and of course the 12th-century chateau. The castle dates back to the 12th century and even includes a moat and Europe's tallest Buddha statue. As with many chateaus, Vincennes began as a hunting lodge, although is unique in that it was briefly a prison.
Additionally, the little town of Vincennes is absolutely worth checking out as well. Home to unique shops, numerous restaurants, and gourmet stores where you can shop for things to take home. Vincennes is also the most easily accessible trip from Paris as you can take the metro directly from the city center to the park. The journey lasts about 20 minutes depending on where in the city you board.
Giverny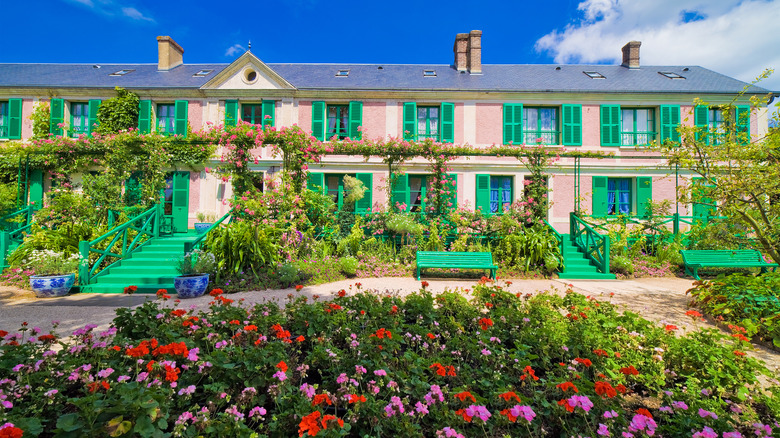 andre quinou/Shutterstock
Monet's adopted hometown is a must-visit for any art lover, but even if paintings aren't your thing, it's a wonderful day trip from Paris. The charming Normandy village located along the Seine and between Paris and Rouen is a lovely place to spend the day. It may have remained irrelevant had the painter not made it known through his work. Although, the other residents weren't so pleased initially about the changing of their town, especially when Monet fans began to show up. These days, however, it's a lovely place to wander the lily ponds and gardens you've only ever seen in paintings.
Monet's former home is also available for exploration, having been restored after falling by the wayside for a few decades before donations came to the rescue. Beyond famous-painter fandom, Giverny has plenty to offer a casual tourist. Sample tea and coffee in its many cafes, have lunch at one of the many delicious restaurants, or tour galleries and discover new artists. It's about an hour and a half drive from Paris or about the same by train from the Gare St Lazare station.
Goussaineville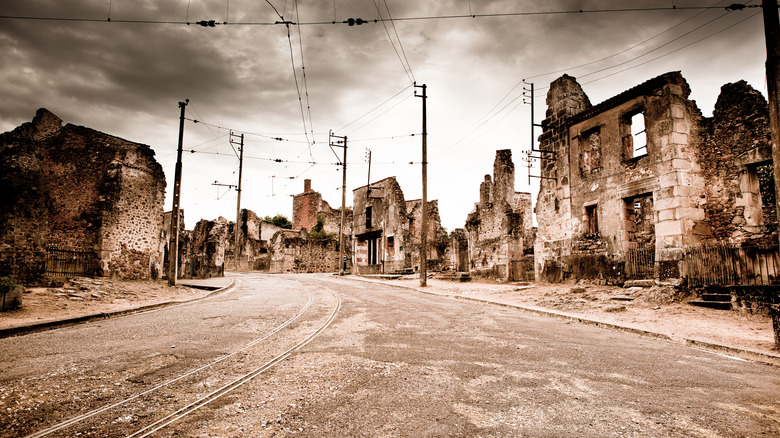 Krzysztof Stefaniak/Shutterstock
Goussaineville is a once-thriving village that quickly died out due to airport expansion. The town is just over 10 miles from Paris and was once a typical country village on the outskirts of the big city. However, when Charles de Gaulle airport continued to grow and moved the flight path directly above, many residents were not pleased and Goussaineville quickly became a ghost town. Now, it's marketed as a place to experience "the old country" or a very different way of life from the capital. Not to be missed are the abandoned Goussaineville Mansion, the old Church, and even a rotting Carrefour!
It's important to note that there is still a lived-in town of Goussaineville, as many of the residents that left didn't move far. They simply picked up and moved a bit further outside the new flight path. The result is a bizarre mix of village life right up against and sometimes among an eerie ghost town, definitely one of the most unique day trips you can take from Paris! From the Gare du Nord, the current town of Goussaineville is just a 25-minute train ride away. You'll be dropped off at a train station in the present-day functioning village and will have to walk about 15 minutes to the abandoned part.
Lille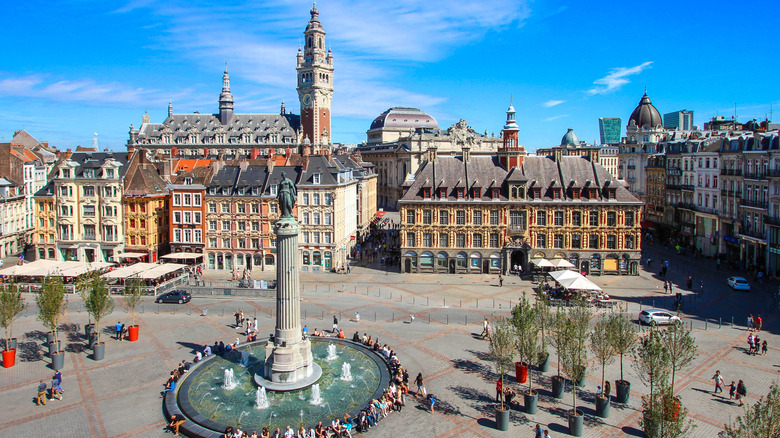 MisterStock/Shutterstock
A bit closer than Brussels, but with a completely different vibe from the large cities is charming Lille. The northern city often feels more Belgian than French but is absolutely worth a visit if you have time. The architecture is the first sign that you are no longer in Paris, with baroque heavily featured and other details that are more typical in Flanders. 
The Old Ville and Grand Place rival that of Brussels, and Palais des BeauxArts is a close runner-up to the Louvre in size and scope. Also, make sure to stop by the Vielle Bourse (old stock exchange) in the afternoons for a great second-hand book market. The city is also full of wonderful places to sample local cuisine like mussels and fries, chocolate, and of course Belgian beer from across the border! Getting to Lille is quite simple, just take a high-speed TGV for a little over an hour's ride from Gare du Nord. Driving will take you about two hours.
Disneyland Paris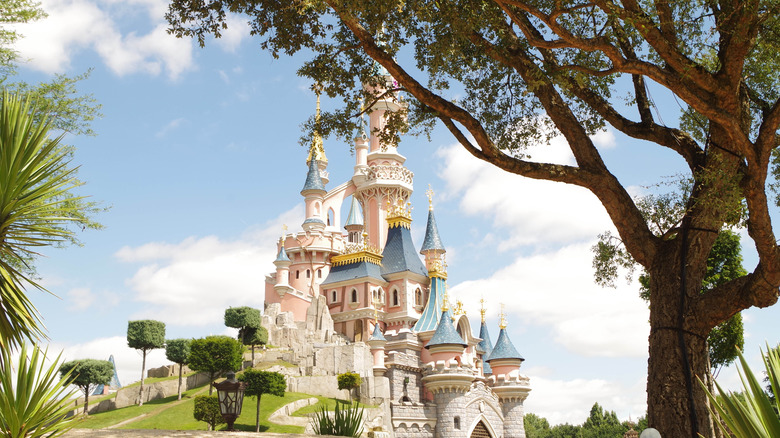 rifqa.j/Shutterstock
A classic day trip from Paris, families, couples, and solo travelers alike will have a great time at Disneyland Paris! It might not be the obvious choice for a European vacation, especially if you're from the west coast or Florida, but it's truly a different experience from the one back home! The layout is similar and so are some attractions but everything feels just a bit different. Not to mention the tickets are cheaper, rarely more than $100 — definitely not the case on the other side of the Atlantic. Additionally, the lines tend to be shorter than the American parks and there are pay-to-skip-the-line options.
The Disney Village that neighbors the park provides shopping and hotels (should you want to extend your day trip) just steps from the rides and amusement of the park. Disneyland Paris is very accessible, just take the train to Marne-la-Valleé Chessy which is just across from the entrance of the park. The trek lasts about 40 minutes.